Crypto winter is temporary. Uses of the blockchain are steaming ahead, says Johannes Schweifer, CEO and Co-Founder of CoreLedger.

With financial markets in disarray and sentiment bleak, the hype and speculation of crypto and blockchain is at a pause. Gone are the days where NFTs could easily fetch millions of dollars. Now, digital pictures of cute animals or meme culture are being labeled increasingly as scams amidst backlash from the declining crypto markets.
Thankfully, there is a silver lining to every dark cloud. Bear markets signify the start of building season. A new generation of builders can surface. Companies buckle down and focus on continuing to build practical innovations that will bring about utility and greater efficiency. They can overcome some of the biggest challenges we face today.

NFTs are but a small application of tokenization. Many different items aside from art can be turned into digital tokens. This allows any asset to become accessible and tradeable on the blockchain.
So where exactly are these practical innovations being developed? Here are some examples of how blockchain for enterprise is steadily becoming a critical aspect of our lives.
What Crypto Winter? Agriculture in Emerging Economies
As we recover globally from the pandemic, farmers have been grappling with a plummeting peso amidst financial uncertainties in Argentina. Inflation is reaching above 50%. More than 40% of soybean oil and soy-meal production comes from Argentina. This places farmers under pressure to liquefy their real, physical assets. It also makes them vulnerable to undercutting by middlemen.
This is a prevalent issue for agriculture and livestock particularly in emerging economies. Their fiat currency is constantly being devalued. By tokenizing agricultural assets, farmers can potentially hedge against inflation.
Blockchain technology also allows them access to capital provided by national and international investors through blockchain. This is a solution that has been used at cattle ranches in Bolivia. Investors across the world can participate via a tokenized Revenue Participation model. This is where each token represents a percentage of the revenue or a digital barter.
Crypto Winter? Digital Swap is Surging Forward
So how can this be possible? All that is required is a digital swap technology to increase liquidity in a token economy by enabling instantaneous value-conversion. This facilitates a peer-to-peer (P2P) exchange of contracts that allows parties to trade tokens of different values. It chains together any number of swaps and payments and picks the optimal path through thousands of available trades based on set criteria, as shown in the diagram below.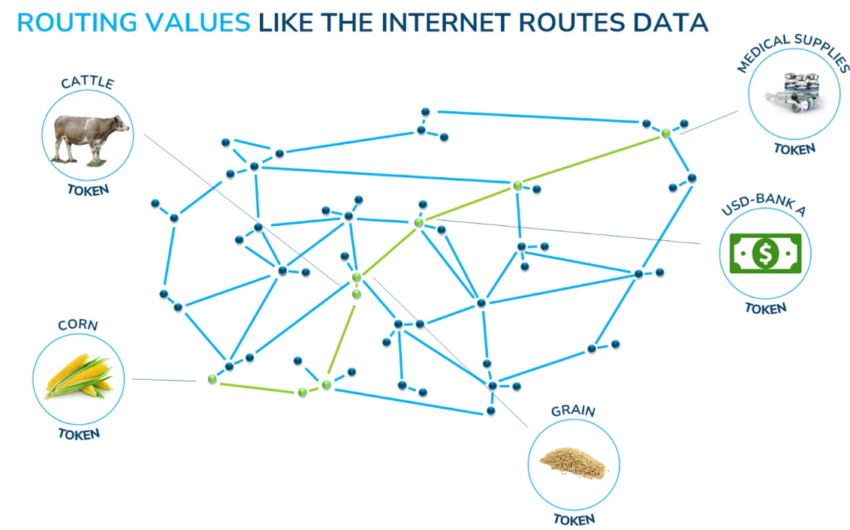 In essence, this makes anything become transactable for anything else. While this development is exciting, more still needs to be done to develop an awareness of the technology in order to achieve its full potential. The more possible trades there are the more useful it becomes.
More efforts between companies, regulatory bodies and institutions are also needed to facilitate this. There needs to be a change in the perception of the technology – from fearing the unknown, to an understanding of its benefits to establish suitable guidelines.
While still relatively experimental, the total tokenized asset market is estimated to be worth worth under $20B. The total size of the digital asset market is up to $350B, highlighting the tremendous room for growth that can be achieved.
Crypto Winter and Combating Climate Change
Another critical area currently witnessing successful experimentation with tokenization is in combating climate change. Carbon credits are measurable, verifiable emission reductions from certified climate action projects. Companies can reduce, remove or avoid greenhouse gas (GHG) emissions using them.
They are transferable instruments certified by governments or independent certification bodies to represent an emission reduction of one metric tonne of CO2, or an equivalent amount of other GHGs. The owner of a credit can thus use a credit to offset their own GHG reduction goals.
Tokenizing carbon credits aims to overcome issues of poor credit quality, operational transparency and project measurements and evaluation. By tokenizing credits, blockchain enables greater transparency and integrity across markets. Data is stored in a way that eliminates double counting while making them tradable and accessible globally.
There are as many as 22 million retired credits already on the blockchain. The introduction of decentralized protocols integrating with carbon credit markets has spurred new ideas on how to create greater transparency and accountability. This is while providing avenues to meet the increasing demand that will drive further capital to climate-positive projects.
This is where regulatory bodies and companies need to work together to eliminate opacity to achieve a net positive to the environment.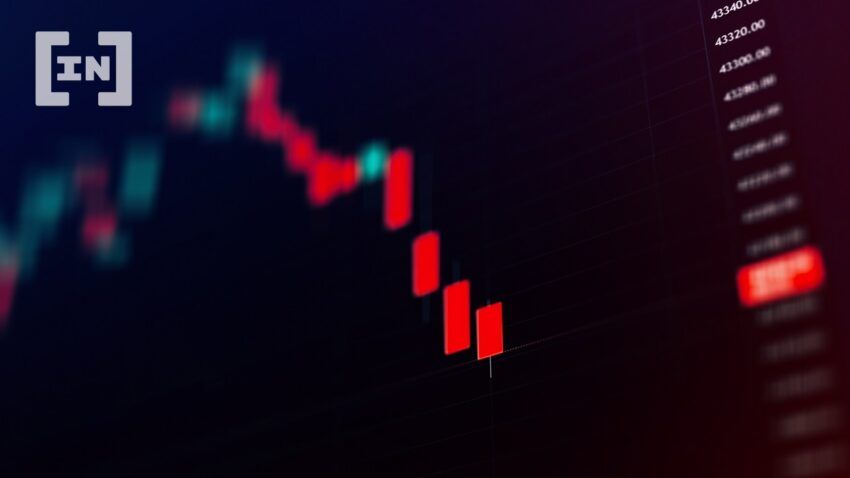 Protection of Intellectual Property(IPs)
Legal documents and other forms of agreements or contracts are often shared in print form to ensure confidentiality and immutability.
Tokenization allows any asset to become accessible and tradeable on the blockchain. Documents and other forms of data allow businesses to instead utilize tokenization for stronger digital security and safe transferring of data.
Records on the blockchain are immutable (they cannot be changed and only added on to). This offers proof in a validatable way without requiring an intermediary or notary, be it in the form of digital claims, certificates, or proof of ownership.
This levels the playing field for management of copyright and Ips. Legal fees for establishing proof of ownership in long drawn-out court cases can be prohibitively expensive. Singers looking to preserve the originality of their work, and scientists looking to patent their technology are able to have an additional way to to do so, aside from traditional methods.
This has been experimented with since 2019. Various countries and regions have different policies governing digital records on being legally binding. This is steadily changing as the complex underlying technology is being converted into easy-to-use apps which provide a seamless user experience.
Even traditionally conservative jurisdictions such as China have begun embracing blockchain to help legal courts deal with piracy and copyright infringement cases. The applications of blockchain in enterprise span beyond the mentioned agriculture in emerging economies. The environment and protection of IPs are great appetizer of the benefits it can provide.
Blockchain companies need to work together with governments and regulatory bodies to find the most effective and practical ways to implement the technology. This is in order to dispel skewed perceptions and provide suitable guidelines. Only then will we have a secure and sustainable environment to help stakeholders utilize the applications in meaningful ways.
About the author

Johannes Schweifer, CEO and Co-Founder of CoreLedger. He holds a Master's degree in Chemistry and PhD in Distributed Computing and Quantum Chemistry from the Technical University of Vienna. He is a passionate problem solver and builder. Johannes is known as a serial blockchain entrepreneur, having founded and co-founded several blockchain startups in Crypto Valley.
He was co-founder of Bitcoin Suisse AG 2013 and created its first backbone infrastructure with banking and accounting, actively serving until 2016. In 2017, he founded CoreLedger AG to pursue blockchain ideas beyond financial and speculative use cases. He is actively using blockchain technology to solve some of the world's biggest challenges and showcasing the true value of blockchain with practical applications.
Got something to say about crypto winter, blockchain, or anything else? Write to us or join the discussion in our Telegram channel. You can also catch us on Tik Tok, Facebook, or Twitter.
Disclaimer
In compliance with the Trust Project guidelines, this opinion article presents the author's perspective and may not necessarily reflect the views of BeInCrypto. BeInCrypto remains committed to transparent reporting and upholding the highest standards of journalism. Readers are advised to verify information independently and consult with a professional before making decisions based on this content.

Our Guest Op-Eds represent in-industry voices in the crypto and Web3 space. Have an opinion? Email
[email protected]
.
Our Guest Op-Eds represent in-industry voices in the crypto and Web3 space. Have an opinion? Email
[email protected]
.
READ FULL BIO
Sponsored Sponsored