In a sudden reversal, the Federal Reserve (Fed) has become the largest holder of U.S. Treasury securities in the world.
The buying has apparently been driven by the COVID crisis and the mass proliferation of Treasury bonds.
With @federalreserve's balance sheet expanding exponentially, Fed is now largest holder of @USTreasury securities (Fed data as of mid-June & other banks as of mid-May) @biancoresearch pic.twitter.com/gf3KhxO50d

— Liz Ann Sonders (@LizAnnSonders) July 20, 2020
The
buying spree
moved the overall Fed balance sheet from just above $2 trillion to nearly $4.2 trillion. The catastrophic jump took place in the course of just 60 days.
The Fed Is Eating Its Own Tail
Many economists see the action as foreboding. The U.S. government is printing stimulus money at a rapid rate. The economy is dependent on the flows to such a degree that Treasury Secretary Steven Mnuchin even
labeled it an 'addiction'
. However, the cost of pumping liquidity into the market comes with the substantial issuance of new Treasury assets. In particular, the 10 year Treasury note is witnessing some of the highest rates of growth since WWII. The flood of federal debt has
swamped the market
, causing the Fed to step in and buy. Ultimately, the government is buying government debt, a strange situation.
Mortgage-Backed Securities
A rise in housing market prices has been hailed as a sign of market growth. However, the Fed is also
buying up mortgage-backed secruties
(MBS) like there's no tomorrow.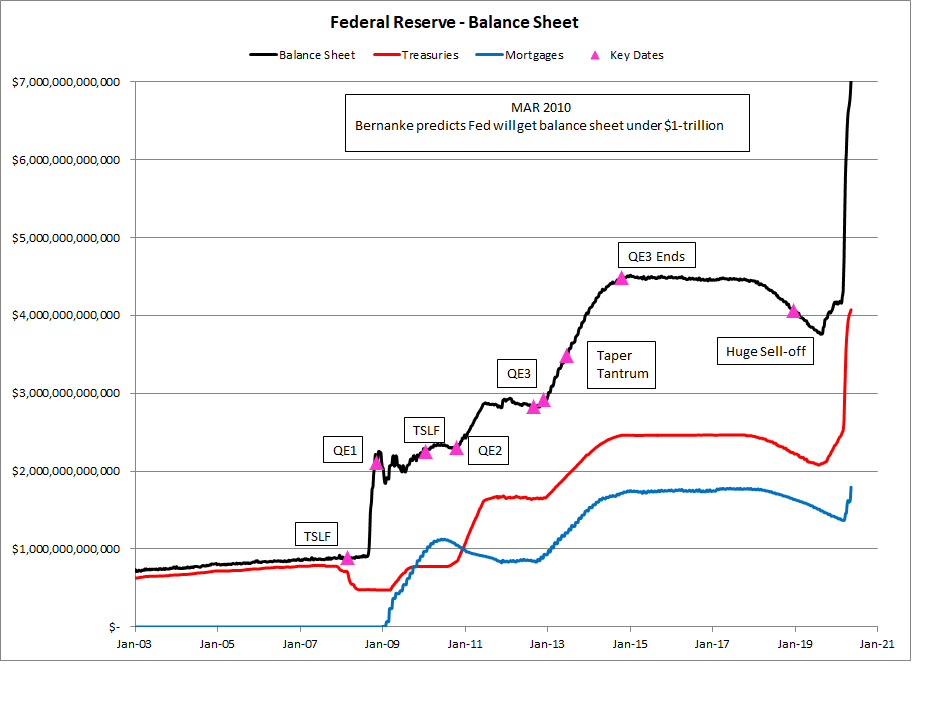 As the
culprit for the 2008 crisis
, the MBS market desperately requires buyers as liquidity dries up during the ongoing COVID pandemic. The Fed's buying has, to be sure, stabilized the market, but the cost to do so remains an enigma.
Borrowing From Peter…
The notion of buying bad debts is not new. The U.S. government has long been a substantial buyer of its own paper. However, the nature of the current crisis brings into question the long-term sustainability of this model. Eventually, the market must return to fundamentals, leaving
someone to hold the bags
.
Disclaimer
All the information contained on our website is published in good faith and for general information purposes only. Any action the reader takes upon the information found on our website is strictly at their own risk.