Ethereum is on a roll. The blockchain network just attained a new all-time high for daily transactions, while
gas fees
have been skyrocketing in the interim.
Ethereum's daily transaction flow was fueled by a frenzy in the decentralized finance (
DeFi
) space that has thrown the market into a tizzy. According to the Ethereum Daily Transactions Chart, the record high was reached on Sept. 17, when the number of daily transactions registered at 1,406,016. The last time it even came close to these levels was in January 2018, when the
ICO
craze was at its height.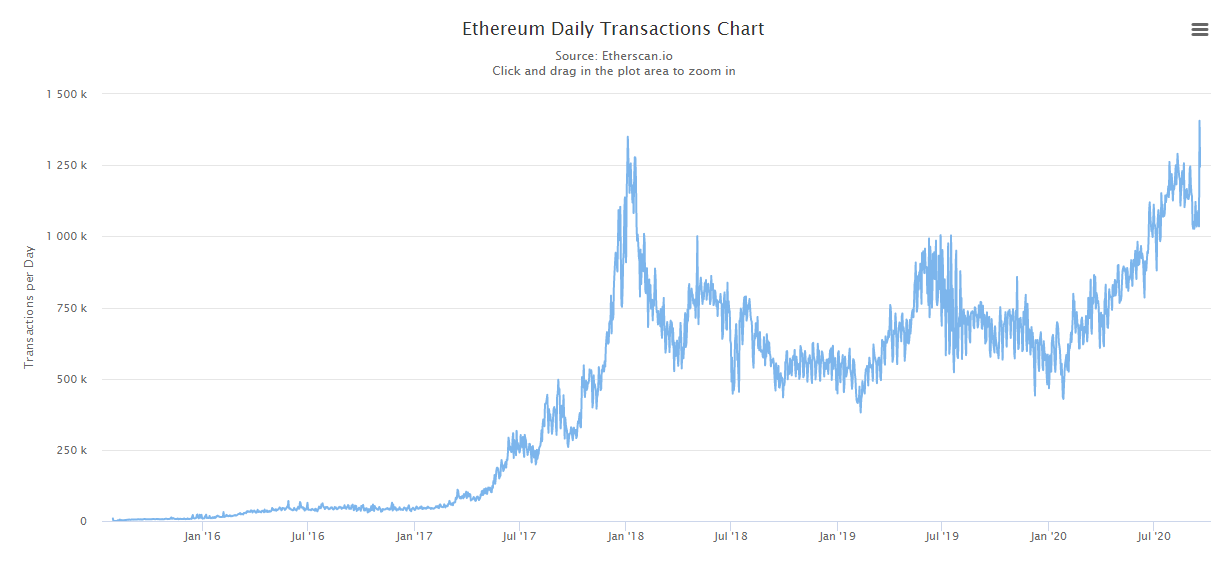 Soaring Gas Fees
Gas fees, meanwhile, have skyrocketed of late, with the average ether
transaction fee
hovering at more than $11
on Sept. 17 before easing a bit to $7.60 on Sept. 18. Part of the charm of sending cryptocurrency transactions is suppose to be the low fees that are below the market rate, so rising gas fees are another hurdle to overcome. It is a
trend that prompted
Coinbase Pro to stop shouldering the expense, choosing instead to pass along Ethereum gas fees to its users
Another record for #Ethereum this week – all time high in number of Transactions. Yes, gas fees were insane but let's celebrate all victories pic.twitter.com/vcsYSzqmST

— Coin Bureau (guy.eth)🕵🏻 (@coinbureau) September 19, 2020
People buying $ETH so that they can pay gas fees to collect helicopter money in the form of $UNI, driving up the price of $ETH is the most "crypto" thing I have seen in a while.

— The Wolf Of All Streets (@scottmelker) September 17, 2020
Ethereum 2.0
The
feverish pace of transactions
on Ethereum has thrust the network's scalability issues back into the limelight. While the cryptocurrency community has been awaiting
Ethereum 2.0
for seemingly ages, the question still remains as to whether the next iteration of the network will be the solution users are hoping for. Economist and trader Alex Kruger suggested in a tweet that the number of
DeFi
users could be around 114,000, based on his back of the napkin calculations. He points out that it is a low base compared to Coinbase, which boasts 32 million users, and therefore has "massive room for growth." The whole
CryptoKitties
fiasco in which the Ethereum network became clogged isn't too far in the rearview
mirror
for users. If new users flood the DeFi space, and the network's capacity is already over capacity, can the crypto community expect that Ethereum 2.0 will be able to handle this load?
Assuming DeFi users have four addreses on average (could be more), there are now 114K users. Small number with massive room for growth. For comparison, Coinbase has 32M users.

But Ethereum can't handle 114K users. Will Ethereum 2.0 be able to handle millions of users? How many? pic.twitter.com/ayVMLtjowT

— Alex Krüger (@krugermacro) September 18, 2020
Emmanuel Marchal, managing director and global head of sales at ConsenSys, recently
told the Coinscrum podcast
that he was "very confident" about Ethereum 2.0's ability to fix the network's scaling issues, adding:
"Ethereum benefits from having the largest community adoption and support, the largest amount of research around it done not by a single company but by a combination of companies and independent developers. And [this has been proven] over the last five years. It's capable of innovating yet maintaining the security and sovereignty of the ecosystem at work."
The industry is waiting with bated breath.
Disclaimer
In line with the Trust Project guidelines, this price analysis article is for informational purposes only and should not be considered financial or investment advice. BeInCrypto is committed to accurate, unbiased reporting, but market conditions are subject to change without notice. Always conduct your own research and consult with a professional before making any financial decisions.