Total fees collected on
Ethereum
have continued to trounce
Bitcoin
for the past 30 days. Ethereum fans argue that the evidence proves that demand for Bitcoin is waning.
Demand on Ethereum is growing, and individuals are spending more in fees to use the network than ever before. According to data collected by glassnode, fees collected on Ethereum have averaged around $800,000 per day. Bitcoin's network, by comparison, has consistently earned less in fees for the past 30 days. According to
Anthony Sassano
(@sassal0x), this indicates that:
"there is a greater demand to use Ethererum's block space than Bitcoin's."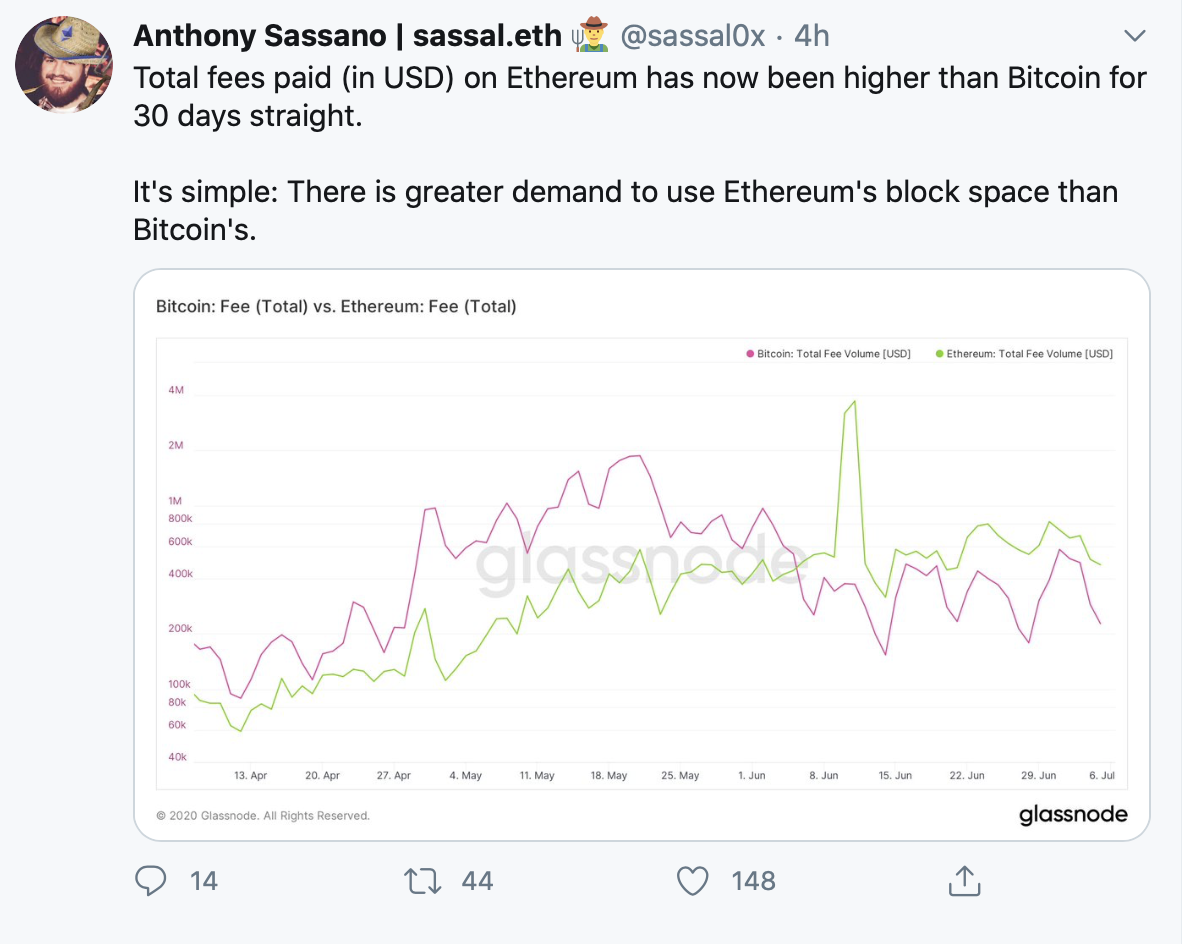 Some would argue that increasing fees indicate that Ethererum fails to scale properly. However, Sassano argues that more scaling solutions are currently launching on Ethereum's mainnet than ever before. A few scaling solutions launched in the last few months including the OMG Network, Matic, Celer, Raiden, Aztec Protocol, and more.
The DeFi Boom
The increase in network activity on Ethereum is largely due to the ongoing
DeFi
boom. Decentralized Finance (
DeFi
) is a hot topic right now as many of its tokens
surge in value. 
DeFi promises to cut out the middleman in the financial world by hardcoding solutions to allow for decentralized lending, portfolio management, and more. At the time of writing, the number of funds locked in DeFi sits at an all-time high of $1.9B. Since DeFi is mostly being built on Ethereum, the network has benefitted tremendously. The increased network usage is seen in the uptick in total fees collected, but the Ethereum price hasn't risen proportionally. This has left many wondering:
when will Ethereum benefit from the DeFi boom? 
Currently, Ethereum largely follows Bitcoin's market movements. Price, however, may prove to be a lagging indicator. On-chain metrics for Ethereum in June were
up across the board. 
Last month, there were over 50,000 daily dApp users, an increase of 50% since May. The total number of live mainnet nodes also increased by 584 between May and June. On July 1st, BeInCrypto also reported that Ethererum hit a
two-year single-day high
for daily active addresses. Some crypto fans are betting that the Ethereum price will turn bullish once these positive trends are confirmed on the longer time frames.
Could Ethereum Consume Bitcoin?
The Ethereum developments are enough to make one wonder:
could Ethereum ever flip Bitcoin?
Although it's still way off in terms of market capitalization, Ethererum's internal economy has proven to be much more expansive and innovative in the past few months. Even wrapped Bitcoin (
wBTC
) on Ethereum continues to grow, far outpacing the amount of BTC locked in the
Lightning Network
(LN). Furthermore, Lightning development appears to be stalling.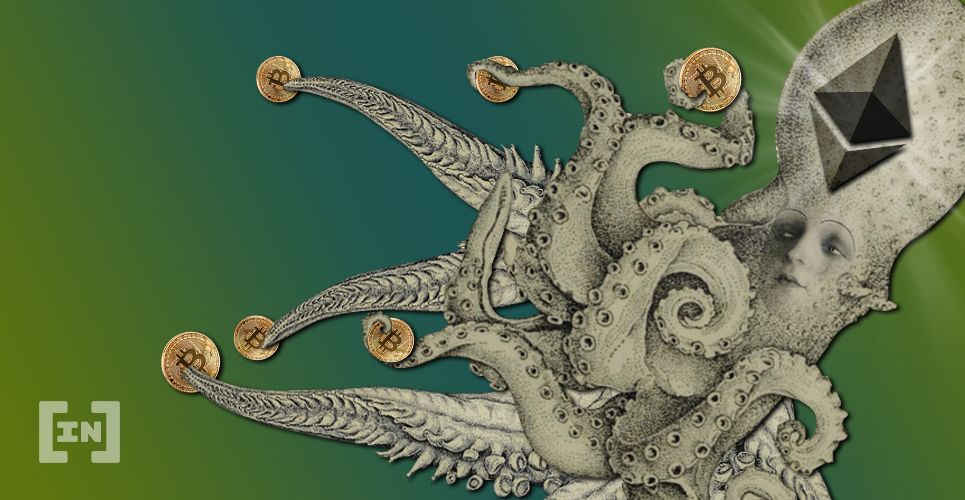 Bitcoin may be called a 'store of value,' but Ethereum is intent on building a fully-fledged ecosystem. An ecosystem that has its own collection of dApps, financial infrastructure, and more. It's like a standalone economy, one that's healthy and perhaps much-needed in the cryptocurrency world. Speculators have often pushed the cryptocurrency market forward by merely selling their crypto-assets for fiat profits. However, Ethereum's budding ecosystem allows for money to be spent and earned
within 
its own internal economy. Although we are still a long way away from maturity, once Ethereum scales, these positive developments will surely accelerate. Bitcoin, for now, remains king and leads the market. However, a significant competitor is developing outside its borders, which could someday consume it. For Ethereum fans, Bitcoin may someday be a subset of the Ethereum ecosystem. And that's a proposition that's now being taken very seriously among the industry at large.
Disclaimer
All the information contained on our website is published in good faith and for general information purposes only. Any action the reader takes upon the information found on our website is strictly at their own risk.