A blockchain sleuth has delved into the crypto wallets of the recently launched Donald Trump NFT collection. There may have been some pre-minting of his NFTs before they were actually launched.
Former U.S. President Donald Trump launched his own NFT collection on Dec. 15. Within a few hours, the collection of Trump Digital Trading Cards had sold out. The OpenSea NFT marketplace already has some of these listed at wildly inflated prices.
However, not all may be as clear as it seems, according to one NFT analyst.
On Dec. 17, on-chain analyst and NFT auditor 'NFTherder' told his 42,000 followers that Donald Trump minted a thousand of his own NFTs to his vault wallet.
"Keeping a giant portion of the most rare NFTs in his collection for himself," he added.
Did Donald Trump Pull a Fast One?
The analyst posted screenshots from the Donald Trump admin wallet from Polygonscan. Additionally, they show several mints on Dec. 15 sent to the TrumpCards Minter wallet.
Someone created the Gnosis Safe vault wallet on Dec. 14. This was one day before the Donald Trump NFT launch, reported the analyst:
"On launch day a DT funding wallet sent MATIC to a DT admin wallet. Which then minted 1k NFTs to the Gnosis safe."
The analyst also reported that the Donald Trump wallet minted 47 of the 179 1/1 and 21 of the 70 autographed NFTs. "He owns 26% of 1/1s and 28% of autographed" NFTs, he added.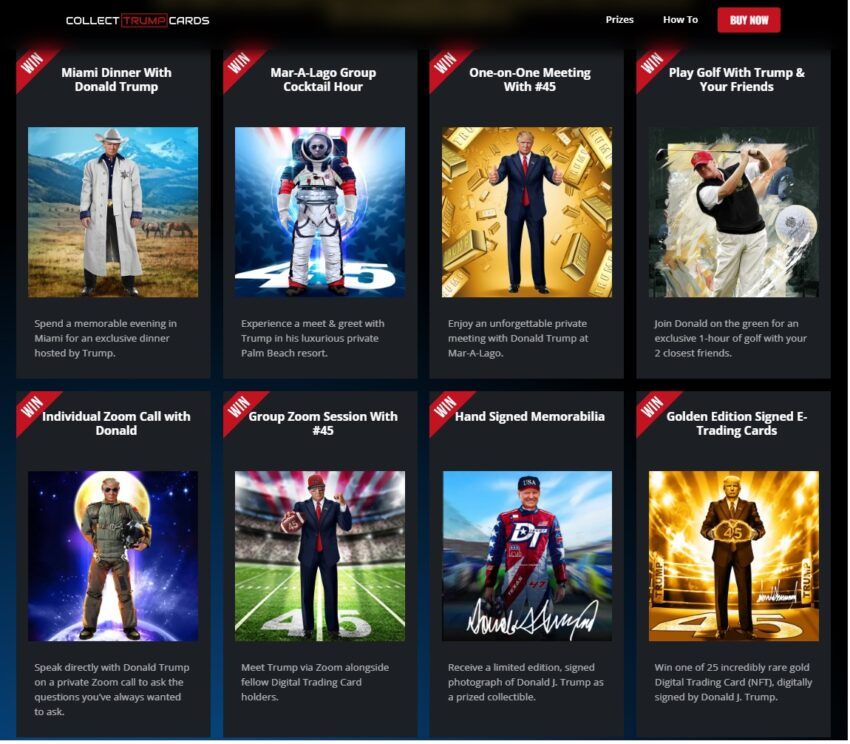 The Donald Trump NFT holdings wallet on OpenSea is viewable here. It contains a thousand items, the majority of which are Trump Digital Trading Cards.
The analyst added that all metadata and artwork are centrally stored, off-chain, at the collecttrumpcards.com domain name. Those that control this website can alter the properties and artwork without it being verified on-chain, he added.
Furthermore, the website states only 45,000 Trump Digital Trading Cards were created in this initial series. "44,000 of them will be made available for sale," with no mention of the 1,000 unaccounted-for NFTs.
NFT Market Outlook
Aside from the wildly popular sellout Trump NFT collection, markets have been flat. Furthermore, market tracker Nonfungible.com reports around $7 million in daily NFT sales at the moment. This is down almost 70% from the $24 million in daily sales in early November.
According to Cryptoslam, the Trump collection has been the fourth best-seller over the past week. However, the Bored Ape Yacht Club remains king of the digital art world.
Additionally, some observers suggested that if Trump was re-elected, crypto markets would pump.
Disclaimer
BeInCrypto has reached out to company or individual involved in the story to get an official statement about the recent developments, but it has yet to hear back.