Bitcoin (BTC) price has delivered a seesaw performance in May 2023. But so far, the bulls have defended the $25,000 support level. On-chain data now flashes green signals suggesting another breakout toward $30,000. Will the "Pizza Day" activities move the needle to validate the positive BTC price prediction?
On May 5, 2023, BTC dropped below $29,000 as markets reacted to the US debt-ceiling crisis. However, the fee hike triggered by a spike in BRC-20 Ordinals transactions also exacerbated the BTC price correction.
In response to the fee hike, investors have turned to alternative blockchain networks like Litecoin for cost-effective transactions. As the infamous "Pizza Day" event is marked worldwide, on-chain data shows that the demand for BTC is rising while transaction fees are dropping.
Bitcoin Fees Have crashed to "Pre-Ordinals" Levels. 
Bitcoin fees are now back to the levels before the recent spike in BRC-20 Ordinals transactions. Total daily BTC fees now sit at $1.93, down 89% from the recent peak of $17.85 million recorded on May 8.

Total Fees estimates the aggregate total amount users have spent to transact on a blockchain within a given period. When transaction fees rise, it dissuades users from carrying out transactions leading to a drop in network traction and, ultimately, a price decline. 
As the congestion on the Bitcoin network dissipates and fees continue to drop, BTC prices could gain momentum in the coming days.
Demand for BTC is On the Rise
Moreso, among other factors, it appears that the drop in fees has translated into an increase in demand for BTC. As presented in the chart below, the aggregate order books of exchanges show that BTC buy-orders have once again exceeded the market supply.
Currently, investors have placed limit orders to buy 26,700 BTC. But, in confirmation of the bullish stance, Bitcoin traders have only put 19,000 coins up for sale around the current prices.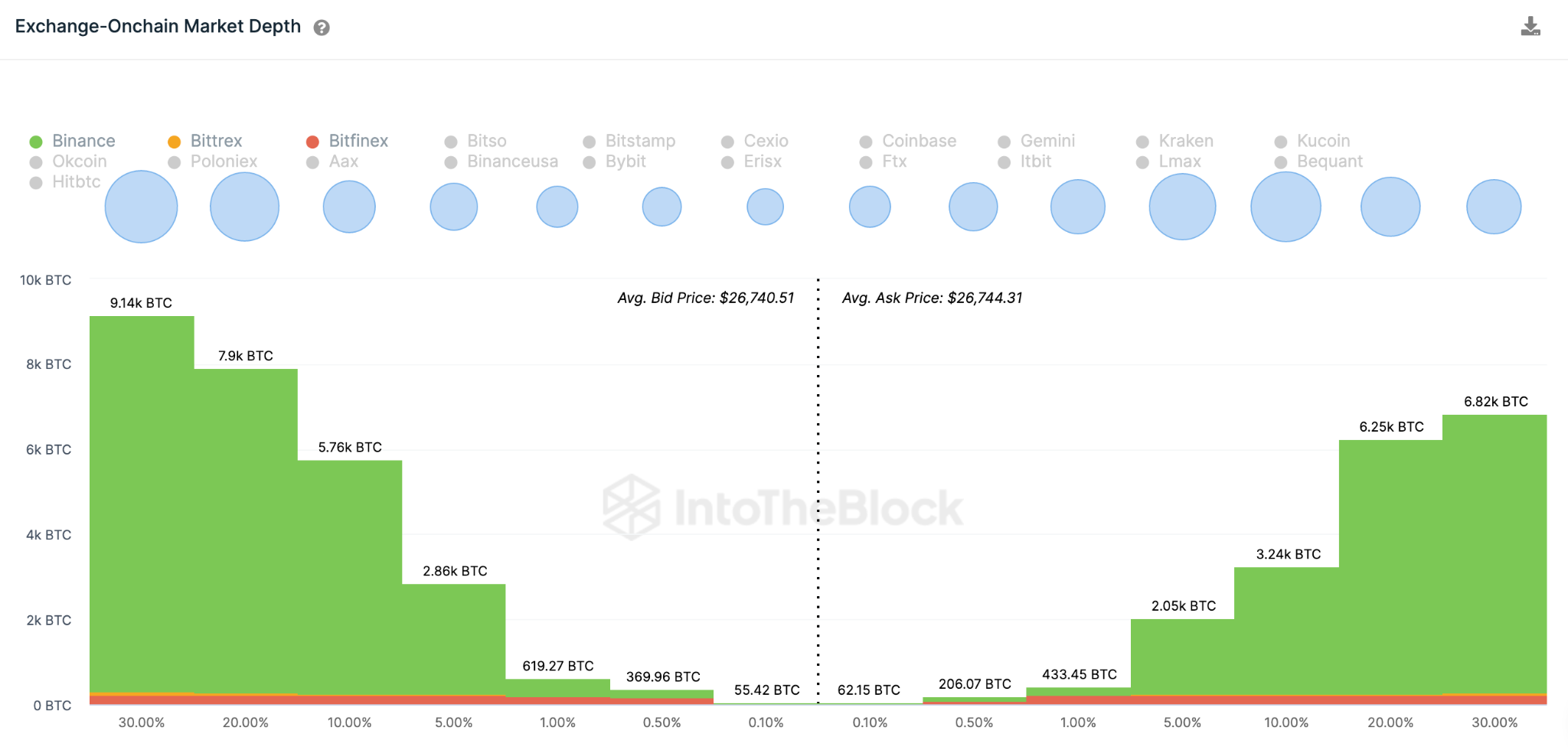 The Exchange Market Depth metric provides an aggregate of all limit orders placed on recognized exchanges by Bitcoin traders globally. And with the current excess market demand of 7,700 BTC, prices are likely to rise as buyers begin to compete.
In summary, if the Network Fees continue to drop, demand will likely increase further. And ultimately, the $30,000 BTC price prediction will likely be validated.
BTC Price Prediction: The Bulls Could Reclaim $30,000
IntoTheBlock's In/Out of the Money Price Distribution data signals that Bitcoin could soon reclaim the $30,000 milestone.
However, BTC has struggled to break above the $27,700 resistance zone. The 2.18 million investors purchased 820,000 BTC at the maximum price of $27,700 could yet again trigger a pullback.
Nevertheless, as predicted, those holders could turn bullish with strong bullish momentum. If that happens, BTC can break out and rally toward $30,400.

Still, the bears can invalidate the bullish BTC price prediction if the BTC price drops below $26,000. But, the 251,000 investors that bought 238,000 BTC at the average price of $26,021 can offer some support. 
But failure to hold that key support level could cause BTC to drop further toward $25,200.
Disclaimer
In line with the Trust Project guidelines, this price analysis article is for informational purposes only and should not be considered financial or investment advice. BeInCrypto is committed to accurate, unbiased reporting, but market conditions are subject to change without notice. Always conduct your own research and consult with a professional before making any financial decisions.