Have you heard of Bitcoin Pizza Day? Perhaps you even celebrate with a slice or two each year? Here's everything you need to know about the story behind this iconic and noteworthy event, now celebrated each May. And yes, the tale may make you a little peckish!
Bitcoin and pizza: The combination you didn't know you needed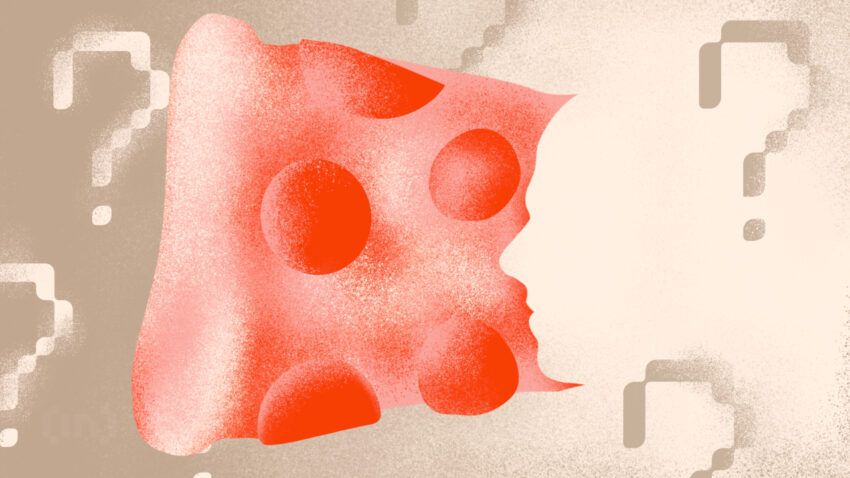 Bitcoin, the first decentralized digital currency in the world, has undergone many exciting developments since its launch in 2009. And one key point in the currency's history stands out from the rest: Bitcoin Pizza Day.
Here's the story. It was a normal Sunday evening in May 2010, and a programmer named Laszlo Hanyecz was feeling a bit peckish. He decided to order a pizza from his local pizza vendor — Papa John's. Instead of purchasing with cash or a credit card, Hanyecz decided to pay another way — with his bitcoin.
Around this time, Bitcoin was still very much under the radar, and only a few people knew about the mysterious new digital currency. Hanyecz was among these few people and had accrued a decent amount from mining Bitcoin. So, he figured out a way to utilize it. He posted on the Bitcoin Talk forum, willing to pay 10,000 Bitcoin ($41 at the time) for two pizzas.
"I'll pay 10,000 bitcoins for a couple of pizzas.. like maybe 2 large ones so I have some left over for the next day," Laszlo Hanyecz wrote.

Surprisingly, someone accepted the offer and delivered the two hot pizzas to Laszlo's doorstep.
Laszlo had no idea that his pizza order would go down in history as the first recorded real-world BTC transaction.
Today, the equivalent amount of bitcoin used in buying those two pizzas is now worth about 300 million USD. Ouch!
What is Bitcoin Pizza Day?
Bitcoin Pizza Day is celebrated every year on May 22 to commemorate Laszlo Hanyecz's historic transaction. On this day, bitcoin enthusiasts across the globe take time to celebrate the early days of cryptocurrency and use the day as a reminder of how far the OG coin has come.
Although there is no single way to celebrate Bitcoin Pizza Day, the most common activity is to buy goods (often pizza) using bitcoin or other cryptocurrencies. While some blockchain projects organize meetups and events, others mark the day with airdrops and giveaways.
On May 22, 2022, Binance hosted an extensive Bitcoin Pizza Day celebration and ran a 24-hour pizza stand in Cannes as well as a ten-day-long online giveaway.
Similarly, in 2021, a CryptoBootcampCommunity held several Pizza Day Hangouts in major African cities. The community hosted more than 12 events in various cities, including Abuja (Nigeria's capital) and Kampala (Uganda's Capital).
In 2023, an event billed as "Probably, The Largest Bitcoin Pizza Party in World" is set to take place on June 3, 2023. Presented by CryptoBillis, the event is a collaboration with Polygon Guild Malaysia, Bitcoin Malaysia, and Cryptocurrency Malaysia.
Top 7 offers on Bitcoin Pizza Day 2023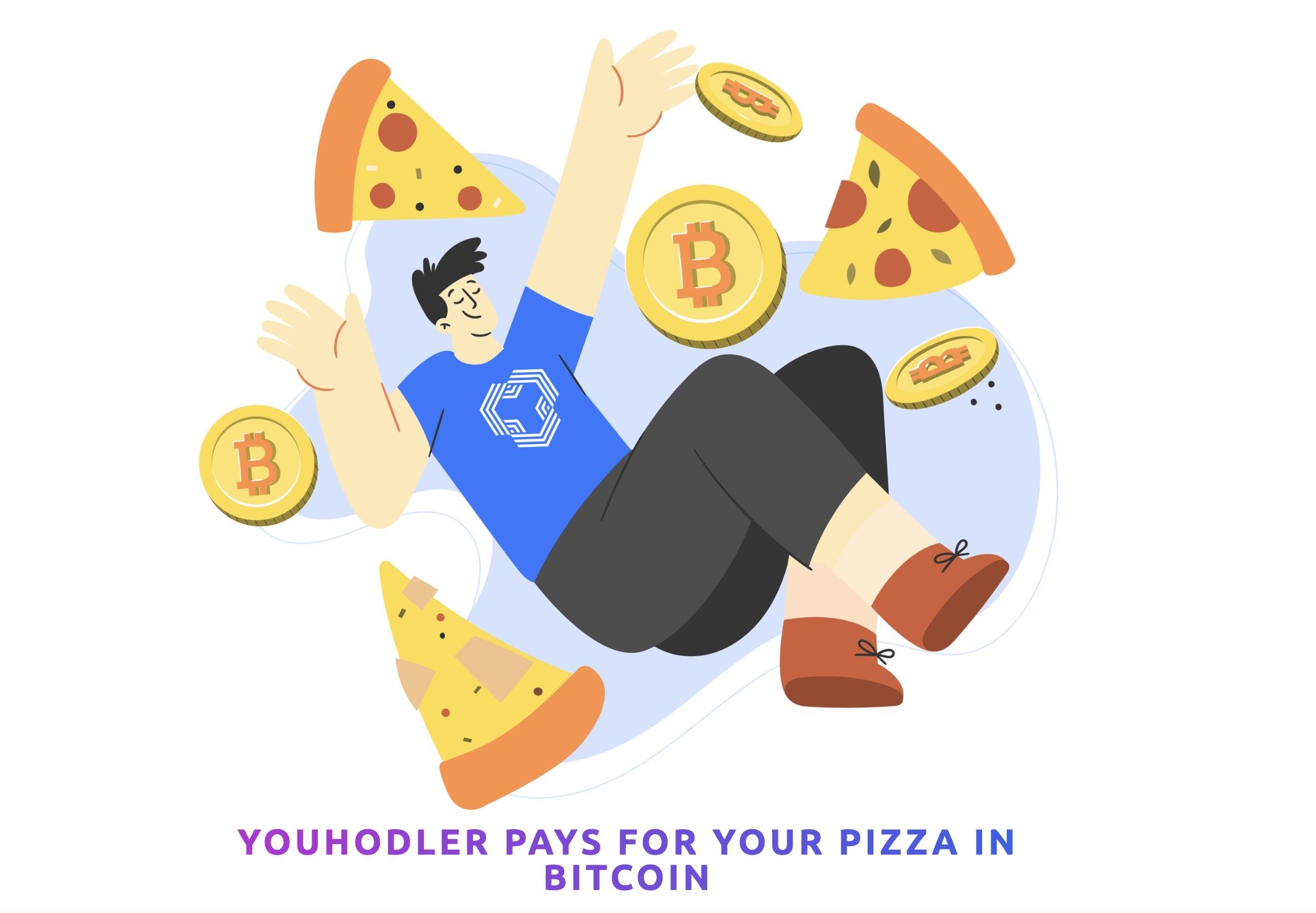 Free Pizza from YouHodler
Order Pizza on May 22 & get up to $30 in BTC
Prize
Free Pizza up to 30 Eur
Availability
U.K. & Europe
1. Join YouHodler using the button below.
2. On May 22nd order the pizza & keep your receipt.
3. Find the tweet about Bitcoin Pizza‍ Day on YouHodler Twitter & comment with the picture of your pizza & the receipt.
4. YouHodler will reimburse you up to 30 Euro in BTC.*
*Each user may get up to 30 Euro for maximum 2 pizzas. Only first 100 users to comment on tweet are eligible.
Get free pizza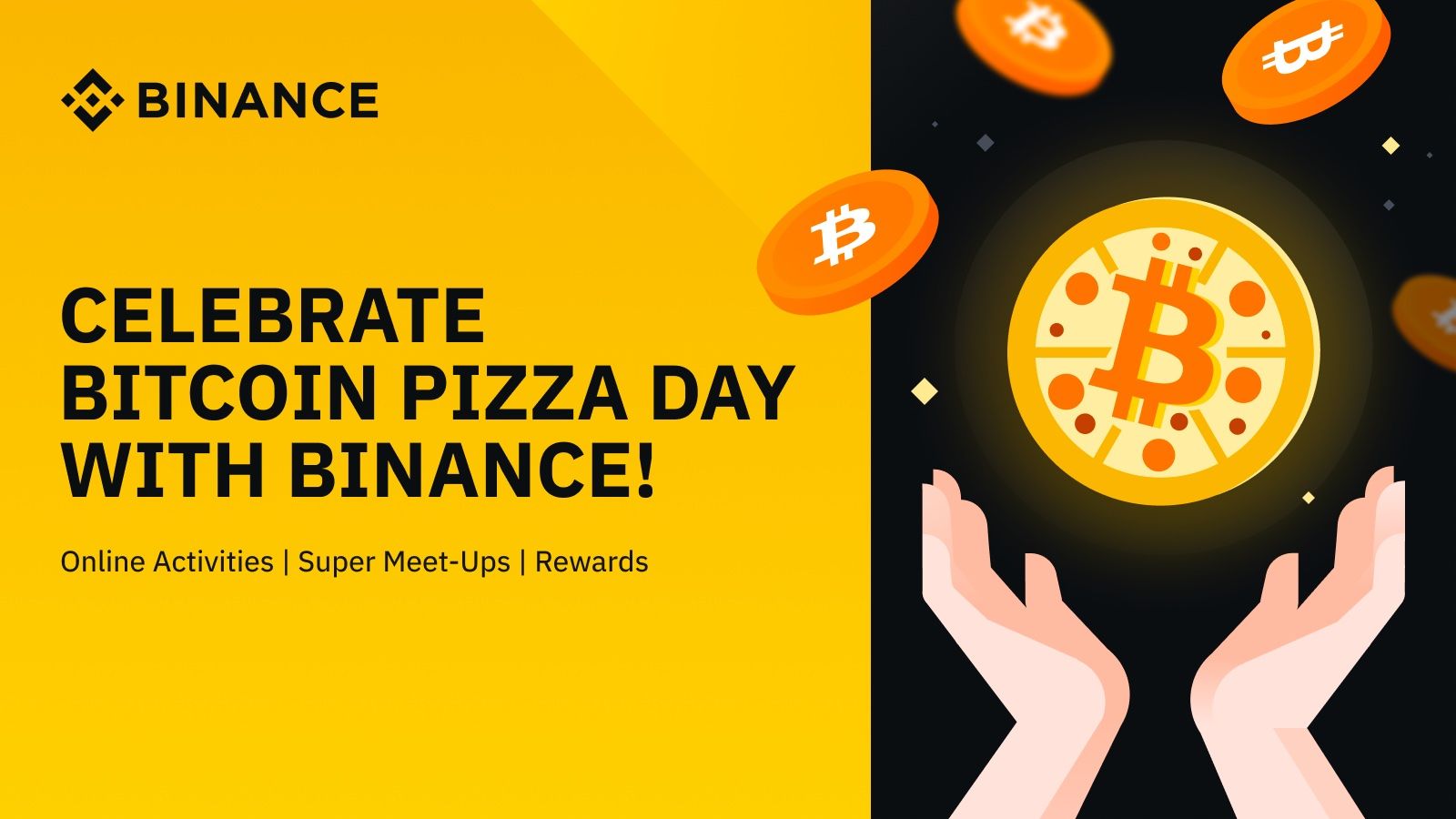 Binance celebration & exclusive voucher
Exclusive $10 voucher & a chance to get a year's supply of pizza in BTC
Prize
$10 & a year's supply of pizza in BTC
Availability
All except the U.S.
1. Sign up to Binance via THIS LINK or the button bellow
2. Enter an exclusive promo code BEIN10 to get $10 voucher.
3. Complete tasks:
– Completing a trade of 50 USDT or more with the BTC/USDT spot trading pair.
– Depositing funds worth at least 50 USDT via [Fiat Deposit] or [Buy with Card].
– Depositing funds worth at least 50 USDT via Binance P2P.
– Referring at least one friend to create a Binance account and verify their identity.
– Retweeting the Collect & Win page on your socials with the #BinancePizza hashtag.
4. Once you complete all the tasks you will enter the challenge to win a year's supply of pizza in BTC.
Participate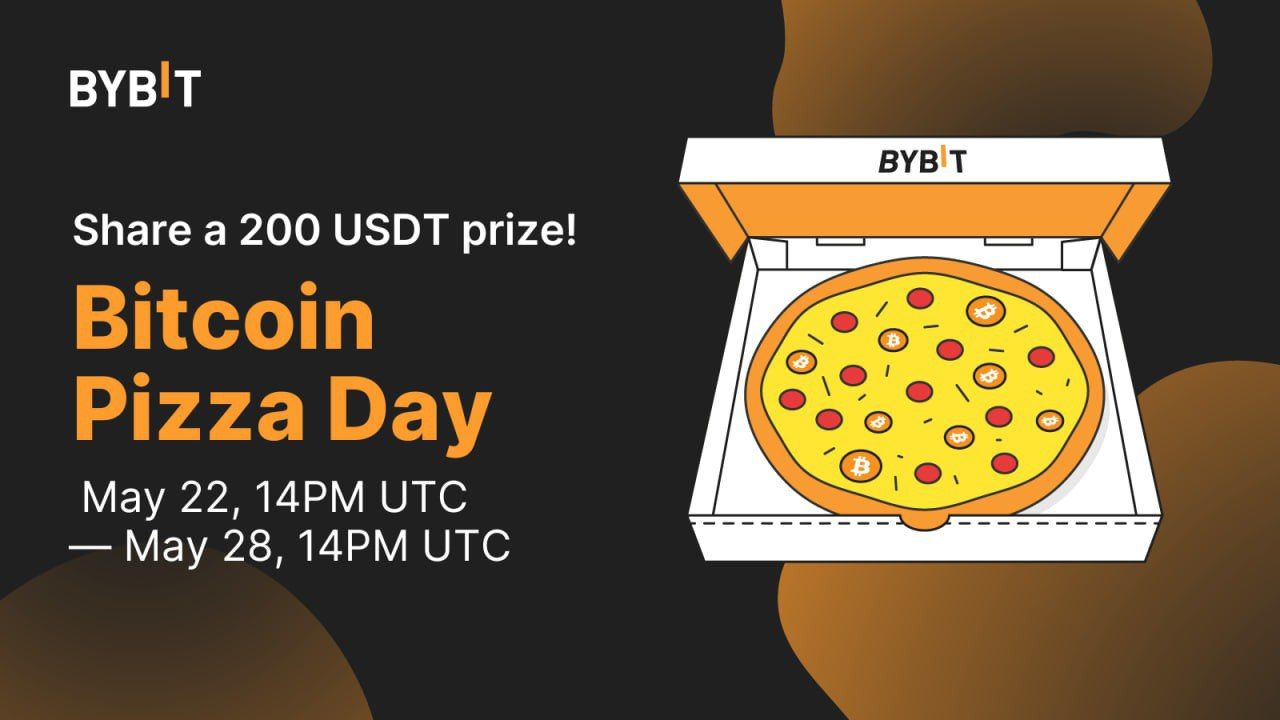 Bybit x Bitcoin Pizza Day
Share a meme & get up to $100
Availability
U.K., Europe & 100+
Please note that you should have ab account on Bybit with KYC-1 to claim a reward
1. Share your meme creation* in Bybit English Telegram Community with the hashtag #BybitPizzaMeme and tag 2 friends. Meme must be related to Bybit (Photo/GIF).
2. Fill in the Google form
3. 7 winners will be selected randomly and be rewarded with 100 USDT, 50 USDT or 10 USDT
Only one entry per user
Sign up to Bybit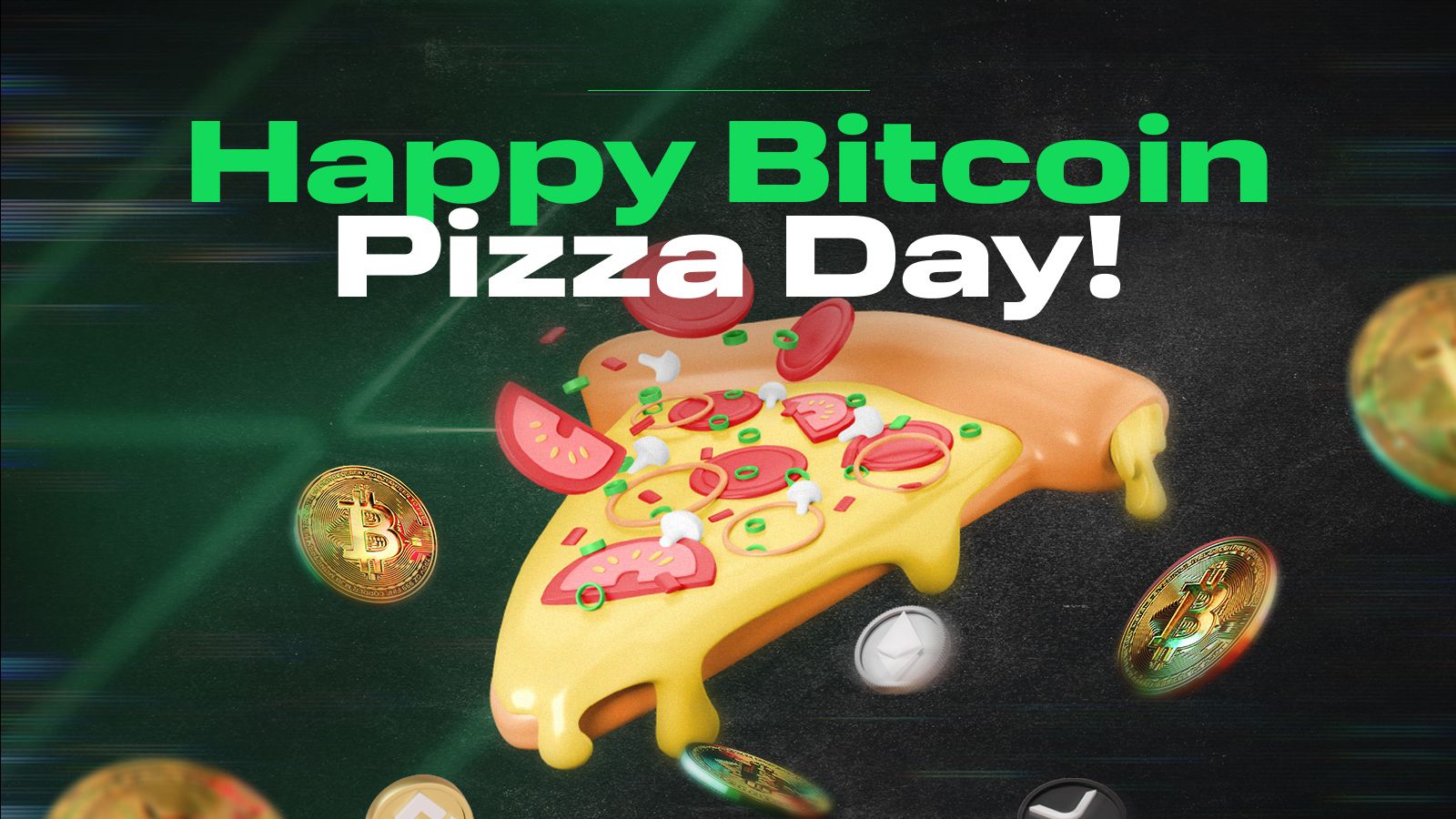 StormGain Bitcoin Pizza Day
Mine bitcoin up to 24x faster
Prize
Mine bitcoin up to 24x faster
Availability
Latam, Asia & Turkey
1. Sign up on Stormgain mining platform via the link below
2. Make a one-time deposit in USDT to boost to your Crypto Miner speed:
– Deposit 100 USDT and mine 2x faster with a Gold status upgrade
– Deposit 300 USDT and mine 6x faster with a Platinum status upgrade
– Deposit 700 USDT and mine 24x faster with a Diamond status upgrade!
Participate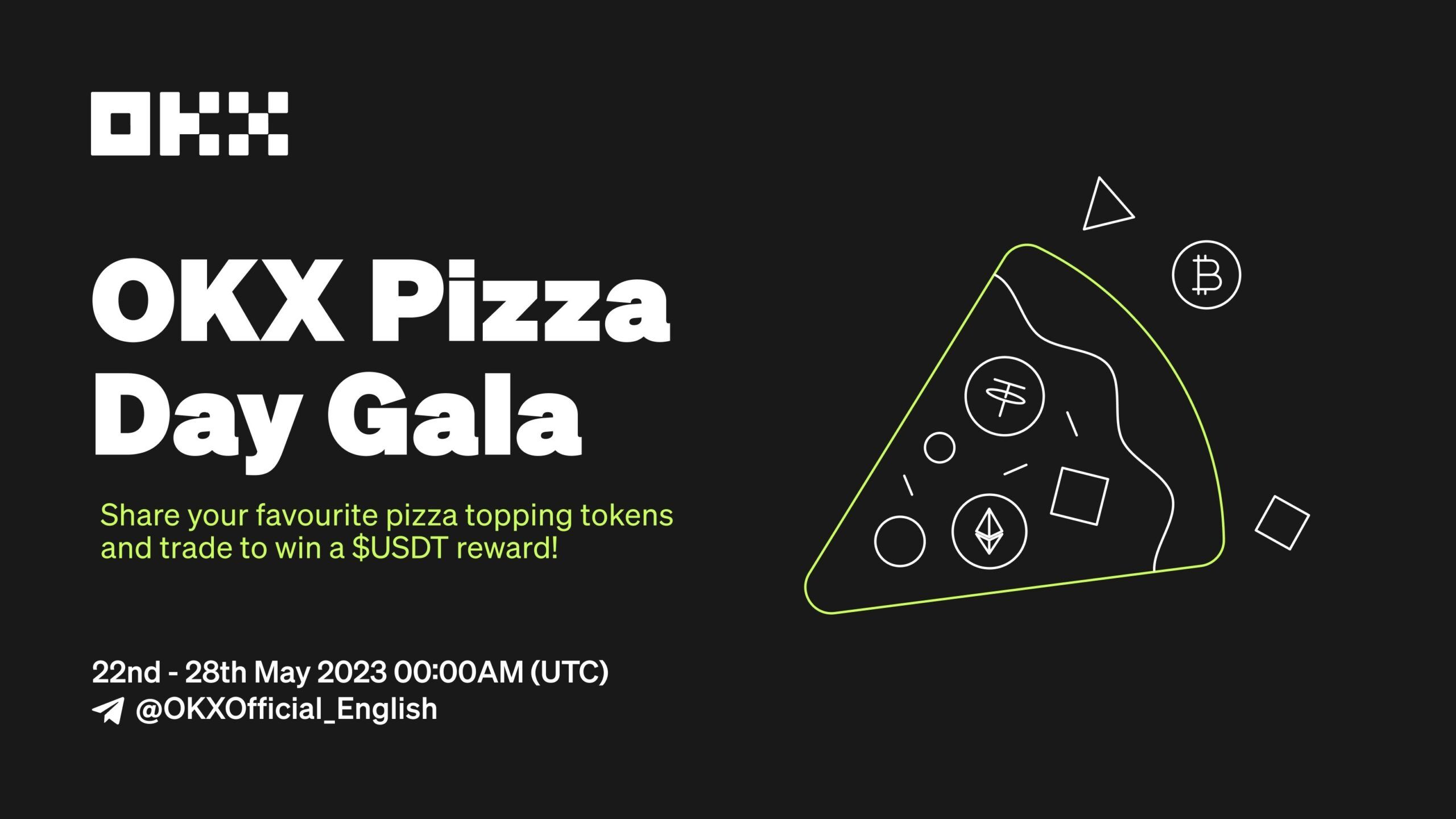 OKX Pizza Day Gala
Trade to win a USDT reward!
Availability
Europe & LATAM
1. Sign up on OKX via the link below and complete KYC2.
2. Join OKX English Telegram group and stay in the group.
3. Put your OKX UID & Telegram username HERE to participate in the event.
4. Post 3 of your favourite tokens as Pizza toppings on OKX English TG group with a hashtag #My favourite pizza topping tokens are (your token).
5. New OKX users who Spot Trade $100 USDT worth of BTC till May 28 will receive $5 USDT.
6. Existing OKX users who Spot trade $200 USDT worth of BTC till May 28 will receive $5 USDT.
7. First 100 participants who complete either task will be selected to win the rewards.
PARTICIPATE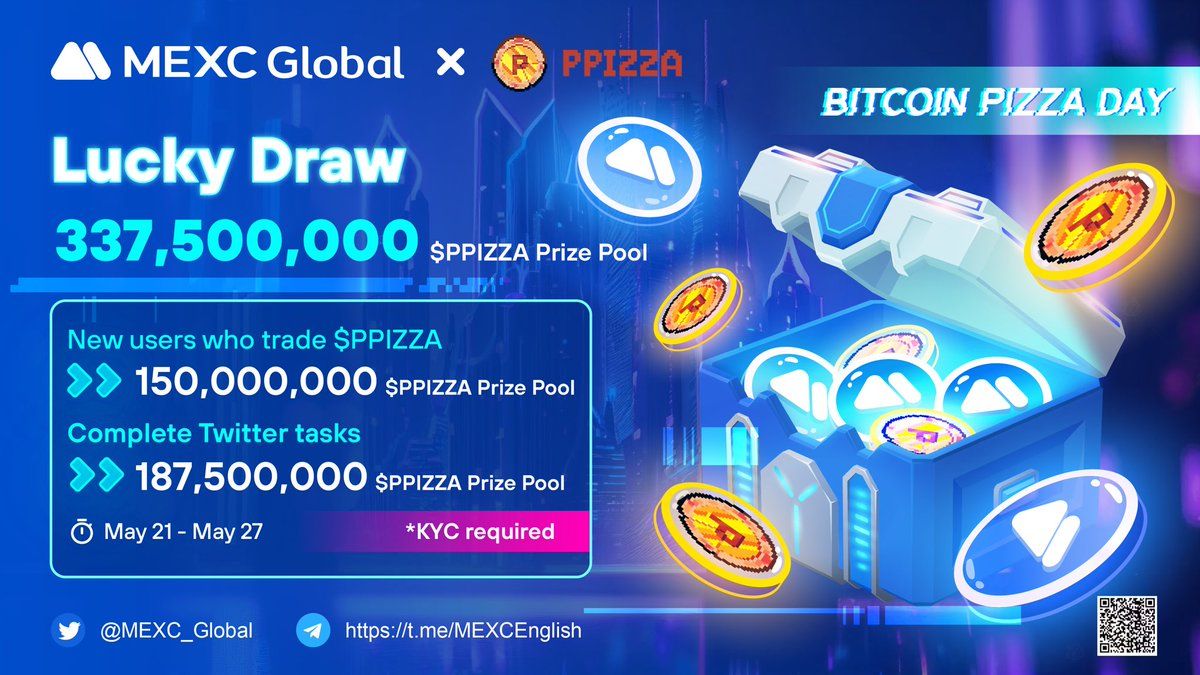 MEXC x PPIZZA Lucky Draw
Share 1,106,250,000 $PPIZZA Tokens
Prize
337,500,000 PPIZZA prize pool
Availability
all except USA and China
1. Sign up for a MEXC account via the button below & complete KYC
2. Share any amount of PIZZA to share the prize pool!
3. Fill the form for your country HERE
PARTICIPATE
1. Follow MEXC on Twitter, like & retweet the post
2. Take a photo of your pizza with PPIZZA written on the box
3. Send the photo to the comments under the event tweet with the #MEXCPPIZZA hashtag
4. Fill the form HERE
PARTICIPATE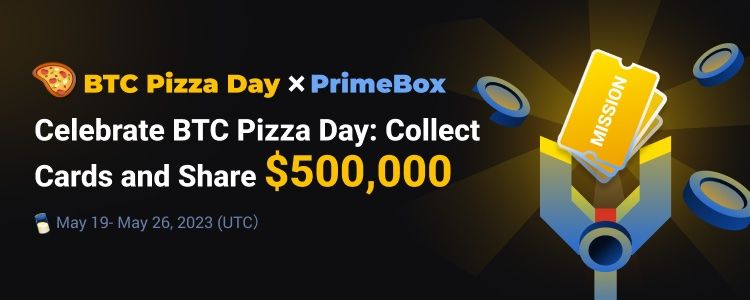 Huobi: BTC Pizza Day x PrimeBox
Exclusive $10 voucher & a chance to get a year's supply of Pizza in BTC
Prize
$500,000 Prize Pool
Availability
U.K., Europe & 100+
1. Sign up to Huobi and complete KYC via the button below.
2. Complete the tasks cards with five ingredients flour, cheese, veggie, meat and seasoning:
– ETH Shanghai Upgrade x PrimeBox for Cards this season (20 Cards from the last season = 1 Card this season)
– Collect Cards in daily giveaways
– You can collect BTC Shards to win random PrimeBox Cards! BTC Shards can be found on the event page or on the back of the Cards (10 BTC Shards = 1 PrimeBox Card)
– You can redeem PrimeBox Cards with Crystals (10 crystals = 1 PrimeBox Card)
– Hold no less than 100 HT for 24 hours in a day to get 10 PrimeBox Cards the following day.
3. With all five different Cards, you can generate a Pizza to win badges, cashback vouchers, a Prime trial membership, etc. from $500,000 prize pool. The daily top ten participants who generate the most Pizzas will receive an additional prize.
Participate
The man behind the million-dollar pizza: Get to know Laszlo Hanyecz
Unsurprisingly, the man who (unbeknownst to him at the time) started Bitcoin Pizza Day has an interesting background. Laszlo Hanyecz was an early contributor to Bitcoin's software. Hanyecz contributed significantly to Bitcoin's development, coding a program that made it possible for fans to mine the currency using their computer's graphics cards. In addition, he was the first developer to provide the Bitcoin logic for Mac OS.
After accomplishing this impressive feat, Hanyecz promptly shared his findings with Satoshi Nakamoto and the wider bitcoin community. While he received recognition for his contribution, Satoshi was already well-versed in GPU mining and its ability to thwart 51% attacks, making Hanyecz's discovery more of a confirmation than a revelation.
Hanyecz has continued to make similar purchases with Bitcoin over the years, spending 100,000 BTC on pizza that summer — now worth more than $300 million.
Who is Jeremy Sturdivant?
It's important to note that the transaction did not occur solely between Hanyecz and Papa John's. Another individual, Jeremy Sturdivant (also known as Jercos), was involved in the original BTC pizza transaction. Sturdivant was the person who received the 10,000 BTC and used it to buy the pizzas.
Jeremy Sturdivant, then just 19 years old, followed through on the deal, purchasing the pizzas and hand-delivering them to Hanyecz's residence in Florida. While Sturdivant could have just made the most profitable deal of his life, the teenager didn't become super rich from this encounter.
Like Hanyecz, Jeremy Sturdivant was unaware of just how valuable this BTC would grow to be; it has been widely reported that he later spent the coins he received covering expenses from a business trip. In 2013, Jerco told the "Bitcoin Who's Who" publication his feelings when looking back at the amount of BTC he was unknowingly holding.
"Retrospectively, simply having that much bitcoin in one place is quite a crazy thought. Of course, that wasn't notable at the time, as bitcoin was just getting started, and it otherwise felt much like later (smaller) transactions: a simple exchange of currency for goods or services."
Bitcoin Pizza Day activities to celebrate the occasion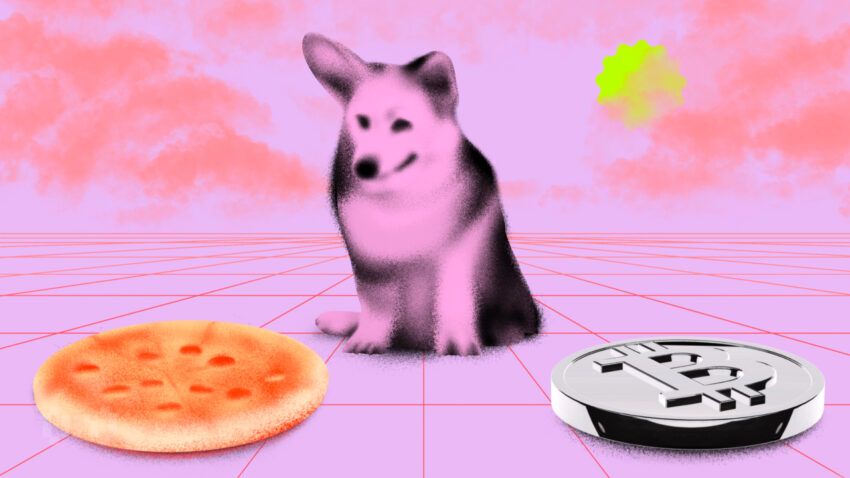 Purchase pizza with BTC
As a crypto investor, the most simple (and apt) activity you can engage in to celebrate Bitcoin Pizza Day is to buy pizzas with BTC instead of fiat currency. Support and participate in crypto history while enjoying your favorite pizza with friends and family.
Buy crypto
In case you haven't yet bought your first crypto asset or it's been a long time since you owned crypto, celebrating Bitcoin Pizza Day by buying BTC or another crypto seems apt. Additionally, you could take advantage of the event to research and learn about crypto use cases.
Make your own pizza
Budding chefs can celebrate Bitcoin Pizza Day by making homemade pizzas — a great way to connect with friends and family over delicious food with a crypto theme!
The legacy of Bitcoin Pizza Day
With hindsight, it's incredible to have witnessed the exponential growth of the Bitcoin network and BTC in just a single decade. Who knew Satoshi Nakamoto's whitepaper would kickstart the decentralized world? Web3 and blockchain-based ecosystems are continuing to expand, and understanding and adoption are growing. Looking back certainly shows how far we have come.
As a crypto newbie, being skeptical of the future of your portfolio is normal (and wise!). It can sometimes feel like you are navigating uncharted waters with the sheer volatility of the market. But take a moment to consider the wild ride of bitcoin since that first pizza purchase. BTC has skyrocketed from less than a dollar to approximately $30,000; we can be optimistic about the future and expect continued innovation. And Bitcoin Pizza Day is the perfect time for a little reflection. Pepperoni, anyone?
Frequently asked questions
Who used 10000 Bitcoin for pizza?
What did Papa John's do with 10000 Bitcoin?
Is the bitcoin pizza guy rich?
How much is the bitcoin pizza worth today?
When is Bitcoin Pizza Day?
Is the bitcoin pizza story real?
Who paid 10k Bitcoin for pizza?
Disclaimer
In line with the Trust Project guidelines, the educational content on this website is offered in good faith and for general information purposes only. BeInCrypto prioritizes providing high-quality information, taking the time to research and create informative content for readers. While partners may reward the company with commissions for placements in articles, these commissions do not influence the unbiased, honest, and helpful content creation process. Any action taken by the reader based on this information is strictly at their own risk.