The cryptocurrency markets surprised many with massive gains across the board yesterday. With an increase of around 140 percent, Bitcoin SV (BSV) led the wider market, but some analysts suspect that the huge increase in buying pressure was not the result of genuine investor interest.
Seemingly spurred by rumors of
missing private keys appearing
and big future advancements for the protocol, Bitcoin SV reached a high of around $422 yesterday. As reported by BeInCrypto
,
the controversial cryptocurrency
briefly overtook rival
Bitcoin hard fork Bitcoin Cash (BCH).
Bitcoin SV Wash Trading Accusations
However, not everyone thinks the massive BSV price increase was the result of organic trading volume. Cryptocurrency entrepreneur Vin Armani claims that Calvin Ayre, one of Bitcoin SV's biggest proponents, engineered the pump with a sophisticated wash trading scheme involving Bitcoin Cash mining. Armani
details his theory
in the following Twitter thread:
THREAD

The mechanics of the BSV pump is pretty interesting. I've been watching this develop for days.

No one but Calvin is mining BSV. Adding more hash doesn't get him more BSV.

So he deploys hash on BCH a couple weeks ago (unknown miner with like 60%)

— Ⓥin Ⓐrmani (@vinarmani) January 14, 2020
The CoinText Chief Technical Officer claims that Ayre has been mining Bitcoin Cash (BCH) for the last few weeks and that his
hashing
power likely forms a large portion of the around 60 percent attributed to unknown miners on the network. He also reasons that Ayre has a lot of SHA-256 mining equipment that was due to be sold to Squire Mining Ltd. The deal fell through in November leaving the hardware 'collecting dust' as Armani puts it. After receiving Bitcoin Cash as a result of his mining efforts, Armani claims Ayre traded the cryptocurrency for Tether (USDT), which he then used to wash trade BSV. This was all made possible thanks to Bitcoin SV being
delisted from many major exchanges
last year, as BeInCrypto reported at the time. The relatively shallow order books at the exchanges still offering BSV trading reportedly made manipulating the price much more effective, if Armani's theory holds true.
Data Doesn't Add Up
Armani reasons that the bullish momentum, likely beginning in response to supposed developments in the ongoing
Wright vs Kleiman case
, gave Ayre the opportunity to pump the BSV price risk free. He adds that Ayre could potentially repeat this play to keep Bitcoin SV's market capitalization close to that of Bitcoin Cash. There may be something to Armani's theory since Bitcoin SV seemed to rocket upwards until reaching the market capitalization of Bitcoin Cash. Rather than blow straight past BCH, BSV has stayed close to its rival big-block Bitcoin fork. Another point worthy of consideration is the lack of Google searches for Bitcoin SV coinciding with the pump. If buying was the result of organic interest, you would expect to see a spike in searches. However, the Google interest in the cryptocurrency appears to be just 16 percent of that observed during last summer when Bitcoin SV experienced a similar, albeit smaller, price increase.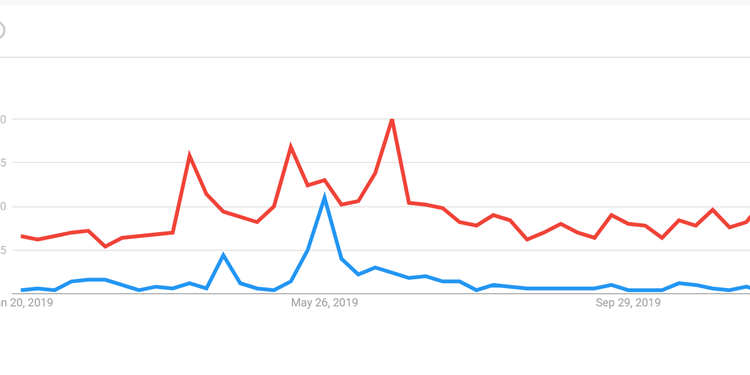 Disclaimer
All the information contained on our website is published in good faith and for general information purposes only. Any action the reader takes upon the information found on our website is strictly at their own risk.
A former professional gambler, Rick first found Bitcoin in 2013 whilst researching alternative payment methods to use at online casinos. After transitioning to writing full-time...
A former professional gambler, Rick first found Bitcoin in 2013 whilst researching alternative payment methods to use at online casinos. After transitioning to writing full-time...
READ FULL BIO
Sponsored Sponsored