With billions added into the crypto economy and bitcoin-rich investors ready to diversify, the alt season might be just around the corner. In fact, there might even be two.
Altcoin Déjà Vu
There is no feeling quite like hitting the lottery with an altcoin. Many recall discussing altcoins with their families over the 2018 New Year (after buying Bitcoin over Thanksgiving). Then they watched their holdings blast off to the stars.
So what predicts the rise of altcoins now? A familiar situation. Kaleo, a crypto and options trader, tweeted a chart showing how similar the altcoin market cap looks to March 2017. Back then, the market grew $360 million to $800 billion at the peak. In other words, "Alt Season Confirmed."
Alt Season Confirmed. https://t.co/CmeQf0NdnM pic.twitter.com/3fl4UHLZaM

— K A L E O (@CryptoKaleo) July 25, 2020
Another helpful chart is the Bitcoin dominance one. Yesterday, it fell to about 61%, the lowest it has been since June of last year. Mid 2017 and early 2018's altcoin run came after BTC dominance fell below 40%. That statistic, for now, is rising as people dump their altcoins for Bitcoin in today's surge.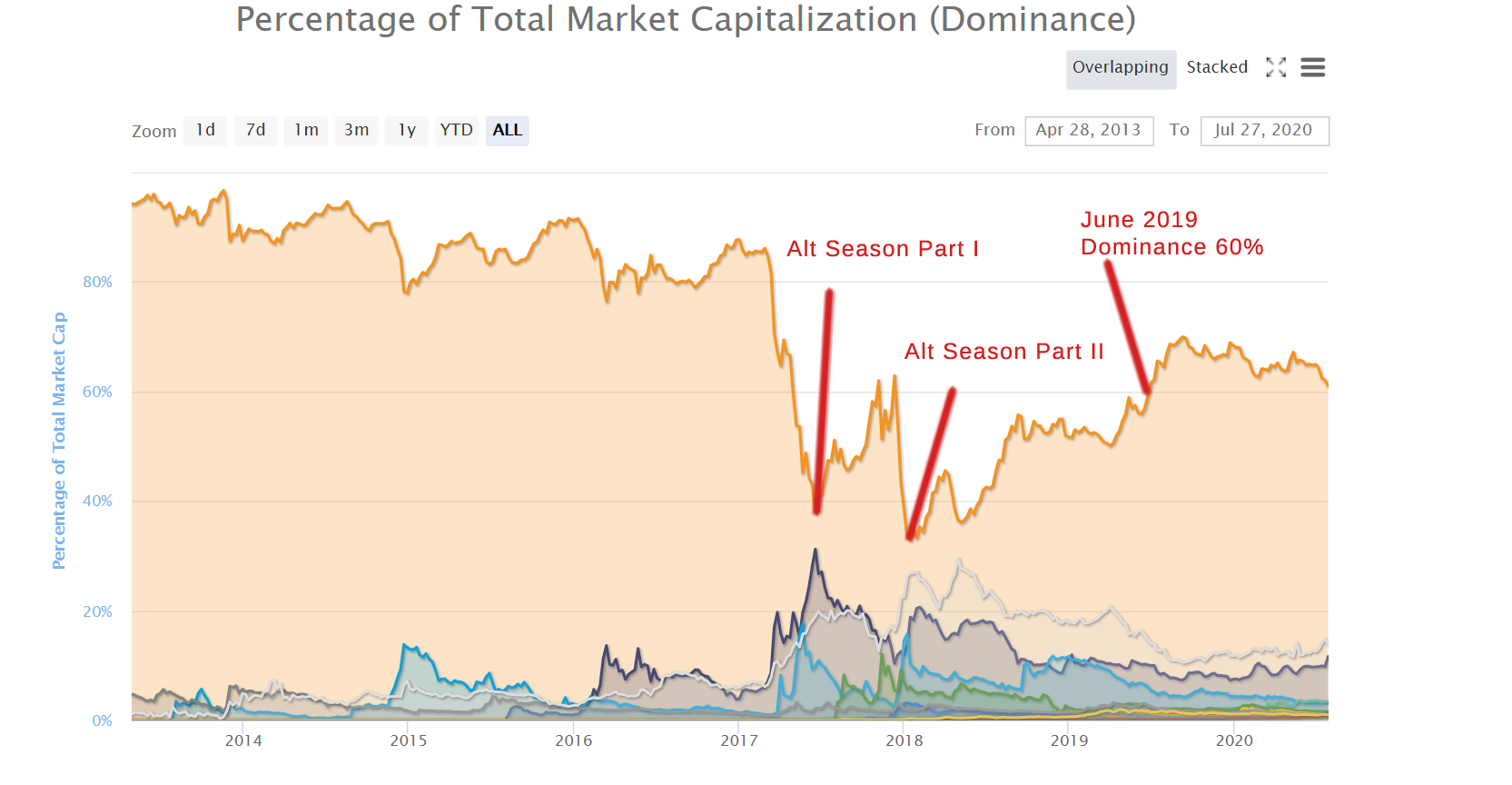 Many are still optimistic. Randall at the Crypto Love Youtube Channel predicts not one, but two altcoin seasons coming up.
"I believe that bitcoin is almost identically repeating what happened in 2017… This is alt season on the DL. This is Altseason Part I."
In recent weeks, altcoins like Chainlink and YFI have already skyrocketed. This could indeed be a "mini" alt season before the big one. After all, alts pumped hard in early 2017 before reaching a climax in early 2018, those days so vividly etched in our memories.
During that alt season, Bitcoin fell back from a peak of $20,000 to just under $10,000. Bitcoin dominance lowered to 33%. If Bitcoin continues to rally at this speed, we might see a repeat when it falls.
AI Says No to Alt Season
Artificial Intelligence, however, seems to have a different opinion. The friendly programmers at German crypto-guide Blockchaincenter.net have set up a page with an index meant to determine when alt season is happening. The verdict? A resounding no.

Open Alt Season is declared when their algorithm reaches 75% in favor of coins. With the recent BTC pump, that index plummeted. But hope is not lost, because people, unlike computers, have FOMO.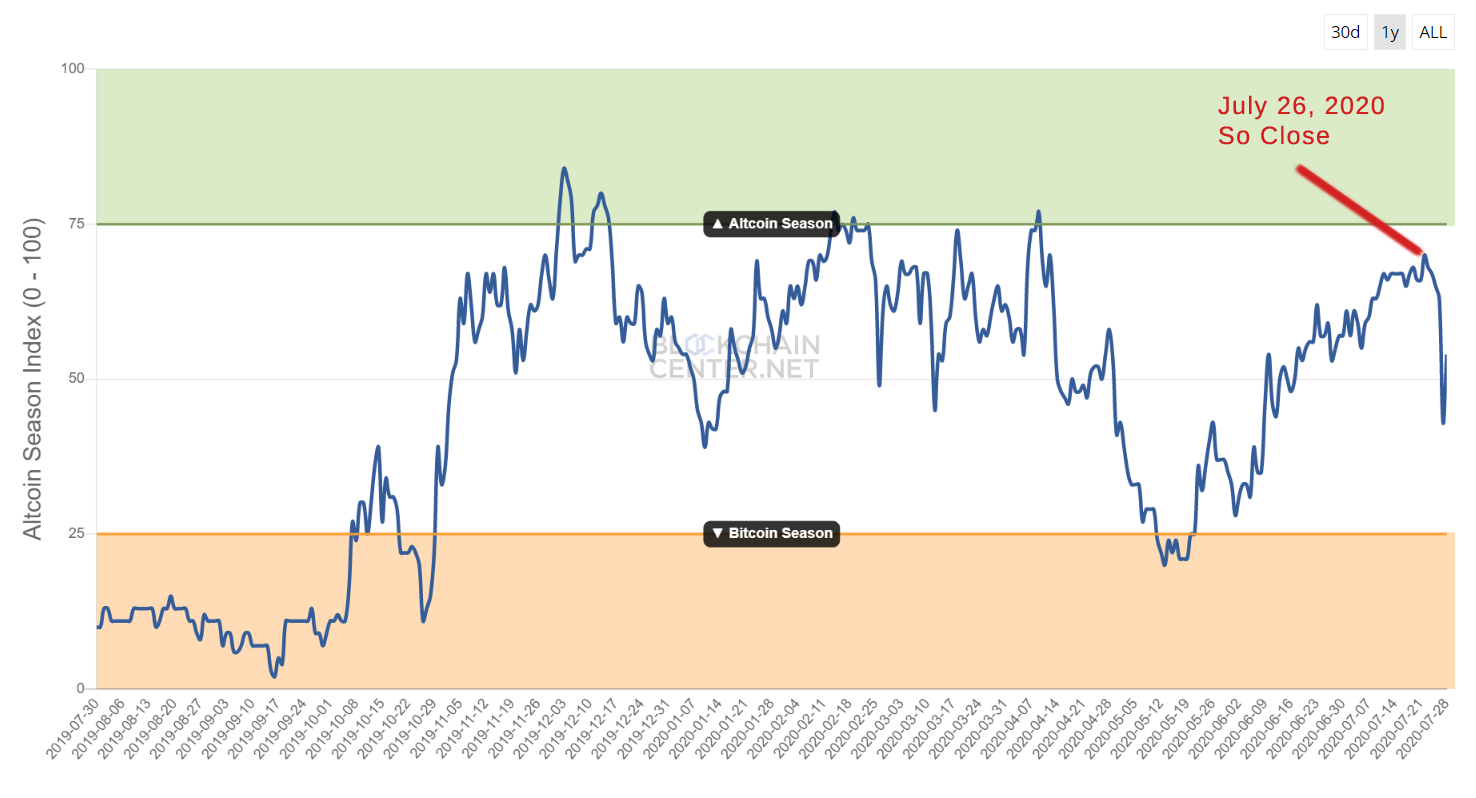 A New Dawn
ALTSEASON IS COMING 💸 pic.twitter.com/XvyrJMaMAd

— 𝕁𝕁𝕔𝕪𝕔𝕝𝕖𝕤 🔄 (@JJcycles) July 25, 2020
What's more, new developments in the crypto space still lend hope for another alt season. The total crypto market cap has gained about $80 billion over the course of the month, and that money has to go somewhere. Likewise, BTC dominance is still at an unusually low 62.5%.
Alt season usually occurs when Bitcoin-rich investors are looking to squeeze even more out of their profits. Once the Bitcoin price peaks, whenever that may be, a surge in altcoin prices could follow.
At the same time, decentralized exchanges have blossomed in the last two years. Trades across multiple untrustworthy exchanges are now direct swaps in a trustless environment, built into your wallet. This, plus the popularity of DeFi in general, could fuel an alt comeback.
Early Altcoin Christmas?
So what altcoins are poised to come back? A good place to search is on easily accessible exchanges like Coinbase and Gemini. Some coins have good fundamentals, but recently took a hit because they were overbought or speculators sold them to profit on Bitcoin's rapid growth.
If you don't 10x your networth this #ALTSEASON you've failed

— Crypto Bitlord (@Crypto_Bitlord) July 26, 2020
The whirlwind of 2018's alt season has left many with an appetite for ridiculous gains. Investors, as always, should be careful when choosing altcoins. We all remember the crazy rallies, but some of us choose to forget that for many pumps, there are also unrecoverable dumps.
Disclaimer
All the information contained on our website is published in good faith and for general information purposes only. Any action the reader takes upon the information found on our website is strictly at their own risk.