BeInCrypto recently held an "Ask Me Anything" session with GamerHash CMO Artur Pszczółkowski. Here's what he had to say on the future of gaming, non-fungible tokens, and crypto mining.
BeInCrypto: Welcome to our BeInCrypto AMA! Today we welcome Artur from GamerHash. Thanks to everyone for being here!
First of all, I think it is interesting for us to know a little more about your background so please feel free to write a short paragraph about your involvement with blockchain, cryptocurrencies, and so on. By the way, you can also explain your current role to us!
Artur: I worked in the digital space for more than 15 years. I managed all digital activities in one of the top swiss corporations in Zurich, with a team of over 50 people.
Three years ago I traveled to Zug when Vitalik was running an Ethereum entity there. I saw the energy and I was totally in. I run a few blockchain projects in Poland but GamerHash is taking up 120% of my time.
I'm an Oxford BlockChain Program Alumni with a very broad network in UK, Switzerland, and Poland.
BeInCrypto: That's great, thanks for providing such info for us. Well, let's get to the main topic of our session then. I can see that GamerHash enables users to make some money and it looks like computing power has an interesting role within the process.
Could you please explain GamerHash in a nutshell to all of us?
Artur: GamerHash in a nutshell is a self-financing supercomputer. We direct the idle CPU and GPU power of users to mine crypto.
The way it works is that Gamers install our small program and our system in realtime calculate which two, out of twelve, cryptocurrencies should be mined. There is always one crypto mined on CPU and one on GPU.
To give you an overview — currently, the average gaming PC can mine $50-$70 of crypto monthly. We don't calculate 24/7 usage – just when the computer is idle (on average). Earnings are sent on a daily basis to users and of course, they can be sent to private wallets.
GamerHash is currently three years old and has more than 550,000 users.
BeInCrypto: Awesome. In fact, you provide nice resources to GamerHash users. One of them that caught my attention was "Play and Earn." Could you tell us a little bit more about this feature and why it is interesting? Is this available worldwide right now?
Artur: This is a very cool feature. We saw that over time, lots of users install GamerHash but actually their computers are not powerful enough (ex. laptops).
Play and Earn allows our gamers to play games and earn money by doing simple in-game activities. We are currently rolling out this feature globally, with the main focus on Asia now. I'm sure that soon there will be many games in each geo-zone.
Play and Earn can be done in parallel with mining — this is the best setup.
BeInCrypto: That's great! I bet more and more members are getting curious now. We've already talked about the basics of the platform itself but what about its native token?
What would you want to tell us about GHX and how did you plan to use it on your project?
Artur: That's our cherry on the pie! As you mentioned, GamerCoin ($GHX) is the native GamerHash platform token. It's a well-known ERC-20 solution.
Every day, more than half a million of our users do a huge amount of "earning and spending" transactions on the platform. GHX will improve this internal exchange and additionally will make mining and Play and Earn more profitable.
As written in our whitepaper, there will be a number of tokens monthly that will be shared among gamers participating on the platform. I also mentioned "spending" above.
GamerHash has a marketplace integrated onto the platform. Users can buy digital products out of >600 digital proposals. People can pay for their Netflix or Spotify subscriptions with us. Or do shopping on Amazon!
Our tokenomics is very conservative. Our SmartContract generated 880 milion tokens. 36.6% were sold in a private sale. We reached a hard cap of $2.8 million and got oversubscribed.
In general, GHX combines the top qualities of blockchain and gaming. It's the perfect time for us. Just see what is happening with Sandbox, Enjin, Exeedme, etc.
BeInCrypto: It sounds good! It's really useful knowing how the GHX token fits your current ecosystem. Some members might be wondering how to get these tokens right now.
Were there any kind of private/public sales for them?
Artur: The private sale finished in December, we are now in preparations for our first listing on a top-tier exchange in Asia. That would be the first opportunity to buy GHX.
We were expecting that some of the users will use the occasion to sell something on Uniswap — but for now, it seems that no one wants to sell!
We are getting lots of questions about any public sale before listing. However, we don't have more tokens in this pool and we are not allowed by our license.
It's important to note that GamerCoin is one of the first tokens that got a crypto license last December from the Maltese MFSA. We comply on all levels with the EU rulebook and it gives us great support in discussions with top exchanges
BeInCrypto: Ok, got it. It looks impressive. By the way GamerHash has already won some really nice awards as we can see on your website. You are also a Blockchain Game Alliance member.
What key points would you highlight from each one of these prizes and what do you think of strategic partnerships for GamerHash?
Artur: Awards and conferences — it seems like ages ago when we were last able to travel. Yes, we have won the top-three conference pitch competitions.
In 2019, we won at the AIBC Malta Summit. For me personally, that was a great experience as I was pitching for the first time. Most important to me was that the decision was made by the investor's panel. So they were following business KPIs in their decisions.
The week after, we went to the Singapore Blockshow Conference organized by Cointelegraph and also we got an award there. For me, it's interesting to mention that we got the pitching slot in the pre-pitch competition.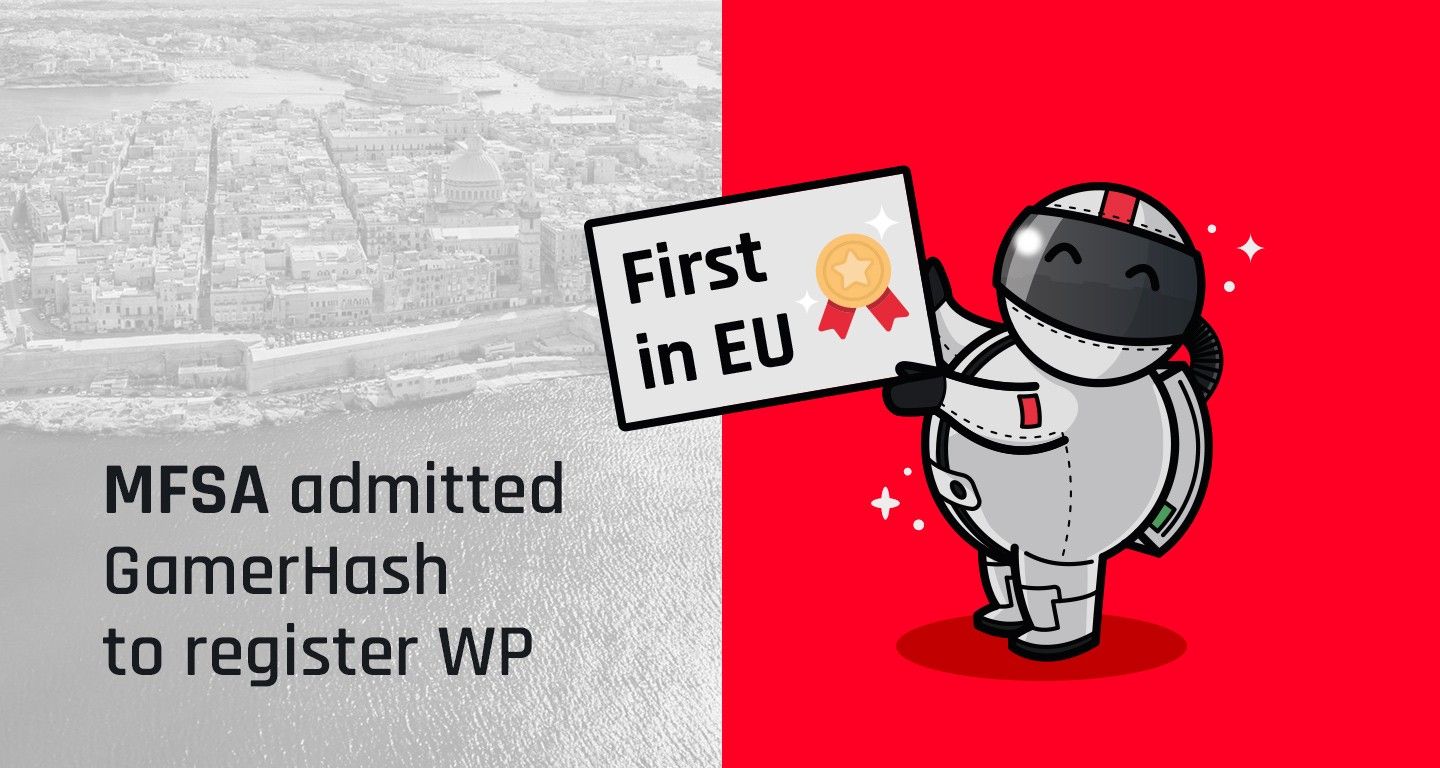 We made it to the finals and in the end, Andy Creeze, the CMO of Cointelegraph, granted us a wild ticket. You can find this show on YouTube. Three months later, in January of last year, we flew to Miami for the North American Blockchain conference and were awarded again.
I'm really proud of our team as it was a hard three years of work and the awards confirmed our hard work and validated our strategic concept. From then on, we weren't just pitching anymore — there was nothing more to win. Just joking — COVID-19 must really be getting to our heads.
BeInCrypto: Wow, it has been an awesome path for you so far. I'm pretty sure everyone has solid reasons to be excited about some new achievements in the near future.
With that said. what can we expect in terms of roadmap updates in the coming weeks/months? Is there anything in regards to listings or any other information you could share with us?
Artur: Currently 150% of our efforts go to the first listing. We are approaching top-tier Asian exchanges. For now, we cannot disclose more but I'm sure it's worth waiting. It's a matter of days/weeks to confirm the listing date.
Our marketing campaign is already running well in Asia and our community in Korea already has more than 1,200 people. The energy in Asia is great — we get goosebumps when looking to the future.
In terms of a roadmap, we will follow directions from our whitepaper. Our ecosystem will grow, there will be more GHX features added to our platform, and we have a few partnership prospects with industry leaders.
Our long-term target is to become the Amazon of NFTs. We are trusted by the gaming community, so by education, we will be introducing the new technology of NFTs.
As Binance CEO Changpeng Zhao said — adoption will come through gaming. No one is more prepared than gamers to exchange digital assets.
BeInCrypto: This is fantastic, it is great to learn more about your thoughts on this topic. GamerHash is working really hard behind the scenes. Now I think an important question is still missing.
Why GamerHash? What makes it different from other projects which act in the same niche?
Artur: That answer is very easy — because we bring value to our users. A gaming computer is all you need to get passive income.
In the way we "Uberized" mining, there is absolutely no technical knowledge required to mine with us. Our smart algorithms do the magic.
On the token side, we have all the puzzles sorted. We have working projects with huge communities, we are a low-cap project that was oversubscribed.
We have a Maltese crypto license, will land on top exchanges, and have great partners like Chainlink, AEternity, and Confirm. What's more important is that we have great timing as a gaming project. I'd like to disclose more but an NDA holds me down.
BeInCrypto: Thank you so much for sharing your ideas with us, Artur! I'm sure our community is quite satisfied with this introduction we have provided about GamerHash!
GamerHash is offering a pool with 250USDT for the best AMA questions! 10 questions will be selected so make sure to ask yours!
In order to be eligible you should follow their Social Media channels:
Telegram Chat: https://t.me/joinchat/KN7AOBQvrP58x619Fyg95A
Twitter Profile: https://twitter.com/GamerHashCom
The announcement of the winners will be made soon. Stay tuned and thank you all!
Disclaimer
All the information contained on our website is published in good faith and for general information purposes only. Any action the reader takes upon the information found on our website is strictly at their own risk.