Axie Infinity took another nosedive in sales volume during the month of March after the play-to-earn game saw a decrease in sales for the third month running in 2022.
March proved to be a difficult month for certain areas of the crypto finance space, especially, non-fungible tokens (NFTs). Axie Infinity generated approximately $31 million in sales during March 2022, according to Be[In]Crypto Research.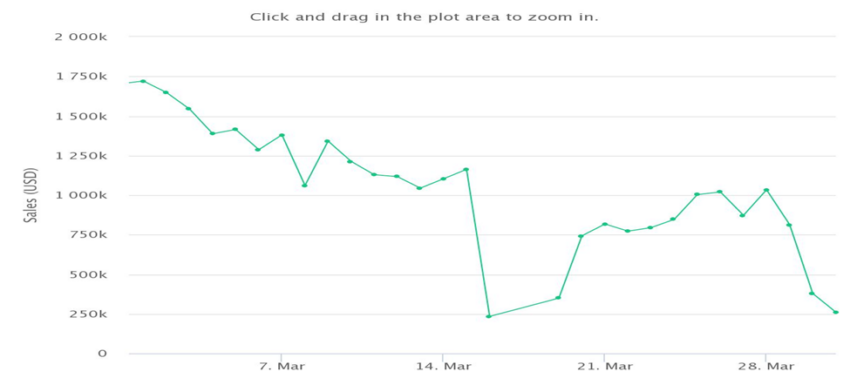 Although such a figure looks impressive for stakeholders behind a new NFT collection, the total sales volume of Axie Infinity for March was down from the previous month.
As per the findings of Be[In]Crypto Research, Axie Infinity generated around $82 million in February. This means that there was a 61% decline in sales during the month.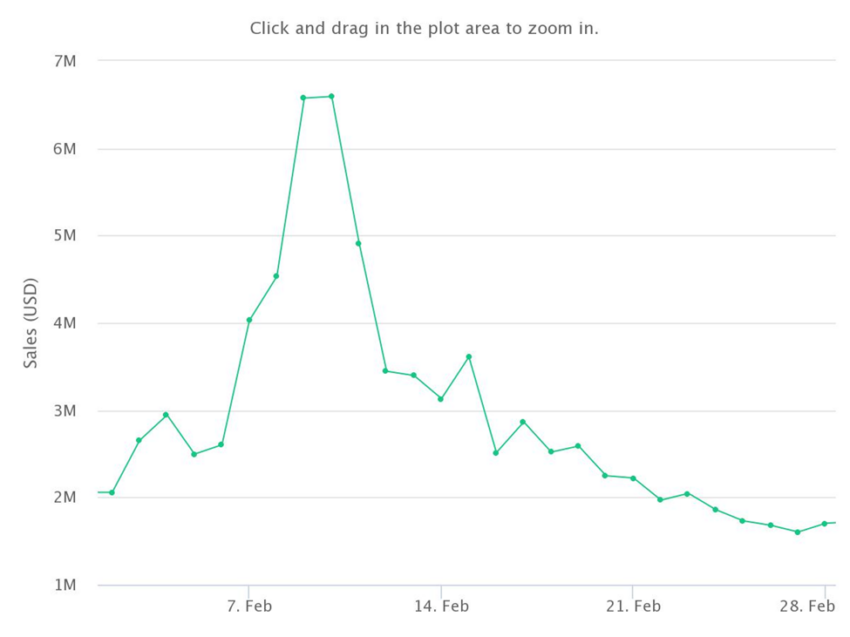 Axie Infinity sales volume continues to decrease from 2021 
The waning volume over the last month could have a huge impact on the fortunes of Axie Infinity since the play-to-earn game which also features NFT collectibles competes with many digital collections.
Although Axie Infinity's total sales volume is up 468% since March 2021, the digital collectibles platform continues to record sales that are a mere fraction of the July, August, September, October, November, and December 2021 milestones.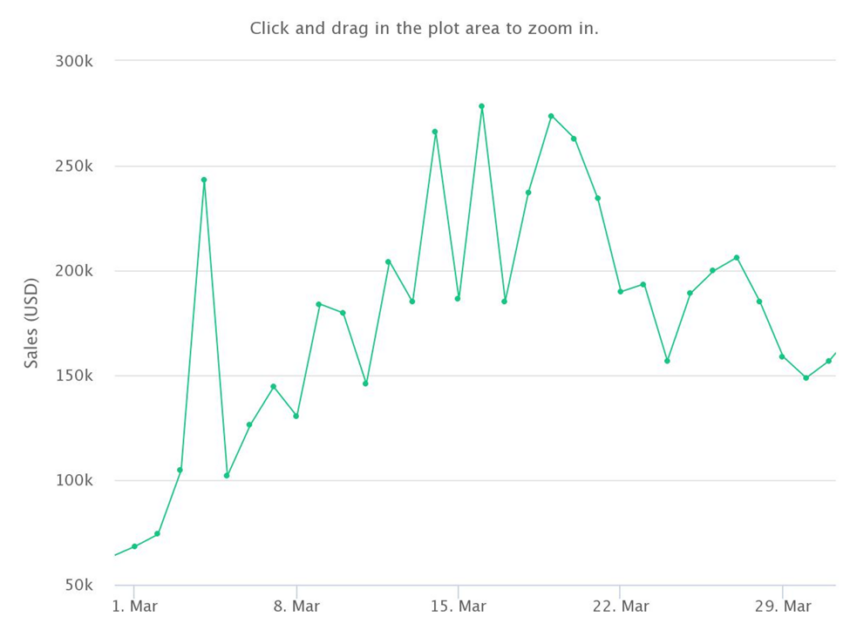 Axie Infinity gained more than 11,800% of March 2021's sales in July when the NFT product began trending online and generated a sales volume of around $666 million. July's volume spiked by 27% to reach an all-time high sales volume of approximately $848 million in August. The difference between August 2021's volume and that of March 2022 was $816 million.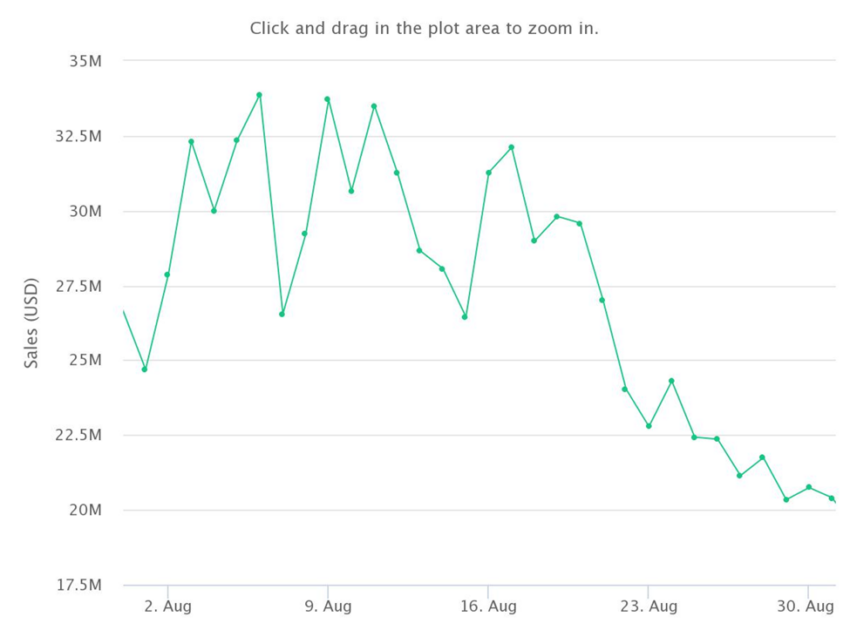 The bulls returned in November which led cryptocurrencies such as Bitcoin (BTC) and Ethereum (ETH) to reach new all-time highs.
Positive crypto market sentiment affected Axie Infinity positively. The digital collectibles and play-to-earn game platform gained 38% in November ($753 million).
Axie Infinity shed 60% of November's new high in December 2021 after the market flipped bearish and sales volume dipped to $301 million.
Declining unique buyers, transaction counts, and average sales can be attributed as the primary factors that have led to a sinking sales volume in March 2022.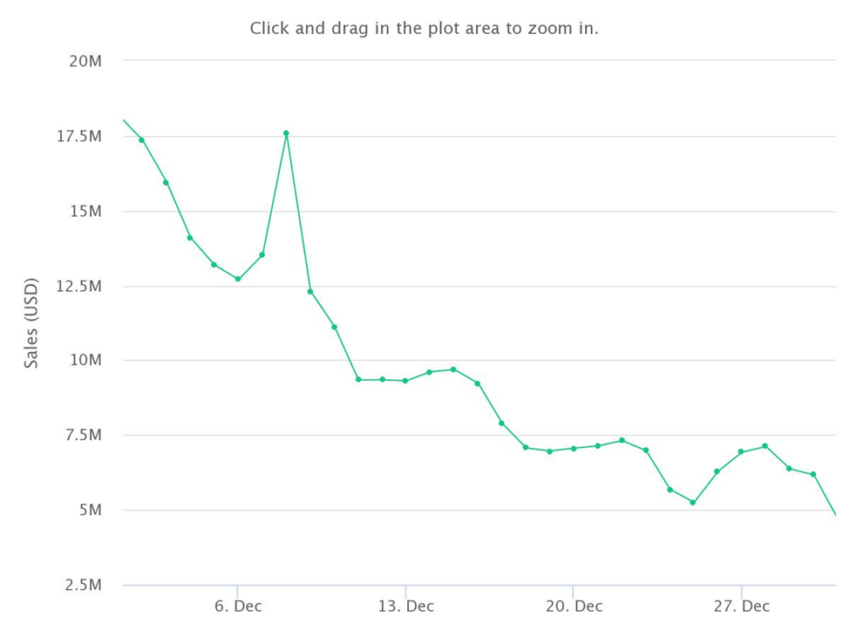 Total number of unique buyers of Axie Infinity
In July 2021, the total number of unique buyers was 215,089. This rose to 305,264 in July and 320,888 in September 2021.
In October, Axie Infinity neared two million daily active users. This led to 391,627 total unique buyers by the end of the first month of the third quarter. 
When investor interest in crypto reached new highs in November 2021, Axie Infinity recorded an all-time high number of unique buyers of 520,425. However, this figure fell to 424,325 in December 2021. 
The number of unique buyers then declined further for the next three months. January saw 314,642 unique buyers, February recorded 270,219, and March numbers fell to 155,369. 
The number of unique buyers in March 2022 was 42% lower than the number of unique buyers in February, 50% lesser than the number of unique buyers in January, and 70% below the number of unique buyers in November 2021.
Total transactions
There were more than one million total transactions in July, August, September, and December 2021. 
Total transactions were more than 2 million in October and November 2021. March 2022 only saw total transactions figures reach 659,791. This is a 75% decline in total transactions compared to the total transactions from November 2021.  
In the end, the average sales value of Axie Infinity was hit hard in March 2022 at $48.22. There was a 90% tumble in the highest average sales value of $494.15 recorded in July 2021.
Impact of NFT sales volume on AXS 
The native token of the Axie Infinity ecosystem, AXS took advantage of the record sales volume recorded last year to reach an all-time high price of $165.37 on Nov. 6, 2021. 
AXS opened on Jan. 1, 2022, at $93.30, reached a yearly high of $97.78, on Jan. 3, and is trading for $58.36 at the time of press — a 66% loss off its all-time high.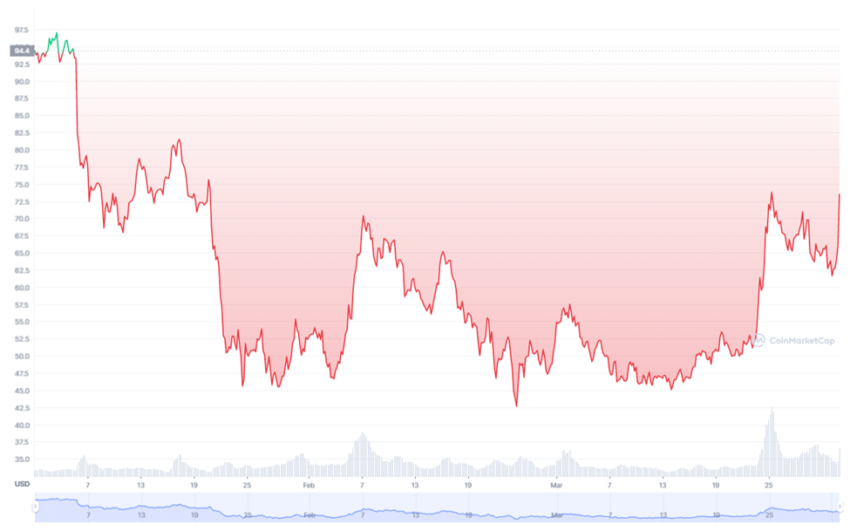 Disclaimer
In line with the Trust Project guidelines, this price analysis article is for informational purposes only and should not be considered financial or investment advice. BeInCrypto is committed to accurate, unbiased reporting, but market conditions are subject to change without notice. Always conduct your own research and consult with a professional before making any financial decisions.