A couple of consolidated bulk Bitcoin (BTC) sums worth $31.5 million, untouched for ten years, may soon be sold on the market as the current price gains continue.
Satoshi-era BTC movements often elicit considerable attention within the crypto space. Usually, the focus tends to be on determining whether the coins are part of the stash mined by Bitcoin's creator in the '
Patoshi pattern
.'
2,050 BTC Hitting the Market Soon?
Tweeting
on Nov. 9, Bitcoin analyst @murphsicles revealed the consolidation of 1,000 BTC (~$15.5 million) from addresses holding decade-old block rewards. Data from
blockchain.com
show a roll-up of 50 BTC in coinbase rewards from 20 different addresses. Before the first
Bitcoin halving
in 2012, miners earned 50 BTC as a reward for successfully mining a transaction block. As seen in the image below, the entity responsible for the roll-up has also split the 1,000 BTC hoard into native bech32 SegWit addresses.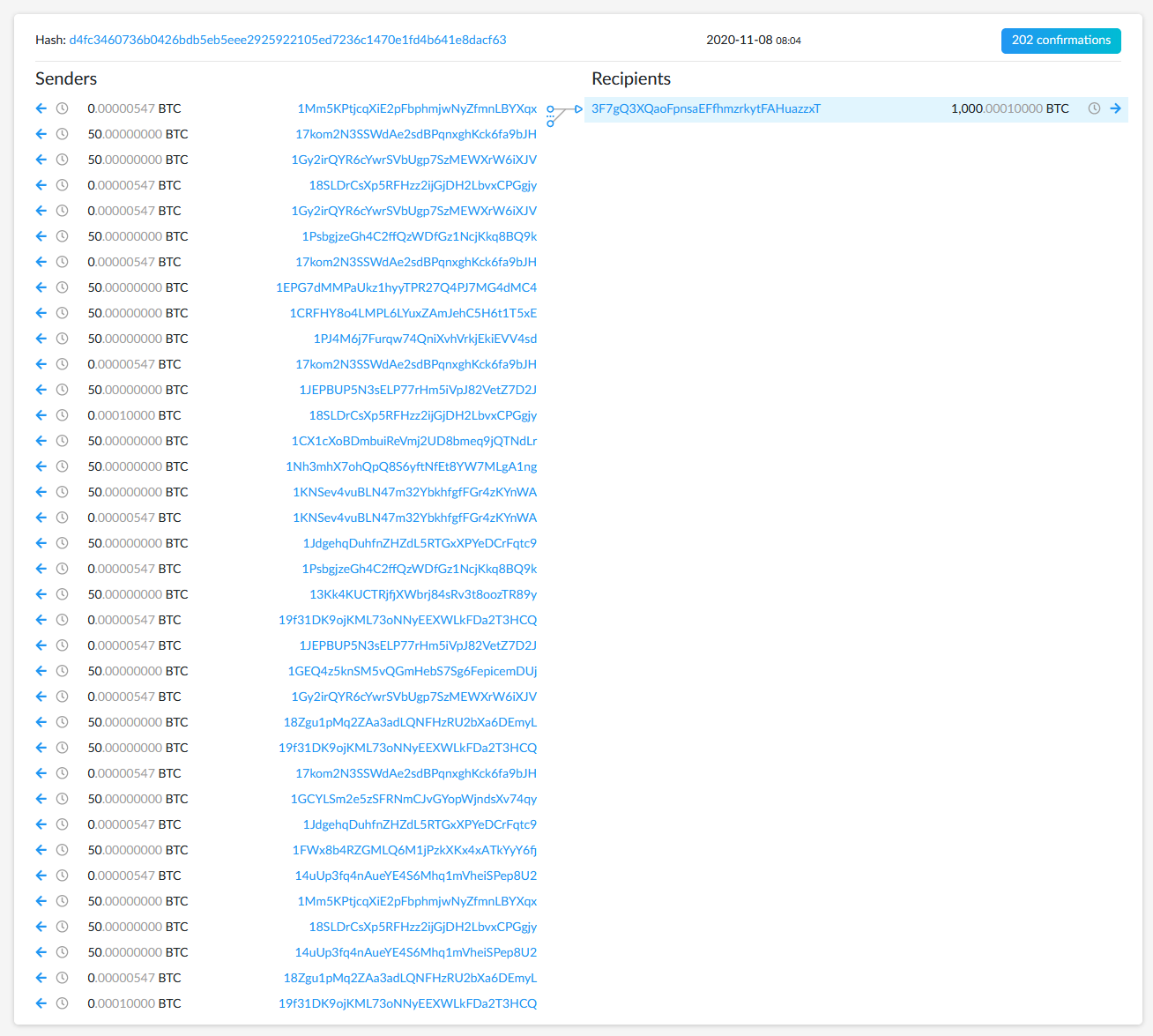 The 1,000 BTC batch roll-up is the second of such movements in less than a week. Earlier in November, another batch of Satoshi-era coinbase rewards from 21 addresses was also moved into a consolidated 1,050 BTC (~$16 million) stash. The 1,050 BTC hoard has the unique quality of an address from the Patoshi pattern. Equally significant is the fact that the same address also appears in the 1.1 million BTC Tulip Trust documents. Indeed, 2020 has seen the movement of large bitcoin sums on numerous occasions. The crypto space was rife with speculation when over $1 billion in BTC moved on the night of the US election. As it turned out, the US Department of Justice (DoJ)
took possession
of 69,369 BTC held in a
wallet
with Silk Road connections. Such a significant coin stash often coincides with
volatile price reactions
. However, given the current appetite for bitcoin as outlined by numerous reports, 2,050 BTC might do little to overwhelm the current upward trajectory. However, a $31.5 million sell wall in tandem with the growing bitcoin outflow from miners may trigger a significant dent.
Data
from on-chain analytics provider Glassnode shows BTC movement from miners to exchanges up by about 270% in the last 24 hours.
Disclaimer
BeInCrypto has reached out to company or individual involved in the story to get an official statement about the recent developments, but it has yet to hear back.