The crypto market has taken a hit this week, with investor sentiment turning increasingly bearish.
Various factors are contributing to this negative sentiment, which has seen Bitcoin drop by over 5% in the past four days while Ethereum has slumped by 3%.
In this article, we take a closer look at these factors before highlighting several altcoins withstanding this bearish wave and raising millions through their respective presales.
Macroeconomic Factors Weigh on Crypto Market Sentiment
Volatility continues to run rampant in the crypto market, with last week's bullishness replaced by a sharp reversal in fortunes.
One key contributor to this downturn is the uncertainty surrounding the US debt ceiling.
Over the past fortnight, US politicians have been engaged in intense negotiations, seeking to strike a deal to raise the debt ceiling, thereby preventing a potential default.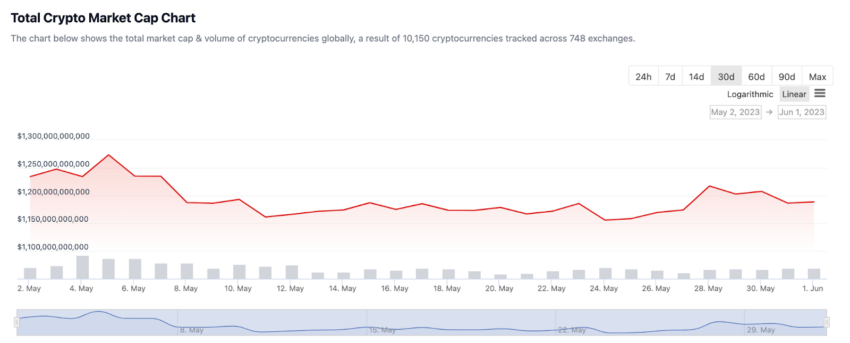 The prospect of a US default has got investors on edge since the US has never defaulted on its obligations.
However, if it did, it would likely trigger a domino effect throughout the financial markets – with the crypto market not being spared from the fallout.
Per CNBC, the House passed a bill to raise the debt ceiling yesterday, yet it still needs to make its way through the Senate before being put into action.
Another factor driving the market's downturn is Bitcoin's ($BTC) recent bearish trend.
According to CoinGecko, Bitcoin's market cap now stands at $521 billion, meaning it has a market dominance of approximately 44%.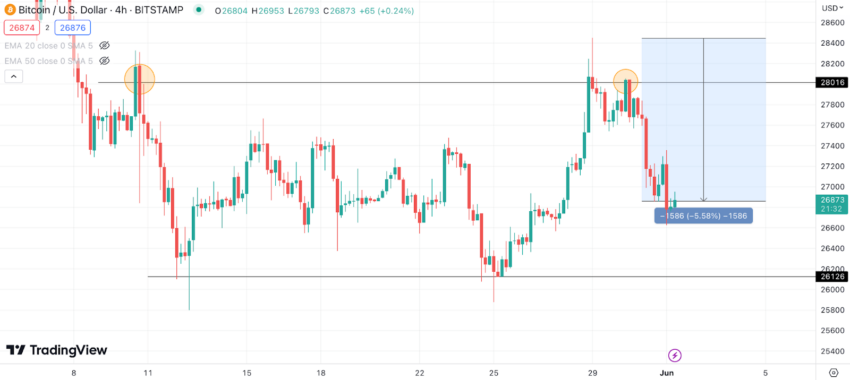 Thus, Bitcoin's fortunes often dictate the market's overall direction. When Bitcoin suffers a blow, other cryptocurrencies typically follow suit – a scenario that appears to be unfolding in today's market.
Finally, the crypto market is also being affected by the latest personal consumption expenditures (PCE) data, which showed that inflation remained stubbornly high in April.
This has poured cold water on investors who were optimistic that the Fed might opt to halt interest rate hikes – or even start implementing rate cuts.
When rates are high, "risky" asset classes like cryptocurrency are viewed with trepidation since investors are more likely to invest in safer assets, like bonds.
Thus, given the lack of movement in the PCE index, investor sentiment in the market may continue to be negatively impacted.
yPredict Defies the Odds & Soars Higher, Raising Nearly $2 Million
Given the uncertainty stemming from Bitcoin and Ethereum's current price movements, many crypto investors are now looking to hedge their risk.
One option gaining traction in this regard is yPredict ($YPRED) – a crypto analytics platform built on the Polygon network.
This platform is designed to be the world's first "all-in-one" AI-powered analytics ecosystem targeted at developers, traders, quants, and analysts.
To achieve this mission, yPredict's team has developed an array of valuable tools and services, all contained in one handy (and beginner-friendly) platform.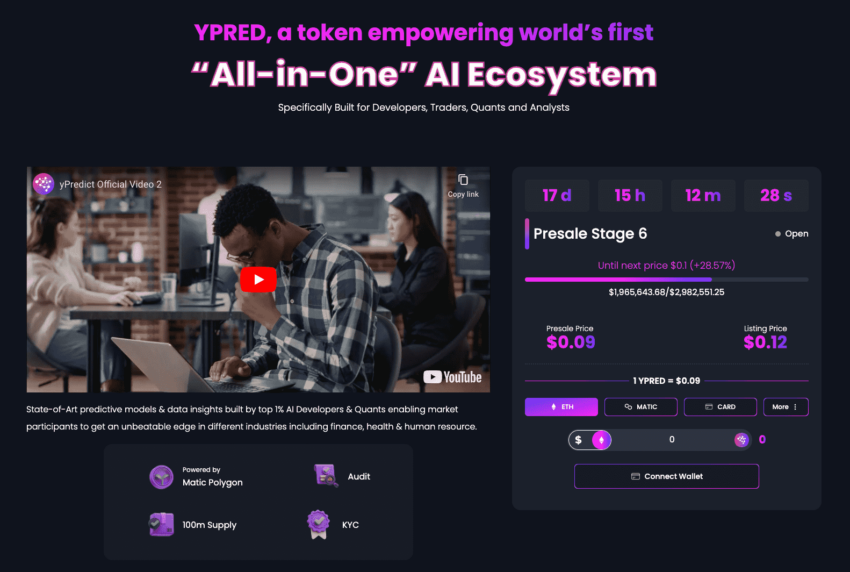 According to the project's whitepaper, some of the key features included in the platform are real-time trading signals, crypto market sentiment analysis, AI-powered technical analysis, and automated chart pattern recognition.
Moreover, yPredict will also have a specialized marketplace where traders can access advanced predictive models developed by the top 1% of AI and machine learning (ML) experts.
This marketplace is already receiving massive attention since it allows traders to access models usually reserved for institutional investors while creating a passive income opportunity for AI/ML developers.
Traders must use $YPRED, yPredict's native token, to access these models – although token holders will also receive free access to the ecosystem's other analytics tools.
Given its cutting-edge features, yPredict has already seen immense community interest – with over 20,000 people reportedly on the project's waiting list.
Currently, yPredict is still in its presale phase and has raised nearly $2 million from early investors.
This presale is in Stage 6 out of 8, with $YPRED tokens priced at $0.09 – 33% lower than the planned exchange listing price.
Launchpad XYZ Revolutionizes the Web3 Environment Through Education
Another project that's defying the odds in the crypto market is Launchpad XYZ ($LPX).
Like Wall Street Memes, Launchpad XYZ is in its presale phase and has just breached the $800,000 funding milestone.
This Ethereum-based project is paving the way in the crypto space thanks to its comprehensive Web3-focused platform that aims to streamline the process of investing in digital assets.
Launchpad XYZ's ecosystem includes various features, such as an NFT DEX and a crypto presale marketplace, making it easy for beginners to get involved in the ever-growing Web3 environment.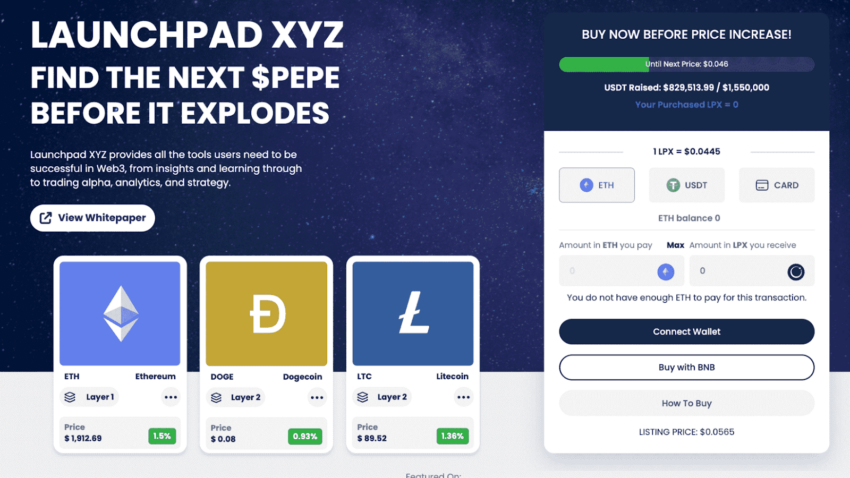 Moreover, Launchpad XYZ will also focus on education, offering an "Inside Edge" newsletter and a dedicated trading signals Telegram channel for all users.
As if that wasn't enough, those seeking an immersive experience can also check out Launchpad XYZ's metaverse library – ensuring there's something for everyone.
Launchpad XYZ's utility token, $LPX, is crucial in facilitating all of the platform's features. Not only is the token used to pay trading fees, but holders can also stake their tokens to earn exclusive perks – like access to NFT whitelists.
Early investors can now buy $LPX through Launchpad XYZ's presale phase for just $0.0445 – 26% lower than the intended listing price.
Ecoterra Paves the Way for Eco-Friendly Crypto Investment with Over $4.6m Raised
Lastly, sustainability-focused project Ecoterra ($ECOTERRA) is also making big moves in the market, raising over $4.6 million ahead of its official launch.
Investors have been eagerly vying to acquire $ECOTERRA tokens through the ongoing presale, given that they're being offered at a low price point.
Like the other two projects listed above, Ecoterra is gaining incredible traction, even though the crypto market has taken a dip – with the project's Twitter account growing to over 16,000 followers. 
The hype around Ecoterra is driven by its eco-friendly mission of incentivizing individuals and businesses to act sustainably through the Recycle2Earn app, which rewards users with $ECOTERRA tokens whenever they recycle common materials.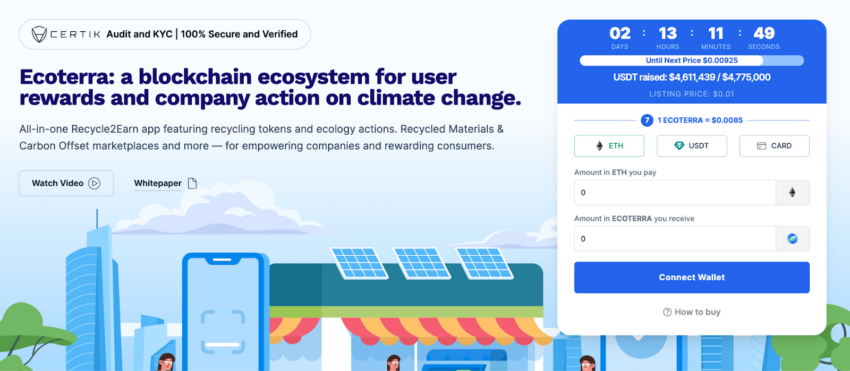 Ecoterra's ecosystem will also feature a carbon offset marketplace, a recycled materials marketplace, and even a public "Impact Profile" for each user – ensuring it's truly an all-in-one solution for eco-conscious crypto users.
Currently, $ECOTERRA tokens can be acquired through Stage 7 of the presale for $0.0085.
However, the allocation for this stage is fast running out – once it's been snagged up, the price will rise to $0.00925.
Disclaimer
This article is sponsored content and does not represent the views or opinions of BeInCrypto. While we adhere to the Trust Project guidelines for unbiased and transparent reporting, this content is created by a third party and is intended for promotional purposes. Readers are advised to verify information independently and consult with a professional before making decisions based on this sponsored content.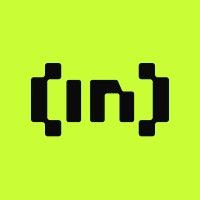 BeInCrypto Team comprises a diverse group of experienced journalists, analysts, and crypto enthusiasts dedicated to delivering the latest news, insights, and analyses in the...
BeInCrypto Team comprises a diverse group of experienced journalists, analysts, and crypto enthusiasts dedicated to delivering the latest news, insights, and analyses in the...
READ FULL BIO
Sponsored Sponsored