The Stellar (XLM) price has increased by nearly 150% throughout the week in a massive upward move that was possibly fueled by positive news of a new partnership with one of Europe's oldest banks.
It looks as if XLM has begun a new long-term upward move that will continue well into 2021 and will eventually lead to a new all-time high.
What's Going On With XLM?
Ranked by market capitalization, Stellar is currently the ninth highest-ranked cryptocurrency, with a total market cap of roughly $6.6 billion. XLM has been one of the biggest gainers of the week, so far up nearly 150%. If this rally is to continue, XLM could continue climbing up the ranks.
Stellar is managed by a non-profit board called the "Stellar Foundation." It aims to be an intermediary between fiat currencies and cryptocurrencies for both small-and large-sized transactions. Since its inception in 2015, it has processed more than 450 million transactions.
Stellar has also moved forward in the sphere of real-world use cases. In December 2020, Bankhaus von der Heydt (BVDH), one of Europe's oldest banks, in collaboration with Bitbond, created a euro-backed stablecoin, which will run on Stellar's network.
The CEO of Bitbond explains:
"Bitbond has been working with Stellar since 2019, when we issued the first ever tokenized security recognized by the Federal Financial Supervisory Authority (BaFin), the financial regulatory authority for Germany."
Since China has already tested its digital yuan, banks in Europe may eventually follow suit. If so, Stellar could be at the forefront of this groundbreaking development.
Long-Term Levels
For the majority of 2019 and 2020, the technical outlook for XLM seemed grim. XLM had been accumulating below the $0.20 area since initially breaking down in Oct. 2018. The consolidation was gradual, devoid of any significant volatility.
On March 13, 2020, XLM reached a low of $0.024 but has been moving upwards since. The rate of increase greatly accelerated in Nov., and XLM has shot up at an even faster rate this week.
At the time of writing, XLM was falling after reaching the 0.382 Fib retracement level at $0.36, measured from the all-time high price of $0.91.
This resistance is significant since if XLM is bent on heading towards a new all-time high, it has to clear important Fib retracement levels, those being the 0.382, 0.5, 0.618, and 0.786 ones.
The 0.5 Fib retracement level is particularly important since it also coincides with the $0.47 horizontal resistance area. Therefore, until XLM manages to reclaim this level, we cannot consider the trend bullish.
Nevertheless, technical indicators on the weekly time-frame are bullish despite showing an overextended rally. A bullish cross in the stochastic oscillator (highlighted in green) would confirm that a long-term bullish trend has begun.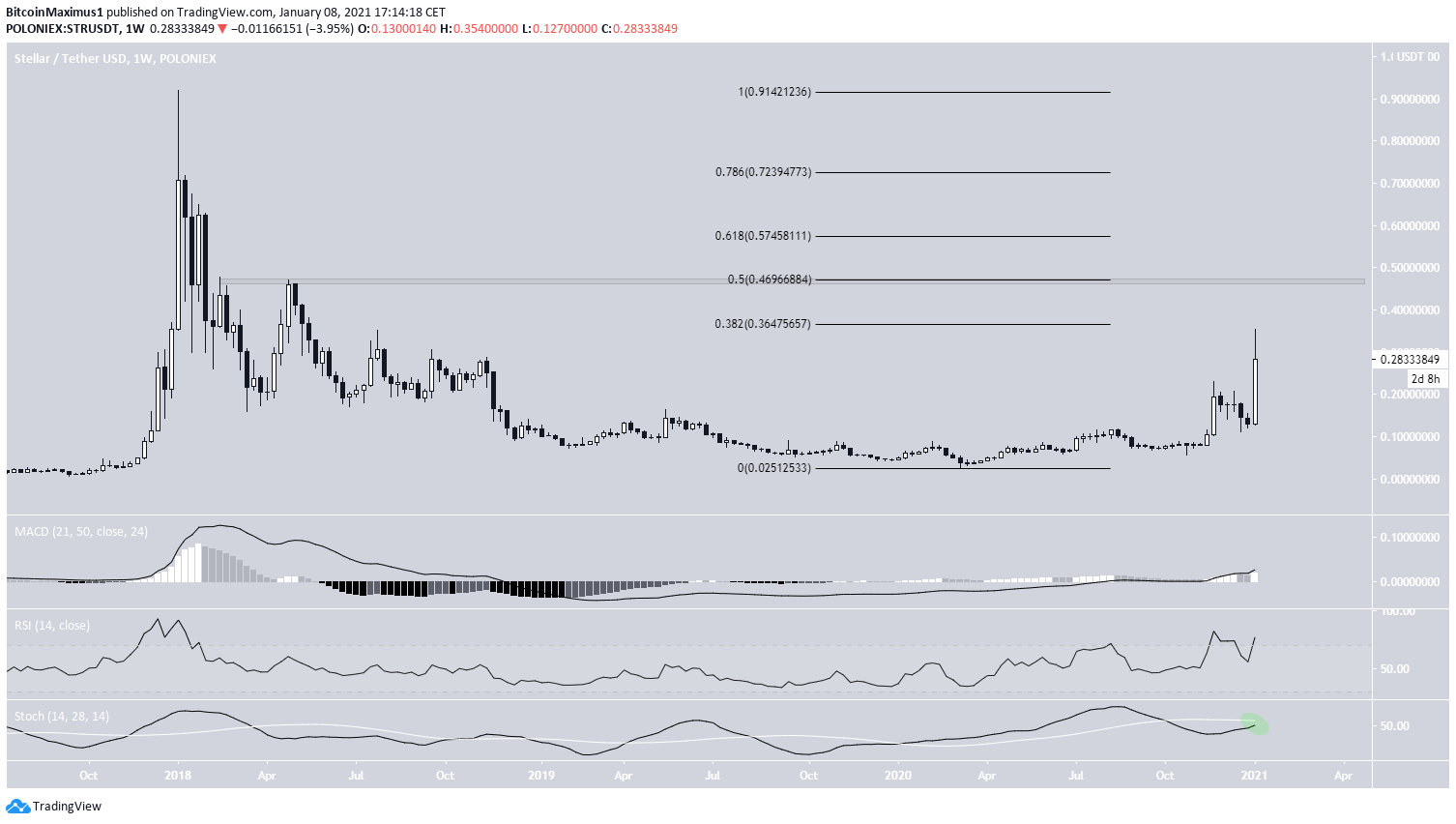 2021 Projection
The shape of the rally since the previous March low suggests that it's likely wave 1 (shown in white below) of a five-wave bullish impulse.
Due to the rejection from $0.37 and a possible BTC top on the horizon, XLM is likely nearing the top of wave 1. Therefore, a corrective period should soon occur before it resumes its upward activity.
Despite that, it seems that the trend is bullish. Therefore, once wave 2 is complete, we would expect wave 3 to take XLM above the $0.47 resistance area, confirming the bullish trend.
A possible target for the top of wave 3 is at $0.88, the 2.61 Fib extension of wave 1. Possible targets for the top of the entire movement are $1.20 and $1.53, respectively, the 3.61 and 4.61 Fib extensions of the same wave. Both targets would provide new all-time highs.
However, the entire upward move is not likely to finish in 2021. The reason for this is the length of wave 1, which has been ongoing for seven months.
If waves 2 and 3 are completed simultaneously as wave 1, which would be faster than expected, wave 3 will complete around Oct. 2021, with waves 4 and 5 outstanding.
Therefore, even if the upward movement is faster than an ordinary impulse, it should still complete some time in 2022.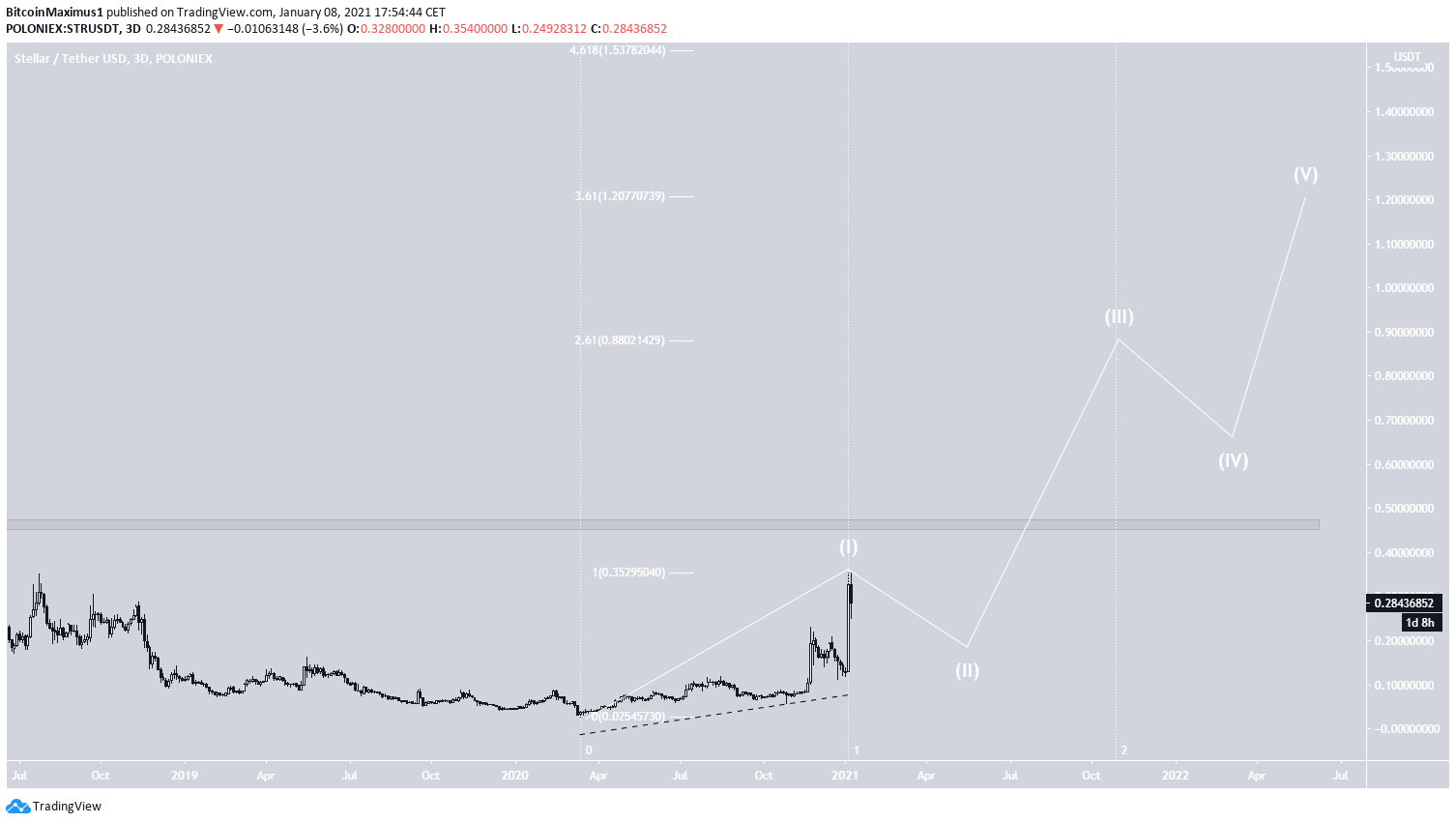 Conclusion
To conclude, it seems that XLM has begun a bullish impulse after reaching a low in Mar. 2020, which should eventually take the price towards a new all-time high.
As for the time it would take to complete the entire move, we would expect XLM to trade above the $0.47 resistance area through the latter part of 2021, validating it as support, while reaching a new all-time high sometime in 2022.
For BeInCrypto's previous Bitcoin (BTC) analysis, click here!
Disclaimer: Cryptocurrency trading carries a high level of risk and may not be suitable for all investors. The views expressed in this article do not reflect those of BeInCrypto. 
Disclaimer
In line with the Trust Project guidelines, this price analysis article is for informational purposes only and should not be considered financial or investment advice. BeInCrypto is committed to accurate, unbiased reporting, but market conditions are subject to change without notice. Always conduct your own research and consult with a professional before making any financial decisions.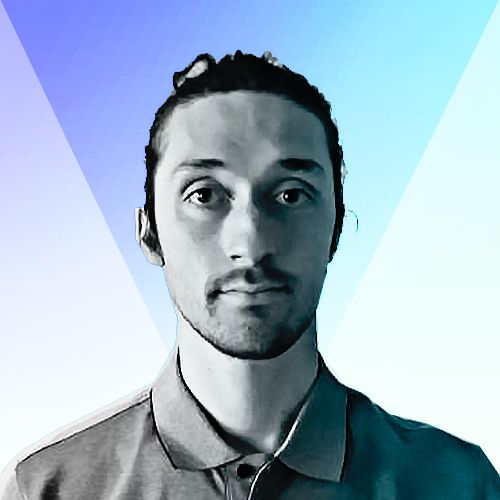 Valdrin discovered cryptocurrencies while he was getting his MSc in Financial Markets from the Barcelona graduate school of Economics. Shortly after graduating, he began writing...
Valdrin discovered cryptocurrencies while he was getting his MSc in Financial Markets from the Barcelona graduate school of Economics. Shortly after graduating, he began writing...
READ FULL BIO
Sponsored Sponsored