XRP price prediction: In the thick of the Ripple vs SEC drama, the Finder panel is back at it again with more crypto price predictions. At the time of writing, the current price of XRP is $0.47.
The Finder panel is a gathering of in-industry experts. They often publish price predictions for the top cryptocurrencies. They have just been surveyed about XRP price.
So what if Ripple wins the case? The panel says that XRP's value may hit $3.81 by the end of 2025.
If XRP loses the lawsuit, the price could be $0.98 by 2025. If the price does reach $0.98, that could still be a win if you invest today and are prepared to HoDL.
Unfortunately for XRP holders, the outcome of the case will be a mystery until 2023, so we are still deep in uncertain times.

XRP price prediction: Adjusted
Since the last survey, in April, the panel's predictions for XRP have dropped. Back then, the average prediction was $2.55 by December – if XRP wins the lawsuit. If Ripple lost the case against the SEC, the price predicted would be $0.68.
Now in October, the average XRP price prediction for year-end is $0.90 for a win and $0.24 for a loss.
XRP, like most crypto, has been hit by the downturn in riskier assets. The panel's October 2022 prediction is about 64% lower than the prediction made in April.
Craig Cobb represents Tradercobb.com. He is optimistic, and thinks XRP will be trading at $1 by the end of the year if they get a win.
"The crypto market loves to jump on a bandwagon and XRP winning its case in a bear market could likely see herd mentality which will pump the price of this old-school top-10 coin."
Mitesh Shah is the founder and CEO of Omnia Markets. He isn't overly optimistic about XRP's year-end price, even if it wins. Shah sees XRP's price sitting at $0.25 if it wins.
"As global traders capitulate their investments, controversial coins such as XRP will be negatively impacted. Due to the ongoing SEC lawsuit, US investors cannot invest in XRP until the suit has been settled and the uncertainty may push global investors to sell."
Sathvik Vishwanath is the CEO of Unocoin Technologies. He doesn't see a huge price hike by the end of the year. Vishwanath thinks the price will be $0.54 if Ripple wins. If it loses, $0.50.
Vishwanath says, "XRP has proven to still have more than enough supporters – the coin has responded well to market-wide price actions and all recent bull runs…the coin has shown that it can still thrive despite all the bad press."
Tommy Honan of Swyftx thinks the XRP price will follow current market trends until verdict time.
"The market generally prices these events well ahead of time so we are likely to see increased price volatility when the outcome seems close."
Honan's XRP price predictions are targets are $0.75 by year-end if XRP wins, and $0.35 if it doesn't.
Buy, sell or HoDL?
Only 27% of panelists say buy XRP. Another 38% say hold. 36% say sell.
CEO at Morpher, Martin Froehler, believes it's time to buy. Because if Ripple wins, "it's a huge win for the entire crypto industry." Froehler's optimistic price prediction is at $5 by 2025 if XRP wins the case against the SEC.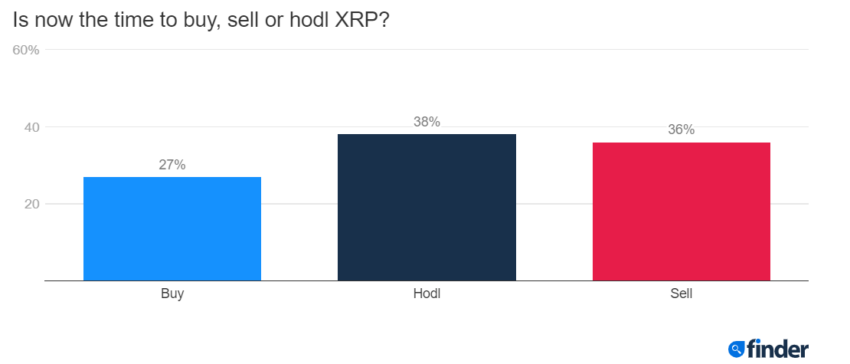 Senior lecturer at University of Canberra, John Hawkins, feels it is time to sell. "Ripple has no fundamental value and largely tracks Bitcoin's price."
Ripple to Go Offshore?
Brad Garlinghouse is the Ripple CEO. He claims the company will move to a different jurisdiction if they lose.

43% of the Finder panelists think that Garlinghouse means this. 26% of the experts thinks Ripple will remain where it is.
Interesting times are ahead!
Got something to say about this XRP price prediction or anything else? Write to us or join the discussion in our Telegram channel. You can also catch us on Tik Tok, Facebook, or Twitter.
Opinions seen on this website should not drive any financial decisions from readers.
Disclaimer
In adherence to the Trust Project guidelines, BeInCrypto is committed to unbiased, transparent reporting. This news article aims to provide accurate, timely information. However, readers are advised to verify facts independently and consult with a professional before making any decisions based on this content.