The Simpsons story writers have a now-famous knack for predicting future events. In fact, it is verging on eerie. As the Ripple Labs Vs SEC case is nearing the endgame, we look at a rumored price prediction from the Simpsons' writing team.
Update 30 Sept: The price of XRP has slightly recovered, and now sits at $0.43, well above resistance. But is everything in Bart's prediction as it seems?
Is this the ultimate XRP price prediction? The Simpsons writing team have predicted anything from Disney buying Fox, to Donald Trump's presidency, to accusations of faulty voting machines during the presidential elections. So, let's zone in on what they have predicted about cryptocurrencies over the course of the show.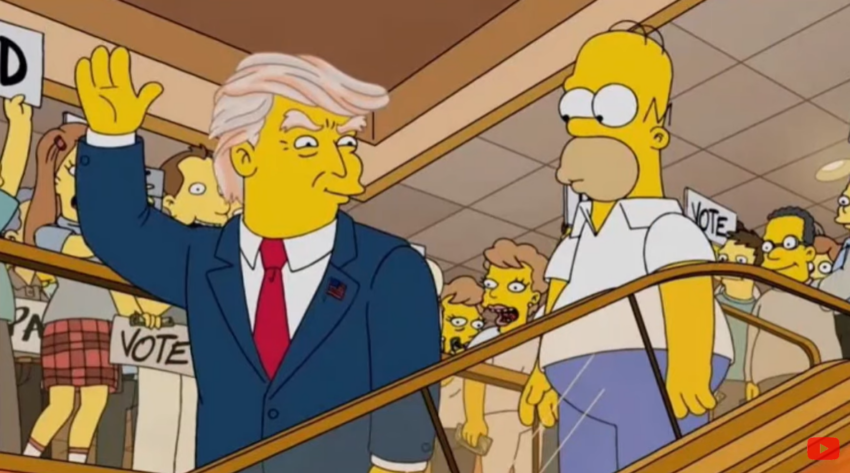 Simpsons predict the rise of crypto
First of all, the Simpsons predicted the rise of cryptocurrency. While this seems fairly out there, check this out. It will wreck your head.
In Episode 17 of season 8, which aired for the first time on March 2 in 1997, a place named Crypto Barn made his first appearance. It was covered in signs about 'code' and 'secret code.'
In a mind=blown moment, this episode aired more than 10 years before the rise of cryptocurrencies. So who on the Simpsons' writing team is the in-house psychic?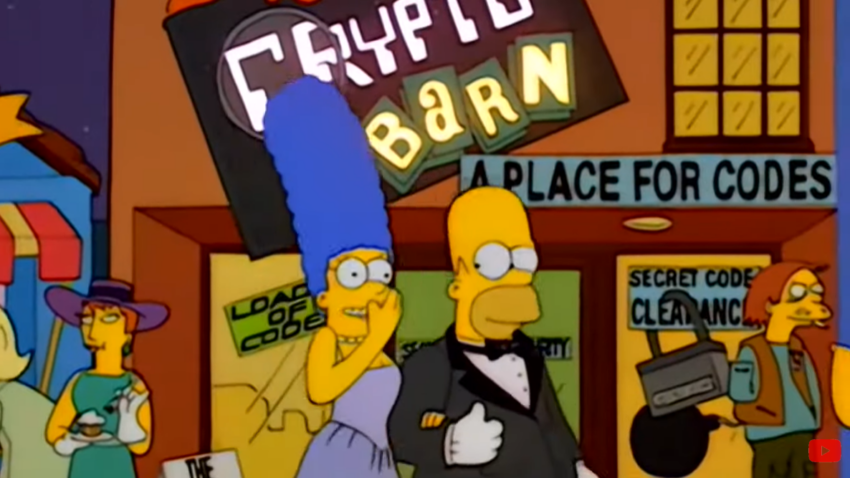 Bart's XRP blackboard prediction
The Simpsons team have also been known to accurately predict several socio-political events via the scrawlings of Bart on the classroom blackboard.

In one episode, it is thought that the longest-running American animated series projected the price of XRP to be a little under $600.
Some of Bart's chalkboard predictions have eventually come to pass. There are whole Reddit threads dedicated to the naughty boy's scribbles.
There have been other episodes that have fascinated XRP fans. In one scene, Homer's manager was presented with a card that looks exactly like the credit card or visa cards of today. It was presented in a fancy box, which enthusiasts say is a prediction that digital assets like XRP will have their own credit card.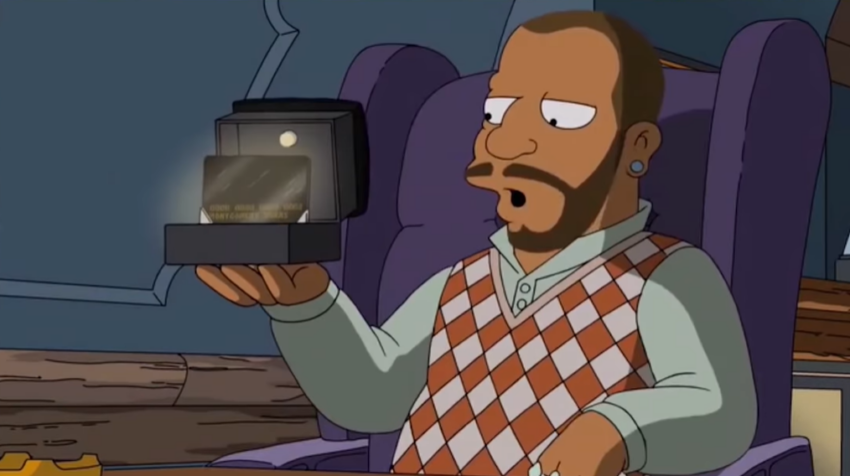 Simpsons and Crypto Enthusiasm
Could all of these dives into crypto just be wishful thinking? It is obvious that the scriptwriters are enthusiasts.
In episode 13 of season 31, Lisa gets a lesson from Professor John I.Q. Nerdelbaum Frink Jr., about crypto. He shows Lisa a video whereby Jim Parsons (who plays Sheldon Cooper in the Big Bang Theory) explains cryptos.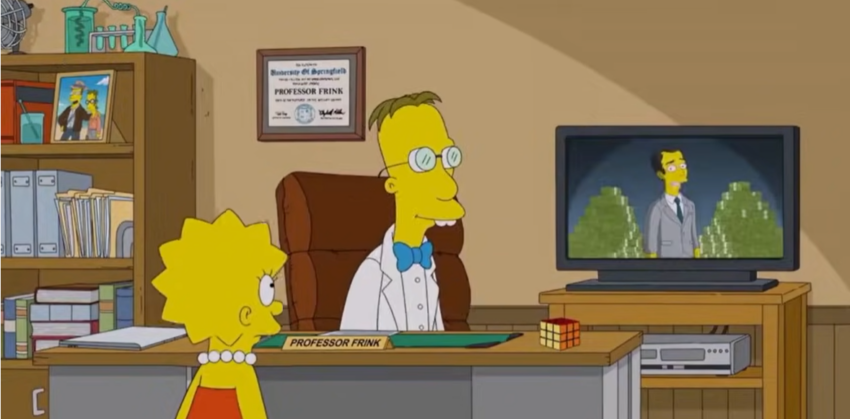 As the episodes progresses, a book sings a song with the lyrics, "I'm closer to being the cache of the universe, not on your wallet, but I'm in your computer."
The mind boggles. Is it time to believe this prediction about XRP from the psychics at the Simpsons scriptwriting table? Apparently, no. The pic is not a genuine splice from the show, it is just an altered screengrab by wishful thinkers hoping that XRP will go to the moon. But the hope for XRP remains valid. Will the price of XRP go gangbusters after the SEC case wraps up?
Should we all be buying XRP? Will we have FOMO if we don't? These are the important questions as the SEC case nears the end.
Got something to say about the Simpsons, XRP or anything else? Write to us or join the discussion in our Telegram channel. You can also catch us on Tik Tok, Facebook, or Twitter.
Disclaimer
Following the Trust Project guidelines, this feature article presents opinions and perspectives from industry experts or individuals. BeInCrypto is dedicated to transparent reporting, but the views expressed in this article do not necessarily reflect those of BeInCrypto or its staff. Readers should verify information independently and consult with a professional before making decisions based on this content.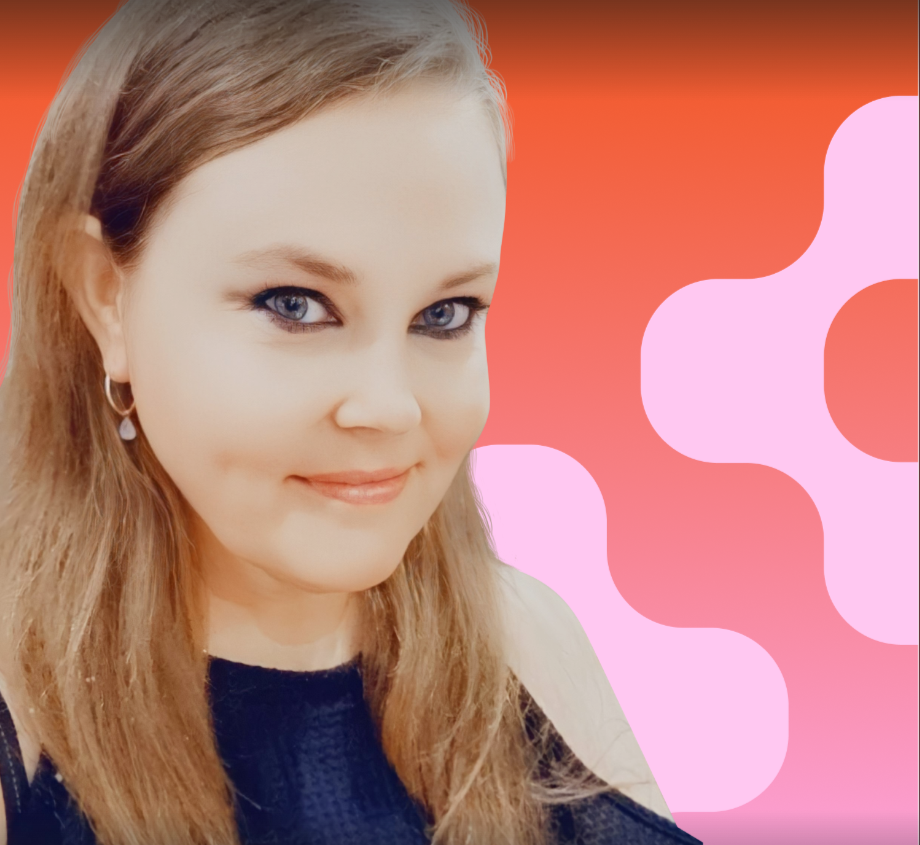 Nicole Buckler has been working as an editor and journalist for over 25 years, writing from Sydney, Melbourne, Taipei, London, and Dublin. She now writes from the Gold Coast in...
Nicole Buckler has been working as an editor and journalist for over 25 years, writing from Sydney, Melbourne, Taipei, London, and Dublin. She now writes from the Gold Coast in...
READ FULL BIO
Sponsored Sponsored