Cameron Winklevoss wrote an open letter to Barry Silbert asking him to solve Gemini Earn users' problems by Jan. 8. However this has yet to occur. In the meantime, the Gemini Co-Founder has taken to Twitter to release another scathing open letter to the crypto community.
Gemini had partnered with Barry Silbert-led Genesis to provide yields to customers for its earn program. But post the collapse of FTX, Genesis got into a liquidity crunch and had to halt withdrawals, which eventually impacted 340,000 Gemini earn users.
The Second Open Letter Targets DCG CEO
In the latest development, Cameron Winklevoss has released a second open letter on Twitter, following the first open letter released on the social media platform over one week ago. The Gemini Co-Founder outlines an elaborate co-mingling of trades between Digital Currency Group's Genesis and the now-defunct Three Arrows Capital (3AC). In the letter, Cameron Winklevoss accuses DCG of accounting fraud and spreading private and public lies about the firm's financial situation.
Winklevoss explains that Genesis and 3AC operated recursive trades between one another, saying "In reality, 3AC was acting as a mere conduit for Genesis, allowing it to enter into what were effectively swap transactions of bitcoin for GBTC shares with the Grayscale Trust."

Cameron Winklevoss concludes that Genesis made its balance sheet appear healthier than it actually was, "fraudulently inducing lenders to continue making loans." In the final part of the open letter, Winklevoss admits that the only way forward is for the DGC board to remove Barry Silbert as CEO. Calling Silbert "unfit to run DCG and unwilling and unable to find a resolution to creditors that is both fair and reasonable."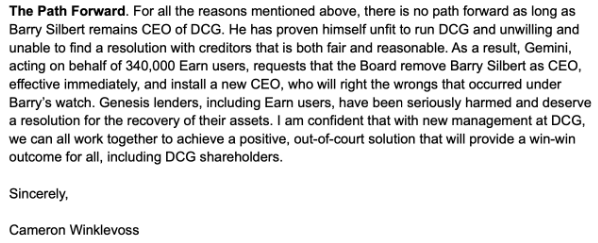 Cameron Winklevoss Writes an Open Letter to Barry Silbert
Cameron Winklevoss wrote and shared the first open letter to Barry Silbert on Jan 2. 2023. Seeking a resolution for the $900 million in customers' funds stuck in Genesis. The Gemini founder mentions that they have been trying to engage with Genesis for the past six weeks but to no avail.
Cameron Winklevoss lashes out, "Every time we ask you for tangible engagement, you hide behind lawyers, investment bankers, and process. After six weeks, your behavior is not only completely unacceptable. It is unconscionable."
The Gemini founder asked Barry Silbert to commit publicly to solving the problems of Earn customers by Jan. 8. He warned that "time is running out."
Gemini recently faced the heat as several investors have sued the crypto exchange and its founders for offering Gemini's Earn product without registering it as a security.
Will Grayscale Sell its Bitcoin Holdings?
The Gemini founder calls out Barry Silbert for comingling of funds between different companies he owns. Cameron Winklevoss writes, "​​Digital Currency Group (DCG) – of which you are the founder and CEO – owes Genesis (its wholly owned subsidiary) ~$1.675 billion. This is money that Genesis owes to Earn users and other creditors".
Barry Silbert replied that DCG did not borrow $1.67 billion from Genesis. He also mentioned that they delivered a proposal to Gemini's advisors but have not received any response. The community fears that to pay back the money, Grayscale will have to sell its BTC holdings, causing an avalanche in the crypto market.
The Barry Silbert- led DCG also owns one of the largest Bitcoin funds, i.e., the Grayscale Bitcoin Fund (GBTC). The fund has nearly $10.5 billion in assets under management. Will Barry Silbert sell GBTC Bitcoin holdings?
On the other hand, Valkyrie Investments offered to become the new sponsor and manager of the GBTC. Valkyrie launched a Bitcoin Futures Exchange Traded Fund (ETF) earlier in 2021.
Got something to say about Cameron Winklevoss vs. Barry Silbert or anything else? Write to us or join the discussion on our Telegram channel. You can also catch us on Tik Tok, Facebook, or Twitter.
For BeInCrypto's latest Bitcoin (BTC) analysis, click here
Disclaimer
In adherence to the Trust Project guidelines, BeInCrypto is committed to unbiased, transparent reporting. This news article aims to provide accurate, timely information. However, readers are advised to verify facts independently and consult with a professional before making any decisions based on this content.