This week in crypto was dominated by mining news as North Carolina sought a temporary ban on crypto mining and the limitations of AI bots whose claims of improving crypto trading remain greatly exaggerated.
North Carolina is seeking a pause on crypto mining amid concerns about pollution and noise, following recent progress on a Texas bill to rein in miners' power usage.
North Carolina Next State to Halt Crypto Mining
Buncombe County in North Carolina wants to pause crypto mining because existing laws governing land zoning do not cover the activity. Before proceeding, they want to define crypto mining as a particular zoning use case.
The state joins Texas in reconsideration of crypto mining activity. On April 4, the Texas Senate took a further step toward defining how miners interact with the state's power grid. Senate Bill 1751 prevents the Energy Reliability Council of Texas from paying large miners like Riot Platform to reduce energy usage during times of constrained supply.
Crypto News – Socially Speaking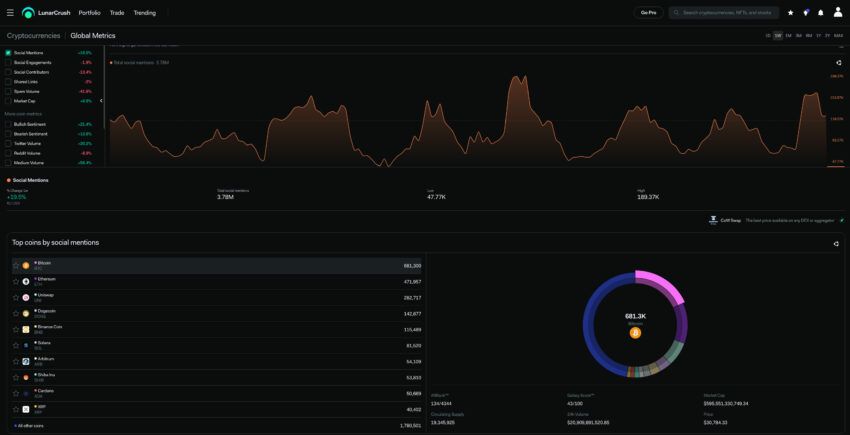 AI Bots Limitations Glaringly Obvious
Joining crypto mining in grabbing headlines, tests this week revealed that chatbots are limited in their ability to provide real-time data.
When asked about the current price of Bitcoin and altcoins, the ChatGPT said that its limited training prevents it from giving an accurate answer. Its last recorded all-time high price for Bitcoin was $64,000 in April 2021, as it has only been trained on data since Sep. 2021.
A new trading-focused AI tool using large language models to offer portfolio-specific advice also faces limitations. Satoshi, as its developer FalconX has called it, wants to help traders answer questions like where it can get the cheapest derivative or OTC deals. Like ChatGPT's shortcomings, Satoshi also lacks insight into critical information on the trading books of the institution from which it sources information.
Business Insider recently reported that, despite Elon Musk's plea to halt the training of AI tools using large language models, the billionaire recently bought Graphics Processing Units to bolster Twitter's AI capability using similar models.
On Thursday, the social network announced a new feature to allow users to search for stock price data using a dollar prefix to a stock's sticker symbol, e.g., $MSTR, the new integration offers a "View on eToro" button to trade that instrument.
The move is part of CEO Elon Musk's play to turn Twitter into a super app rivaling the likes of Tencent's WeChat. 
Earlier this month, Twitter merged with a new shell corporation X Corp, in a filing that revealed that Twitter Inc. had simultaneously ceased to exist.
Crypto Coin News
Render Token RNDR was the biggest gainer this week, rising 36%, while Woo Network (WOO) came second at 31%. Arbitrum (ARB) put in an impressive 30% hike, while Injective (INJ) followed at 27%. At the other end of the charts, Enjin Coin (ENJ) fell by 5.7%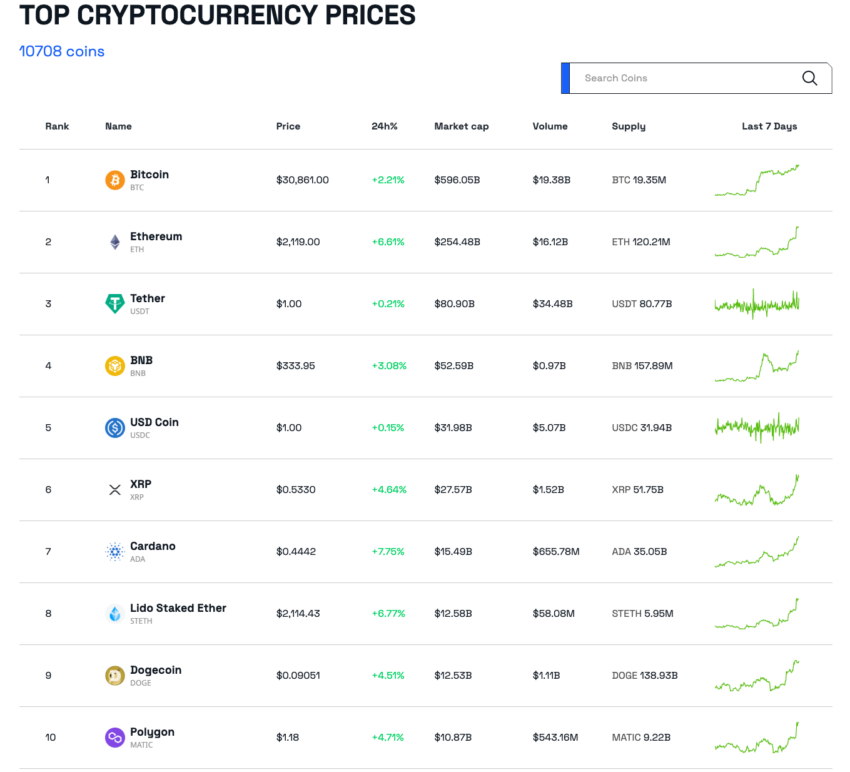 El Salvador's BTC Experiment Still in Early Growth Stages
Across the Gulf of Mexico, political headwinds, conflicts of interest, and an uncertain economic future will likely shape the future of El Salvador's Bitcoin experiment.
After adopting Bitcoin as a legal tender in September 2021, the nation has led the way in crypto adoption, with tourism spiking by 30%. Still, a lack of understanding of cryptocurrencies has excluded some poor citizens, despite the nation having more than one internet connection per citizen. The use of geothermal energy for crypto mining may result in mining firms moving there to alleviate environmental concerns.
Cryptocurrencies' share of the global remittance market, one of the primary reasons for Bitcoin's adoption as legal tender in El Salvador, remains under 2%.
The success or failure of El Salvador making crypto legal tender will inform other countries thinking of doing the same. The price of Bitcoin, which recently breached $30,000, could influence their decisions.

For Be[In]Crypto's latest Bitcoin (BTC) analysis, click here.


Disclaimer
All the information contained on our website is published in good faith and for general information purposes only. Any action the reader takes upon the information found on our website is strictly at their own risk.