The global crypto market's volatile price action and recent short-term rise aided in providing some bullish momentum for the Uniswap (UNI) price. But it's not likely in the clear just yet.
Uniswap price action gained wind of bullish momentum alongside the global crypto market and large-cap altcoins on Nov. 21. The UNI price gained over 6% on Nov. 22 amid short-term bullish moves in the crypto market. 
At the time of press, the native token of the Uniswap decentralized exchange (DEX), UNI, traded at $5.47, charting a 6.56% daily gain. The crucial question UNI investors had, however, was whether Uniswap prices could continue to rise and for how long?
Dissecting the gains 
UNI trade volumes were up 14% to $159.93 million on the daily chart at the time of press. The recent UNI gains were accompanied by a pump in trade volumes as day traders and retailers took advantage of the positive price momentum. 
However, despite the rise in price, UNI saw considerable exchange inflows as per Santiment's net flow balance. Around 66,400 UNI moved to exchanges, according to this 4-hour chart on Nov. 23. 

A spike in inflows could signal traders and short-term investors moving their tokens to exchanges to cash in on the higher prices. 
Despite the macro market turmoil, Uniswap had a glimmering development activity as it rose from its lower bounds.

However, network growth noted a pullback, dropping to a monthly low. In addition to that, the UNI supply held by top exchange addresses dropped by 11M tokens after the FTX collapse. 

A potential Uniswap price pullback?
Despite the Uniswap price noting a short-term pump backed by retail traders, a look at the token's ownership statistics spelled some trouble. Addresses for UNI holders by time held suggested that while 'Trader' addresses (less than one month old) noted a 150.17% rise, 'Hodler' addresses (more than one year) only grew by a mere 4.53%.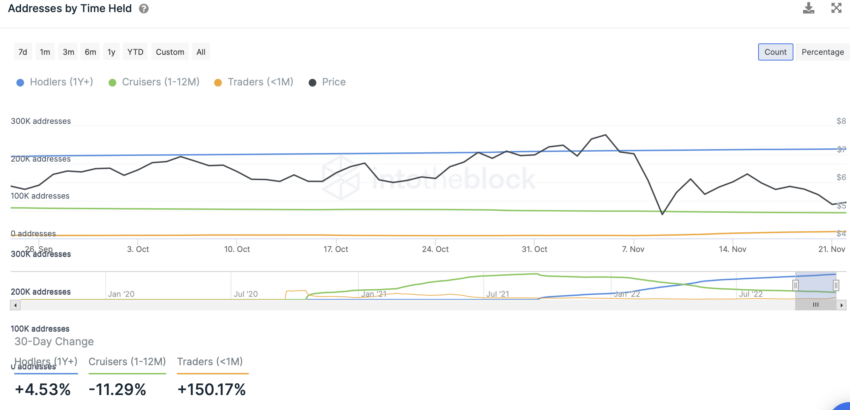 In addition to that, address balances sorted by time held suggested a 94.07% growth in traders, while 'Cruisers' (between one and 12 months) reduced their balances by 13%. The ownership scenario presented that traders or retailers largely drove UNI prices.
As the market becomes seemingly more volatile, the UNI price could be pulled by the broader market. For now, the In/Out of Money Around Price indicator suggested strong support at the $5.29 mark, where 4,200 addresses hold 10.1 million UNI. 

Going forward, a fall below the $5.29 mark could spell trouble for prices. However, short-term price action could be marked with bouts of volatility. 
Disclaimer
BeinCrypto strives to provide accurate and up-to-date information, but it will not be responsible for any missing facts or inaccurate information. You comply and understand that you should use any of this information at your own risk. Cryptocurrencies are highly volatile financial assets, so research and make your own financial decisions.