Tether (USDT) briefly overtook XRP to become the third most valuable cryptocurrency by market capitalization.
The USDT assault on the No. 3 spot in the cryptocurrency market capitalization rankings has been led mostly by a relentless printing campaign over the past few weeks. Tether's increasing issuance has come amid a general decline in volume for other USD-backed stablecoins.
XRP Still Third Most Valuable Crypto
For a brief period on Tuesday, USDT flipped XRP for the third spot on the cryptocurrency market capitalization rankings. As of press time, XRP has regained the third spot with a lead of $141 million in market cap.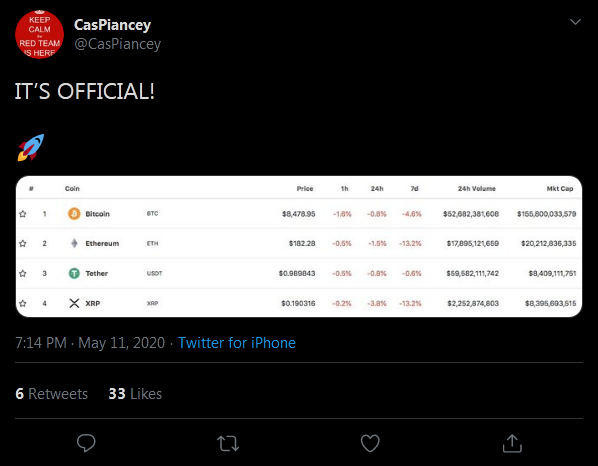 Source: Twitter
The USDT rise to temporarily capture the third spot comes after a sustained period of new 'coin' issuance by the Tether Treasury. As reported by BeInCrypto on several occasions, millions in USDT token have been minted by Tether, averaging about $40M in new USDT issuance per day in April.
Tether's own transparency figures show the stablecoin's total valuation standing at $8,622,300,975. Tweeting on Sunday, @CasPiancey revealed the addition of about $500 million in USDT tokens over a couple of days.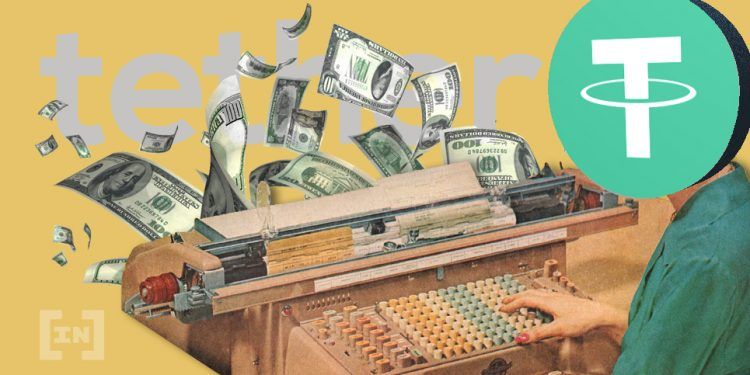 Given the current propensity for the stablecoin issuer to mint new tokens, USDT could quickly engineer another attempt at knocking XRP off the third position. A difference of $141 million could be surmounted by the Tether printing machine in little time, unless XRP embarks on a significant upward price trajectory to increase its valuation.
XRP's performance over the last week has been one of the worst among the top-10 altcoins by market cap. Only EOS, with a 12% decrease, is worse off than XRP, which shed 10% in the last seven-day trading period.
USDT Maintains Stablecoin Dominance
According to data from Messari's stablecoin index, USDT's dominance is still unparalleled, with Tether's trading volume dwarfing the rest of the market. For comparison, Tether's 24-hour volume for May 11 stood at about $79 billion while Paxos (PAX), USD Coin (USDC), and TrueUSD (TUSD) recorded $826 million, $628 million, and $546 million, respectively.

Source: Messari
Stablecoin dominance aside, Tether's recent printing spree and its march to the third spot on the cryptocurrency market cap rankings will add fire to the controversy surrounding its USD backing. The failure of an $8.6 billion token responsible for providing liquidity to the crypto trading market could cause serious damage to the industry as a whole. Perhaps now is the time for a proper third-party audit of Tether.
Disclaimer
All the information contained on our website is published in good faith and for general information purposes only. Any action the reader takes upon the information found on our website is strictly at their own risk.