The SushiSwap DeFi platform has just launched a new UNI/ETH liquidity pool, but it seems to only be garnering just a fraction of the fanfare as its previous offerings. This has also raised questions from the crypto community who are growing increasingly wary of the DeFi clone.
Controversial DeFi protocol SushiSwap has just added another yield farming pool to its growing collection of farms which now stands at 18. The latest pool enables liquidity providers to add Ethereum and UNI in order to reap rewards in SUSHI tokens.
The timelock has elapsed, and the UNI:ETH pool is now receiving rewards! https://t.co/tEGLXWyyHB

— SushiChef (@SushiSwap) September 21, 2020
The move follows the success of Uniswap which launched four of its own Ethereum-based pools last week with rewards in its new native token, UNI. At the time of press, the four pools had attracted over $1.5 million in liquidity.
SushiSwap has jumped on the UNI train in hopes of attracting more yield farmers, however, the timing of this announcement, and more specifically the delay, has been questioned by some in the crypto community:
Care to explain the announcement delay?https://t.co/vDPBd7q3TO

— Daniel Que (@danielque) September 21, 2020
The more liquidity that a pool accrues, the fewer tokens each provider gets as the distribution is diluted. Those that can get an early start will earn the most rewards at the beginning, which may explain why this announcement was delayed. It was suggested that pre-mines are now a standard part of launching liquidity pools.
According to the Sushi Dashboard, the protocol has just below $500 million in liquidity with the majority of this spread across the SUSHI/ETH, DAI/ETH, and YAM v2/ETH pools.
Liquidity has decreased by 64% since its peak of $1.4 billion on Sept 12 as yield farmers jump ship on the hunt for the next best thing in DeFi.
SUSHI and UNI Price Update
Liquidity is not the only thing that has fallen for SushiSwap as its token prices have also taken a beating. The 30-day token price chart looks exactly like that of most altcoins following the 2017/18 crypto bubble.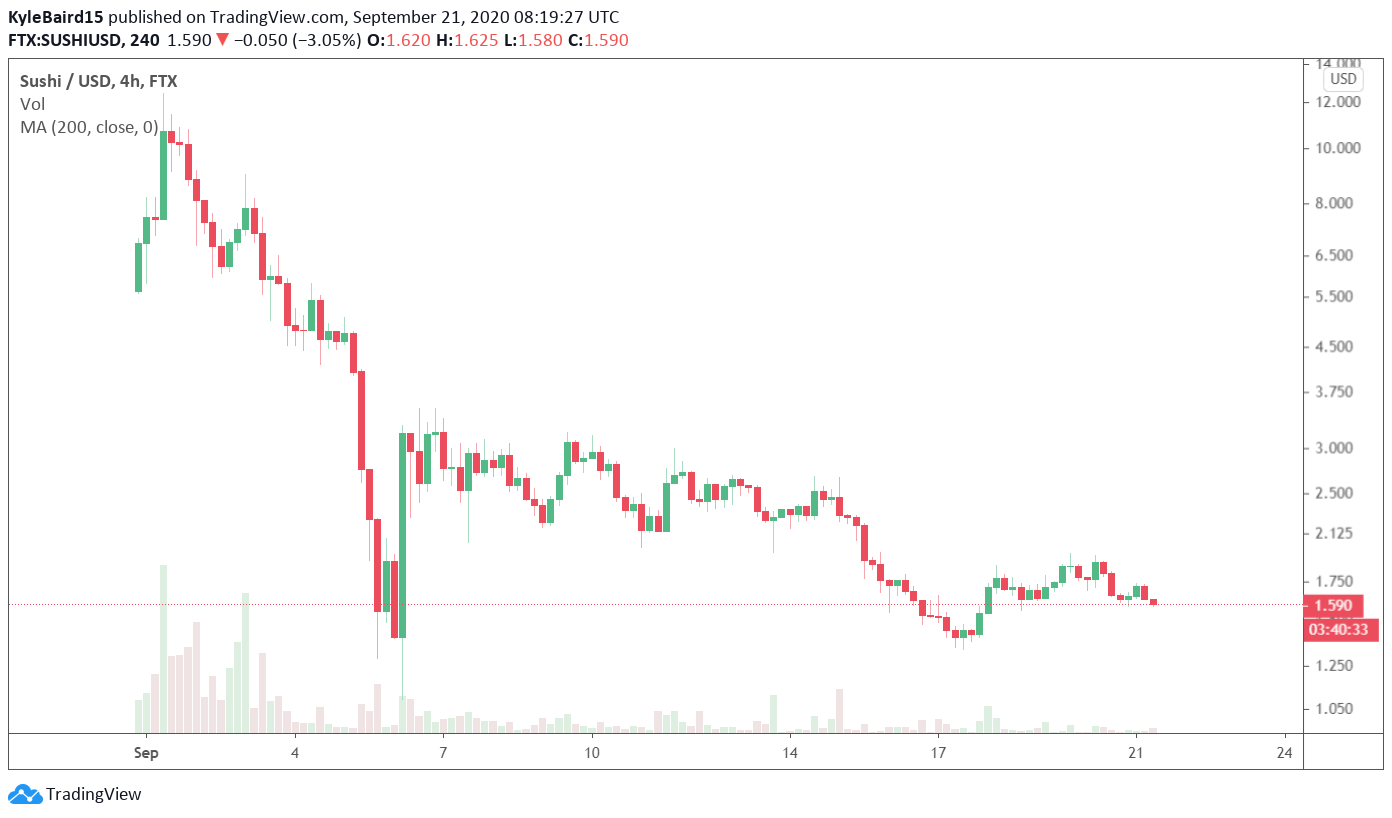 Since its all-time high, SUSHI prices have dumped 85% to their current levels, just below $1.60. Down a further 3% on the day, the new liquidity pool has seemingly done nothing to lift token prices.
UNI is also on the back foot, having lost 35% since its peak following the launch late last week. Prices have dropped to around $5.40 at the time of press, as most tokens that were airdropped have likely been sold by now.
Disclaimer
All the information contained on our website is published in good faith and for general information purposes only. Any action the reader takes upon the information found on our website is strictly at their own risk.