The Uniswap fork known as SushiSwap has successfully migrated to its own protocol and drained over a billion dollars from the token swapping platform it spawned from in the process. Is this the new normal for proceedings in the DeFi sector?
The much-hyped SushiSwap platform has pulled off its protocol migration, successfully draining Uniswap of liquidity. It has been referred to as a DeFi vampire, and for good reason. The move highlights that DeFi is driven by choice, and avaricious yield farmers clearly wanted more Sushi.
The Open-source, Ethereum-based liquidity protocol Uniswap was launched almost two years ago following a small grant from the Ethereum Foundation. In April 2019 it had larger VC investments which went into developing and upgrading the platform. Since then it has evolved to become the world's largest decentralized exchange with over $1.8 billion in total value locked at its peak.
SushiSwap is barely a fortnight old, yet in that short time has managed to pull off the unthinkable—replicate and then topple the top DEX by dangling a bigger carrot. The nature of DeFi means that it is essentially a free market and traders and investors can and will flock to whatever they see as the best deal at the time, regardless of any implied ethics.
Sushi Migration Success
On Sept 9, SushiSwap successfully migrated platforms, taking with it over 70% of Uniswap's liquidity. The new 'head chef,' FTX exchange CEO Sam Bankman-Fried (aka SBF) posted a migration plan which outlined the steps taken during the process. The CRV/ETH pool was the first to be migrated and a pool-by-pool migration occurred after successful testing.
To incentivize liquidity providers to keep their collateral on the new version, SBF threw an additional 2 million SUSHI tokens into the pot to be divided among stakers. The incentive clearly had the desired effect.
There is now a new website and analytics dashboard which is reporting that the current liquidity on the new platform is $1.28 billion.
1) well the migration is done; sushiswap is livehttps://t.co/c2JGZJ65Ch

— SBF (@SBF_Alameda) September 9, 2020
Control of the platform will be governed by a new multi-signature wallet that will grant full administration rights for the protocol. It will be managed and accessed by nine candidates, and any action would require six of those nine administrators to agree.
The voting process has already ended and, unsurprisingly, those top-nine candidates are all Sushi whales who will now be in the driving seat.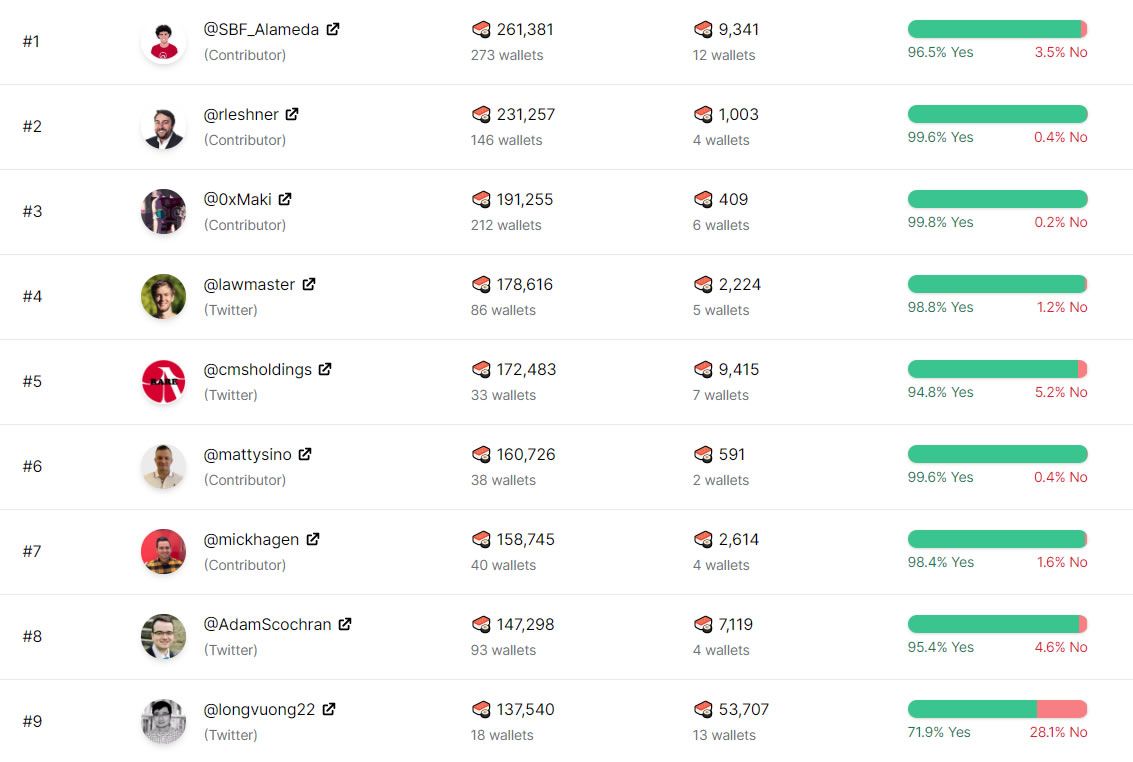 Speaking to Cointelegraph, SBF did assert that he may share thoughts and suggestions on the operations of the platform, but he would not be actively running it, adding "that's up to the SUSHI holders; ultimately, it's not up to me long-term what happens."
Uniswap TVL Slumps
Uniswap, which previously held the top spot in total value locked figures has been dumped down to ninth place with a 75% loss in liquidity according to DeFi Pulse.
Over $1.2 billion has left Uniswap, dropping its TVL back to around $350 million.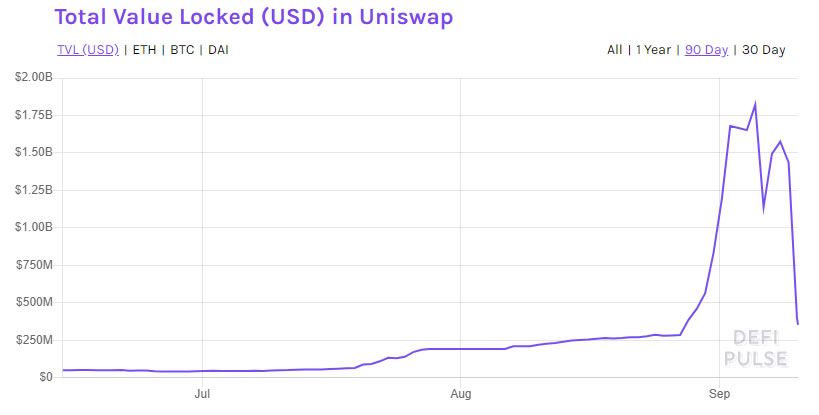 It should be noted though that Uniswap TVL was around this level before the SushiSwap frenzy took off so effectively it has returned to its natural state. It only accrued that liquidity because farmers wanted the liquidity pool tokens to deposit on SushiSwap and possibly some of the other clones that have come and gone since.
It is possible, and highly likely, that Uniswap will revamp its reward systems to lure liquidity providers back. Currently, they only get a share of the 0.3% trading fee with no additional native token drops or incentives.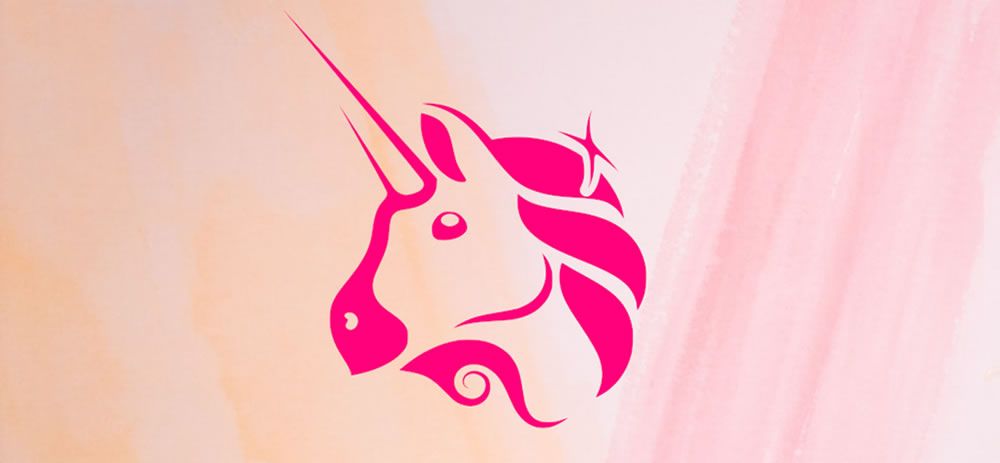 Uniswap has benefitted from its doppelganger having surpassed even Coinbase Pro for trading volumes last week. In her latest Defiant newsletter, industry expert Camila Russo observed that it hasn't fragmented liquidity as some had feared; "Instead, it grew the pie, drawing more people into both Uniswap and SushiSwap."
Russo added that users have the choice of another automated market maker but those holding SUSHI tokens may be out of pocket following 'Chef Nomi's' sellout over the weekend.
SUSHI Token Price Reaction
Following an 80% price slump from its all-time high, SUSHI token prices have not managed to recover much in the wake of the migration.
There was a slight creep up to $3 a few hours ago but prices have sunk back below that since and are around the $2.87 level according to Uniswap.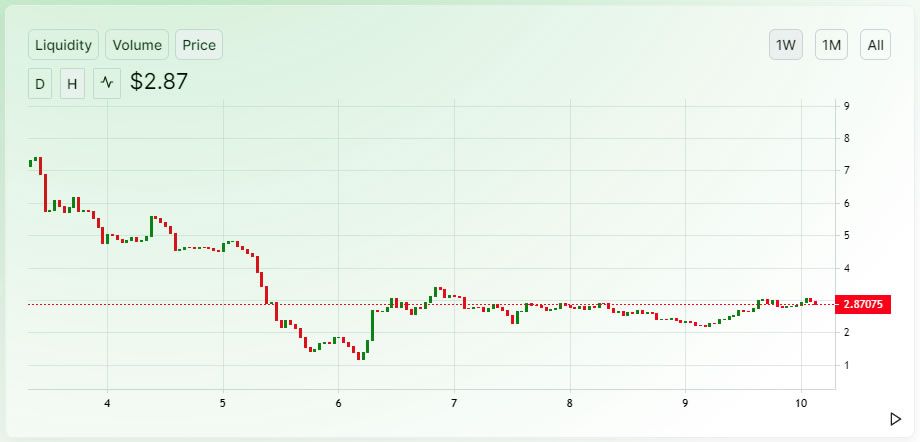 SUSHI prices are still down 62% on the week.
As reported by BeInCrypto those tokens could still be way overvalued and driven by hype, even at current levels. The current inflationary tokenomics model of the platform means that it would need massive trading volumes to sustain token prices anywhere near their previous levels.
The DeFi space has evolved so fast this year that it has been a tough job to keep up. This latest chapter may pave the way for a new normal of fair launches in the burgeoning space.
Disclaimer
BeinCrypto strives to provide accurate and up-to-date information, but it will not be responsible for any missing facts or inaccurate information. You comply and understand that you should use any of this information at your own risk. Cryptocurrencies are highly volatile financial assets, so research and make your own financial decisions.