Silvergate Capital has shuttered its Silvergate Exchange Network (SEN) as a "risk-based" decision following a second downgrade by rating agency Moody's.
The firm added that its deposit services remain operational at the close of business on March 3, 2023.
Silvergate Risk Grows With Moody's Downgrade and Legal Battles
The shutdown comes after rating agency Moody's downgraded Silvergate's deposit rating from Ba3 to Caa1 after the firm delayed submitting its annual report to the U.S. Securities and Exchange Commission. The crypto-friendly bank has recently been selling securities at steep losses to raise cash after several key partners, including U.S. exchange Coinbase and crypto financial services firm Galaxy Digital, severed ties with the firm.
Now, Moody's says that the company will likely experience a deposit drop that will force it to sell more securities.
Shares of Silvergate declined to a record low below $6 after markets closed on March 2, 2023. It fell a further 2% in premarket trading the following morning. The share price is currently $5.76, down almost 67% year-to-date.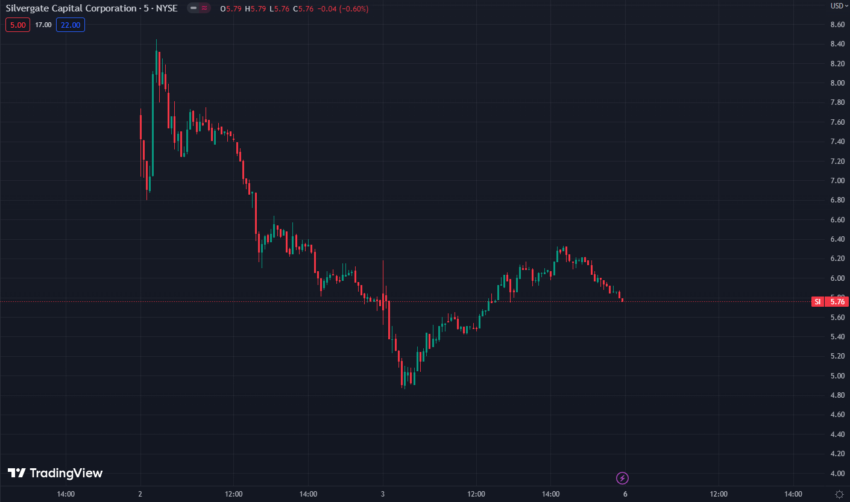 Silvergate also faces scrutiny for allegedly not performing due diligence on collapsed Bahamian exchange FTX. It has been accused of aiding the misappropriation of customer funds through a Silvergate account held by FTX affiliate Alameda Research.
Separately, the firm was hit with a class-action lawsuit filed in the Southern District of California in Jan. 2023 for laundering $425 million by South Americans linked to smuggling and drug trafficking.
Silvergate was one of the first U.S. banks to receive Federal Reserve approval to provide banking services to crypto firms. It initially targeted crypto traders who needed access to banking services on weekends. The now-defunct Silvergate Exchange Network allowed traders to move U.S. dollars between their bank accounts and exchanges as long as the exchange and the trader had accounts at Silvergate.
Banks That Can Benefit as Stablecoin Issuers Dump Silvergate
With the shutdown of SEN, crypto companies will need to find banking partners willing to serve crypto investors outside of traditional banking hours.
Notably, Gemini Trust Co. and Tether, issuers of the GUSD and USDT stablecoins, said they have no material links to Silvergate.
USDC issuer Circle said on Thursday that it would move a portion of assets backing its stablecoin to "other banking partners," of which there are still a few.
New York-based Signature Bank offers institutions access to its 24/7 Signet payments network through application programming interfaces that a company can integrate into its own platform. Coinbase switched to Signature Bank for customers of its Prime product after terminating its relationship with Silvergate. The exchange started doing business with Signature in October 2022.
Customers Bank, based in West Reading, Pennsylvania, offers a real-time blockchain payments service TassatPay. The private network uses a CBIT token representing dollar deposits to settle B2B transactions.
Crypto over-the-counter trading venue BlockFills uses TassatPay to exchange tokenized U.S. dollars with other CBIT customers. Crypto brokerage Genesis, whose lending arm recently filed for Chapter 11 bankruptcy, is also reportedly a client of Customers Bank.
BlockFills, a self-described "avid" user of SEN, has not revealed whether it would end its relationship with Silvergate.
For Be[In]Crypto's latest Bitcoin (BTC) analysis, click here.
Disclaimer
In adherence to the Trust Project guidelines, BeInCrypto is committed to unbiased, transparent reporting. This news article aims to provide accurate, timely information. However, readers are advised to verify facts independently and consult with a professional before making any decisions based on this content.