A recent article was published which finds that self-professed
Bitcoin
creator Craig Wright's 2017 doctoral thesis is, allegedly, full of plagiarized material.
Craig Wright, the self-proclaimed '
Satoshi Nakamoto
,' often flaunts his academic credentials. However,
a recent investigation
finds that his doctoral thesis is fraudulent. According to the report, "substantial, deliberate plagiarism is present in at least thirty pages of Wright's thesis."
Alleged Plagiarism
Wright's doctoral thesis was titled "
The Quantification of Information Systems Risk: A Look at Quantitative Responses to Information Security Issues."
At least thirty pages in total are in question and almost the entirety of Chapter 6 is allegedly plagiarized, according to the report. Wright was allegedly able to pass plagiarism detection tools by substituting synonyms. In one example, Wright writes:
"In the construction of each decision-tree model, an individual random subset of the training dataset uses a random subset of the presented variables to decide where to partition the dataset at each node."
The
original source
, published in 2004, reads:
"In building each decision tree model based on a different random subset of the training dataset a random subset of the available variables is used to choose how best to partition the dataset at each node."
As Paintedfrog writes, "in almost every case, he did not even bother to change the sentence order." The Medium post compares other screenshots of Wright's doctoral thesis and the plagiarized sources.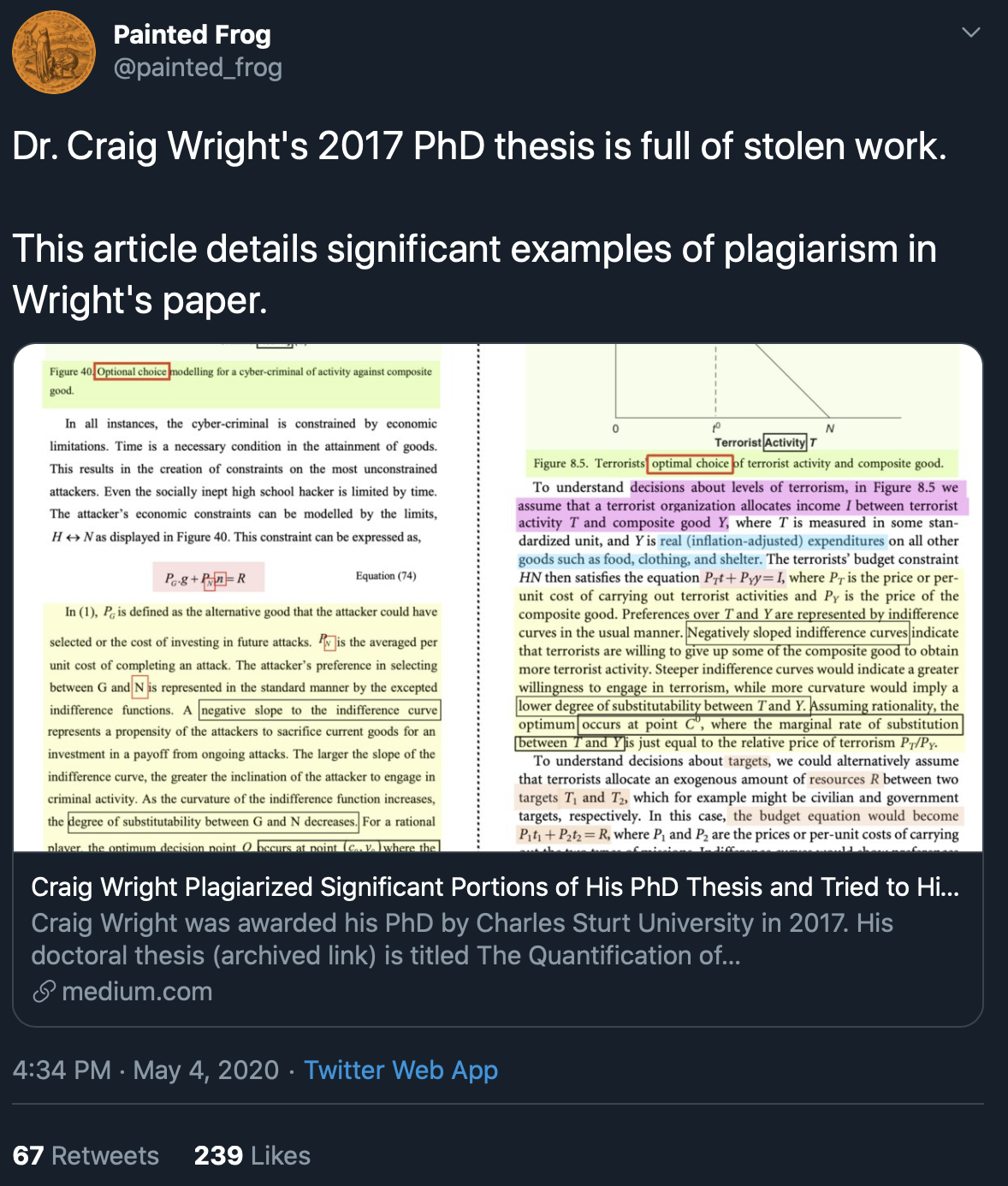 Wright has not responded to the accusations, as of press time. Remarkably, Wright claimed in October that
Satoshi
Nakamoto
plagiarized his thesis
in an apparent Freudian slip.
A Damning Accusation
The accusation of plagiarism is the latest in a long string of accusations levied against Craig Wright, the founder of
Bitcoin SV
(BSV). Wright is well-known for making strong statements in an effort to boost his
Bitcoin Cash
fork and profile. For example, he has claimed that Bitcoin (BTC) and Bitcoin Cash (BCH)
owe him $100 billion
for 'breaching contracts.' He's gone on the record claiming that
Blockstream hacked him
to forge documents. In November 2019, he even claimed he knew of a
'critical bug'
in Bitcoin and
Litecoin
that he would expose. (That ended up never happening.) Wright allegedly plagiarizing his doctoral thesis is not out of the ordinary — he has demonstrated a penchant for outlandish statements and outright lies. This latest accusation is just another addition to what we can usually expect from Wright.
Disclaimer
All the information contained on our website is published in good faith and for general information purposes only. Any action the reader takes upon the information found on our website is strictly at their own risk.