At 3:35 P.M.
GMT
on Dec 23, the final parcel of LAND in Decentraland's Genesis City was auctioned off for 6,800
MANA
— completing the second annual
Decentraland
LAND auction.
Decentraland is a decentralized virtual reality universe which serves as a platform for its 'citizens' to create games, districts, services, and other content without a centralized authority. Similar to Second Life or Minecraft, Decentraland is owned, controlled, and governed by the people who 'live' there.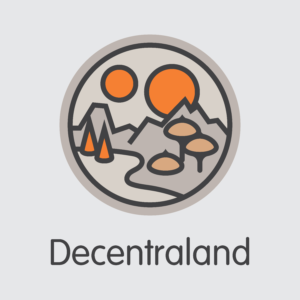 Genesis City and the Decentraland Land Auction
Genesis City is the capital of Decentraland. During December 2017 and January 2018, the first LAND Auction took place, in which parcels of LAND in Genesis City were auctioned off for MANA. 34,356 of 43,687 LAND parcels were successfully sold. The remaining 9,331 parcels were successfully auctioned off during the second Decentraland Land Auction between Dec 10 and 23, 2018.
Districts Outside of Genesis City
There are other districts in Decentraland created by private users. The parcels of LAND in these districts were not auctioned off during either LAND auction; rather, they are bought and sold at a determined price by the buyer in the Decentraland marketplace.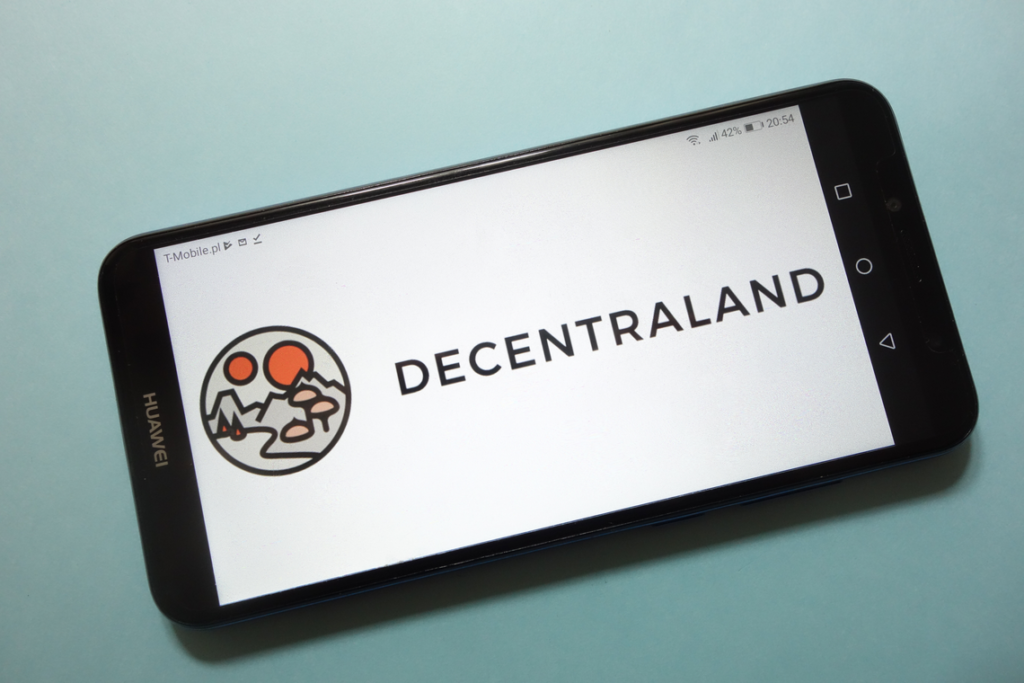 MANA vs. LAND
All MANA used to buy LAND was burnt or effectively destroyed after purchase, while the LAND remains the permanent property of the buyer. A total of 109,521,854 MANA was burnt as a result of both LAND auctions. Both MANA and LAND are ERC tokens, but they're not the same type of token. MANA is an ERC20 token while LAND is an ERC721 token. The difference between these two types of tokens is in their fungibility. Fungibility refers to the interchangeable exchange of assets. For example, ERC20 tokens are fungible. They can be exchanged for other ERC20 tokens, non-ERC20 cryptocurrencies like Ethereum and Bitcoin, or even for fiat currencies like the dollar. In other words, MANA can be bought and sold with other cryptocurrencies or fiat currencies. LAND, however, is different. As an ERC721 token, it is
non-fungible
. This means that once it is acquired it can never be bought or sold to another person or entity. It is not exchangeable for MANA, other ERC20 tokens, ETH, BTC, the dollar, or any form of crypto or fiat. Once purchased with MANA, it is etched into the blockchain as the permanent property of the buyer.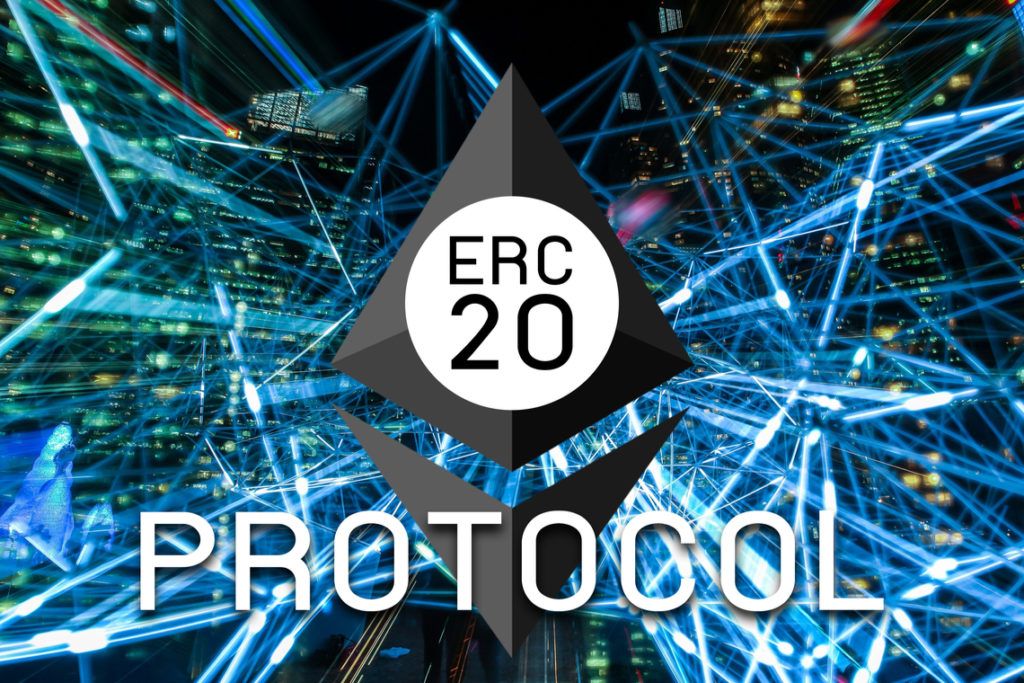 Price Fluctuations During the LAND Auction
Decentraland (
MANA
) is one of the best performing cryptocurrencies currently available for purchase. Between Nov 23, 2017 and Dec 9, 2018, the price rose from USD($)0.01540040 to $0.06155487. This increase of over 300 percent stands in stark contrast to cryptos like
CIVIC
,
LOOM
, and
DNT
which have decreased in overall value during their respective trading periods. Following increases in price between Dec 7 and 10, the first five days of the LAND auction saw the price of MANA drop. The high reached on Dec 10 was $0.06684879. On Dec 15, it reached a low of $0.04112241. Over the next seven days of LAND auction, the price rose to a high of $0.06345080 on Dec 23. Since the end of the land auction, however, the price of MANA has continued to fall once again. As of the writing of this article, it had reached a daily low on Dec 25 of $0.04944294.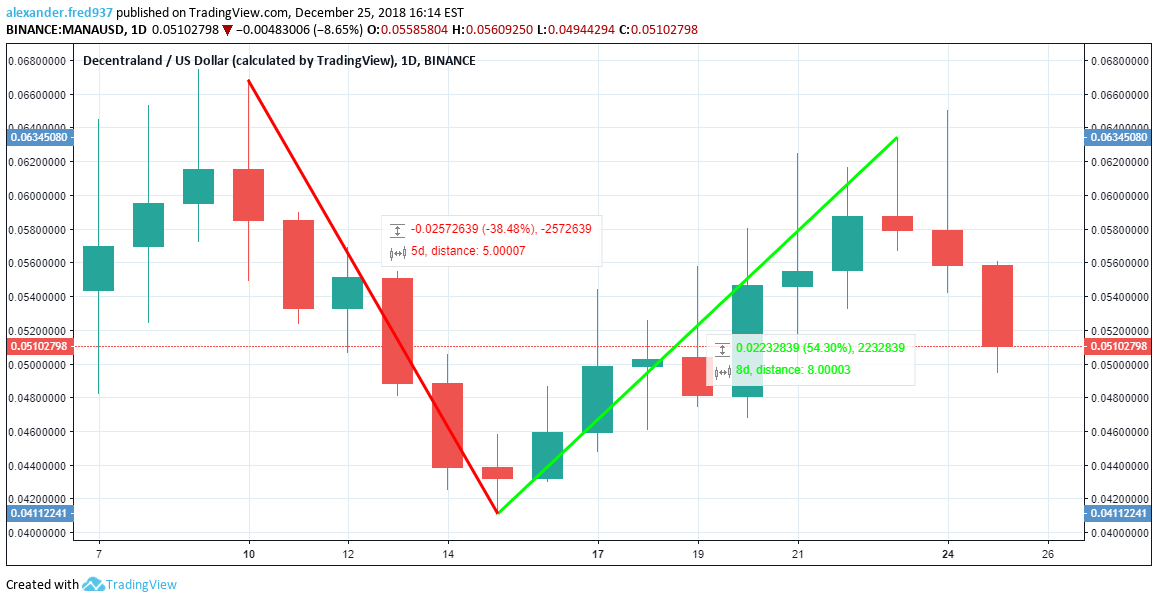 Conclusion
The second Decentraland LAND Auction was a success. All parcels of LAND within Genesis City have been effectively sold for MANA. It is important to remember that while MANA and LAND are both ERC tokens used in Decentraland, MANA is a fungible ERC20 token while LAND is a non-fungible ERC721 token. Lastly, the price fluctuations during the LAND auction was mostly positive despite drops in value during the first five days. Since the end of the auction, however, prices continue to fall.
What do you think the future holds for Decentraland? With all of the LAND in Genesis City successfully sold, do you think that the price of MANA will rise or fall? 
Disclaimer
All the information contained on our website is published in good faith and for general information purposes only. Any action the reader takes upon the information found on our website is strictly at their own risk.