On Mar 7, 2019, the Samsung Galaxy S10 will be unveiled with blockchain features.
Footage apparently leaked from the 2019 World Mobile Congress (WMC) features a representative of Samsung discussing the Samsung Blockchain KeyStore for the Galaxy S10 series.
A photograph of the presentation has spread across the internet. It includes a slide that defines two supposed features of the KeyStore:
A form of digital identification
The digital wallet may be integrated with contactless payment systems built into the device, but the company has not publicly confirmed such integration.
In a bizarre turn of events, Samsung today announced its wallet app at MWC. Supported assets: BTC, ETH, ENJ (some tiny in-game currency thing) and COSM (absolute shitcoin from Korea for buying beauty products – WTF?!)

Hardly any details. I'd wager this doesn't ship on US models. pic.twitter.com/wXa0mJCYD2

— Udi Wertheimer (@udiWertheimer) February 25, 2019
Allegedly, Samsung also announced partnerships with digital asset companies Enjin and Cosmee.
Enjin has developed wallets for Android and iOS devices. Supposedly, Enjin will be developing a native wallet within some or all of the devices in the S10 series. This has not been confirmed; however, there is mounting evidence.
For example, T World Direct, a South Korean electronics retailer, currently showcases the Samsung Blockchain KeyStore as a feature of the S10 series. An image of the Enjin Wallet on one of the S10 devices is highlighted in a picture on the site.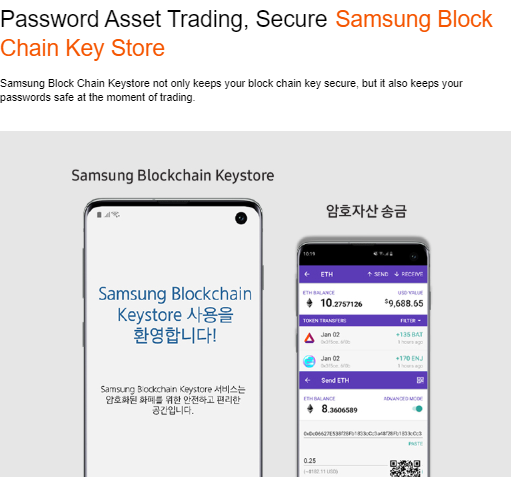 This does not necessarily prove that a partnership with Enjin and Samsung exists or that the wallet is a native feature on the device. It merely showcases the Enjin Wallet being used on an S10 device.
Cosmee awards users with the cryptocurrency Cosmo Coins (COSM) for using its social media platform. The company will allegedly be Samsung's first dApp (decentralized application) partner.
Basic Attention Token (BAT) may be another. It is included in the Enjin Wallet showcased on T World Direct alongside the Enjin Coin (ENJ) and Ethereum (ETH).
Other partnerships have yet to be announced.
Other leaked footage supposedly showcases a tutorial on how to use the blockchain features of the S10. It appears to have been designed for a South Korean audience.
🇰🇷 – Samsung now priming their phones with Blockchain tutorials. The wallet integration on the Galaxy S10 has been confirmed… even after they denied it. Trying to keep Apple on their toes? pic.twitter.com/wAd7EaPzKw

— Heslin Kim @BlockchainROK (@BlockchainROK) February 21, 2019
In other news, leaked photos apparently show an English version of the KeyStore supposedly being used. Whether or not all versions of the S10 will include the described blockchain features has yet to be verified.
Until the phone is released to a mass audience, one can only wait and see what is finally unveiled.
Do you think that the blockchain features of the Samsung Galaxy S10 series will increase awareness and usage of Bitcoin? Had you ever heard of Cosmee before? Let us know your thoughts in the comments below! 
---
Do you want to BeInCrypto? Join our Telegram Trading Community for exclusive trading signals, educational content, discussions and project reviews! Images courtesy of Shutterstock, Trading View and Twitter.