Ripple chief Brad Garlinghouse has expounded on an earlier message about the blockchain startup's future as a U.S.-domiciled company.
Cryptocurrency-related companies face a conundrum as they attempt to navigate a regulatory landscape that remains mired in uncertainty. Garlinghouse
took to Twitter
to relay his message, acknowledging once again that the company is exploring its options. He also used the soapbox to clarify some of the misconceptions that might be swirling around. First and foremost, Garlinghouse maintained that Ripple remains a U.S.-based entity that "abides by and supports critical laws," including the Bank Secrecy Act and anti-money laundering protocols. He made one thing clear,
"We are NOT looking to evade U.S. regulation."
Lots of speculation last week as Team @Ripple considers some very important decisions about our future. I want to clarify a couple of things related to some of what I read. (1/5)

— Brad Garlinghouse (@bgarlinghouse) October 12, 2020
Ripple: Help Us Help You
Yet, Ripple finds itself between the same rock and a hard place that so many U.S.-based blockchain startups are facing these days, one in which the
regulatory climate is lacking
. Companies are held responsible for the rules that relate to existing regulations even though they aren't sure where they fall in. For example, in a recent interview on the
Coinscrum podcast
,
 Sadie Raney, COO of Strix Leviathan, harkened back to Satoshi Dice, a blockchain-based gambling app.
In 2014, it was charged by the U.S. Securities and Exchange Commission for offering shares that could be purchased via bitcoin without registering them. Even though Satoshi Dice eventually blocked U.S. IPs, it wasn't enough. Raney explained, 
"The SEC fined them and went after them for securities violations, which leads to another issue with our industry, is that regulators can double down on you. They can penalize you for not registering, but then they can also penalize you for violating the regulations that applied to the registration that you didn't get. It doesn't even have to be digital-asset specific. They can decide that retroactively, which is really hard from our standpoint…It stifles innovation in this space quite a bit."
Patchwork Regulation
Garlinghouse bemoaned a patchwork regulatory landscape, on which numerous U.S. regulatory bodies each have their own take on the classification of crypto, albeit property, a commodity, a virtual currency,
security
, etc. He said, "Regulation shouldn't be a guessing game."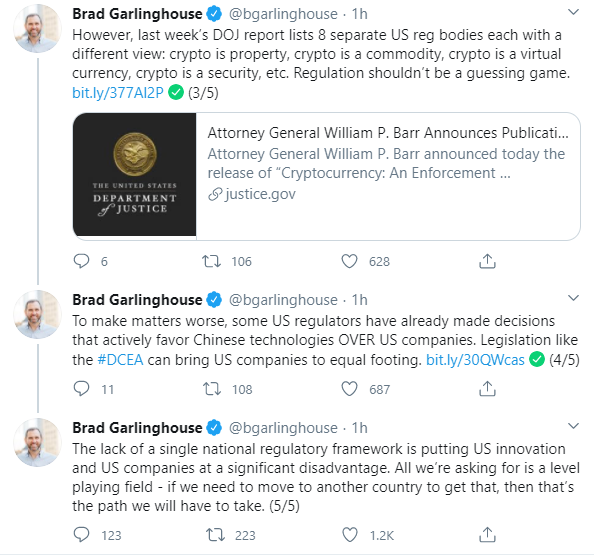 He fears that this "lack of a singular national regulatory framework is putting U.S. innovation and U.S. companies at a significant disadvantage." The Ripple chief called for a "level playing field" and warned that if Ripple has to relocate to another country to find that, they are willing to do so. Garlinghouse's followers were largely supportive, with one suggesting that the Ripple chief make his intentions clear at the Ripple Swell conference, adding that "Europe is open for you."

Garlinghouse is not alone in his frustration, as it's largely felt throughout the industry. Incidentally, the state of Wyoming has increasingly been winning over
crypto companies
, including the likes of Kraken Financial. Similar to Kraken, Ripple also has its
main headquarters
in San Francisco.
Disclaimer
BeInCrypto has reached out to company or individual involved in the story to get an official statement about the recent developments, but it has yet to hear back.