The Sandbox metaverse prepares for its first digital Pride celebration and major brands like NYX makeup are joining the festivities.
This June 2022 the yearly Pride celebration in the LGBTQIA+ community enters digital reality. The Sandbox metaverse plans to host this important cultural experience which highlights diversity, community, and various industries in Web3.
Moreover, this landmark event attracted a big name brand from the fashion and beauty industry, NYX Professional Makeup.
The Pride celebration will happen in the "Valley of Belonging," created by People of Crypto Lab (POC). This space will mark the metaverse's first ever diversity, equity & inclusivity center. Furthermore, the center is important in the bridging of real life pride events to the virtual ones.
Diversity in the virtual reality
As the metaverse becomes more accessible to the masses, having spaces which highlight diversity, inclusion, and community is important. Already the LGBTQIA+ community made it a priority to create safe spaces of representation for their communities within the metaverse.
The co-founders of the popular LGBTQ social app 'Qutie', began the creation of an entire metaverse catered towards their community. Qtopia will be a world within a world (Alpha metaverse), complete with land, tokens, activities and more.
On the other hand, the "Valley of Belonging" brings inclusion to the popular Sandbox metaverse ecosystem. The #MetaPride includes quests, a rainbow path to a Pride party in the sky, and Drag Queen non-player characters (NPC).
Last year, statistics revealed a high level of interest in the crypto space from the LGBTQIA+ community in the U.S. At the time of the research, nearly 25% of LGBTQIA+ Americans owned crypto, compared to 13% of the general public.
Co-Founder of POC Lab Simone Berry believes these communities are vital to mass adoption of Web3 technologies. "We believe that Web3 can only scale if diversity and inclusion are rooted in [its] foundation. People of color and LGBTQIA+ have an immense combined spending power and unprecedented cultural influence," said Berry.
"Culture drives commerce, which is why we need to actively educate and onboard these communities in order to ensure an equitable, profitable future for Web3."
Beauty in NFTs
In collaboration with the event organizers the popular beauty brand NYX makes its entrance into the metaverse. While this isn't the first beauty brand to jump into NFTs, it certainly won't be the last.
The makeup company and POC Lab will create a non-binary NFT avatar collection which features NYX Cosmetics makeup looks. Avatar makeup looks will represent the progress pride flag which includes black, brown, and trans colors. Each flag color correlates with a feeling: magical, midnight, life, healing, new ideas, prosperity, serenity, and spirit.
8,430 NFT avatars will be available as a representation of the 84.3% global majority which collectively includes communities of color and LGBTQIA+.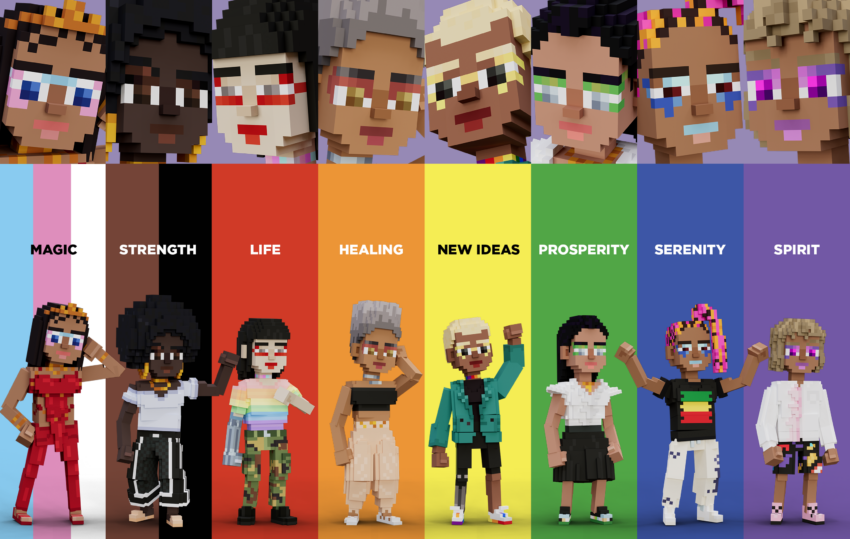 Moreover, this will be one of the most diverse avatar collections, representation wise. There are "over 36 skin shades, every ethnicity, sexual orientiation, and gender identification." Additionally, other inclusive representations include those with, "different abilities like prosthetic limbs to cultural identifiers like the Hijab."
On top of representation, this collection includes giving back to the community with 10% of all proceeds going to the Los Angeles LBGT Center.
Industries collide in the metaverse
The entrance of NYX Cosmetics and the representation of diverse communities points to broader opportunities for Web3 engagement.
It may be a surprise to some that the fashion and beauty industry are rapidly entering the metaverse. However, in reality, industries with communities of collectors such as the fashion industry, and moreover communities wanting to stay on top of trends, have a high probability of digital engagement.
Already, huge fashion houses have metaverse activities and digital assets. More than that, new designers and collaborations are popping in the digital space, ultilting blockchain information verification and non-fungible token (NFT) technology.
Digital spaces even out the playing field, if even a bit, for creativity and innovation.
This dynamic collaboration between NYX, POC, and the Sandbox highlights another example of industries finding new ways to engage with their communities. Virtual reality just got a bit more inclusive and a bit more beautiful.
Got something to say about Pride or anything else? Write to us or join the discussion in our Telegram channel. You can also catch us on Tik Tok, Facebook, or Twitter.
Disclaimer
Following the Trust Project guidelines, this feature article presents opinions and perspectives from industry experts or individuals. BeInCrypto is dedicated to transparent reporting, but the views expressed in this article do not necessarily reflect those of BeInCrypto or its staff. Readers should verify information independently and consult with a professional before making decisions based on this content.