The capacity of the Lightning Network, the Layer 2 solution for the Bitcoin network, has just reached an all-time high (ATH). The network, which is designed to solve the scalability problem of the largest cryptocurrency, has experienced parabolic growth since the beginning of 2021.
Since 23 September, Glassnode, the popular on-chain data provider, has released 5 new indicators. They allow us to monitor the health of the Lightning Network in real time. Thanks to them, we can see that not only the capacity of the Lightning Network, but also the number of its nodes and channels, is reaching record highs.
Lightning Network reaches ATH
The most popular Layer 2 solution for Bitcoin, the Lightning Network (LN), has just reached an all-time high for capacity. According to data from Glassnode, yesterday the value of Bitcoin locked in the LN reached 2,738 BTC. This is equivalent to around $116.3 million.
One of Glassnode's analysts, @TXMCtrades posted a chart on Twitter yesterday that shows Lightning Network's parabolic growth in 2021. The chart shows that LN capacity has increased by 161%, measured from January 2021. At that time, the amount of Bitcoin blocked was just over 1,000 BTC.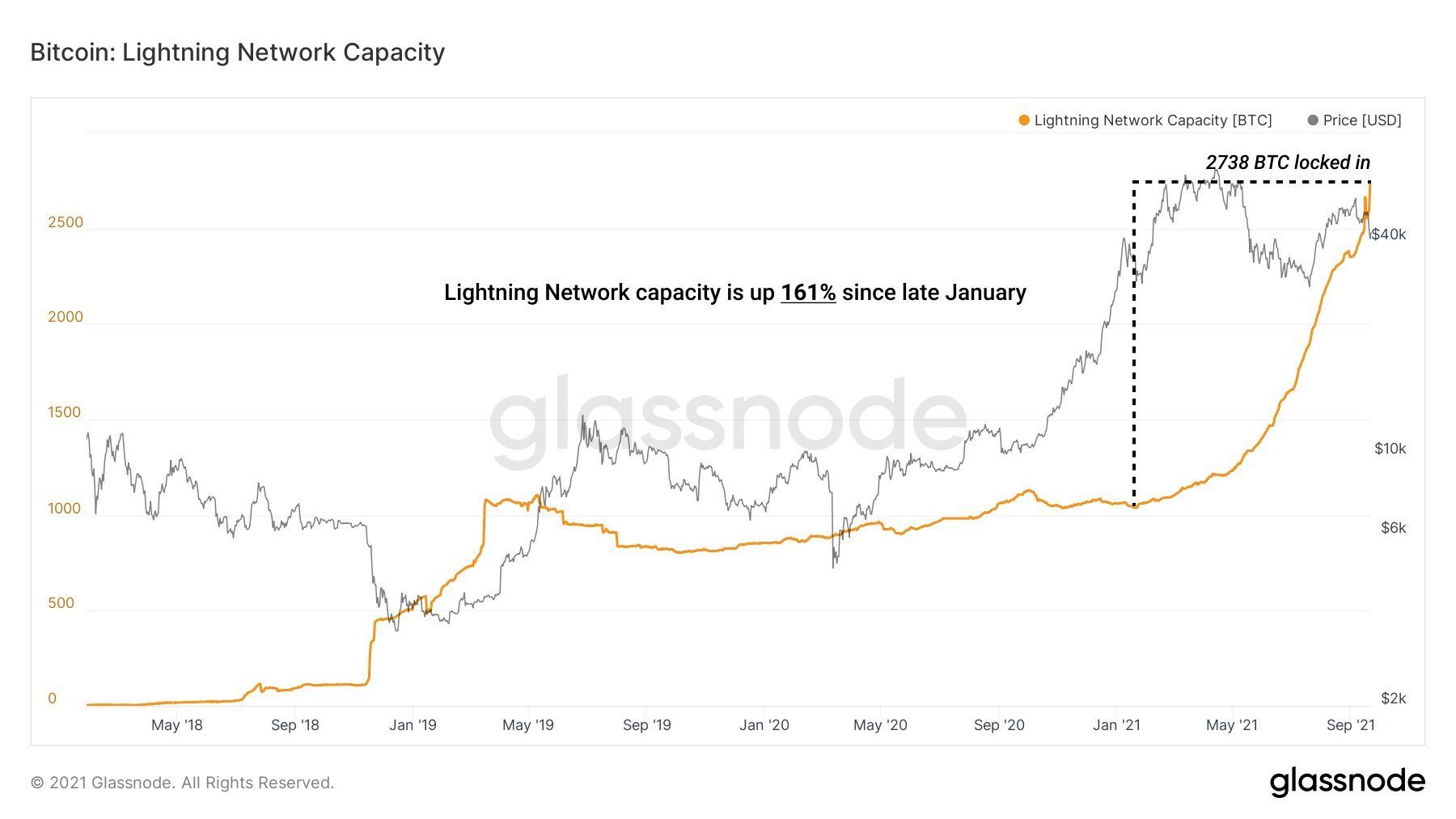 Another popular on-chain analyst, @WClementeIII pointed out in a tweet yesterday that we have witnessed "the two largest daily upticks in LN capacity ever." In his view, the huge increase in utility and capacity of this Layer 2 network is a way for Bitcoin to fulfil its function as a medium of exchange. The analyst writes:
"This growth is crucial for BTC to eventually make the transition from primarily being a store of value to a medium of exchange."
What is Lightning Network?
Lightning Network is a Layer 2 technology for Bitcoin that aims to scale transactions more efficiently. The transfer of BTC within the LN occurs off-chain (outside the blockchain) and is faster, cheaper and more readily confirmed. In this way, Layer 2 is designed to decongest the main network and reduce transaction fees.
Formally elaborated in 2015 by Joseph Poon and Thaddeus Dryja, the Lightning Network is still under development. The LN developers say that to enable Bitcoin to achieve its original function of cash for direct exchange between users (peer-to-peer), the cryptocurrency needs to reach tens or hundreds of thousands of transactions per second. This is roughly the scale of credit cards and popular traditional payment systems.
LN helps solve the scaling problem by creating Layer 2 on the main Bitcoin blockchain. This layer contains its own nodes and payment channels between users. Transactions are only updated on the main blockchain when both parties open and close the channel. As long as the channel remains open it is possible to transfer BTC between users without involving the main network. This approach dramatically speeds up transactions and reduces their fees.
New indicators from Glassnode
Record highs in Lightning Network capacity coincide with yesterday's announcement by Glassnode of the launch of 5 new indicators. All relate to detailed LN performance:
Total capacity
Mean / Median channel size
LN Node and channel counts
In addition to the Lightning Network capacity discussed above, the last two indicators are also worth noting. Both the number of nodes and channels are currently at ATH. Moreover, regardless of the BTC price correction, both indicators are dynamically increasing over the last month.
The number of LN nodes currently stands at 15,801.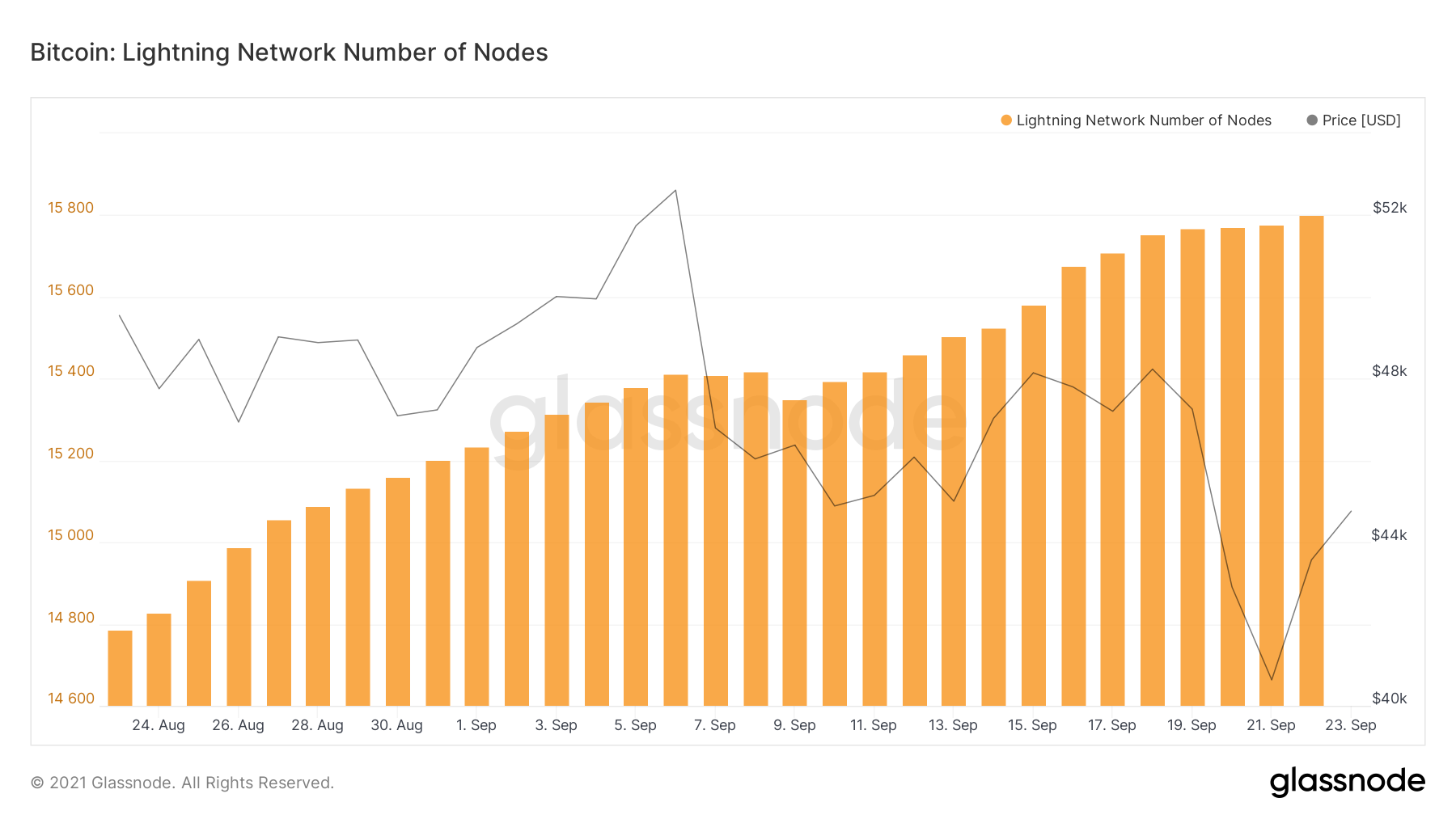 Meanwhile, the number of LN channels today is 72,600.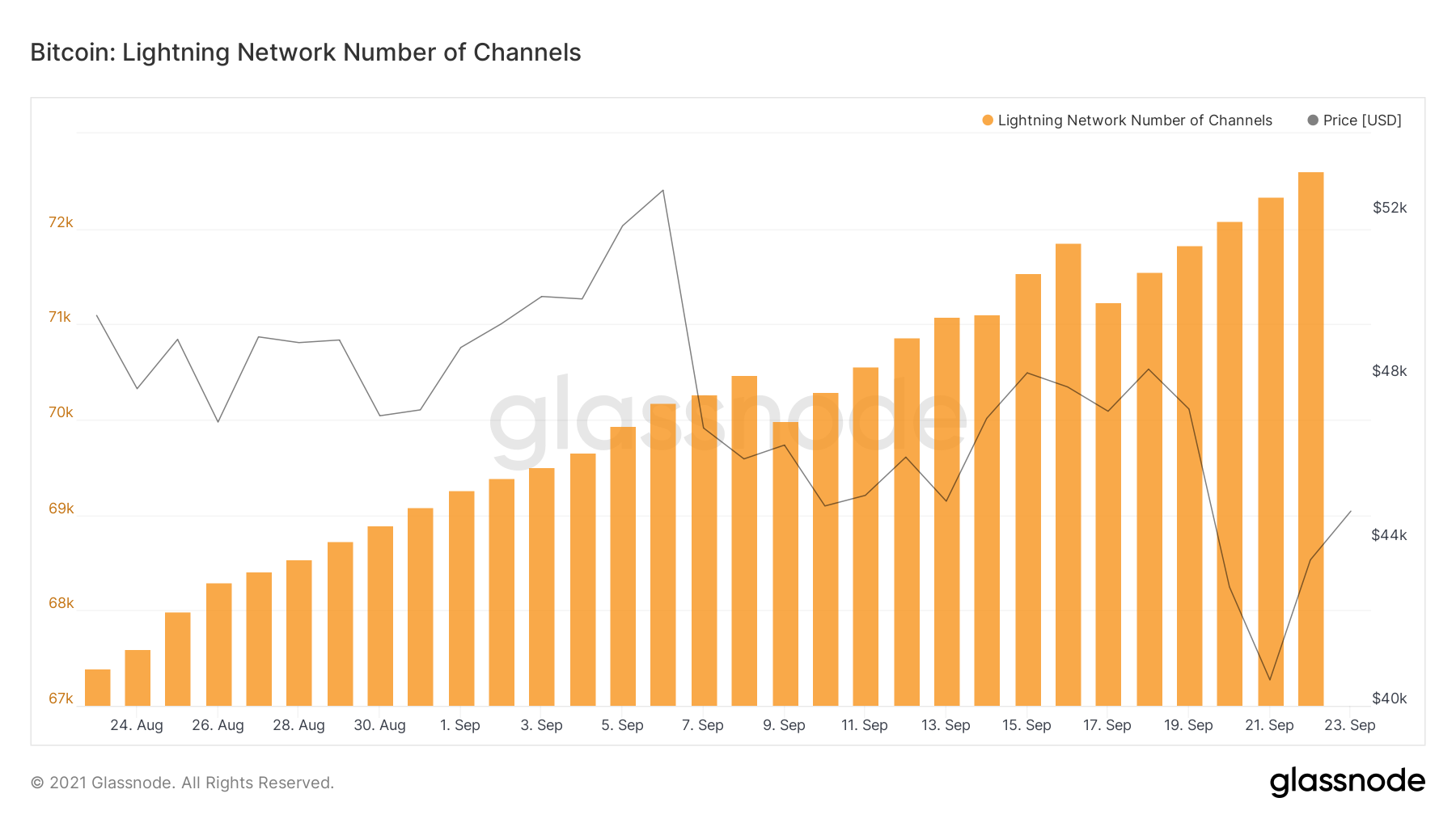 Both indicators confirm the healthy, organic growth of the Layer 2 network. They are additional indicators of the growing adoption of BTC and the use of Bitcoin as a medium of exchange.
If the Lightning Network's growth momentum does not slow down, we can expect the Bitcoin narrative to be replenished in the near future. Perhaps the largest cryptocurrency will not be treated solely as digital gold, a new and better way to store value. Perhaps the vision of Bitcoin network creator Satoshi Nakamoto will finally come true and BTC will become a fully "peer-to-peer electronic cash system" operating at lightning speed.
For BeInCrypto's latest Bitcoin (BTC) analysis, click here.
What do you think about this subject? Write to us and tell us!
Disclaimer
In line with the Trust Project guidelines, this price analysis article is for informational purposes only and should not be considered financial or investment advice. BeInCrypto is committed to accurate, unbiased reporting, but market conditions are subject to change without notice. Always conduct your own research and consult with a professional before making any financial decisions.