Crypto regulations have always been the biggest gray patch in the US, especially in New York. Under NY Attorney General Letitia James, the enforcement tone has been especially harsh.
New York is often considered one of the most anti-crypto states in America. Mainly due to its strict regulatory framework, making it difficult for crypto businesses to operate. However, it is essential to note that other states also have varying degrees of regulations for the crypto industry.
Strange Relationship Between Crypto and the Big Apple
One of the main reasons New York is considered anti-crypto is the implementation of BitLicense. This regulatory framework requires businesses to obtain a license to operate in the state. This framework was introduced in 2015 by the New York State Department of Financial Services (NYDFS) and applied to businesses that engage in virtual currency activities. BitLicense requires firms to comply with strict regulations, including anti-money laundering (AML) and know-your-customer (KYC) requirements.
BitLicense has been criticized by some in the crypto community for being too burdensome and restrictive, which has led some companies to avoid operating in New York altogether. For example, in 2015, the popular cryptocurrency exchange Kraken announced that it would suspend its services in New York due to the BitLicense regulations.
Other crypto businesses have also expressed frustration with the regulatory framework, which has led some to argue that New York is hostile to the industry. So, what makes the said region go against crypto?
It All Starts with the Leaders
State attorneys general are responsible for enforcing state laws within their jurisdiction. This includes laws related to consumer protection, securities regulation, and financial fraud. In recent years, state attorneys general have increasingly focused on enforcing cryptocurrency and blockchain technology laws.
As cryptocurrencies continue to gain popularity, there have been concerns about fraudulent activity and consumer protection in the crypto market. State attorneys general may investigate and prosecute cryptocurrency exchanges, businesses, and individuals that violate state laws related to cryptocurrency. In this case, the New York Attorney General's office, led by Letitia James, is the front runner.
The Democrat has taken a strict approach to the regulation of cryptocurrencies.
In 2018, the office launched the Virtual Markets Integrity Initiative, which aimed to protect cryptocurrency investors by increasing transparency and accountability in the industry. As part of this initiative, the Attorney General's office sent letters to thirteen cryptocurrency exchanges requesting information about their operations, security, and compliance measures.
Crypto Exchanges and Firms at Risk
The exchanges were required to complete a questionnaire that asked for detailed information about their policies and procedures, including how they prevent market manipulation and safeguard customer funds. The Virtual Markets Integrity Initiative resulted in several enforcement actions against cryptocurrency exchanges, including settling charges against Bitfinex and Tether for allegedly covering up a loss of $850 million in customer funds. 
The Attorney General's office also filed a lawsuit against the cryptocurrency exchange Coinseed, accusing it of defrauding investors and misappropriating funds. Recently, high-profile enforcement actions have targeted KuCoin, CoinEx, and Celsius Network. Also, James charged Ethereum with operating unregistered as a security, which directly impacted the ETH price.
So, there's one question that arises here. What is behind this intense hostility? Is James picking on crypto, or are her actions justified? The controversy surrounding New York Attorney General Letitia James' treatment of the crypto industry has elicited a range of opinions and views.
Choosing Sides in the Crypto Domain
Supporters of the NY AG's actions argue that her crackdown on crypto companies is necessary to protect investors and prevent fraudulent activities. They believe the crypto industry is still largely unregulated and that bad actors can exploit unsuspecting investors.
For instance, Parrot Capital, a Twitter handle with over 12,000 followers, asserted: 
"Letitia James has arguably done more to stop crypto fraud than any other law enforcement officer. New York state has a long history of regulatory overreach, but on cracking down on crypto crime, they've done much better than most."
On the other hand, Critics of the AG's actions argue that her crypto regulation approach is too heavy-handed and stifles innovation and growth in the industry. They believe the industry needs more clarity and guidance from regulators rather than strict enforcement. Some respondents on Reddit told BeInCrypto that AG's actions are driven by a desire to "score points in the political game (by going after cryptos)." 
The controversy surrounding the regulator's treatment of the crypto industry is complex and multifaceted, with various opinions and views. Is that the case in other U.S. states as well? 
Other Regions and its Regulatory Climate 
Other states have also implemented regulations for the crypto industry, but it might have a bad after-taste. In 2019, Wyoming passed several bills to create a favorable regulatory environment for crypto businesses. These bills included exempting certain crypto assets from state securities laws and creating special-purpose depository institutions (SPDIs) that can provide banking services to crypto businesses.
Other states have also taken steps to regulate the industry, although their approaches vary. For example, some states have passed laws that require businesses to obtain a money transmitter license to operate. In contrast, others have created regulatory sandboxes that allow firms to test products and services without complying with existing regulations.
Fair to say regulations remain murky on U.S. soil for cryptocurrencies to operate at their full potential. It is one of the reasons why the crypto adoption curve in the U.S. has decreased compared to other geographies.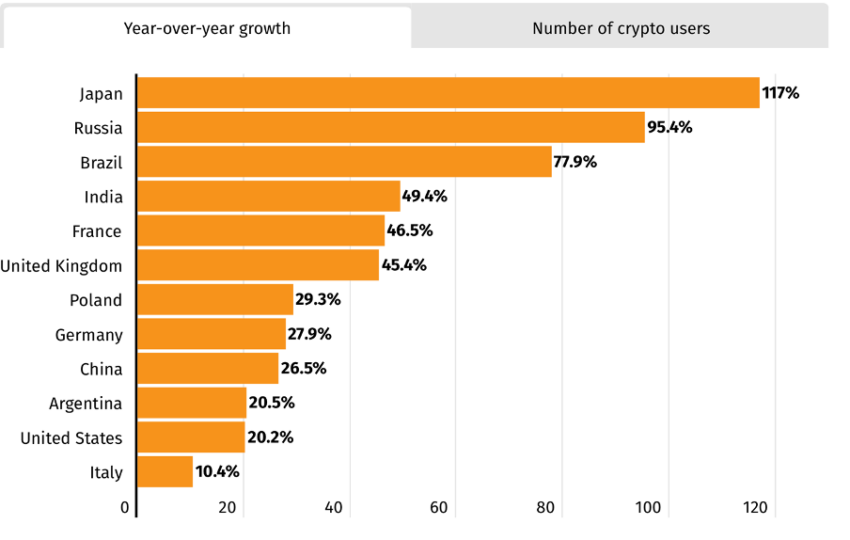 Overall, it remains to be seen whether New York will continue to be seen as hostile to the crypto industry. Or if it will take steps to create a more favorable regulatory environment.
Disclaimer
Following the Trust Project guidelines, this feature article presents opinions and perspectives from industry experts or individuals. BeInCrypto is dedicated to transparent reporting, but the views expressed in this article do not necessarily reflect those of BeInCrypto or its staff. Readers should verify information independently and consult with a professional before making decisions based on this content.