Last month, Bithumb listed three new coins (IOST, Polymath, and ROM). On the first day of the New Year, the exchange-listed yet another one (AMO Coin), and now, more than two weeks into 2019, the Seoul-based company gave South Koreans traders two new toys to play with:
[New Coin Listing🔔] Ether Zero(#ETZ) and Aeron(#ARN) are listed on #Bithumb!

■Timeline: Timeline: January 17 (Thu), 2019 (KST) in the afternoon

Visit Bithumb website and trade newly listed cryptocurrencies ☺️
▶ https://t.co/VkKnc2uT0y#Bithumb #New #Coin #Listing pic.twitter.com/Izr3uyOy2f

— Bithumb (@BithumbOfficial) January 17, 2019
If you have not heard about the two projects, you are not alone — as most other crypto enthusiasts have not either.
What Is Ether Zero (ETZ)?
In the second half of 2017, Bitcoin's hard fork stole the show on many occasions, starting with Bitcoin Cash (August 1) or Bitcoin Gold (October 24), and finishing with many other failed attempts like the infamous SegWit2x. It was only a matter of time before Ethereum, second best cryptocurrency by market cap, to experience its own hard fork shivers. The moment came on Jan 19, 2018, when an unnoticeable minority forked the Ethereum blockchain and created Ether Zero. Every ether hodler at that moment received two ETZ for every one ETH held. The team behind the project sped up the shift to a
Proof-of-Stake system (PoS)
from its original
Proof-of-Work
(PoW) algorithm. The new blockchain is now using a
Masternode
PoS system. Besides the algorithm change, ETZ currently boasts zero transaction fees and instant confirmations thanks to their on-chain
voting
structure and one-second block interval. However, the zero
transaction fee
does not mean there is zero cost for anyone who wants to run a decentralized application (dApp) on the ETZ blockchain. To use the network's resources, one must buy and hold ETZ in order to earn Power, the blockchain's internal currency, similar to GAS on the Ethereum network. Buying ETZ may be tricky, mostly due to at least two
red flags found
in the whitepaper. The first involves the hard fork which took place on Jan 19 when a total of 194 million ETZ were issued to ETH holders. 97 million were distributed to the Ethereum coiners, while the other 50 percent were distributed to 'early investors' — mostly the EtherZero Foundation, EtherZero Post Development, and Eco-Development. The other major concern has to do with the core team. Only the founder has revealed his real identity, while the other four alleged team members do not have any real-world references and only use first names like Frank and Mia to introduce themselves.

What Is Aeron (ARN)?
The second coin listed by Bithumb was also born in the good old days of 2017. Aeron however, was not involved in any fork. It was just a small bubble in the stormy, $6 billion
Initial Coin Offering
(
ICO
) ocean at the time.
ICOs have raised $5.93 billion in 2017, with a record $1.58 billion raised in December! https://t.co/3NZWq6cwwd#icodata pic.twitter.com/SreXrO2yyi

— ICOdata.io (@ico_data) January 2, 2018
The company held its ICO in September and October of 2017, during the busiest fundraising days in the crypto industry. Aeron issued 20 million ERC20-based ARN and sold them at $0.50 a piece. At the end of the ICO period, the project had raised almost $5.69 million. What was the company's pitch to the investors? The flight industry needs an immutable and public database to store vital log data like pilots' flight hours, student records, or information about the aircraft itself. As a result, Aeron thought of an entire system based on the blockchain that could connect not only pilots and flight companies but also consumers interested in hiring an experienced pilot for their private jet, for example. The project looked good on (white)paper, yet, did it really need to be carried out on a blockchain with an ICO on top of that? Like many other projects from that period — probably not. What happened next proves this point. The company managed to launch a consumer portal and 'integrate' it within the blockchain, and even developed a pilot mobile app to no avail. Since few people use it, ARN does not currently have much intrinsic value. For the pump and dumpers though, it has seen a fair share of gains and losses during the altcoin hype in Jan 2018. Since then, the price has crashed with no return flight anytime soon, it seems. Can Bithumb's listing salvage the token?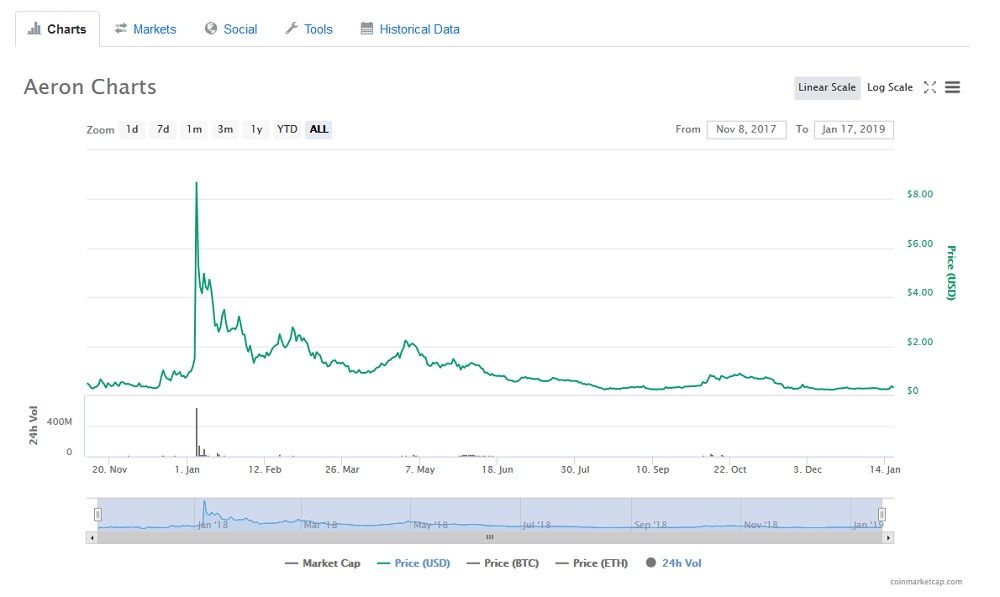 What do you think of Bithumb's decision to list Ether Zero and Aeron? Share your thoughts in the comment section below!
Disclaimer
All the information contained on our website is published in good faith and for general information purposes only. Any action the reader takes upon the information found on our website is strictly at their own risk.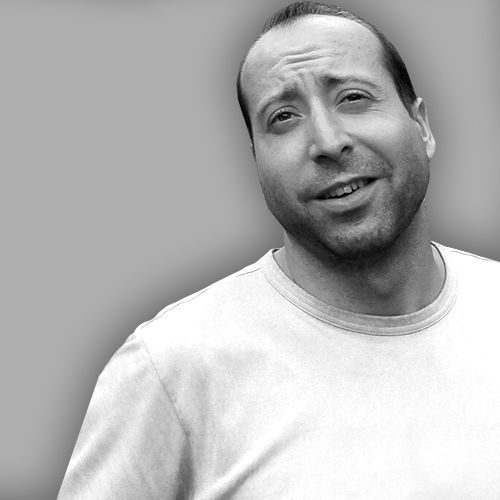 I started out in print journalism in 2008 and switched to freelancing two years later. Afterward, I covered the poker and gambling scene for several years before getting into...
I started out in print journalism in 2008 and switched to freelancing two years later. Afterward, I covered the poker and gambling scene for several years before getting into...
READ FULL BIO
Sponsored Sponsored