XRP has seen some price recovery since the initial SEC charges against Ripple. It has been a tough few months for one of cryptocurrency's industry titans.
Now, it seems that Ripple's situation has become even stickier. The company may need to produce all emails it had with the Securities and Exchange Commission (SEC) dating all the way back to 2015.
This is due to a class-action lawsuit introduced by Ripple investors. On Feb. 8, Courtlistener revealed that the lead plaintiff, Bradley Sostack filed a new motion in the Northern District of California.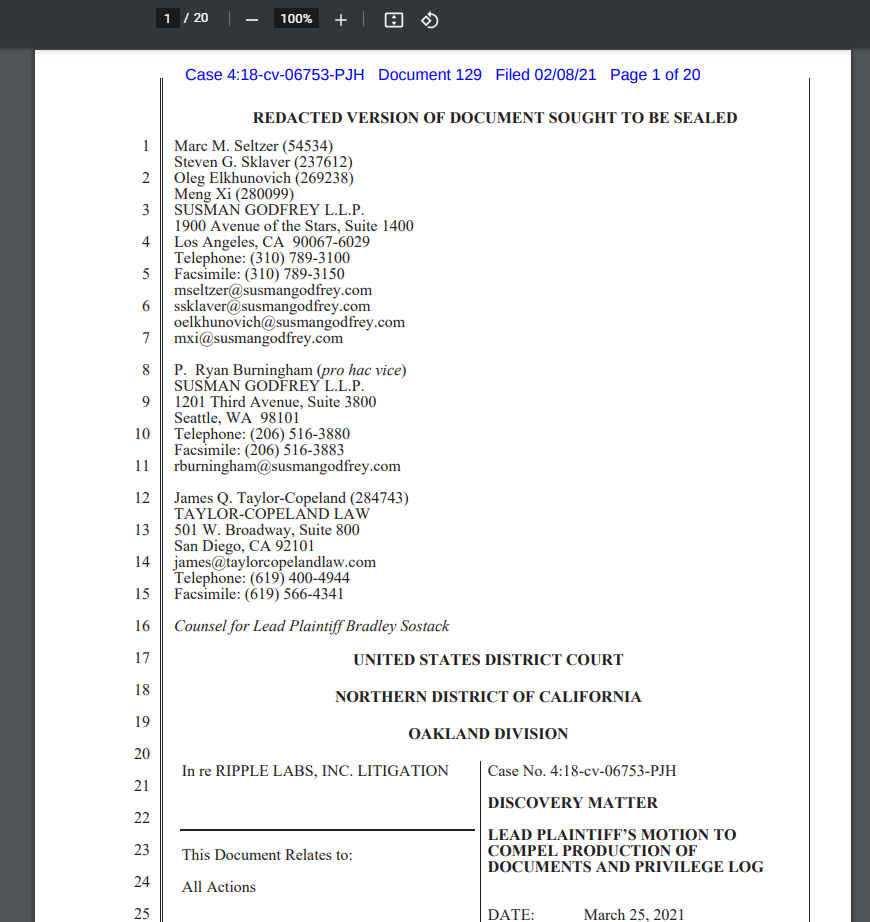 Hoping for Increased Transparency
Although Ripple Labs and two of its executives face SEC charges, XRP holders are likely feeling the pressure the most. This has led to the motion, hoping for additional insight into conversations between Ripple and the regulating body.
The plaintiff has also moved to remove redactions from Ripple's submitted court documents. These sections were redacted for "privilege," but Sostack believes that Ripple shouldn't be able to redact portions arbitrarily. Instead, the firm needs to be "explicit and specific" in its actions.
Ripple and XRP Soldier On
This entire situation stems from XRP, the cryptocurrency that Ripple has used to build its brand. The SEC states that it currently views XRP as a security, meaning the accused parties took part in the unlawful sale of securities.
Ripple never registered XRP with the SEC. This dates back almost a decade now and many see this as a last-minute attempt by the SEC, as it had years to take action but never did.
Brad Garlinhouse and Chris Larsen are accused of selling billions of dollars worth of XRP. Both view the crypto as a commodity in the same light as Bitcoin (BTC) and Ethereum (ETH), two assets the SEC has stated are not securities. The SEC has not made similar statements on other cryptocurrencies. However, Ripple feel that XRP is not a security.
XRP has suffered dramatically since the charges. For one thing, the cryptocurrency did not experience a massive bull market that other coins have.
Several crypto exchanges and Ripple partners have stopped offering XRP trading services until the case is resolved. As XRP holders continue to suffer, the public may see more motions filed in the coming months.
Disclaimer
All the information contained on our website is published in good faith and for general information purposes only. Any action the reader takes upon the information found on our website is strictly at their own risk.