Ethereum continues to get fundamentally stronger in terms of becoming a decentralized financial layer and almost a quarter of the supply is now locked in smart contracts.
Industry observer and ETHhub founder, Anthony Sassano, has noted that the amount of ETH locked into smart contracts is similar to that during the DAO event in mid-2016.
"The amount of ETH in smart contracts is now at a similar level to what it was during The DAO event (around 23% of all ETH)."
He added that at the time, it was worth $230 million when ETH was priced at around $13. Today, that amount is worth a whopping $63 billion.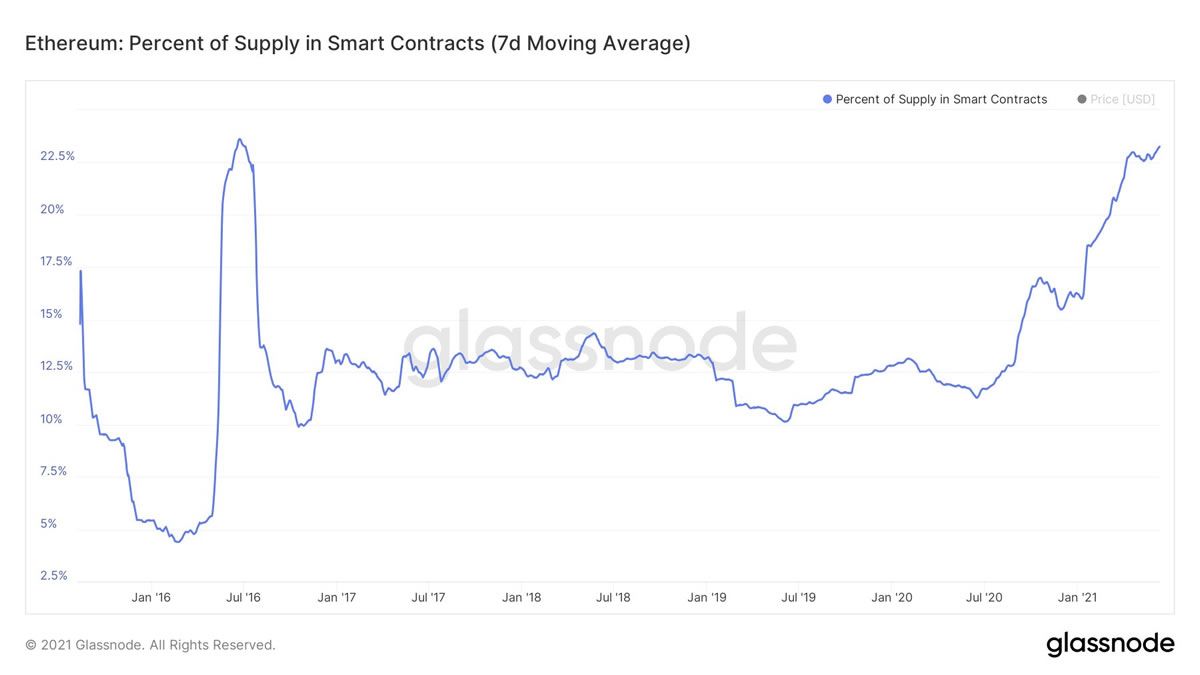 The chart depicts the spike during that year when Ethereum poured into the DAO, the first decentralized autonomous organization launched on the Ethereum blockchain, after raising $150 million through a token sale.
The DAO was hacked due to vulnerabilities in its code base and the Ethereum blockchain was hard forked to restore the stolen funds, resulting in the network splitting into Ethereum and Ethereum Classic.
Sassano also noted that there was more than a million ETH in the Binance Smart Chain bridge contract.
ETH 2.0 latest
A lot of that ETH locked up is in the Beacon Chain deposit contract. According to the ETH 2.0 Launchpad, there are currently 5.42 million ETH staked on the blockchain.
At current prices, this is estimated to be worth around $13.5 billion. It also represents 4.65% of the entire supply and around a quarter of all ETH locked across all decentralized finance (DeFi) smart contracts.
Staking rewards diminish over time as more ETH is locked into the contract. It's currently generating a yield of 6.7% per year. The network has 165,000 active validators, a figure that has increased 250% since the beginning of 2021.
As reported by BeInCrypto, Ethereum fundamentals are solid at the moment and they have been strengthening against bitcoin over the past year or so.
Ethereum price outlook
At the time of press, Ethereum was trading up 5.7% on the day at $2,480. It hit a weekend low of just under $2,300 on Saturday but has managed to recover during Monday morning's Asian trading session.
The asset is currently 43% off its all-time high but appears to have found solid support around current price levels.
Disclaimer
BeInCrypto has reached out to company or individual involved in the story to get an official statement about the recent developments, but it has yet to hear back.