NBA Top Shot non-fungible tokens took a nosedive in revenue during the month of February after the marketplace where fans can buy, sell, and trade the 'moments' saw a 19% decrease in sales from January.
February proved to be a tough month for investors in the crypto space. Decentralized exchanges (DEXs), prices of digital assets, mining revenues, and sales revenues of several major NFT collections including NBA Top Shot tumbled.  NBA Top Shot recorded approximately $47.5 million during the second month of 2022, according to BeInCrypto Research.
Although this figure may look impressive due to the number of non-fungible token projects that have been added to the space over the past year, sales revenue for February was down. Sales for February declined by $11.4 million from January, a staggering 19.35% decrease.
NBA Top Shot volume falls from early 2021 highs
The decrease in sales revenue over the last month could have detrimental effects on NBA Top Shot since the NFT marketplaces compete with others such as OpenSea, Axie Marketplace, Rarible, SuperRare, and Nifty Gateway.
Although the current sales revenue is relatively higher than that of May ($40 million), June ($45 million), July ($22 million), August ($37 million), September ($20 million), October ($40 million), November ($25 million), and December ($38 million), it's still far off from the highs it reached in the first quarter of 2021.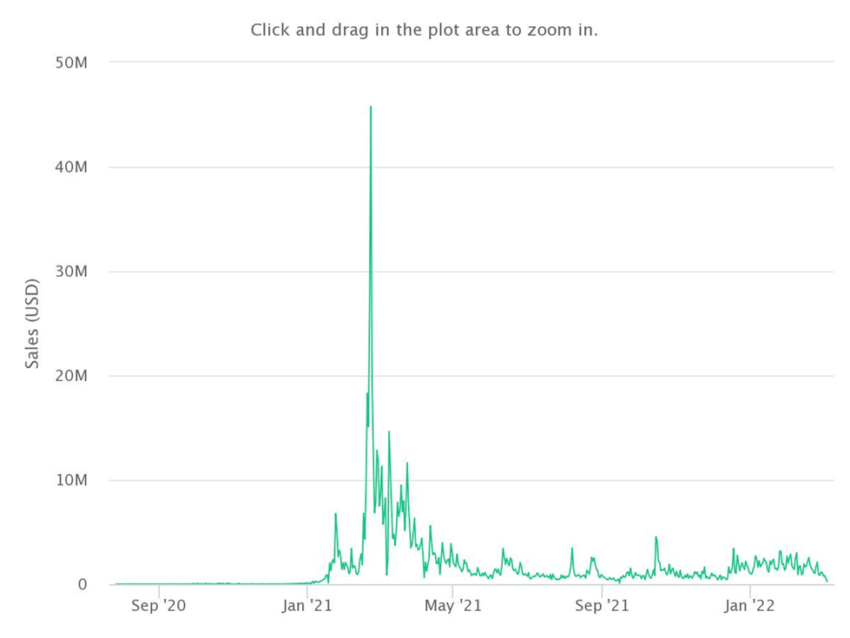 NBA Top Shot sales revenue began strongly by ending January 2021 with $40 million. Due to the boom in the demand for cryptocurrencies, decentralized finance products which ultimately led to an NFT buzz in February, sales of NBA Top Shot moments reached a new all-time high.
Total sales revenue in February 2021 was $224 million, a 452% spike in the sales recorded from the first month of 2021.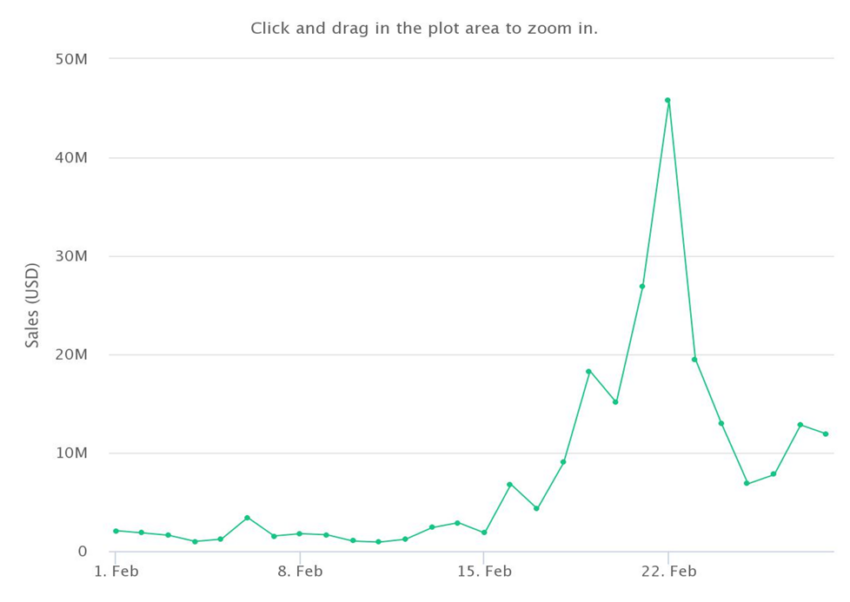 Sales revenue dipped by 7% to end March at $208 million. A huge plunge in sales ensued due to the increasing number of NBA players featured in the marketplace. Per the basic laws of economics, a high supply of NBA Top Shot moments led to a decrease in price. Transactions increased significantly from February but average sales declined which saw revenue at the month ended April 30, 2021, at $82 million, a 60% decrease from March.
From the statistics provided, it can be deduced that NBA Top Shot saw a year-on-year decrease of 78% in February and an 82% decrease from the yearly high in February up to the last day of 2021.
What caused the sales decline?
Three factors contributed to the fall in sales revenue for NBA Top Shot — increasing supply, a decline in market prices for the moments, and a massive drop in unique buyers.
After the massive returns NFT brought early investors, the market was widened to be able to accommodate the best moments of more than half of the players in the NBA. This created a saturated market in an already saturated NFT market.
In addition to this, there has been a drop in unique buyers year-on-year. The total number of unique buyers by the end of February 2021 was 80,822 while unique buyers for the month ended February 2022 were 73,304, a 9% decrease. Based on our individual needs and preferences, we are tempted to pay more for a product we cherish when making our first purchase. To early investors, NFTs represented a piece of art that was priceless. Forking over huge sums of money for collectibles that are indivisible, indestructible, verifiable, and non-interoperable was worth every cent spent.
Lastly, declining prices for digital collectibles in the NBA Top Shot marketplace have largely contributed to a fall in sales. There were contrasting fortunes between February 2021 and February 2022.
In February 2021, NBA Top Shot recorded its all-time high sales of $208,000 from TopShot #38,764. Other sales that helped drive sales revenue included Top Shot #114000 ($125,000), Top Shot #162045 ($100,000), Top Shot #717513 ($100,000), Top Shot #6985 ($99,000), Top Shot #673595 ($99,990), and Top Shot #31926 ($95,000).
In comparison to February 2022, NBA recorded a month highly of Top Shot #33025494 ($8,880). Others that contributed to sales revenue included but are not limited to Top Shot #28696107 ($8,800), Top Shot #174746 ($8,340), Top Shot #29449507 ($8,190), and Top Shot #166577 ($8,000).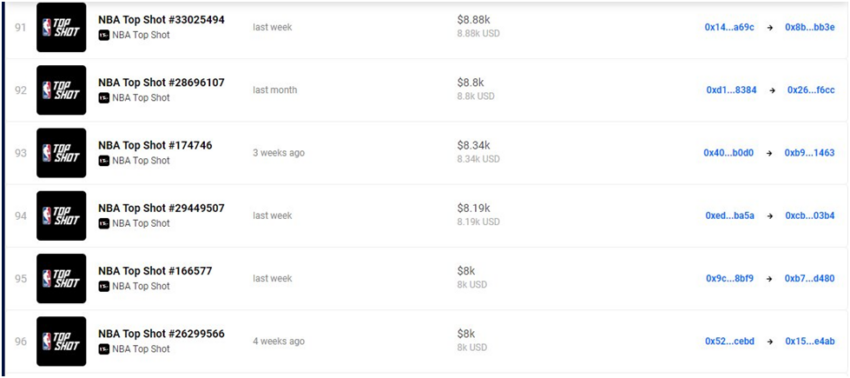 The monthly high of February 2022 ($208,000) was 2,242% higher than the monthly high in February 2021. Although the total transactions for February 2022 (1,716,656) were a 28% decrease in the total transactions for February 2021, the sales figures for 2022 are nowhere near that of 2021.
As of writing, sales revenue of NBA Top Shot had topped $3 million, and this should rise as the NBA playoffs and finals follow the regular season into June and the rest of 2022.
Disclaimer
All the information contained on our website is published in good faith and for general information purposes only. Any action the reader takes upon the information found on our website is strictly at their own risk.