Mike Novogratz, CEO of crypto fund Galaxy Digital, has said he isn't losing any sleep over missed opportunities in equities.
On CNBC's "Squawk Box", hosts Joe Kernen and Andrew Sorkin pressed him to defend his bearish attitudes. He answered with Bitcoin.
Missed the Top
Despite Novogratz's bearish tone on the S&P 500, which has rallied 28% since March's pandemic-scare lows, the former hedge fund manager isn't worried. Now the S&P is trading within reach of its all-time high.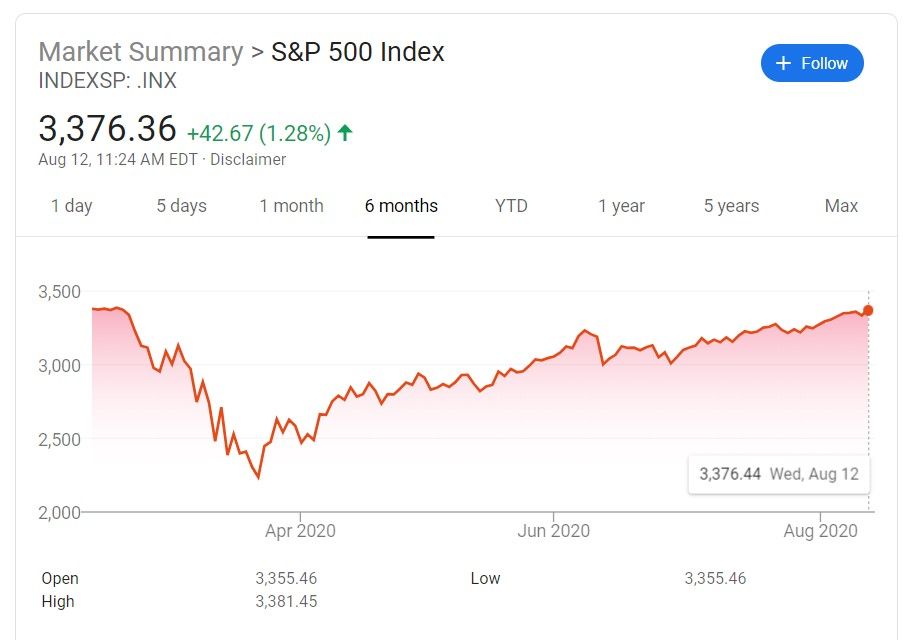 Hosts
Joe
Kernen and Andrew Ross Sorkin
asked Novogratz
to assess the quality of his bearish prediction. They pointed out that he missed 50% gains in some cases. He responded:
It's funny, our stock prices have tripled, I own a lot of bitcoin and I own a lot of gold. Nobody should be crying for me. At 2800 I started thinking the S&P was overdone, and that's 500-600 points that I've sat and watched.
He maintained that he had investments that were paying off.
"If you're a wealthy guy, your portfolio goes up even if stock trading is going backwards,"
he said. Meanwhile, bitcoin has gained about 400% since the pandemic lows, without artificial liquidity. Indeed, he affirmed that Bitcoin helped him sleep at night.
Novogratz' View on the Bitcoin/Gold Correlation
As with other analysts, Novogratz credited the U.S. Federal Reserve's stimulus as the reason for bloated stock prices. Unlike others, however, he doesn't see it as a positive sign. Above all, he is a crypto hodler:
When we talk about this fiscal package, one trillion versus two trillion, we have to remember that a trillion dollars is 5% of GDP. That used to be crazy. And now that's the spread of what these two packages are. We're in unprecedented times. That's why this guy at Microstrategy bought $250 million of bitcoin.
Yesterday, Business Intelligence company Microstrategy purchased
$250 million in Bitcoin for its treasury.
When asked if Bitcoin and Gold were correlated, the 55-year-old had a mixed answer – the buying sprees are correlated. But, on the other hand, Bitcoin is in its early adoption cycle. Microstrategy's unprecedented move, "will not be the last," the billionaire said. Meanwhile, others are coming to what the investor called, "the bitcoin realization." Crypto is a different animal from Gold. He explained:
Everyone has known about Gold for 3000 years. There was a much bigger correction in gold – it was down 10% at one point and bitcoin was only off 4 – 5% from the highs and its already back within a couple of percent. I'm not worried at all about my bitcoin position. You know, as a trader, sometimes you go to sleep and you can't sleep because you know your positions are worrying you. I've been sleeping like a baby with Bitcoin.
Irrational Exuberance
EXCLUSIVE real time look into the Federal Reserve. Time for Plan #Bitcoin. pic.twitter.com/2UAxiuA7wj

— BeInCrypto (@beincrypto) August 12, 2020
Even when pushed, Novogratz remained realistic about stocks. He said,
This has been one of the strangest rallies. S&Ps are trading 20, 21 times earnings, late cycle, with as much uncertainty as we've ever seen.
And unlike the dollar, bitcoin doesn't have a government to "jam" liquidity into. It comes naturally, and it's still early days, Novogratz thinks. With a great company like Amazon trading at 100 times earnings, it's hard to predict what will happen. "We're in really interesting times," he said.
Disclaimer
All the information contained on our website is published in good faith and for general information purposes only. Any action the reader takes upon the information found on our website is strictly at their own risk.
Harry Leeds is a writer, editor, and journalist who spent much time in the former USSR covering food, cryptocurrencies, and healthcare. He also translates poetry and edits the...
Harry Leeds is a writer, editor, and journalist who spent much time in the former USSR covering food, cryptocurrencies, and healthcare. He also translates poetry and edits the...
READ FULL BIO
Sponsored Sponsored