The metaverse trend has taken the crypto world by storm despite the overall bearish crypto sentiment. Customer experience and operations remain key area which has helped the concept of metaverse to reach every corner.
Over the past few months or rather years, an exciting new term has entered the crypto lingo: the metaverse. The word 'metaverse' is just about everywhere these days. This is attributed mainly to Mark Zuckerberg, who announced that Facebook was rebranding to Meta.
In the announcement, Zuckerberg introduced the concept of something akin to Facebook 2.0, a new and alternative Facebook model that aspires to bring the Metaverse to life and help people connect, find communities, and grow businesses.
Overall, the three key features of the blockchain-built metaverse iterations have emphasized decentralization, user governance, and real-world value. Compiling these attributes with practical scenarios could make or break the trend around the Metaverse hype.
A Customer-centric Approach
Metaverse is the newest form of connection between humans and technology. This interaction was initiated decades ago, from physically plugging wires in and out of a computer to programming that computer. Over the years, the technology interface became more and more intuitive, moving from punch card system to programming to graphic user interface (Microsoft) to smartphones (Apple) and, subsequently, smart objects like Alexa (Amazon). Metaverse is the obvious next step in this interaction of humans with technology.
To look at what Metaverse would mean to consumers and businesses, there are two main aspects to consider. First, the spatial environments, which is the 3D relationship with technology in the Metaverse, in contrast to the 2D one present today.
For example, a Zoom meeting today is a 2D interaction, but an appointment with a VR set in the Metaverse would be a 3D one; a Pacman today is a 2D game, but a Pacman in Metaverse would involve a 3D spatial environment where the players physically move or at least sense the movement.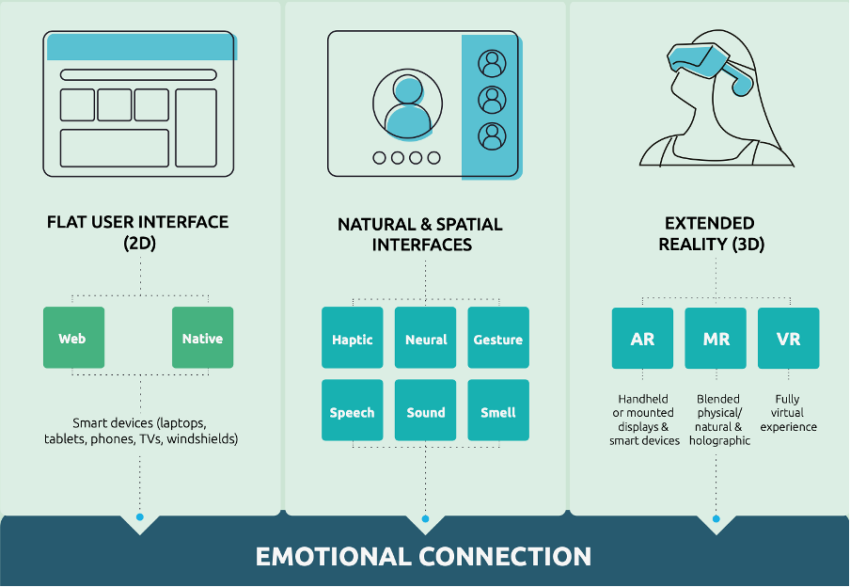 Metaverse will allow consumers to live in a 3D world, a 3D world. It becomes much more intuitive because it is spatial and integral to a relationship. And that's how from a customer experience point of view and a consumer value point of view will be far more helpful to the average consumer than even the 2D touch-poke world.
The second aspect is the game engine software driving all of this. Web developers developed the internet, whereas game developers created the Metaverse. Now, there's a huge difference. As graphics improve, the digital world will duplicate the real world. The future stores will be more accurate and game-based, allowing consumers to try out products and services firsthand and thereby allowing higher customer traction and satisfaction.
Report giving support
Capgemini, a leading name and a technology-driven consulting company, recently published a report that was shared with BeInCrypto. It gave a well-rounded scenario regarding Metaverse around customer experience and operations. The firm projected the size of the metaverse market to be anywhere between $500 million and $1 trillion by 2030. 
The record surveyed 8,000 customers, together with 1,000 corporations in 12 countries throughout exceptional sectors, to recognize metaverse competency, interest, and impact. Blanketed inside the blend turned into a set of 380 clients who self-recognized as "metaverse-experienced," of which three-quarters stated they actively participated in the metaverse.
Notedly, records revealed that 93% of surveyed consumers stated they're curious approximately the metaverse. Of that quantity, 51% stated they might use the metaverse as it turns into greater on hand to them.

Moreover, the report also shed light on different aspects of customer experiences. This case touched on the kind of metaverse interactions customers search for, to which 43% of respondents stated they would like to interact with friends and their own family. This become followed by the aid of interactions with colleagues (39%), gaming-related stories (33%), and commercial pastimes (28%).
This is evident in the chart attached below.
Gaining Traction
Not just the report added above supports the metaverse trend. As BeInCrypto reported, an October 2022 survey of Metaverse "enthusiasts" by Sitecore showed a keen interest in many aspects of these new digital worlds. Including new experiences, escaping reality, online festivals, and concerts, meeting new people and virtually testing new products and services.
Moreover, businesses too incorporated these changes. To add further context, luxury brands already entered the Metaverse per BeInCrypto's Dec. 6 report.
Geographically, regions across the globe are lending support to the relatively newer concept. For instance, Tuvalu Island plans to become the first digital nation to preserve its history and culture amidst the fear of the island getting submerged in water. Herein the rising sea levels forced the nation to move to Metaverse. The Seongnam city of South Korea plans to recreate its town in the metaverse.
Metaverse Ready Yet?
Various regions took steps to incorporate metaverse-related initiatives as added above. But what does it really take to be ready for the metaverse?
Well, for starters, a real Metaverse world would require both virtual and augmented reality headsets. These create a network of 3D worlds users can interact with. A study by iceConnect estimated that such a network requires an astronomical broadband speed of at least 1,000Mbps.
So given the requirements, Uswitch circulated a report that focused on the most 'metaverse-ready' nations. The Netherlands stood at #1, followed by Switzerland, and Lithuania. Here's a top 20 list of the countries that fall under this list.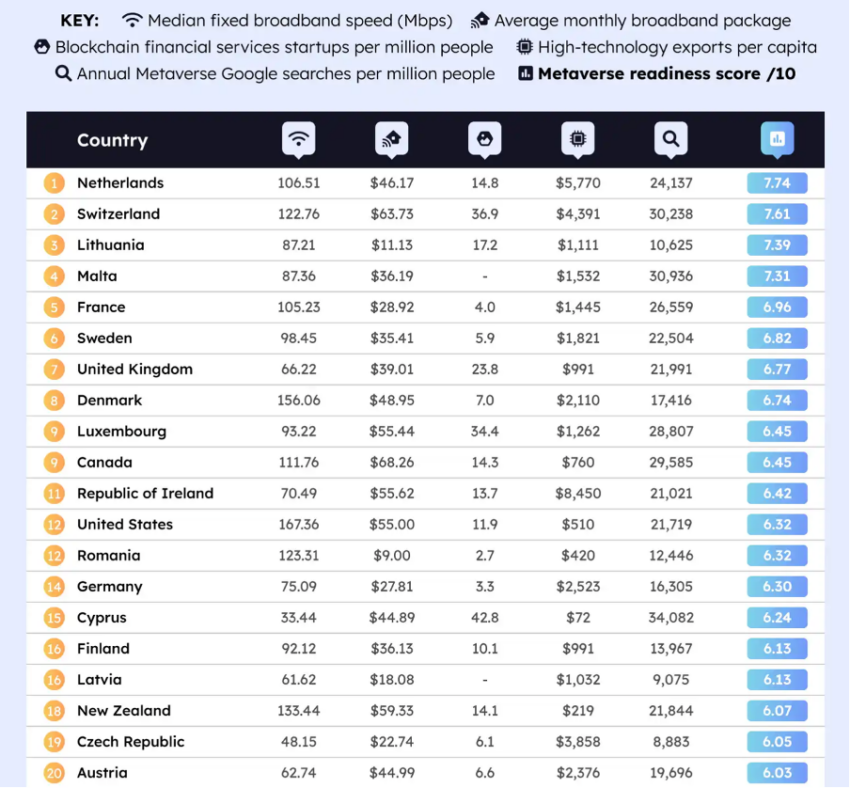 What 2023 Has in Store for the Metaverse
In the last few years, multiple industries — from gaming to fashion to healthcare — have established a presence in a virtual world. BeInCrypto created a list of renowned companies that are building in the metaverse in 2023. While the room for growth remains at large, incoming regulations could curb the growth. So maintain caution.
Disclaimer
Following the Trust Project guidelines, this feature article presents opinions and perspectives from industry experts or individuals. BeInCrypto is dedicated to transparent reporting, but the views expressed in this article do not necessarily reflect those of BeInCrypto or its staff. Readers should verify information independently and consult with a professional before making decisions based on this content.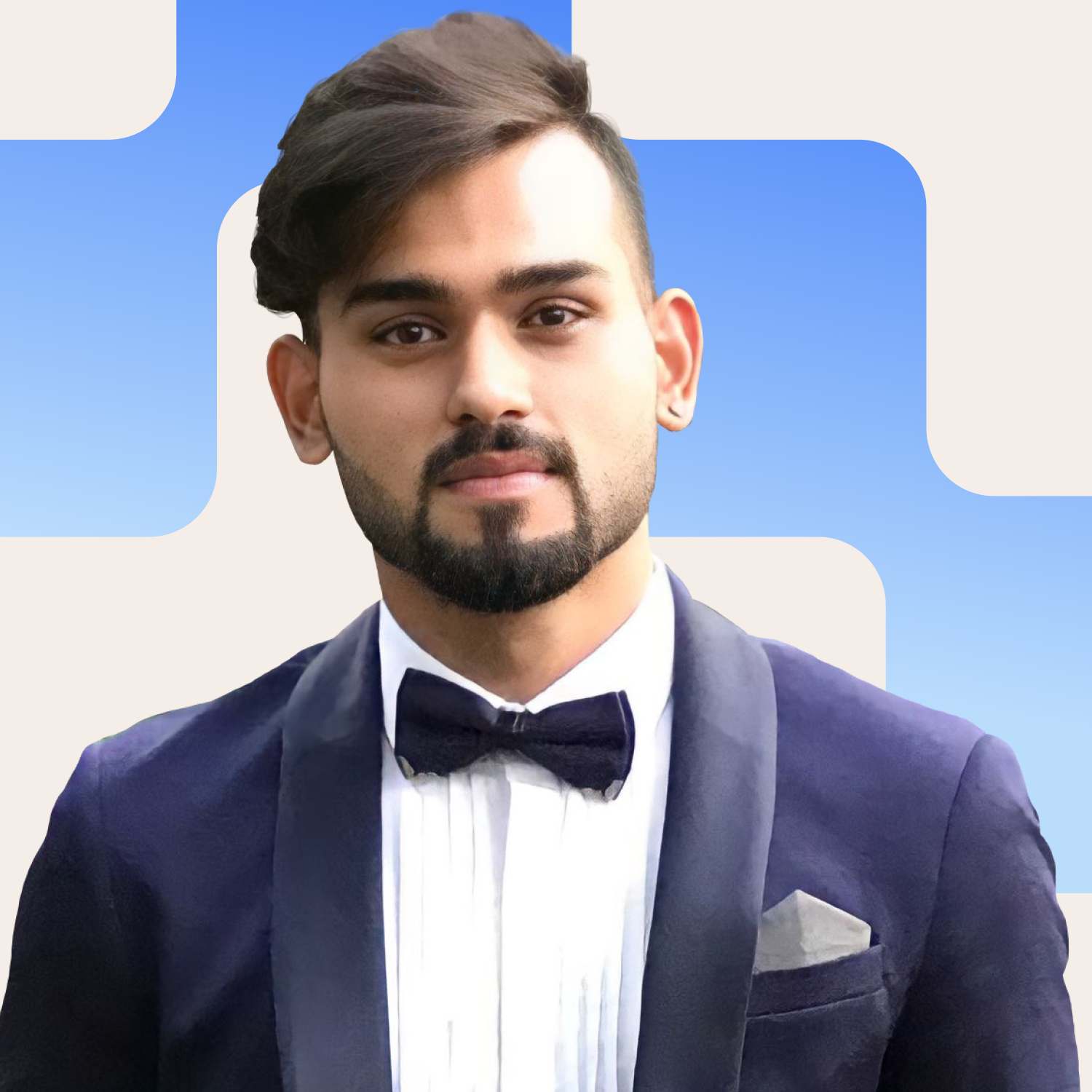 An engineer and an accountant by degree, Shubham ventured into the crypto world to pursue his passion. He believes digital currencies will redefine our economies in the decades to...
An engineer and an accountant by degree, Shubham ventured into the crypto world to pursue his passion. He believes digital currencies will redefine our economies in the decades to...
READ FULL BIO
Sponsored Sponsored