The Hong-Kong-based company Crypto.com
announced
a token swap program on Monday. All MCO token holders have until the 2nd of November 2020 to swap their MCO for CRO.
The announcement catalyzed MCO trading volume and caused the price to surge. However, several users note some red flags around the whole merging process. Is this operation legit? Is it possible that there's been insider trading?
The Year of Crypto.com
2020 is proving to be very profitable for Crypto.com. As
BeInCrypto reported not long ago
, the CRO token has been one of the best performers of the year. At the time of writing, CRO ranks 11 on Coingecko's market cap list at just over $3 billion. CRO reached a new all-time high on Sunday 2 August, breaking through the $0.17 mark.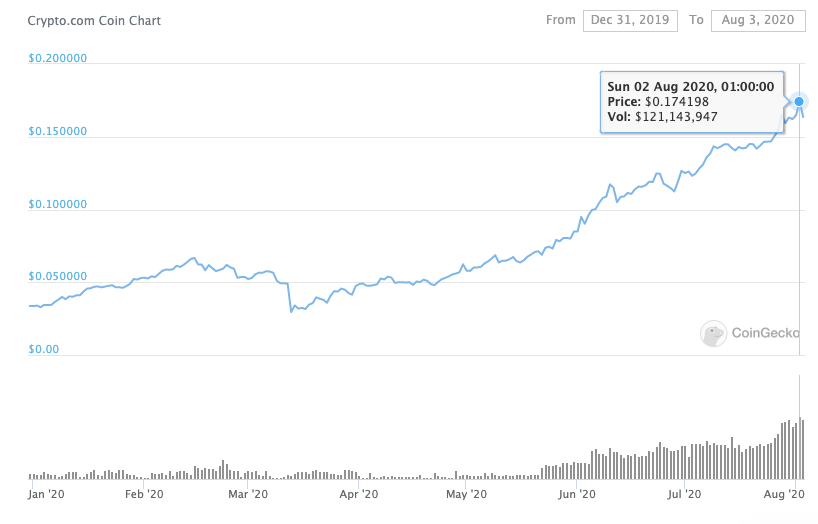 Crypto.com's other native token is MCO. Back when the project was called Monaco, its
ICO
pulled in a hefty $26.7 million. MCO hasn't performed as well and the token ranks at number 96 on Coingecko, with a market capitalization of around $85 million. While CRO surged, MCO has suffered some ups and downs.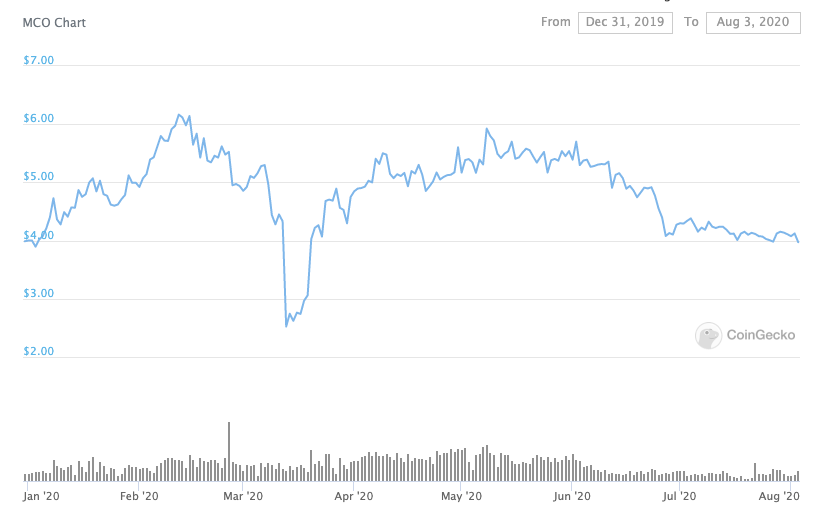 A Tale of Two Tokens
The token distribution of MCO and CRO has been a bumpy one. MCO has a maximum supply of 31,578,682 tokens, of which only half are in circulation. When Monaco rebranded to Crypto.com, they launched a second token, namely, CRO. This token has a much bigger max supply, 100,000,000,000. Less than 20% of those are currently in circulation. A small part of the CRO supply was airdropped to all MCO holders. Now MCO holders will have to move to CRO. If the move wasn't confusing enough, Crypto.com will now be increasing the minimum token threshold required to receive one of their shiny new VISA cards.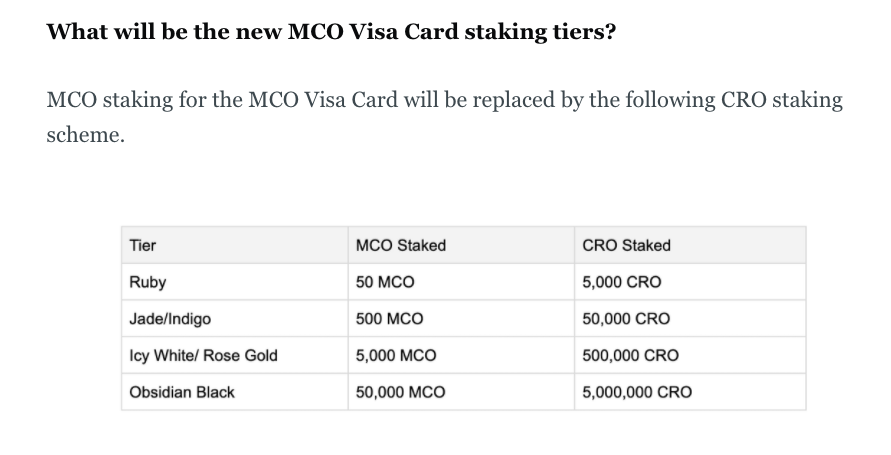 Let's do some basic maths to see how the swap will impact the stake needed to obtain Crypto.com's Ruby card. Previously, a user needed 50 MCO, about $270 at the time of writing. After the swap, they'll need 5,000 CRO. That's over $850. Staking is getting notably more expensive, which could be an indicator that Crypto.com is happy with the current number of stakers.
The Token Swap
According to the MCO Swap Program, MCO holders can use the Crypto.com app to swap their MCO for CRO. The announcement appears somewhat loaded with business jargon, though, without really explaining the need for the swap:
There will be no change to this core functionality, but we are expanding MCO functionality and representing it in a new way. Specifically, the swap program will involve combining the current functionalities of MCO, with CRO's utility and technology, in a "one-stop-shop" token to enable a streamlined Crypto.com ecosystem. The swap program will also serve to leverage the advanced capabilities of the Crypto.com Chain, in preparation of its upcoming Mainnet launch.
Some Twitter users highlight that after the swap, the company will hold the majority of the tokens. Indeed, since CRO runs on a private blockchain, Crypto.com could likely print as many CROs as they want.
Ehm ok @cryptocom.. GG?! What the heck are you doing?

This just got shared in my TG (https://t.co/YEv2fWE4f9)$MCO $CRO pic.twitter.com/mfWCzknnsK

— CR1337 (@cryptonator1337) August 3, 2020
The token swap will take place from August 3 to November 2, 2020. After that date, MCO won't work, and Crypto.com will likely phase out the token.
A Deep Look at the Numbers
The swap rate will be as it follows: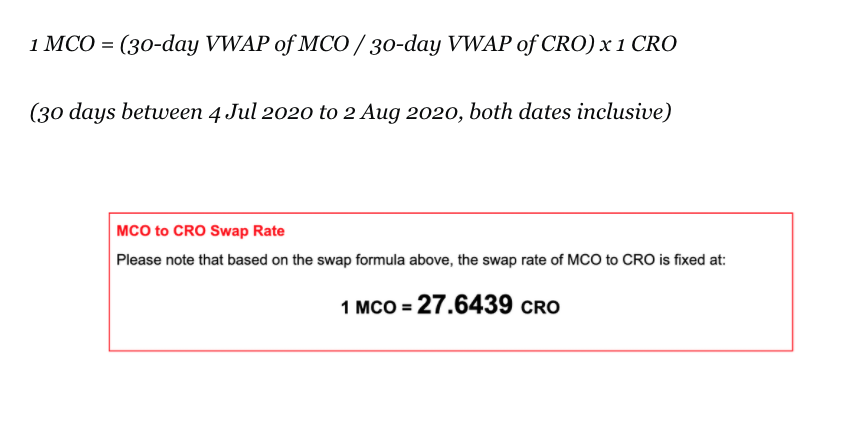 In line with Crypto.com's
promotional line
, the company will offer a special 20% discount for users who swap tokens before September 2. The "early swap bonus" rate will be 1 MCO for every 33.1726 CRO. It officially started on August 3 at 06:00 UTC. Let's do some maths using Coingecko.com's prices as a reference. At the exact beginning of the swap, one CRO was worth $0.165656, while one MCO was $4.1. According to the exchange rate, that means that for each MCO ($4.1) you'll get 27.6439 CRO ($4.58). That's already a good incentive which has likely caused people to jump into buying MCO before the swap, netting an 11.7% instant return. However, that's without the early bonus. With the early bonus swap, you'll get 33.1726 CRO for each MCO. That's about $5.5 for each $4.1 that you hold, a 34% instant return.
Market Reacts to the Bonus
What do you think happened to the price of MCO right after the announcement?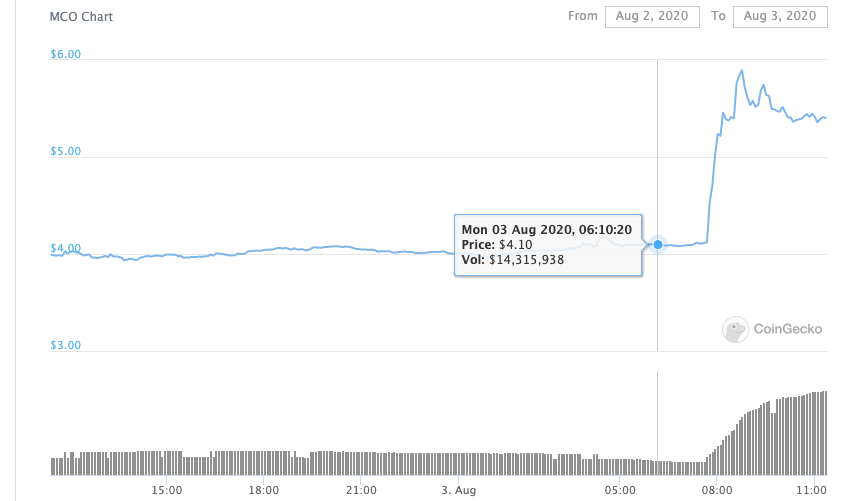 The market reaction is clear. Investors bought MCO massively to guarantee instant returns. Curiously enough, the
CRO price
is also surging. However, Telegram users point out that the operation may have simply been designed to manipulate the price of both assets.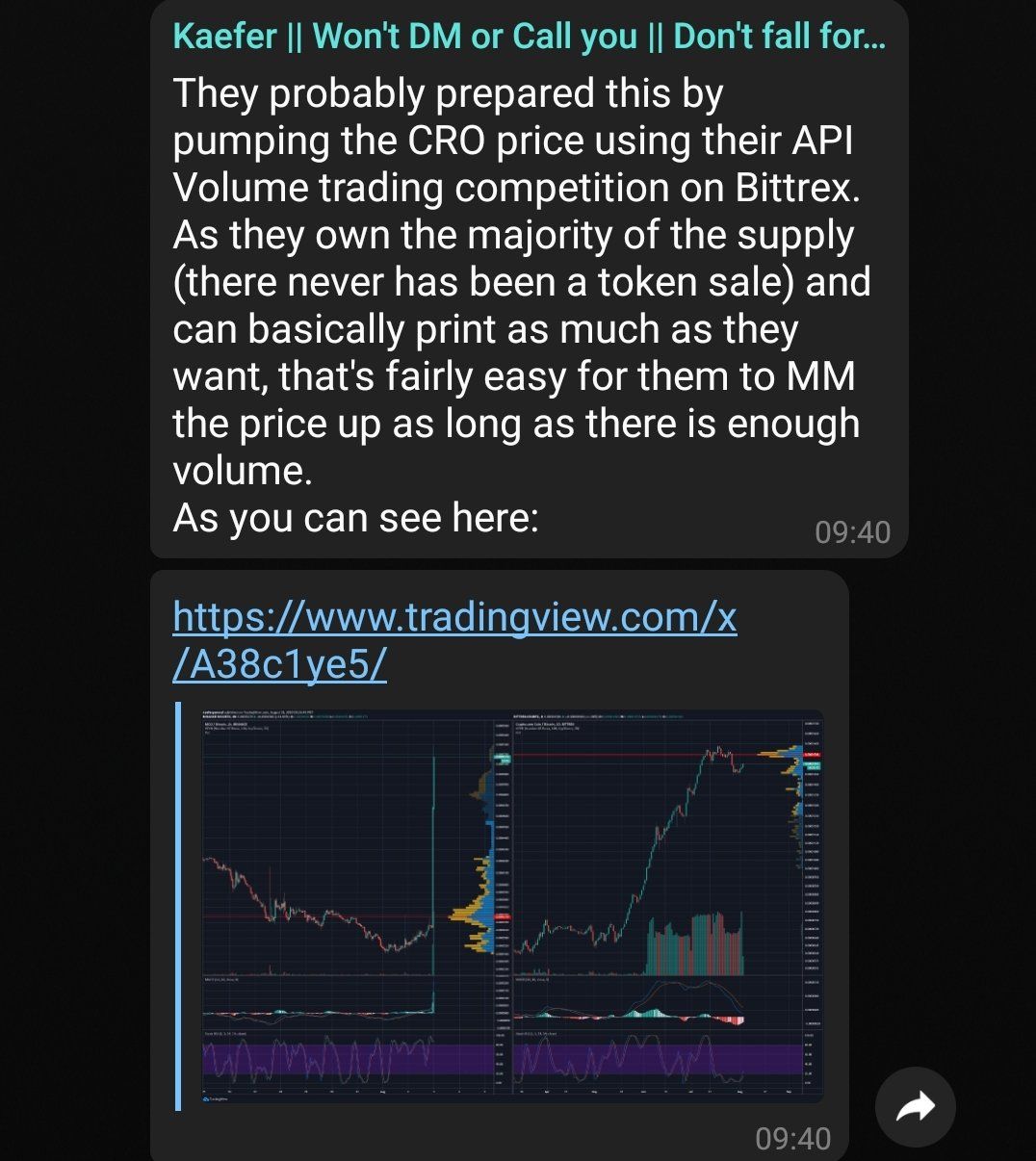 Also notably, MCO holders on third-party exchanges will have to move their tokens to Crypto.com's native app, as explained in this
announcement
:
If your MCO is held outside of the Crypto.com App, including on the Crypto.com Exchange, you must transfer it into the Crypto.com App in order to complete the MCO swap process.
This will increase the number of new accounts, as MCO holders are forced to sign up for the Crypto.com app. The project further announced that they would burn all their MCO holdings, sending them to the famous 0x00000 address.
Before the end of the swap process, 15,793,852.04 MCO that is held by MCO Technology GmbH will be burned by sending to the following burn address: 0x0000000000000000000000000000000000000000
Although this sounds good on paper, it holds little meaning since the creators hold a much bigger chunk of the CRO supply than they did with MCO.
How Will This Swap Play Out?
The community will have to wait and see. Is the merging of tokens a new trend or is it merely a way to attract additional capital? To their credit, Crypto.com offers one of the most user-friendly interfaces around, and they've won the trust of thousands of users. Many community members have, however, demanded a move towards just one token on the private blockchain.
Disclaimer
All the information contained on our website is published in good faith and for general information purposes only. Any action the reader takes upon the information found on our website is strictly at their own risk.