Thursday's market roundup sees more green across the board. Bitcoin (BTC) managed to hold firm around the all-time high. Meanwhile, PancakeSwap (CAKE) and Binance Coin (BNB) also witnessed new all-time highs.
Bitcoin continues to hold strong above the $50,000 level. The price hovering in the $52,000 area clearly indicates that there is more room in the tank to go higher. BTC is yet to see a dramatic price drop and continues to hold bullish momentum for the moment. 
While BTC holds firm, altcoins continue to rally and recover this week. Plenty of gains were seen across the table.
ETH Hits New All-Time High
Lagging behind bitcoin, ethereum (ETH) hasn't done much over the past few days. However, the slow grind-up has seen ETH break its all-time high once again. 
With what must be an overall record for all-time highs in the space, ethereum reached $1,944.12 on Binance in late afternoon trade on Thursday, Feb. 18.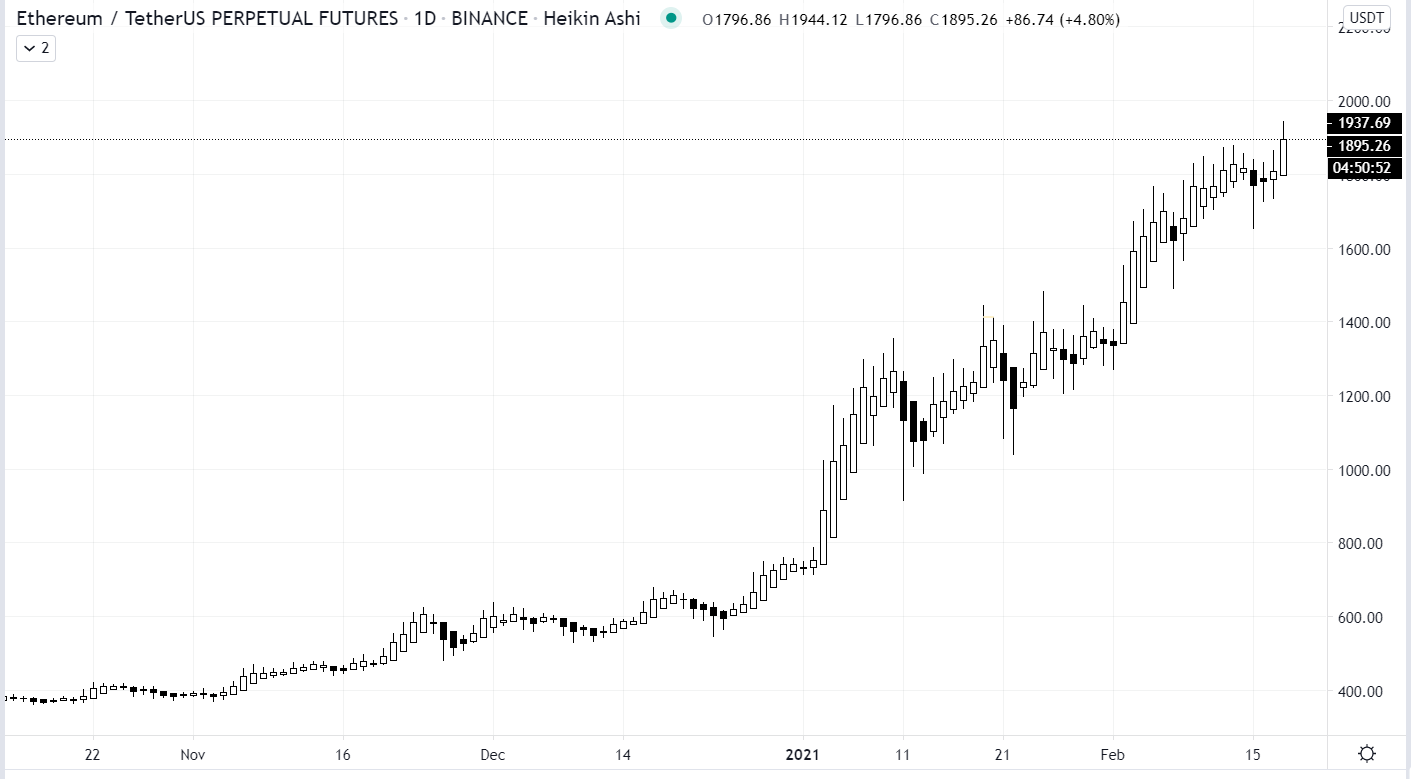 Ethereum now looks poised to finally bust through the $2,000 resistance area and continue its ascent into price discovery territory. 
Binance Projects Rocket to New Highs
While most altcoins saw decent gains on the day, Binance appears to be picking up steam with its Binance Smart Chain offering. PancakeSwap (CAKE) and Binance Coin (BNB) both saw huge gains. 
CAKE saw an impressive 24% gain following its impressive run the previous day. BNB, on the other hand, managed to reach a new all-time high as well, touching $199.45. This caps off an impressive 444% gain in 2021 alone. 

The surge surrounding CAKE and BNB is likely due to the growth of Decentralized Exchanges (DEXs). 
Binance Smart Chain (BSC) saw a record amount of transactions on Thursday too. Binance reported over two million daily transactions with a typical parabolic chart to boot.
CAKE has now become the second biggest DEX behind Uniswap in only a matter of days. The exponential rise can be credited to reduced trading fees.
This is something that Ethereum is yet to successfully implement on the blockchain. CAKE could be set to overtake Uniswap sooner rather than later if ETH gas fees continue to rise.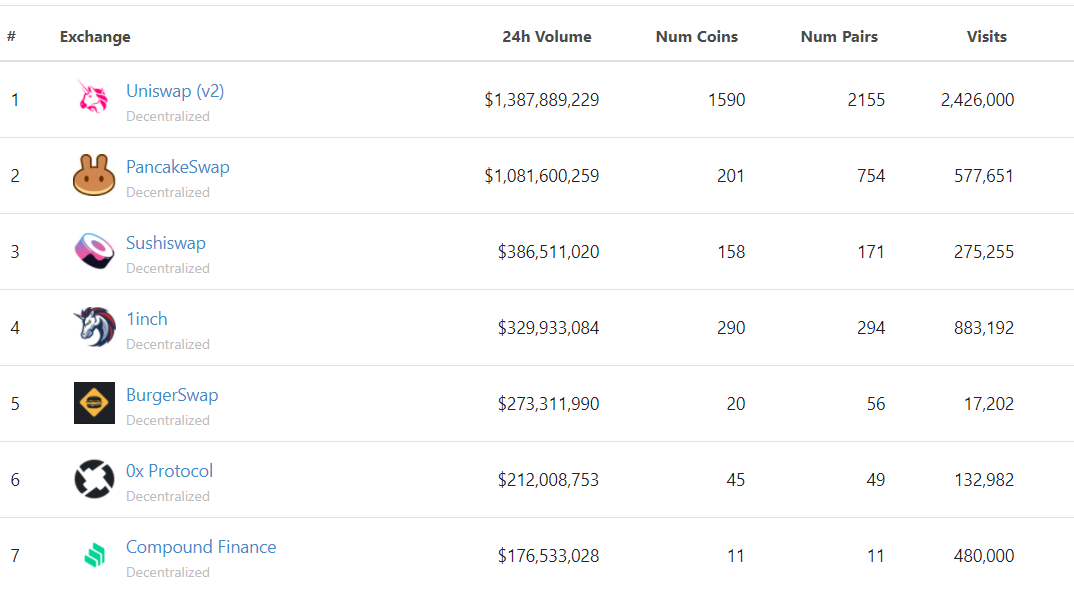 Top 100 Biggest Gainer
While Binance Coin and PancakeSwap dominated the market news, another Binance Smart Chain coin managed to hold the biggest gainer spot in the top 100.
Venus (XVS) takes the cake, so to speak, with an impressive 37% price gain. Venus is described as a "Decentralized Marketplace for Lenders and Borrowers with Borderless Stablecoins."

Overall another great day for market moves: BTC holds firm, ETH tests new all-time highs, and bullish sentiment continues to drive crypto prices higher. 
Disclaimer
All the information contained on our website is published in good faith and for general information purposes only. Any action the reader takes upon the information found on our website is strictly at their own risk.