A Binance Smart Chain-powered decentralized exchange (DEX) called PancakeSwap has seen volumes and token prices skyrocket, as gas prices continue to cripple Ethereum (ETH) users.
PancakeSwap was spawned out of the decentralized finance (DeFi) cloning and food farming frenzy in late September 2020. Instead of duplicating Uniswap on Ethereum, it chose Binance Smart Chain (BSC) and its BEP20 standard to base its operations.
In essence, PancakeSwap does exactly the same thing as SushiSwap, but being backed by a huge centralized exchange. There is a DEX/automated market maker, yield farms, or kitchens as it calls them, and a native governance token, called CAKE.
As gas prices continue to surge, DeFi yield farmers have been flocking to PancakeSwap and its volumes have surged, propelling it to second place behind Uniswap in CoinGecko's DEX ranking list.
Surging Demand for Pancakes
Since Monday, Feb. 8, daily trade volume on the DEX has surged a whopping 350% from around $167 million to over $745 million, according to CoinGecko.
The platform itself reports an all-time high daily volume at current levels and liquidity of around $800 million.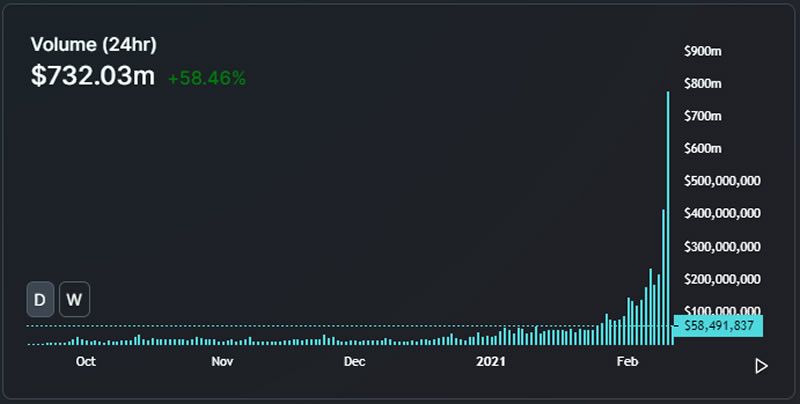 Daily volume has surged 60%, over the past 24 hours, ranking the DEX above SushiSwap, 1inch, and 0x Protocol, and second only to Uniswap. The most traded pair on the exchange is WBNB/BUSD with around $195 million, or around 25% of the total, over the past day.
DappRadar reported that PancakeSwap has seen its user base grow over 36% to 58,400 active wallets over the past seven days. It added that it is the most used DeFi product on Binance Smart Chain.
Binance CEO Changpeng "CZ" Zhao also reported yesterday that BSC was had flipped Ethereum for daily transactions:
"Today is an important day. BSC flipped Ethereum on daily transactions. This validates the logic that low fees attracts more users & projects."
The news is no surprise as gas fees continue to surge, with the average transaction cost hovering around its highest ever level of $25. Smaller token swaps and yield pool switching is totally unviable at these prices, which could also explain why ETH is being hodled, at the time of writing, and not sold to market.
CAKE Prices Surge
The result for CAKE holders was a massive surge in token prices as it has pumped 200%, over the past week, hitting an all-time high of $8 on Wednesday, Feb. 10.
At press time, CAKE is trading at $6.77, still up over 1,300%, since the same time last month. Binance coin (BNB) has also been on a roll, hitting its own all-time high of $145 yesterday and cooling to $127.
Disclaimer
BeInCrypto has reached out to company or individual involved in the story to get an official statement about the recent developments, but it has yet to hear back.