MakerDAO (MKR) is planning to deposit $1.6 billion in USDC on Coinbase Prime to earn a yield of 1.5% per year. A poll on the proposal is three days away from closing. The decision could set the DeFi protocol on the path to centralization.
"If this proposal passes, there will be no turning back for MakerDAO," Chris Blec, DeFi expert and a delegate at Maker, tweeted. Blec worries that the protocol is "being entirely captured by Coinbase."
"It will have to ultimately capitulate to government demands or be destroyed by its captor. Decentralization on Ethereum is dying before our eyes," Blec lamented.
MakerDAO – Coinbase proposal: 88% of community in support
Members of MakerDAO are voting on a series of historic proposals that, if approved, will completely change the protocol. Voting has been going on since Oct. 10 and is expected to end on Oct. 24.
One of the proposals being voted for involves the transfer of around $1.6 billion in USD Coin, or USDC, to American exchange Coinbase Prime to earn an annual yield of 1.5%. The amount represents a third of the USDC used to back MakerDAO's DAI stablecoin.
As of writing, the proposal has garnered 88% of support from the community. With just three days before the poll closes, and only 0.05% voting "nay", it looks likely that the proposal will pass. The proposal was led by the Strategic Finance and Growth core units of MakerDAO.
MakerDAO is a crypto lending platform built on Ethereum. The protocol has more than $7.59 billion in total value locked (TVL) and is arguably the most influential in DeFi. Maker allows users to mint DAI, its so-called overcollateralized stablecoin.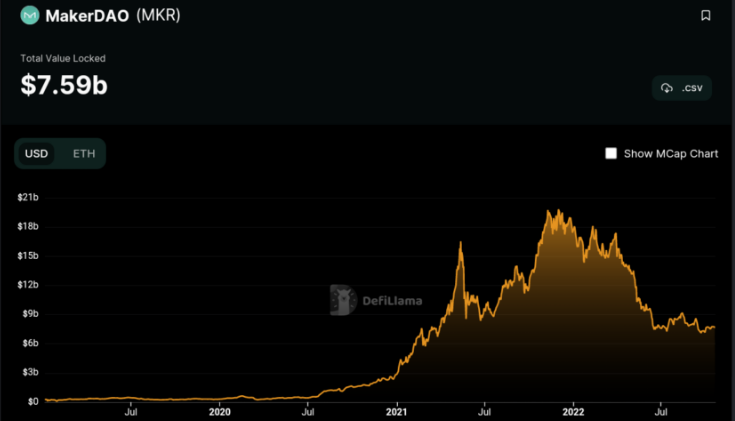 Users looking to hold the token need to provide assets from a range of crypto assets into the MakerDAO protocol as collateral. This helps maintain DAI's peg to the dollar.
Unlike Tether's USDT or Circle's USDC, both are controlled from a central point. DAI offers an unprecedented degree of decentralization because of a lack of central authority controlling its issuance.
Concerns around centralized services
Observers are concerned about Maker's relationship with Coinbase, a centralized exchange prone to government and corporate whims. In August, Centre, the consortium behind USDC, blacklisted 38 wallets. While freezing the $75,000 they held following the sanctions.
The consortium, set up by Circle and Coinbase, has now banned 81 wallet addresses since the launch of USDC in September 2018. The blacklisting of Tornado Cash wallets brought the decentralization of DAI into focus.
DAI's peg to the dollar is maintained by Peg Stability Module. This allows users to swap stablecoins such as USDC on a one-to-one basis in exchange for DAI.
But it shouldn't matter that MakerDAO is staking USDC with Coinbase? The protocol already holds a large amount of the stablecoin. According to Daistats, DAI is 40% backed by USDC. That is the equivalent of $3.4 billion. It is the single-largest collateral asset backing DAI.
Not necessarily. "MakerDAO trustlessly holding USDC itself means that Maker can move it, sell it, transfer it, etc without asking for permission first," Chris Blec, the MakerDAO delegate, explained on Twitter.
"Coinbase holding Maker's USDC means that Maker can't do anything without asking Coinbase for permission."
Fixing MakerDAO
MakerDAO co-founder Rune Christensen is worried about the risk of contagion from the sanctioning of Tornado Cash by the U.S. Treasury Department. He proposed to sell up to $3.5 billion in USDC for Ethereum, risking DAI's peg.
"It is obviously suicide to 'yolo' it all, but the risk/reward of partial uprooting may be acceptable," Christensen said in August.
"The market may finally start to reward decentralization to the point where these risks are acceptable because USDC is no longer the no-brainer it used to be."
The plan received widespread criticism, including from Ethereum co-founder Vitalik Buterin. It is unclear whether the proposal was ever put to a community vote.
Earlier in May, Christensen published Endgame, a roadmap detailing his plan for restructuring MakerDAO.
The multiple proposals being voted for today are based on Christensen's preferred vision of the protocol. The founder has spoken against MakerDAO's decentralized governance model since the dissolution of the Maker Foundation in 2021.
He criticized the lack of interest from community members to vote on key protocol proposals as a major factor limiting Maker's ability to manage difficult financial agreements. So, he proposed to unbundle Maker into several units called "MetaDAOs".
Each MetaDAO would have its own token. It would be managed by a committee that is separate from Maker's broad-based governance system. The new structure is designed to neutralize the effect of varying competing interests within the MakerDAO community.
In his Endgame roadmap, Christensen said:
"The governance processes and political dynamics that have developed in Maker fundamentally arent compatible with the reality of effectively processing complicated real-world financial deals."
Overwhelming community backing
Members are voting on proposals to unbundle MakerDAO's Real World Finance Core Unit. The Events Core Unit, and the Strategic Happiness Core Unit. The proposals have received 100%, 85%, and 92% in community backing, respectively.
Christensen's proposals have received overwhelming support from the MakerDAO community. Its alliance with centralized institutions like Coinbase has raised eyebrows.
"The End (of the decentralization) Game voted en masse by 1 party (through all his controlled delegates)," Lucas Prosperi, DeFi researcher and lending oversight at MakerDAO, tweeted.
"Now that liquidity abandoned us, DAO experimentation says farewell in a farce @MakerDAO It's fun and games, until it's not fun and games – your duty is to keep watching."
Similarly, the community is also voting on a proposal from Gemini. Offering to pay a 1.25% yield to MakerDAO if it agrees to hold $100 million worth of the exchange's GUSD stablecoin.
For Be[In]Crypto's latest Bitcoin (BTC) analysis, click here
Disclaimer
Following the Trust Project guidelines, this feature article presents opinions and perspectives from industry experts or individuals. BeInCrypto is dedicated to transparent reporting, but the views expressed in this article do not necessarily reflect those of BeInCrypto or its staff. Readers should verify information independently and consult with a professional before making decisions based on this content.
Jeffrey Gogo is a Zimbabwean financial journalist with more than 18 years of experience covering local and global financial markets; economic and company news. A climate change...
Jeffrey Gogo is a Zimbabwean financial journalist with more than 18 years of experience covering local and global financial markets; economic and company news. A climate change...
READ FULL BIO
Sponsored Sponsored