Even as the majority of the cryptocurrency market has started seeing small losses, Litecoin (LTC) has been hitting new milestones to help it make bullish waves lately.
The market has definitely seen an improvement overall in 2019, especially when compared to the situation as it was last year. However, cryptocurrency price charts clearly indicate that the current market sentiment is not as bullish as it was between April and July of this year. The bullish year has been seeing several months of stagnation right now, and many have turned neutral to bearish.
Surprisingly enough, Litecoin's overall performance has been seen as bullish, even during this period. This situation is even more interesting considering the fact that LTC went through a reward halving only a little over a month ago. A halving is a rare occurrence and it is difficult to predict how the LTC price might behave afterward.
But, now that the halving is in the past, LTC is finally able to move on, and it did so in a positive way. According to new data, there are five major reasons for Litecoin's new bullishness.
Why Is LTC Bullish?
As mentioned, there are five aspects and fundamentals that have been improving for LTC lately that could be adding to its value.
The first is the fact that the concentration of large holders is growing. This is always a good sign for a coin, as it shows that a lot of people have faith in it. If LTC holders are willing to accumulate, this seems to be an especially good sign for the project.
Next, the number of large Litecoin transactions has improved as well. Most likely, these transactions are being boosted by large the large amounts of LTC that are being bought and possibly transacted to storage.
Third, is the curious behavior of LTC price. It's not been on a constant rise, but it has been relatively stable when considering the rest of the market. Litecoin traded between $69 and $72 in the past week, meaning that there is only about a 6% difference between its lowest and highest points in the past 7 days.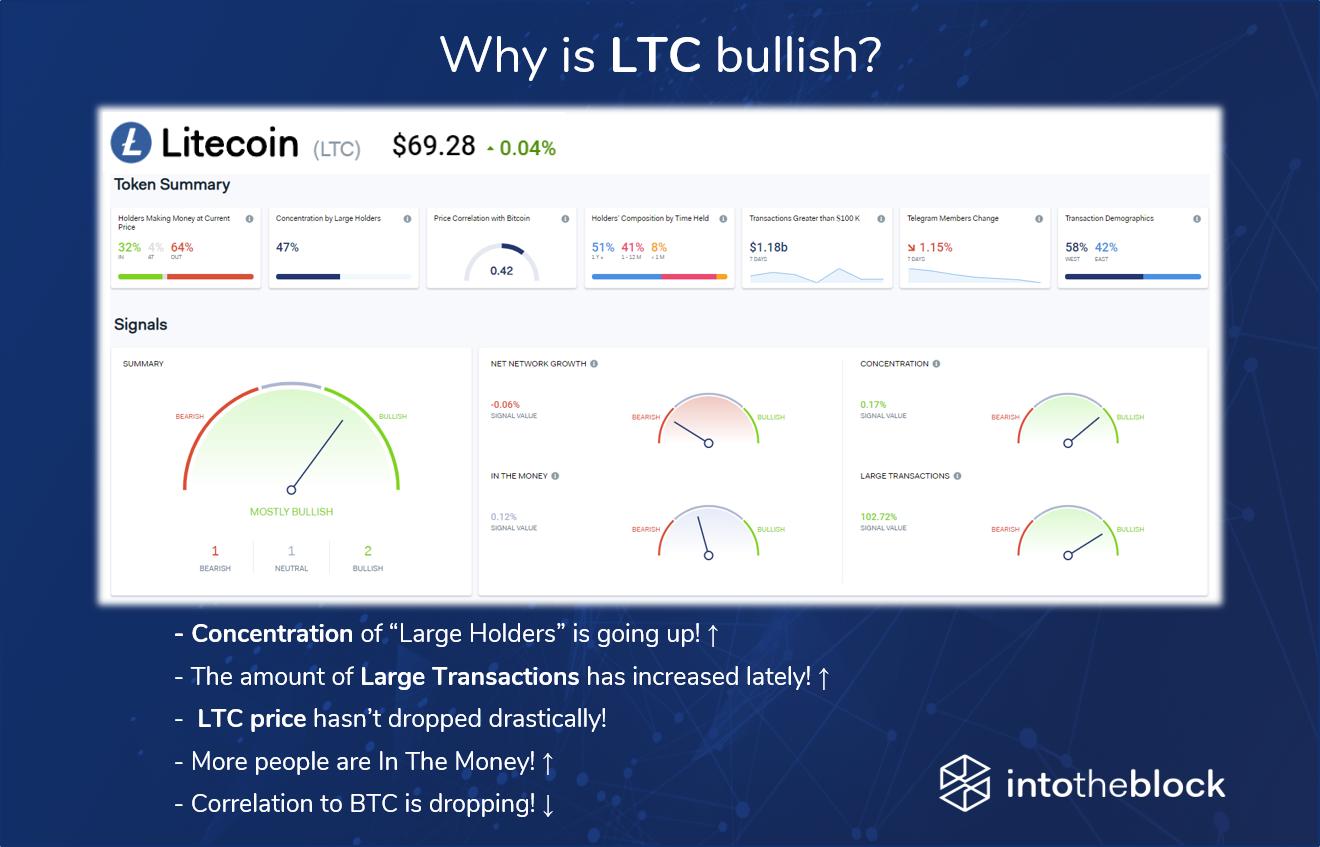 There are also more people than ever that are in the money (ITM), a term that refers to options that possess intrinsic value. Basically, it means that something has value at a strike price, which is favorable in comparison to the prevailing market price of the underlying asset.
Finally, Litecoin's correlation to Bitcoin itself is dropping, which is rare to see in the cryptocurrency space. As the first cryptocurrency, and the coin with the largest price and highest market cap — Bitcoin is the most dominant asset in the entire industry. As such, it has been known to dictate the behavior of the market and most coins in it.
So far, there has been a handful of cryptocurrencies that have managed to reduce its influence, with Binance Coin (BNB) often being referred to as the only coin ever to do it successfully. Now, LTC might be on the road to do the same, which is especially difficult, since LTC code was created from Bitcoin's template.
If these positive factors continue on their current course, LTC might truly become one of the best performers in the market in Q4 and on it to 2020.
What do you think of Litecoin? Have you, or do you plan to invest in it? Share your thoughts in the comments below.
Buy and trade cryptocurrencies with a 100x multiplier on our partner exchange, StormGain.
Buy Cryptocurrency
---
Images courtesy of Shutterstock, intotheblock.