The potential of crypto and blockchain technology as a whole is difficult to overestimate. We're talking about the disruption of the entire global financial system. But parallel to all this serious business, satirical cryptos, meme coins, and story-led projects (concurrent with the rise of play-to-earn gaming) have carved out a niche in web3. Zombie Inu is one such coin. The popular crypto features a zombie dog and forms a part of the extended dogecoin family. Here's what you need to know.
BeInCrypto Trading Community in Telegram: read the hottest news on new cryptocurrencies, discuss crypto projects, read technical analysis on coins & get answers to all your questions from PRO traders & experts!
What is Zombie Inu (ZINU)?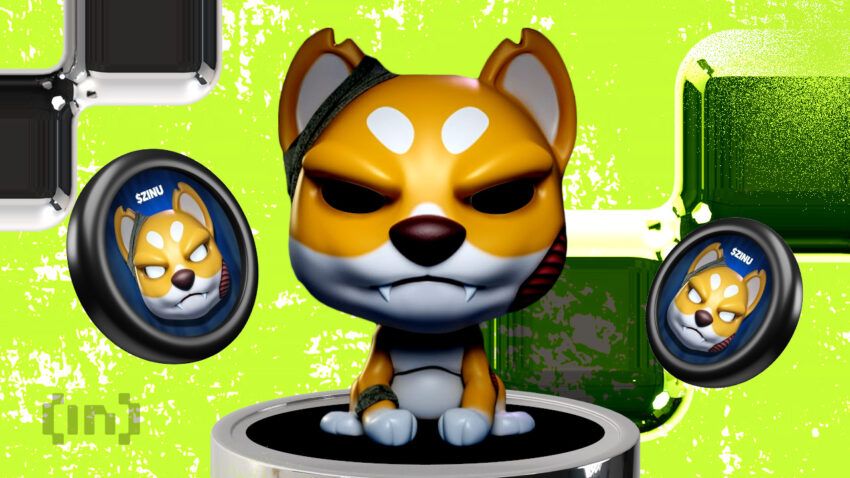 Zombie Inu is a meme-inspired project with a big vision. At its heart, an NFT-focused ecosystem, Zombie Inu aims to become a name among industry giants, offering entertainment and gaming through a dedicated "Zombieverse."
The overarching project aims are to connect and empower the memecoin community and build a dedicated "Zombie Mob." But the project is pushing boundaries, too; Zombie Inu has launched the world's first 3D NFTs. The Zombie Mob Secret Society stars an animated protagonist, Zinu.
The Zinu character origin story
Zinu, so the story goes, is the original zombie to roam this earth. The story follows the canine hero through the Zombieverse as he strives to protect all its inhabitants from unknown harm. The Zinu character and storyline are crucial to the crypto project's wider entertainment aims as a launch pad for a global brand and augmented reality-driven gaming empire.
Team
The team as a whole is undoxxed, meaning we don't know their true identities. The team goes by the following alias'; "Ducky" handles marketing; "Walker" leads finance; "Dale" is the named developer; "Undead" handles community; "Nik" leads creative; "Scary" is responsible for branding; "Mario" leads technology; while "Davy" leads development.
According to the Zombie Inu website, the senior team is composed of "members who worked at Amazon, Google, Intel & Microsoft with deep connections to leadership within the tech, media, and entertainment industries."
However, we do have some names: the platform is supported by a star-studded strategic board of advisors, including Ziggy Kormandel, Justin Montgomery, and Digger Mesch.
Roadmap and features
It's fair to say that the Zombie Inu team is looking to execute some hefty plans. So far, the project has delivered on its roadmap goals; from a scheduled token liquidity lock to the debut of custom NFTS and merchandise and collectibles releases.
Planned events in the future include launching a native NFT marketplace, additional NFTs, and a social platform for ZINU community members to interact with.
The platform also aims to build and incorporate a simple portal, Zombie Swap, whereby users can trade stablecoins for ZINU tokens. ZINU holders are also set to benefit from a community platform and decentralized social network, Zombie Den. The proprietary platform aims to both connect users and host new revenue opportunities that will benefit and bring long-term value to community members.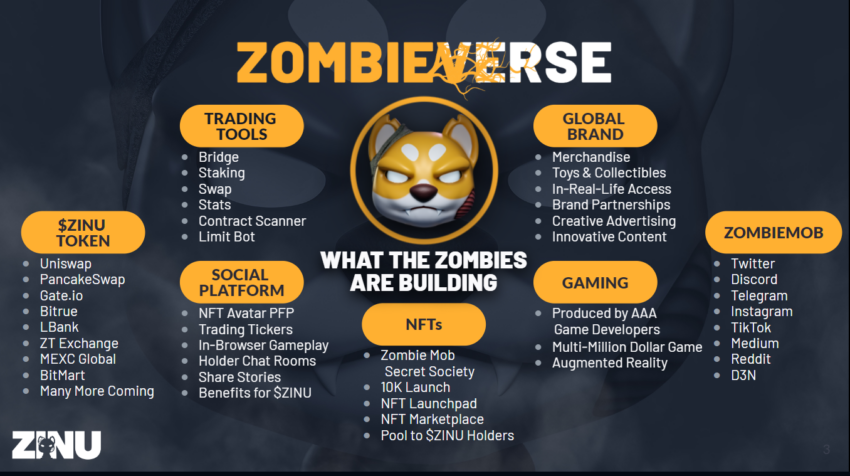 How does Zombie Inu work?
Zombie Inu represents a metaverse of a kind. The Zombieverse is built on a number of core pillars (some of which are yet to be actualized). Elements include trading tools, the Zombiemob community, the Zombie Den social network, NFTs, gaming, and the Zombie Swap platform.
All of these core pillars rely on ZINU tokens to function. Therefore, holders must use this currency to utilize different ecosystem features.
Zombie Inu uses reflection technology primarily associated with the SafeMoon Project. Also known as automatic liquidity or frictionless yield, reflection technology ensures that all token holders are attributed a portion of each transaction. In this way, Zombie Inu aims to create a self-sustaining ecosystem that discourages impromptu sales. Instead, holders are incentivized to hold their assets for longer.
The intention is that this creates a shortage in the circulating supply of ZINU. Consequently, this increases the token's scarcity and, in turn, drives its value.
ZINU NFTs
The ZINU NFT collection offers holders a royalty-free license specific to their character. Thus, it empowers holders to commercialize NFTs within their respective industries.
One of the ZINU project's focal points is offering 3D NFTs for holders. At present, users can access a fully animated 3D NFT that can perform a bunch of activities. The below graphic highlights key statistics for Zombie Inu NFTs as of March 29, 2023.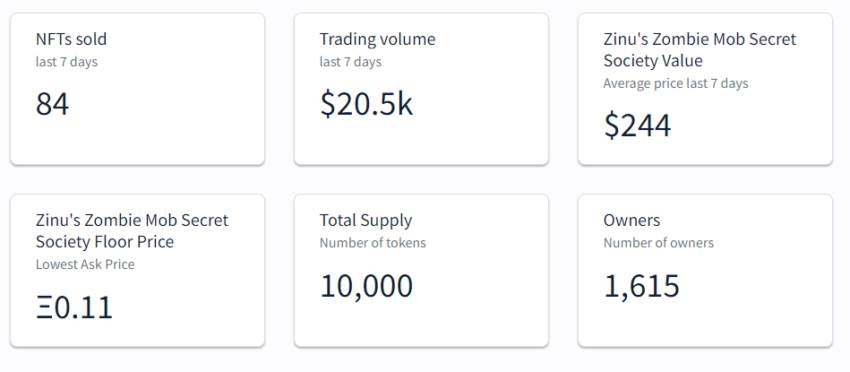 Zombie Inu (ZINU) token
Currently, the ZINU token operates on two blockchains: Ethereum and Binance Smart Chain.
After purchasing the token, holders gain access to the project's proprietary platform. The platform features different utilities and communities with which the holders will interact. As of March 29, 2023, the price of ZINU sits at $0.002043 USD with a 24-hour trading volume of $124,357 USD.
ZINU tokenomics and distribution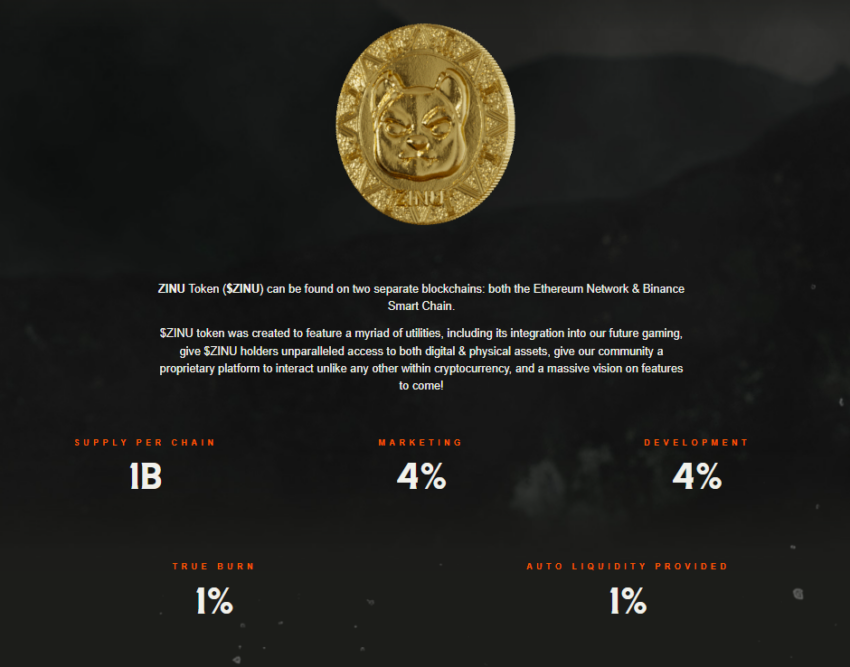 Total supply :1 billion
Pre-sale: 16.8%
Token pool: 32.2%
Burn: 410 Trillion (41%)
Marketing: 4%:
Development: 4%:
Redistribution: 1%
ZINU token uses
There is a wide variety of uses for ZINU tokens. Some of the most popular include the following.
• Special in-game access: Gives holders space access and privileges within specific games or gaming communities.
• Royalty pool: The project aims to generate a stream of revenue from different games and other products available for use. Later, revenue is distributed among token holders.
• Exclusive merchandise and collectibles for ZINU holders
Augmented reality integration: ZINU plans to introduce an AR (augmented reality) experience in which token holders can easily interact with virtual characters.
ZINU wallet
At the time of writing, ZINU was yet to launch its own wallet. The team plans to do so, although the roadmap has not set a date for this development. For now, users can choose from Coinbase Wallet, Trust Wallet, and MetaMask.
Where to buy Zombie Inu (ZINU)
Prospective ZINU holders can buy the token on both Uniswap and PancakeSwap, Gate.io, and a number of other decentralized exchanges (DEXs). The most popular pair is ZINU/WETH on Uniswap V2.
ZINU holders can also stake their tokens via the official portal. Tokens are locked for seven days. After that time, users can claim rewards and choose whether or not to keep their $ZINU staked.
Is there a future for Zombie Inu?
Zombie Inu is a unique NFT project with the potential to transform into an all-singing, all-dancing, web3 entertainment and gaming company. ZINU is clearly more than just a memecoin, at least in terms of goals. However, for ZINU to succeed and provide long-term value to ZINU token holders, it will need to continue to deliver on its roadmap with transparency. Crucially, the project must maintain the interest and buy-in of its community by developing consistently exciting and immersive storylines. If the team manages to do as the crypto market regains health, there may be a bright future ahead for the Zombieverse and ZINU holders.
Frequently asked questions
Is Zombie Inu listed on Binance?
Where can you buy Zombie Inu?
What is a Zombie Inu coin?
How many Zombie Inu coins are there?
Disclaimer
In line with the Trust Project guidelines, the educational content on this website is offered in good faith and for general information purposes only. BeInCrypto prioritizes providing high-quality information, taking the time to research and create informative content for readers. While partners may reward the company with commissions for placements in articles, these commissions do not influence the unbiased, honest, and helpful content creation process. Any action taken by the reader based on this information is strictly at their own risk.