As Bitcoin continues to grow in popularity, so also is the means of trading it. For many users, the popular option for trading in Bitcoin is to register with a cryptocurrency exchange like
Coinbase
or
Binance
. Another option that is fast gaining popularity due to its simplicity and ease of use is through the use of Bitcoin Automated Teller Machines (ATMs). Bitcoin ATMs (or BTMs, if you will) are gradually growing into one of the most popular means of buying cryptocurrencies. Ever since the world's first-ever Bitcoin machine
opened
in Vancouver in 2013, there's been a wave of ATM installations across the globe, as the market has grown into a sizable industry. In this guide, we'll take a look at what Bitcoin ATMs are, how they work, the companies that operate in this sector, and their product offerings.
In This Article: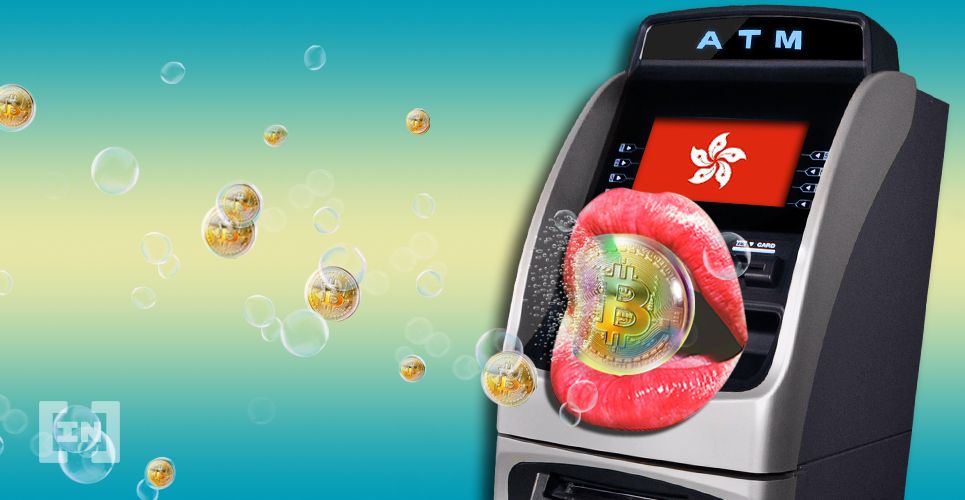 How Does a Bitcoin ATM Work?
A Bitcoin ATM looks and operates like a traditional fiat ATM. However, there are some critical differences between the two machines. The first one is the method of funds disbursement. With a traditional ATM, you simply need to have a debit or credit card and put it into the machine to get your money. Once the ATM disburses your cash, your transaction is completed. It's a lot different from Bitcoin ATMs. Rather than accessing your account and executing trades with a Debit card, the Bitcoin ATM works by depositing cash and providing a wallet address for receiving the purchased digital assets. At the base, Bitcoin ATMs connect users to a cryptocurrency exchange, which allows them to perform a buy or sell order. In some cases, some ATM operators pre-load their cryptocurrency holdings and sell it to end-users.
Selling cryptocurrency involves three quick steps:
If you want to sell Bitcoin on a Bitcoin ATM, a verification text message is sent to the user's phone, this used on the machine.
You scan the ATMs wallet address and transfer the cryptocurrency to the ATM.
Once it's confirmed, the device would disburse cash.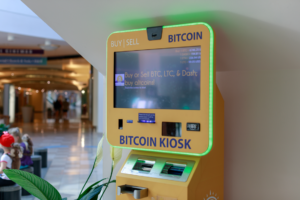 Buying Bitcoin is even faster:
Deposit fiat currency into the ATM
Confirm the receiving wallet address, along with units to purchase.
Once the details are confirmed, the Bitcoin is transferred to the address provided.
For now, most of the ATMs are owned by private companies that have a vested interest in developing the cryptocurrency space. They offer these machines in exchange for a service fee. There are also cases where Bitcoin ATMs are operated by a company that offers its digital wallet and trading platform. Such companies will often require that customers have accounts with them to conduct a transaction on any of their machines.
How to Locate a Bitcoin ATM Near You
If you're looking for a Bitcoin ATM near you, your best bet is to use a website that tracks ATM installations across the world. CoinATMRadar is the most popular option for prospective users. According to the platform, there are over 7,000 machines installed globally. You can use the platform's "Bitcoin ATM Near Me"
search function
.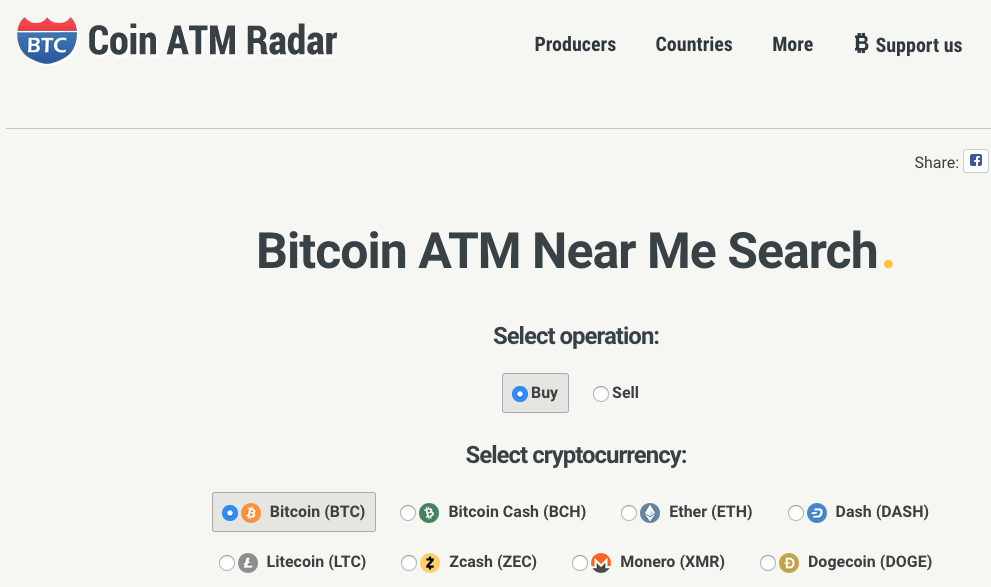 This feature allows you to narrow down your search to show supported digital assets, allowing you to find machines where you can buy or sell any cryptocurrency of choice. The platform provides detailed information on most machines, including address, phone numbers of manufacturers and operators.
Do Bitcoin ATMs Dispense Cash?
This depends on the type of Bitcoin ATM and the manufacturer in question. Some machines can pay you cash in exchange for Bitcoin, and accept cash for the purchase of crypto.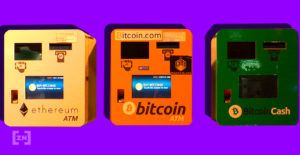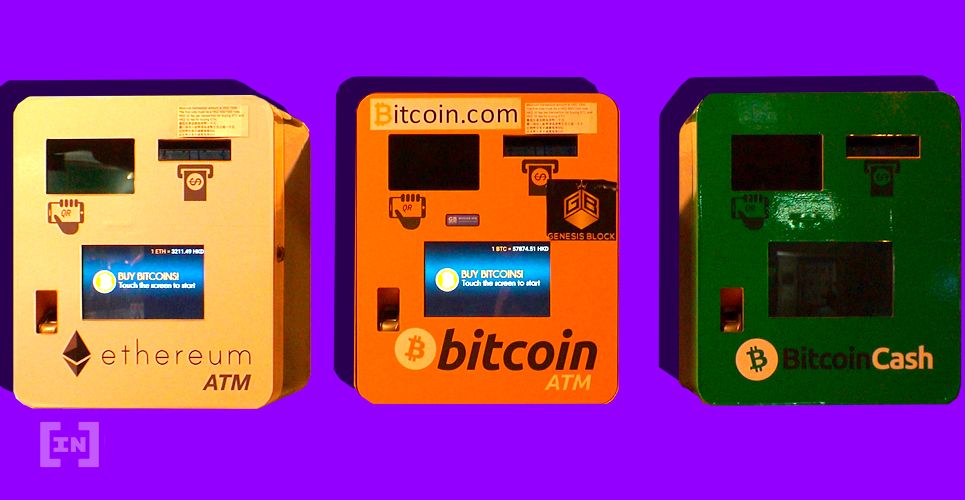 They are called Two-way ATMs—meaning they offer both buy and sell functions. About 66.6 percent of all Bitcoin ATMs support "BUY" features, per
data
from CoinATMRadar. While 33.3 percent of all machines support both BUY and SELL functions. Bitcoin machines that accept cash often come equipped with a bill-acceptor, also called a high-end banknote validator for identifying fake fiat notes, effectively protecting the ATM operators from malicious actors.
Which Countries have the Most Bitcoin ATMs
Currently, there are 7,17 BATMs across the world,
according
to cryptocurrency ATM tracker CoinATMRadar. The bulk of these machines are
domiciled
in the U.S. There are over 5,184 machines in America; Canada comes in second with 754 machines, while the United Kingdom is third overall with 302 machines.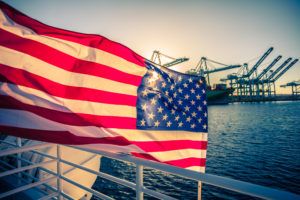 ATM Security & KYC
As far as
security
goes, Bitcoin ATMs have embraced several security processes to keep the customer's IDs and digital assets away from malicious actors. The first and most popular is the two-factor authentication model. This occurs when the machine sends a verification code to the customer's phone before a transaction is initiated. Once the user presents this code, the transaction would proceed to the second security layer.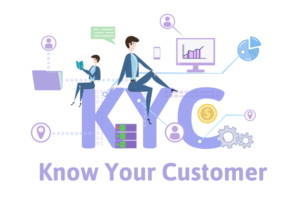 The second security layer is the provision of a government-issued identification card, such as an international passport or driver's license. Once the user scans this ID into the ATM, they would be able to complete their transaction. However, Know Your Customer (KYC) requirements vary per operator and the quantity involved. Some ATM operators might require phone numbers, while others are stringent when it comes to the provision of IDs.
Why does a Bitcoin machine require your ID?
Well, they are classified as a money service business (MSB) according to the U.S. Treasury's Financial Crimes Enforcement Network (FinCEN). These means they are
required
by law to collect and keep records of their users and the transactions by complying with KYC and Anti-Money Laundering (AML) laws.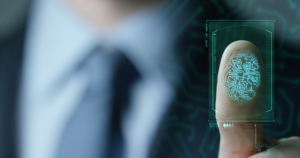 Bitcoin ATM Fees
Every customer who uses a Bitcoin ATM is charged a service fee. The fee is calculated as a percentage of the amount of money being transacted, as opposed to a flat fee that traditional ATMs charge. However, CoinATMRadar
shows
that the average fee charged for Bitcoin ATMs is 8.4% of the transaction total for purchases and 5.4% for cryptocurrency sales. These figures might look negligible until you realize that most of these operators have multiple machines installed across the world. Cottonwood, a New York-based operator, was reportedly earning over $35 million in 2018 with a staff strength of 13 employees, per
Bloomberg
.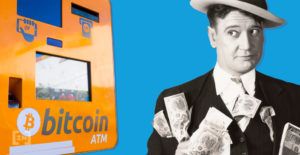 How to Buy Cryptocurrency at Bitcoin ATMs
Different manufacturers have separate processes for the purchase of cryptocurrency on their machines, but they all include some of the details below:
Choose "Buy Bitcoin" from the list of available options
Scan the QR code of your Bitcoin wallet address with the barcode scanner on the machine
Depending on the operator of the ATM, you might be required to provide a form of identification
Enter the amount of Bitcoin for purchase
Insert your cash into the ATM
Check your Bitcoin wallet to confirm the transaction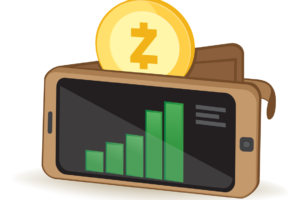 How to Sell Cryptocurrency at Bitcoin ATMs
The process of selling Bitcoins usually varies between ATM operators, but the general process involves the following: 1. Registration and Identity verification 2. Forward Bitcoins to the machine using its QR code 3. Receive the cash disbursement from the ATM
The Best Bitcoin ATM Manufacturers
1. Genesis Coin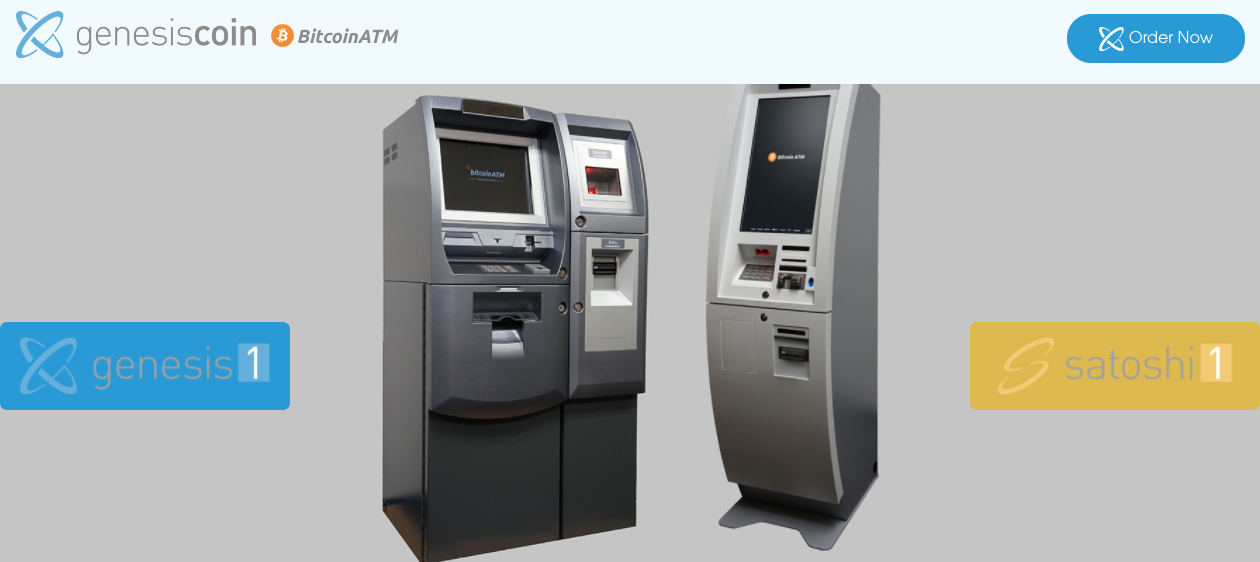 Genesis Coin Inc. is one of the largest manufacturers of Bitcoin ATMs based out of San Diego. The company
manufactures
and sells three models of Bitcoin machines, namely the Genesis1, the Satoshi1, and the Finney3. Genesis Coin currently supplies three models of Bitcoin ATMs:
a. The Genisis1
The Genesis1 is the company's flagship two-way Bitcoin machine. It also comes with additional features, including a barcode scanner, an EMV card reader, a fingerprint scanner, a bill validator, and a thermal printer.
b. The Satoshi1
The Satoshi1 comes in two variants; the 1-way and the 2-way model. It's smaller to the Genesis1, and it comes with a 21-inch display. There's also a high-definition camera installed and an optional; fingerprint scanner. To buy Bitcoin on the Satoshi1, go through the following processes:
Chose "Buy Bitcoin" on the machine
Select how much you want to purchase
Enter your phone number with the PIN pad. You'll get an AMA code, which you will have to enter into the machine
Choose where you want the Bitcoins to be sent to. If you have a wallet, then scan your QR code. However, you can also generate an address with the machine
Put in the right details, then scan your QR code
Click on "Finish," and the Bitcoins will be sent to you.
c. The Finney3
The Finney3 is the newest Bitcoin machine from Genesis Coin, and it's also the smallest of the bunch. It's a 1-way Bitcoin ATM, and it features just about everything that you get from the Satoshi1 – except for the smaller size. Due to this size, the ATM is best used while mounted.
2. General Bytes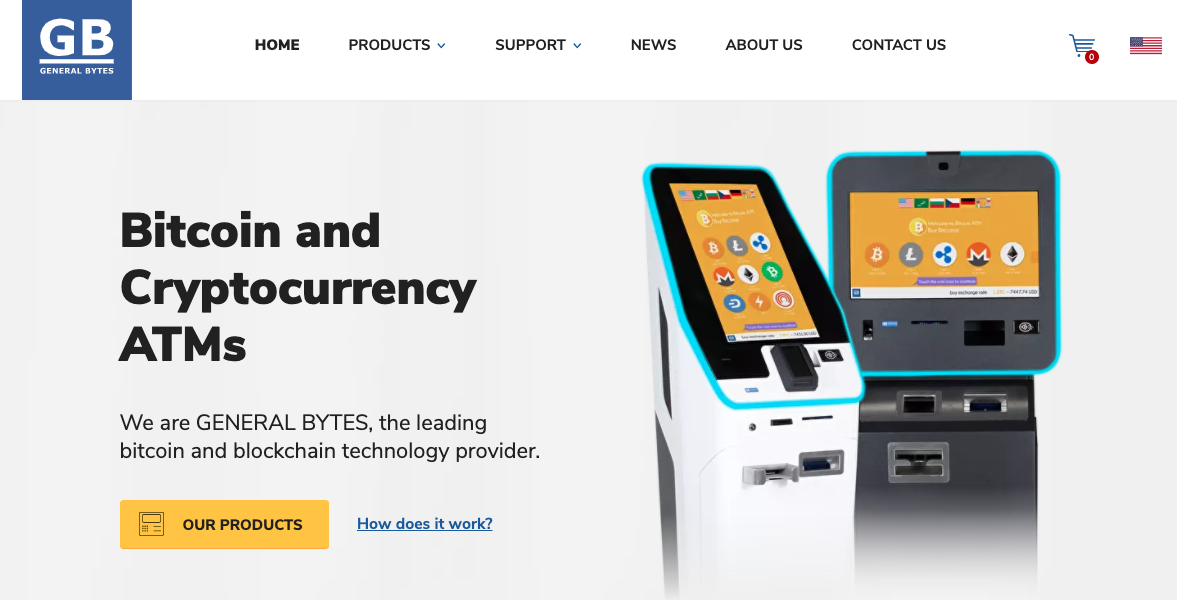 General Bytes
is a blockchain technology provider based out of the Czech Republic. It is the second-largest developer of cryptocurrency ATMs, according to CoinATMRadar. The company has sold over 2,000 ATMs in over 50 countries, and their machines currently support over 100 fiat and 60 cryptocurrencies. General Bytes makes three primary models of Bitcoin ATMs, namely the
BATMTwo
, the
BATMThree
, the
BATMFour
.
a. The BATMTwo

According to General Bytes, the
BATMTwo
is their most popular machine to date. It's a one-way ATM that provides support for over 40 cryptocurrencies, and users will be able to extend support for additional assets thanks to the addition of an Open API that's hosted on GitHub. The BATMTWO has a point-of-sale integration available, so users can use them at stores or other businesses to accept Bitcoin payments. The ATM has a fingerprint reader that allows for easy customer identification, and thanks to General Bytes AML/KYC infrastructure, the ATM can get a customer's name and other details based on their cell phone number to run background checks.
To buy Bitcoins on this ATM, you have to go through the following processes:
Choose your preferred language
Click "Buy Bitcoins"
Select the quantity you want to purchase
If you're creating a new wallet, then the details of the wallet will be sent to your Email. A password will be displayed on the screen, and that is what you'll use to open the ZIP file containing your new wallet's details.
Save it
Insert the cash bills
Click "Buy Bitcoins"
Click "Done."
b. The BATMTHREE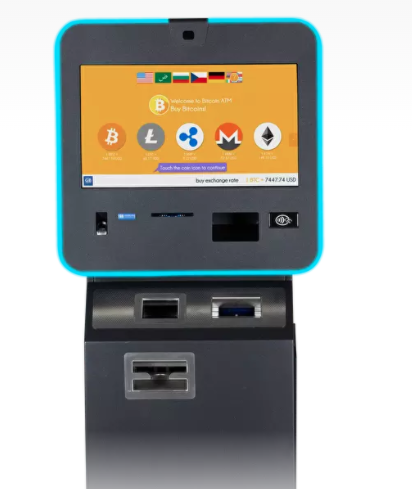 The
BATMThree
comes as a 1-way and 2-way cryptocurrency ATM that seamlessly distributes coins to and from both wallets and crypto exchanges. The ATM comes with high-end banknote validators that identify all fake or damaged bills, thus making them great for stores, casinos, and other businesses. It supports over 40 digital assets, with a GitHub-hosted Open API that makes it possible for users to extend the functionality of the ATM to accommodate more coins. The ATM also has General Bytes AML/KYC features, as well as the ability to be updated by the firm remotely.
On the BATMTHREE, you buy Bitcoins through the following process:
Click "Buy Bitcoins" on the screen
Select an interval for the amount you want to purchase
Scan your wallet address if you have one. You can also print a wallet and have it scanned too
Insert your bills and your information will update on your screen
Click on "Buy Bitcoins," and the equivalent will be sent to your wallet address.
3. Lamassu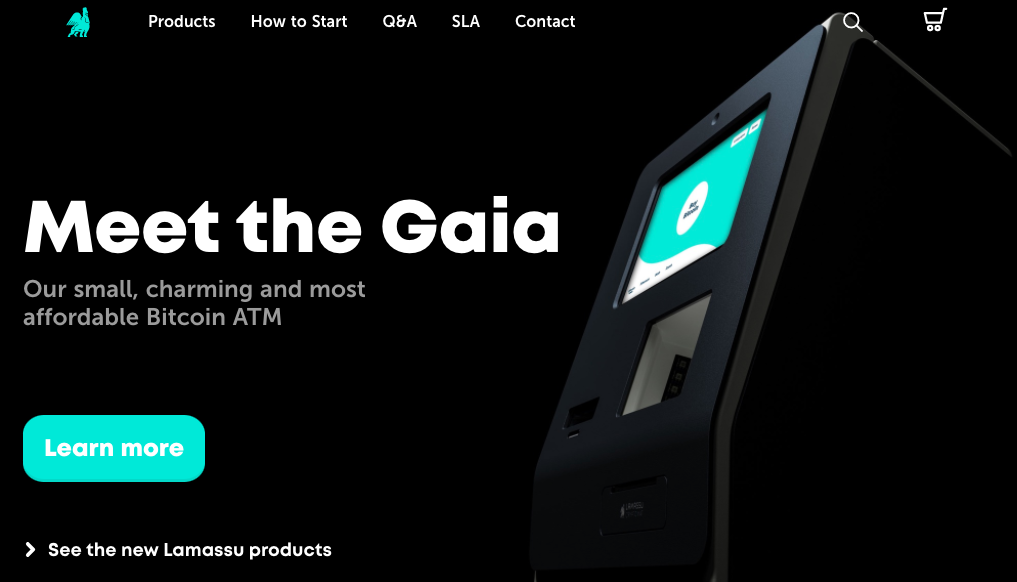 Lamassu
is perhaps the oldest manufacturer of Bitcoin ATMs in the world. The company is based out of Switzerland, and most of its machines are open-sourced with support for assets like Bitcoin Cash, ZCash, DASH, and Ether. The company manufactures four different ATMs namely Gaia, Sintra, Sintra Forte and Duoro II.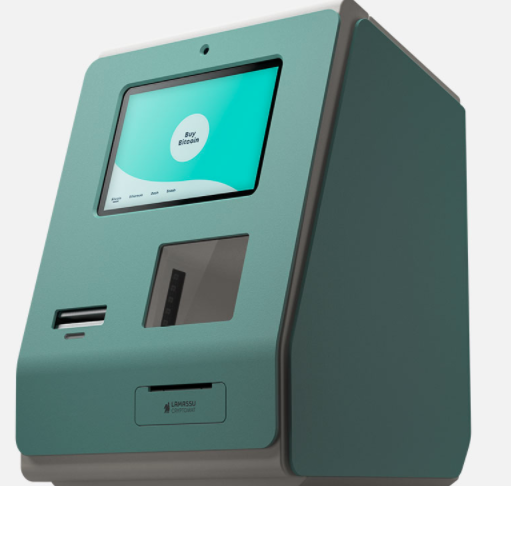 a. The Gaia
The
Gaia
has a wall-mounted design, weighing about 25kg. It can even fit into a case. However, the device only supports purchases. It supports numerous digital assets along with a super-intuitive user interface that promises to make crypto purchases as quickly as possible.
b. The Sintra
The Sintra was fabricated from sheets measuring about 2.5mm steel.
The user interface is made entirely of glass, so you want to be a tad careful with it.
The device comes with a custom computer board, as well as battery backup.
Some advanced features include tamper sensors, 3G connectivity, and front door control.
The design is excellent, and you can get both the one and two-way features if you like.
c. The Sintra Forte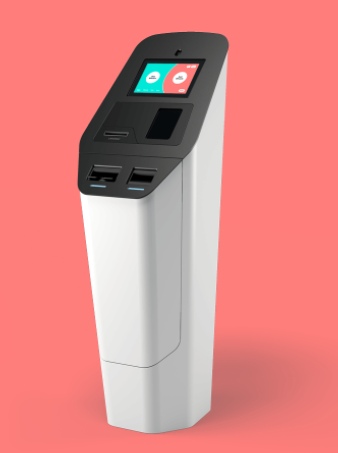 The Sintra Forte is an upgrade to the Sintra.
It's about 20% larger than the original Sintra, and it comes with a vault that is controlled by an electronic lock.
The vault is made of 6mm hardened steel, and it contains a note dispenser, a note validator, and a computer board.
Like the Sintra, the Sintra Forte comes in a 1-way and 2-way models.
d. The Duoro II
The Duoro II is the newest device from Lamassu.
It also comes with a battery backup and uses a custom computer – as well as taper sensors and 3G connections.
It's a 1-way Bitcoin ATM.
Pros of Using Bitcoin ATMs
1. Speed
Buying Bitcoin on cryptocurrency exchanges or from
hardware wallet
providers is far from straightforward or fast. You have to log in, confirm email verification, run additional KYC, type in your card or wire the money, and then purchase. On some rare occasions, buying cryptocurrency on an exchange could take hours, especially when they're overwhelmed with volumes. For cryptocurrency investors who want to avoid any of the time-bound hassles of getting cash for Bitcoin or vice-versa, a Bitcoin ATM is the way to go.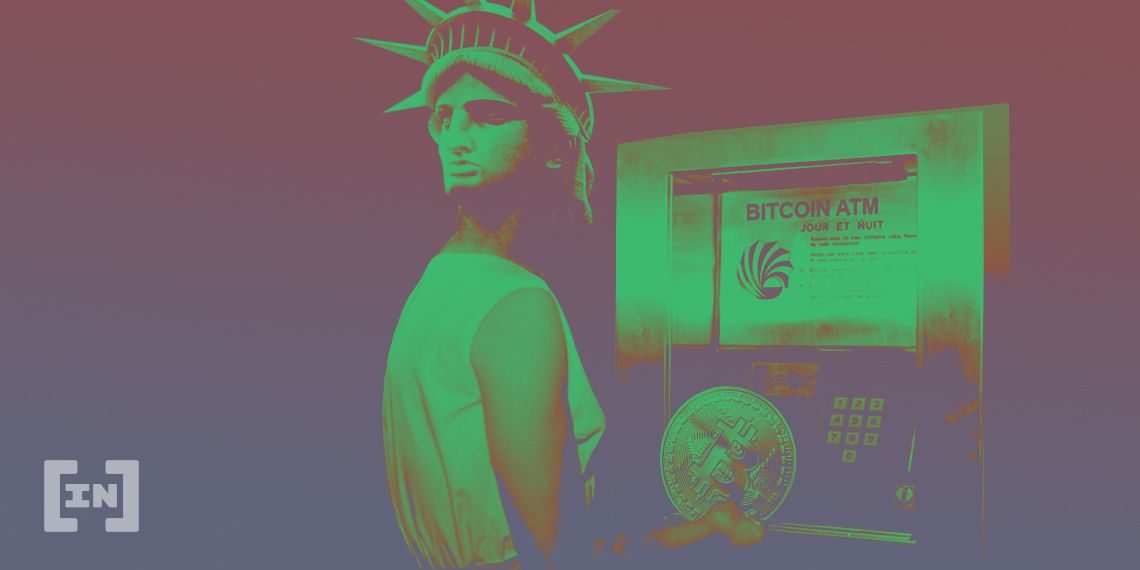 2. Usability
With a Bitcoin ATM, you can turn cash into Bitcoin instantly by tapping a few buttons. You don't need to go through tedious steps of filling any forms or excessively waiting in line to get your hands on the cash – or Bitcoin – that you desire. This ease of use also goes a long way in improving the mass adoption of Bitcoin.
3. Transaction Privacy and Information Protection
With cryptocurrency exchanges, the operators will try to gather as much data on you as possible. They do this by requesting your credit card details for purchases, government ID, and sometimes, your bank account information for withdrawals. With Bitcoin ATMs, you don't necessarily need those. While some Bitcoin ATMs are mandated by law to request for user's ID, there are lots of cryptocurrency ATMs that don't require any form of KYC.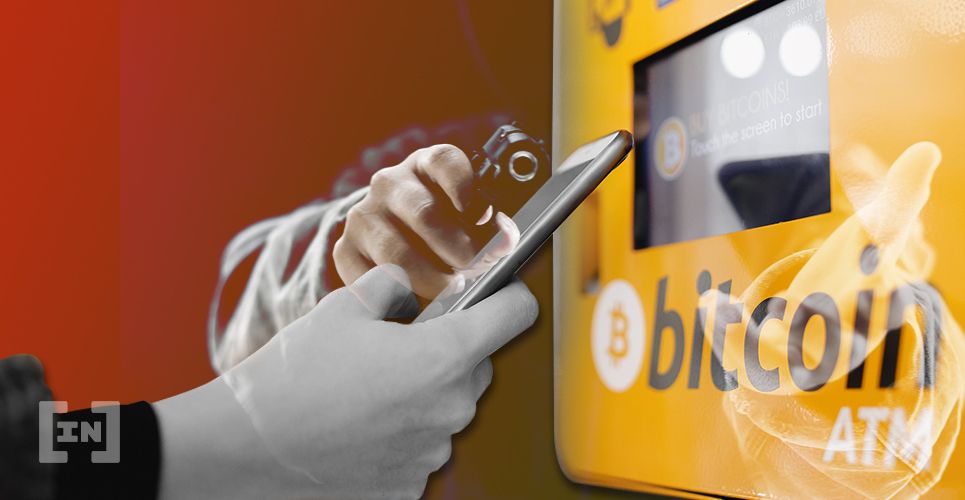 4. Familiarity
If you're looking to make a Bitcoin purchase for the first time, then ATMs provide a great way to do so. You're familiar with how ATMs work, so you'll be able to work a Bitcoin ATM without much stress. While Bitcoin machines differ fundamentally from traditional ATMs, they share a striking similarity with their user interface.
Cons of Bitcoin ATMs
It will take a while for Bitcoin ATMs to achieve the same level of penetration that traditional ATMs have. To begin on that road, however, they'll need to conquer the following issues:
High Transaction Costs: for now, the transaction costs incurred by ATM customers are too high.
Uneven Geographical Availability: this should improve as crypto adoption spreads. Bitcoin machines are domiciled in a few countries due to their economic power and the popularity of cryptocurrencies there.
Operation Costs: the cost of buying and installing an average Bitcoin ATM alone is roughly $10,000. If this doesn't improve, new market players would be discouraged from making a move into the space.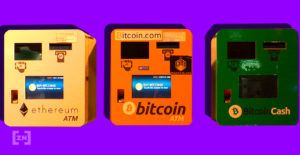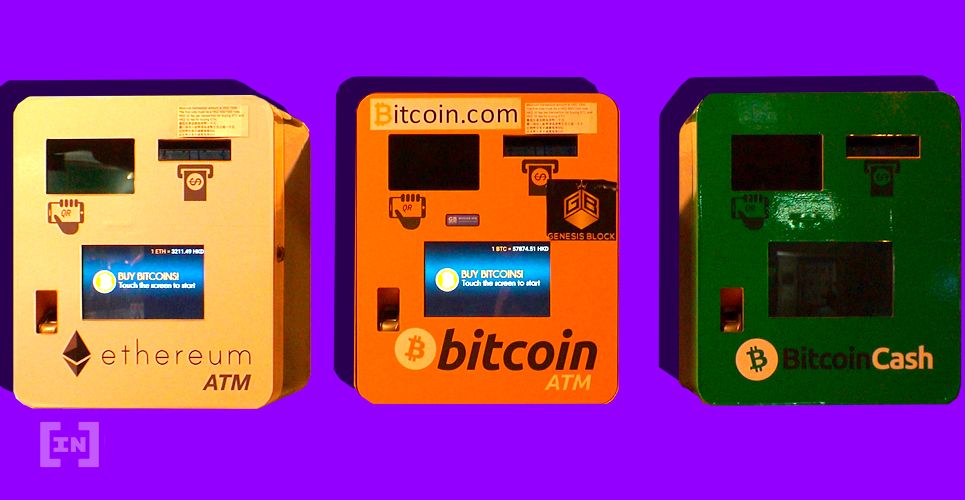 Conclusion
It's easy to understand why Bitcoin automated teller machines are increasing in popularity. They offer a familiar interface with a slightly different process for purchasing digital assets like Bitcoin and Ether. With the invention of two-way machines, cryptocurrency investors can easily liquidate their holdings into their preferred fiat currency in a few easy steps. Despite the service fee added to each transaction, the number of installed cryptocurrency ATMs continues to rise.
Disclaimer
In line with the Trust Project guidelines, the educational content on this website is offered in good faith and for general information purposes only. BeInCrypto prioritizes providing high-quality information, taking the time to research and create informative content for readers. While partners may reward the company with commissions for placements in articles, these commissions do not influence the unbiased, honest, and helpful content creation process. Any action taken by the reader based on this information is strictly at their own risk.