If you have money, there are really only three things you can do with it — spend it, save it, or invest it. Investing requires work, effort, and understanding of the markets. There is also quite a bit of luck needed, especially if you are new. But, the most important part is having the right tools for the job. The thing about investing is that it is more than just picking an asset and buying it with your money while you hope for the best. You need to use charts to be able to analyze and predict price movements. You need to know how to behave based on the conclusions you draw. But, most of all, you need a good
trading app
. Having a good trading app is important because you need to be able to make
trading decisions
on the go. It also needs to be user-friendly and easy to navigate. This is especially important if you are a beginner. After all, trading is confusing enough; you don't need to make things extra difficult by having a complicated app. But, while it is good for it to be simple, you also need it to be rich in features and functionalities so that you would have every advantage you can get with day trading stocks. With all of that combined, that really narrows down the selection of apps that you can use and be satisfied with. We have reviewed many of them, and we came up with a list of 7 best stock trading apps for beginners, which you can use in 2020.
In This Article:
Best stock trading apps for beginners
1. Robinhood
The first on our list is Robinhood, an app that launched in 2013. These days, Robinhood is known as one of the first companies to introduce zero-fee trading, which was a revolutionary move that did not only make it popular, but it forced every other app to start doing it too, simply to stay relevant.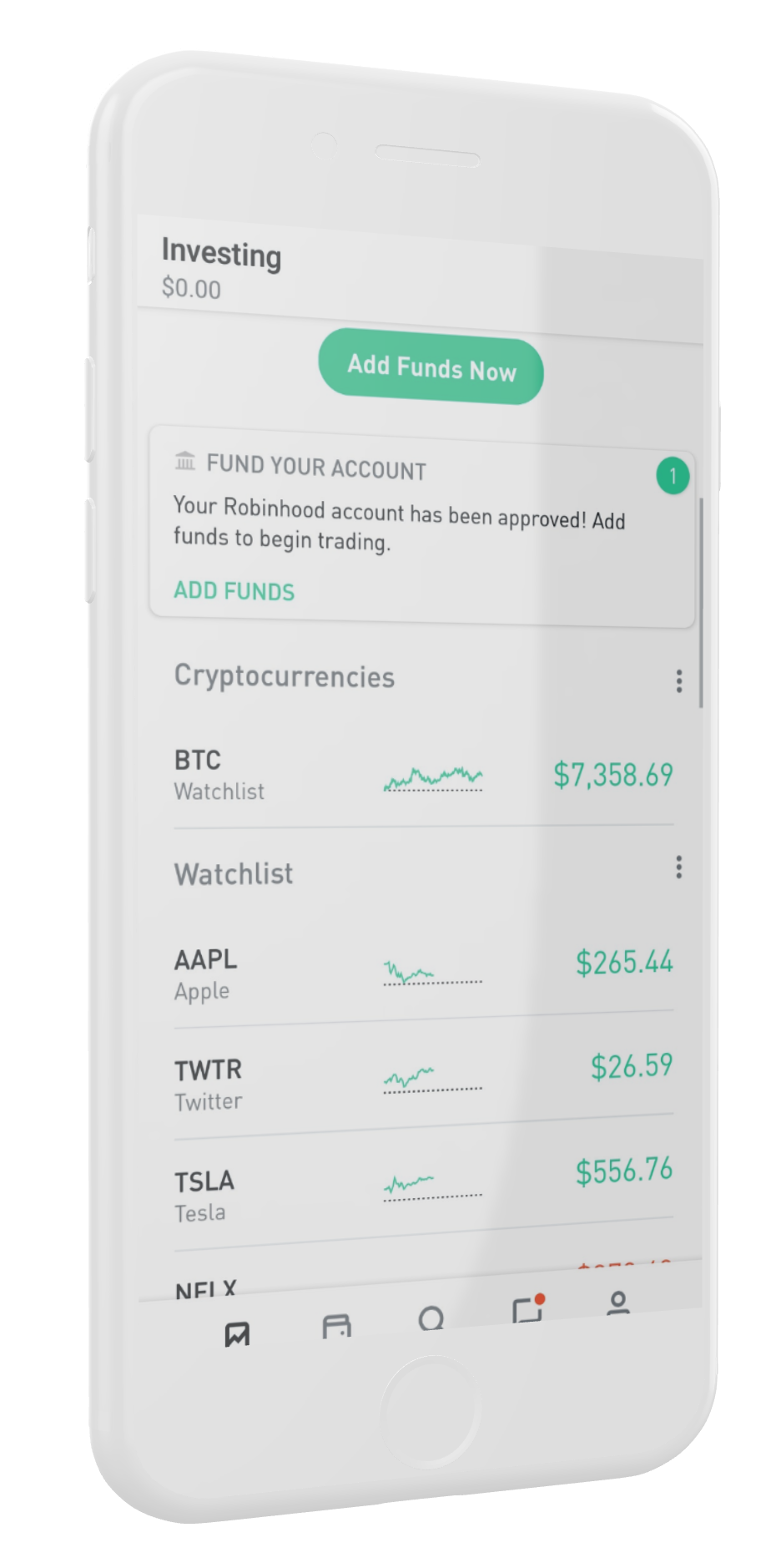 The platform already has around 10 million users today, and it offers a lot of different instruments and assets available for trading, stocks included. It also offers support for cryptocurrencies, ETFs, and options for those who might be interested in diversifying their investment portfolio. It allows you to:
Trade in real-time
Invest any amount you want
Create a balanced portfolio
Manage your portfolio
Keep tabs on your money
and more.


The app is very easy to use, which makes it great for beginners and experienced traders alike. It is among the best day trading apps around, even though it might not offer as many investment types as others that you will see later down the list. Still, it is one of the best ones out there, which is why it deserves to be on this list.
Pros of Robinhood:
Pioneer at zero-fee trading
Allows you to invest any amount
Provides access to stocks, cryptocurrencies, and more
Very user-friendly
Cons of Robinhood:
Not a great selection of investment types when compared to competitors
2. Fidelity
Next up, we have Fidelity, which is one of the best brokerages for newcomers in the world of trading and investing. However, that doesn't mean that it is not perfectly suitable for experienced users, as well. It is full-service, and it focuses on retirement and long-term investments. So, if you are looking for a good app to commit, this one should definitely be on your radar.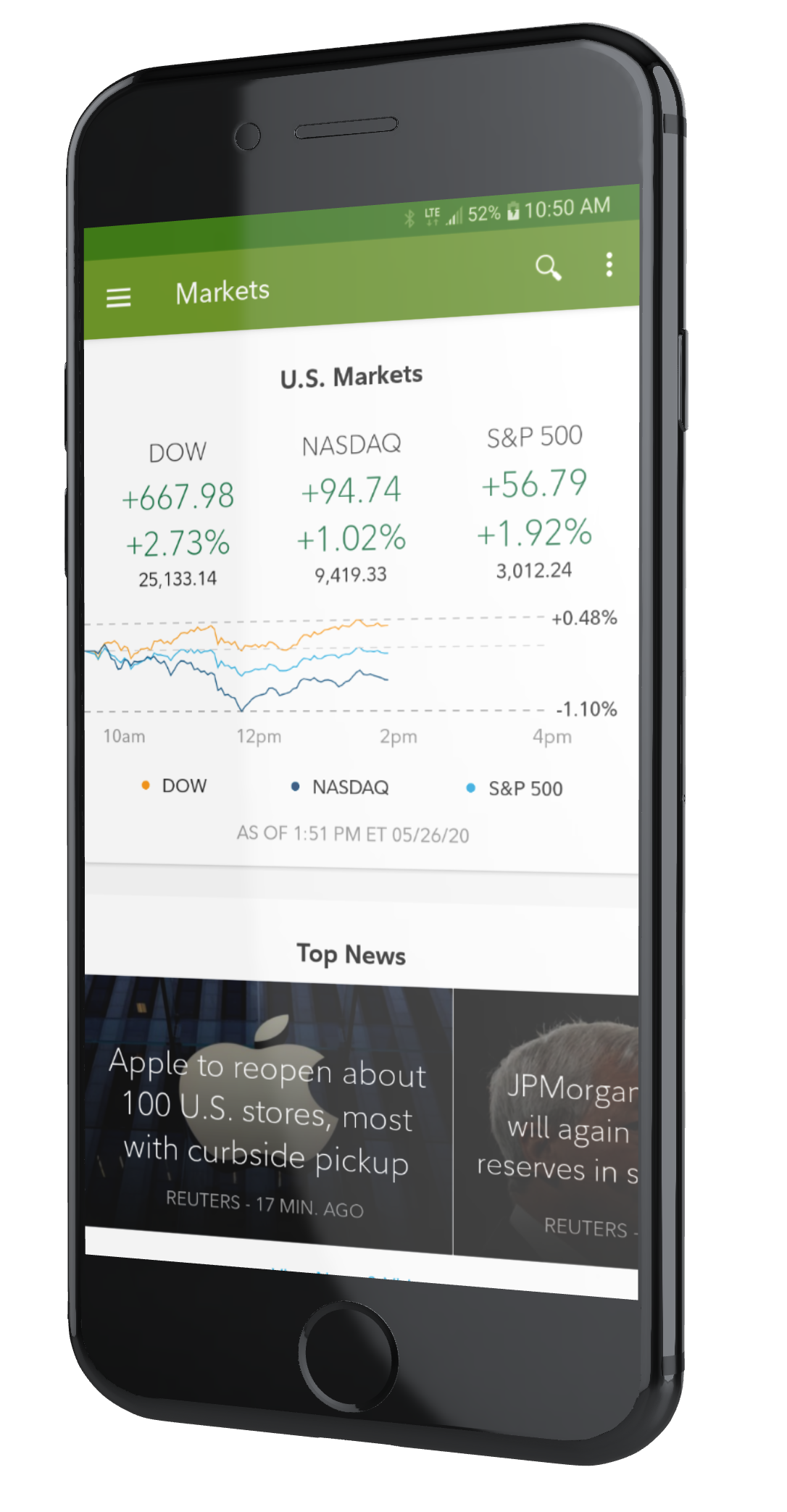 The app offers a wide range of investment and account types, so you should have quite a few different options to check out. It is also cost-efficient, thanks to the fact that it offers zero-fee trading for stocks and ETFs. It is among the best stock apps on Android, but it also has a presence on Amazon and iOS devices, so you don't have to skip it just because of the device you prefer. One potential flaw is that it is not the best stock analysis flaw. It doesn't have advanced charting features that some of its competitors offer. However, if you are a beginner, this might actually be a good thing, as there are fewer things to focus on as you learn the ropes. As mentioned before, it can be confusing to see a bunch of new features that you need to learn from scratch, and not having them at all might work to your advantage, at least until you get experienced enough to start needing them. Like Robinhood, Fidelity also doesn't have a minimum deposit, and it offers zero fees, although only for limited assets (stock, ETF, and options). There are fees for broker-assisted trades, as well as transactions bearing mutual funds.


Pros of Fidelity:
An intuitive app that lets you navigate it with ease
Entering trades and tracking performance is very easy
Offers features that fit the needs of most traders, and especially beginners
Multiple account types
Cons of Fidelity:
Not the best for stock analysis
3. Ally
Ally is another best stock app that stands out above the rest when it comes to its banking products offering. There are numerous services and functionalities here, including savings, high-quality checking, investment accounts, and more. So, when it comes to account types, you are pretty well covered if you opt to use this service.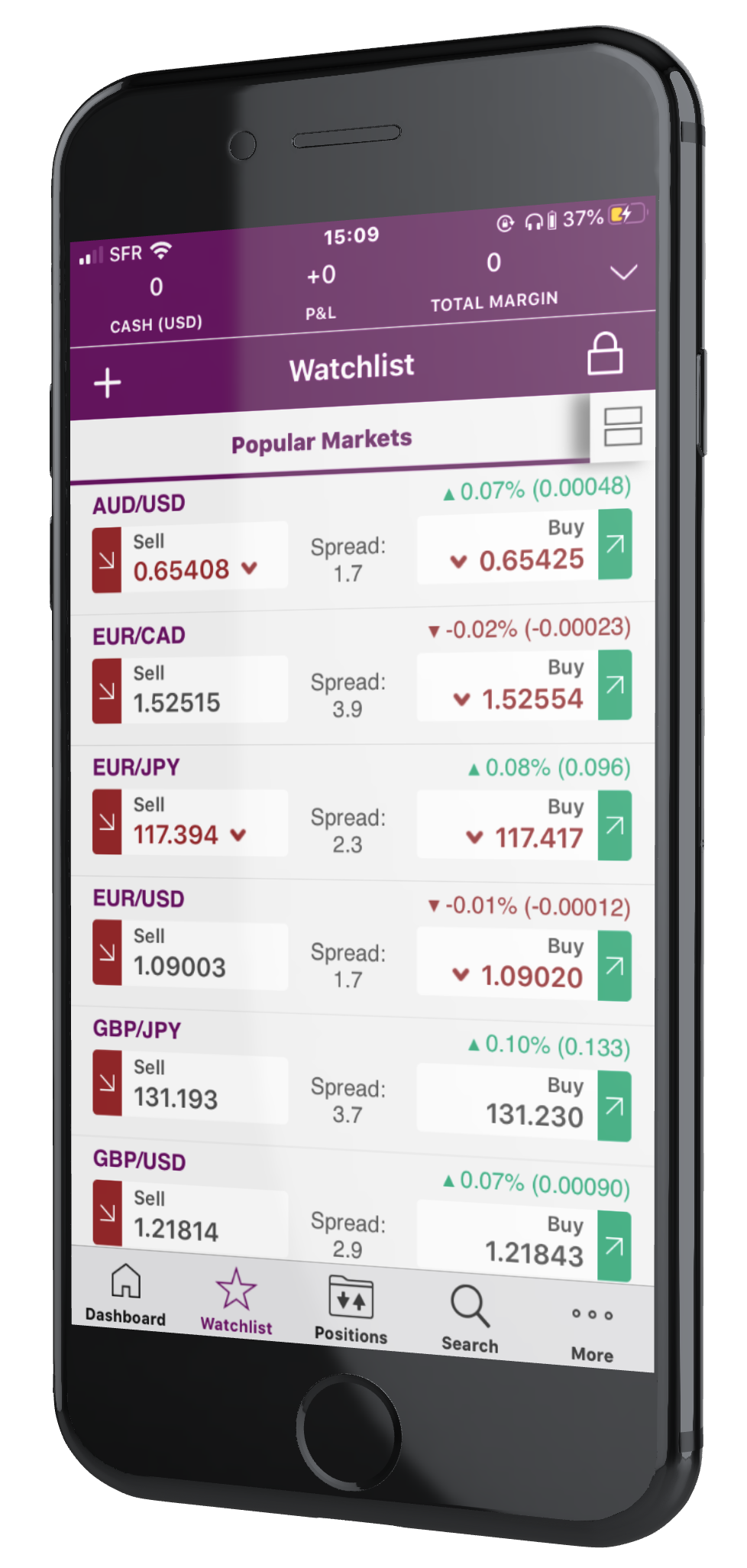 The app itself is very handy and easy to use, so even beginners can navigate it with ease. While Ally is not the only broker on the list that will allow you to get bank accounts, it is one of the best, if not THE best when it comes to online checkings and savings. That comes as a great thing in addition to your investment needs. It also has no minimum deposits required, which makes it just as good as the previous two, in that regard. Stock trading comes at a $0 commission fee, and that makes it very low-cost. The ease of use and low cost are already great reasons for checking it out, and the bank accounts are making it that much better. If you are a beginner, you will even appreciate the fact that charts are pretty simple, although that might not be the
best aspect for experienced traders
. However, if you don't mind using third-party software for charting and data, the rest should serve you just fine. Ally offers access to stocks, options, mutual funds, ETFs, bonds, and more. You also get to manage your own portfolio, which is great for those who want full control over their assets.


Pros of Ally:
Very beginner-friendly
The best option out there when it comes to bank accounts in a stock investing app
Zero trading fee applies for several assets, including stocks, options trades, and ETFs
Cons of Ally:
Charting tools are a bit too simple and not good for advanced users
4. Interactive Brokers
If you are looking for the best stock trading app for professionals, you will definitely find it in Interactive Brokers.
Interactive Brokers, also called IBKR for short, is known for offering access to global markets, providing access to over 130 of them in around 33 countries. They offer a very advanced day trading app, where professionals can benefit from low margin rates and industry-leading commissions. The company also offers as many as 65 different order types, so you can be as specific as you could ever want during your trading sessions. Of course, having all of the features that it has to offer, IBKR is likely not suitable for new investors and traders. It did make an effort to simplify its platform, and it even saw quite a bit of success at doing it. However, newcomers still see a lot of difficulties finding their way around. As far as stock trading goes, there is no minimum deposit, and there is no trading fee, which is just as good as what you can find with the rest of the apps on the list. There are fees for other assets, like ETFs, although only some of them, and there are as many as 96 of commission-free ETFs within the app. And, of course, you can trade on the go with Interactive Brokers' stock app on Android, as well as on iOS.

Pros of Interactive Brokers:
Rich with features
Highly advanced offering
Known for being professional and competent
It made an effort to simplify the app
Zero-fee on stock trading
No minimum deposits
Cons of Interactive Brokers:
Still too complicated for beginners
Customer service is good but not great
5. TD Ameritrade
Next up, we have another best stock trading app named TD Ameritrade, which is a pretty universal solution that has something for everyone. Meanwhile, it also offers great pricing, which is why it attracts experienced and new traders and investors alike. Its mobile app is very user-friendly and casual, which makes it good for newcomers to the trading industry.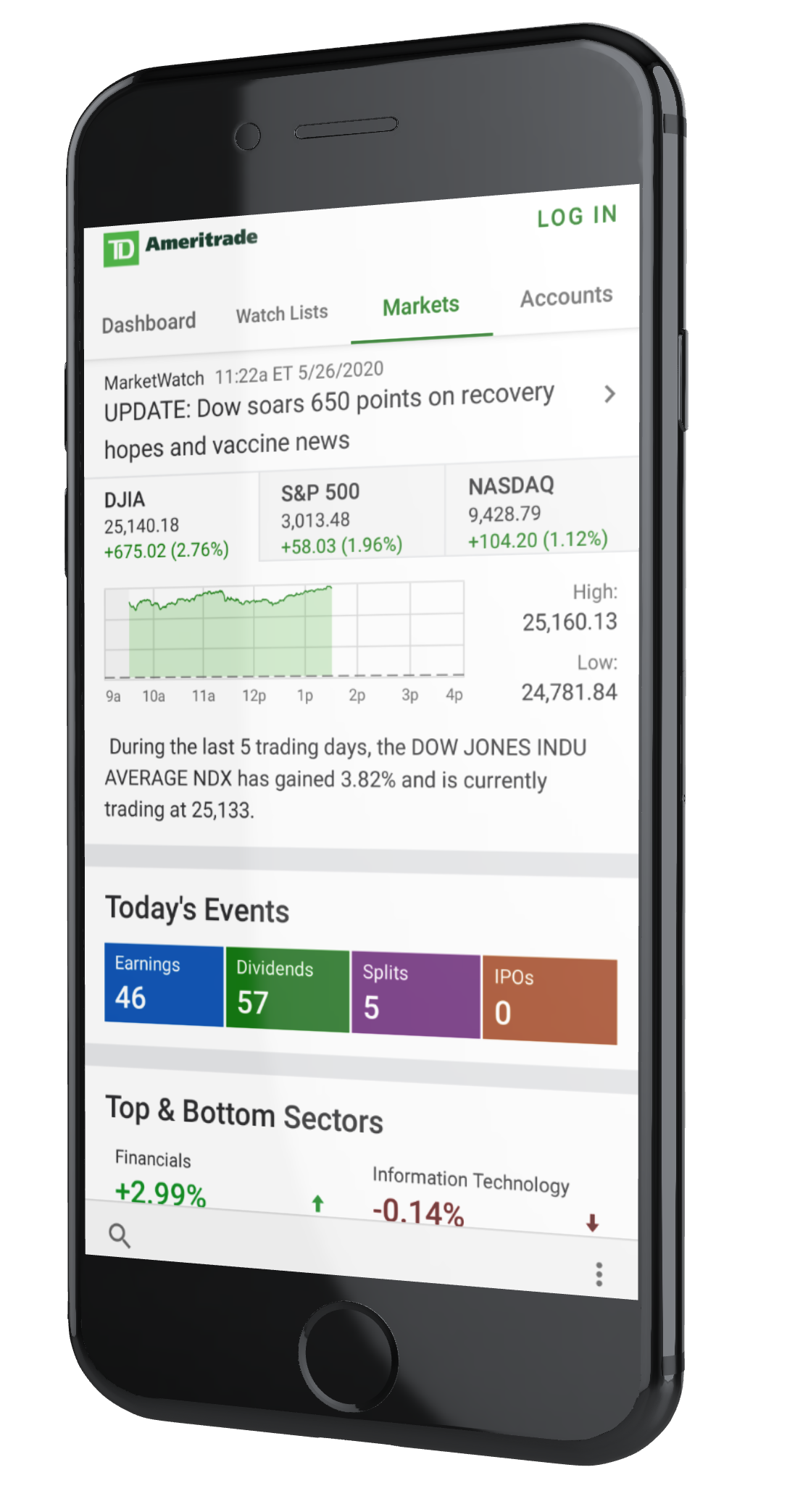 However, professionals can also use it without finding it too boring because they can use the advanced version. It is pretty easy to upgrade it and have professional experience, while at the same time, someone else can use the basic, user-friendly version. Both apps can be accessed with the same TD Ameritrade account. The account itself doesn't have a minimum deposit requirement, and you can trade stocks at zero-fee. In other words, the low cost of trading is guaranteed by default. The apps are full-featured, and they offer some important tools for account management, trading, and even stock analysis. Lastly, the advanced version also has CNBC feed integrated, which means that you can follow the fresh news from within the app, and quickly make your day trading decisions based on the current events.


Pros of TD Ameritrade:
Trading with zero-fee
Beginner-friendly and equipped for professionals at the same time
Integrated news feed
Extensive research tools
Supports many account types and assets
Cons of TD Ameritrade:
Charles Schwab recently announced its acquisition, which might result in it getting fused with Charles Schwab trading platforms and disappearing as an individual service.
6. Acorns
Nearing the end of our list, we have Acorns. Now, this platform is as beginner-friendly as they can get, and it was specially designed for those traders and investors who do not want too many responsibilities. Of course, this also makes it very good for those who never invested in anything before, as the app will do most of the work.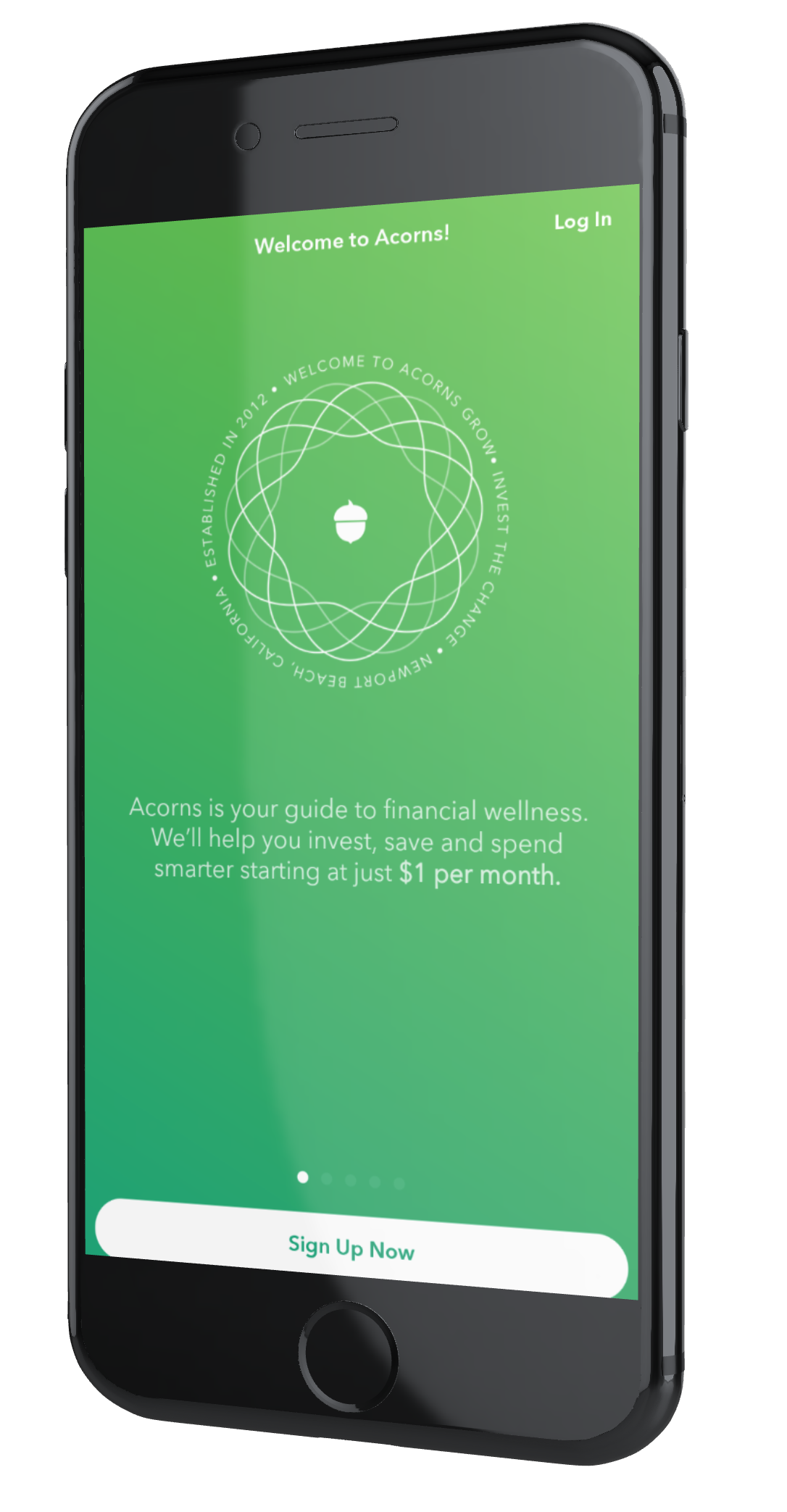 Well, when we say that it will do most of the work, we really mean that it offers Robo-advisors and round-up savings features which will help you with managing it without effort. It is a mobile-friendly app that will let you trade and manage your funds on the go. However, it will also take care of your investments and help you grow them. So, if you want a way to invest some extra money but don't want to have to be too engaged, this will be a perfect app for you. Opening an account is very easy, and it only takes a few minutes. You can easily do it with your existing bank account. Acorns will then keep an eye on your purchases, and it will invest your change into a low-risk portfolio. The app will charge you a bit for a taxable investment account (around $1 per month) and $2 per month in order to add an IRA. You should also be aware that owning a checking account to spend the account will also cost you a bit ($3 per month). Other than that, there is not much to else to note. It is a good choice for students, or anyone who is too busy to keep checking their portfolio and be active on the market, but would like to save up a bit. Only remember that the accounts are taxable, so you will have to pay taxes on any earnings you make. You can combat this by getting a tax-exempt investment account.


Pros of Acorns:
An extremely user-friendly app where you don't have to do almost anything on your own
No minimum deposits
The app's Robo-advisors will invest your spare change into low-risk assets
College students get free management
Cons of Acorns:
There are some account fees, going from $1 to $3 per month
Your gains could be subject to taxation
7. Stash
Lastly, we have Stash — yet another best stock trading app for newcomers to the world of stocks. Like the others, it doesn't have a minimum deposit, so you can use as much or as little money as you want to kick things off. However, like our previous entry, it does feature some monthly fees. They are not too high, ranging from $1 to $9, based on the package you choose. However, the app was designed to serve as an educational tool for new investors, so you can maybe consider these fees as payment for a practical course in trading. The app is pretty good at teaching people how to invest, and you can start using it even with zero financial background or experience.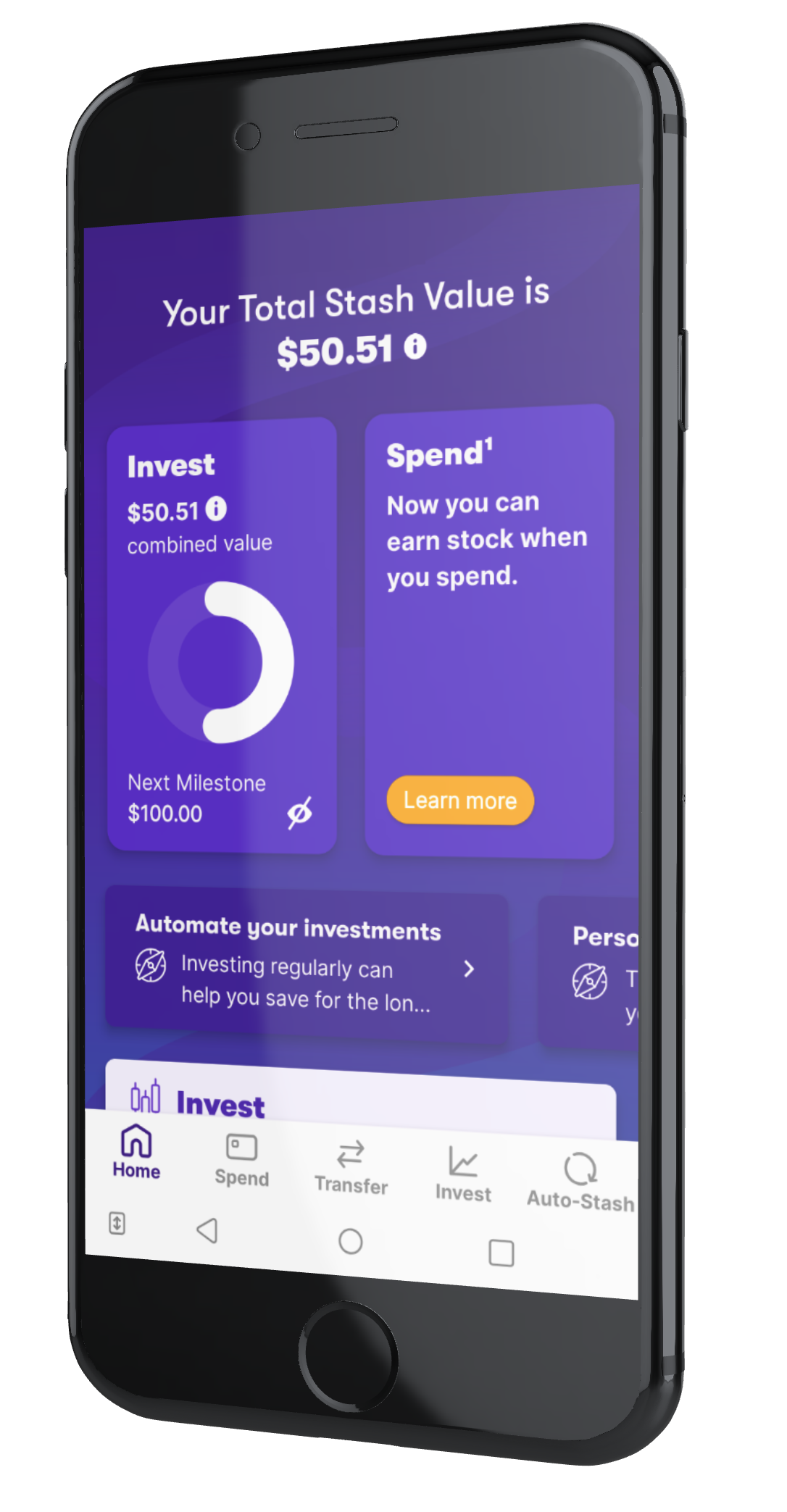 As such, we liked it pretty much, especially since it offers quite a bit, considering that it is focusing on beginners. There are 60
ETFs available
, and the service introduces something called investment personality types, where you need to figure out which one is your own. Once you do, you will see a number of different investment options that will match your investment personality type, and you can move on from there. All in all, it is an interesting app for beginners, and it will definitely have your back during each step of the way until it is certain that you know what you are doing.
Pros of Stash:
No minimum deposit
Round-up investing, automatic investing, fractional shares
An excellent way for new traders to learn the ropes
User-friendly, easy to navigate, constantly offers tips and advise
Cons of Stash:
Conclusion
And, that is it. These apps should fit any investor or trader interested in getting into stocks trading in 2020. You can choose an app based on your experience and knowledge about
stock investments
, and we even have a great solution or two for those who have never made an investment in their life before now. Simply go through our list, find the best stock trading tool you think might fit your situation, and start investing. Good luck!
Disclaimer
In line with the Trust Project guidelines, the educational content on this website is offered in good faith and for general information purposes only. BeInCrypto prioritizes providing high-quality information, taking the time to research and create informative content for readers. While partners may reward the company with commissions for placements in articles, these commissions do not influence the unbiased, honest, and helpful content creation process. Any action taken by the reader based on this information is strictly at their own risk.