Ravencoin is use-case specific project. Yes, it's decentralized and meant for intermediary-free asset transfers. Despite the innovation, its native coin RVN didn't have the best 2022. And even with the crypto market rally of January 2023, it is trading at an 89.43% discount to its all-time high. In today's Ravencoin price prediction, we will explore what the price drop means for investors. Is RVN still a good pick, per fundamental and technical analysis?
#BonusHunter | Best bonuses you can get with RVN🔥
Ravencoin price prediction and the role of fundamentals
Before we delve into the complex charts and pattern hunting, let us ponder how Ravencoin works. In simple terms, Ravencoin supports the transfer of assets like securities, commodities, and even VDAs. This ecosystem is useful in that it can offer speed and security relevant to asset creation and even asset transfer.
What's important is that Ravencoin draws its identity from a fork of quintessential Bitcoin code, making it a secure proof-of-work chain. Bruce Fenton is the brain behind Ravencoin, as were Joel Weight and Tron Black. Crucially, Bruce Fenton served as Bitcoin Foundation's Executive Director for three years, starting in 2015.
Here are some additional Ravencoin insights.

1. Like Bitcoin, Ravencoin follows the UTXO model of existence, cutting double spending and ensuring better security.
2. Despite using a revamped version of the Bitcoin code — as it is a fork of the Bitcoin blockchain — Ravencoin manages to use a different mining logic.
3. From a use-case point-of-view, RVN, the native coin, is meant to facilitate asset transfers as a mode of transaction. And it is also regarded as a store of value, like BTC.
Over time, we can expect Ravencoin to bring voting systems and integrated messaging support to its ecosystem.
Ravencoin tokenomics and price forecast
First things first, the supply is capped at 21 billion. As of now, 58% of the fixed supply forms the circulating supply for RVN. But we aren't only interested in that part.
The token distribution methodology of Ravencoin makes the token model special. The launch didn't have an ICO. Instead, from the very start, RVN coins acted as miner rewards. For Ravencoin, the halving mechanism is still in play, which happens after every 2.1m blocks or roughly four years.
The tokenomics model, courtesy of the proof-of-work schema, makes us optimistic about the Ravencoin price forecast, especially in the long term.
Other key metrics and the future price expectations around RVN
If you are looking at RVN as a short-term investment option, here is a detail you shouldn't miss. The 4-week volatility metric is peaking again after the price rise. However, the chart suggests that every time the volatility peaked before, the price of RVN took a hit. The current development might therefore indicate some short-term consolidation.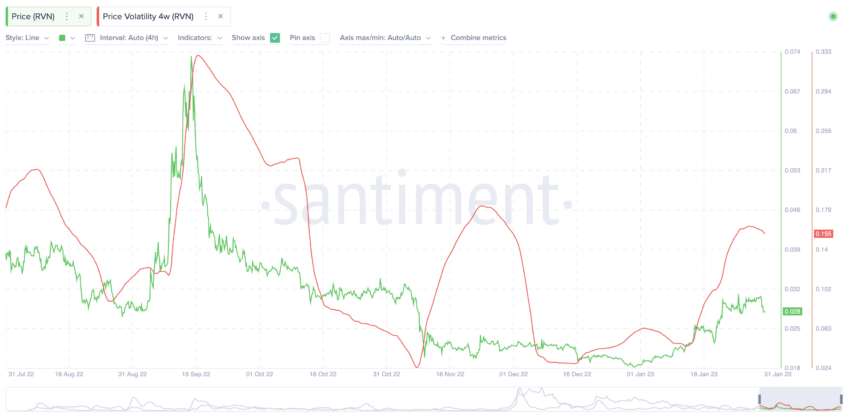 The historical chart of the social volume shows that any social activity relevant to Ravencoin can spur a price surge.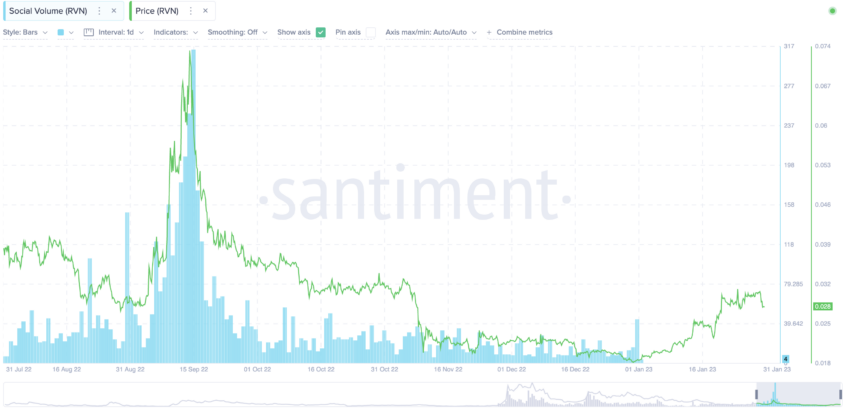 Here is Ravencoin's Twitter profile to keep you updated with the social sentiments and new developments around the project.
If you look at the market cap chart of RVN, you will notice the prominent higher-low formation. However, the market cap, for now, seems to be peaking, and if it crosses above the previous limit of $711.01 million, we might see the future price of RVN get a sizable boost.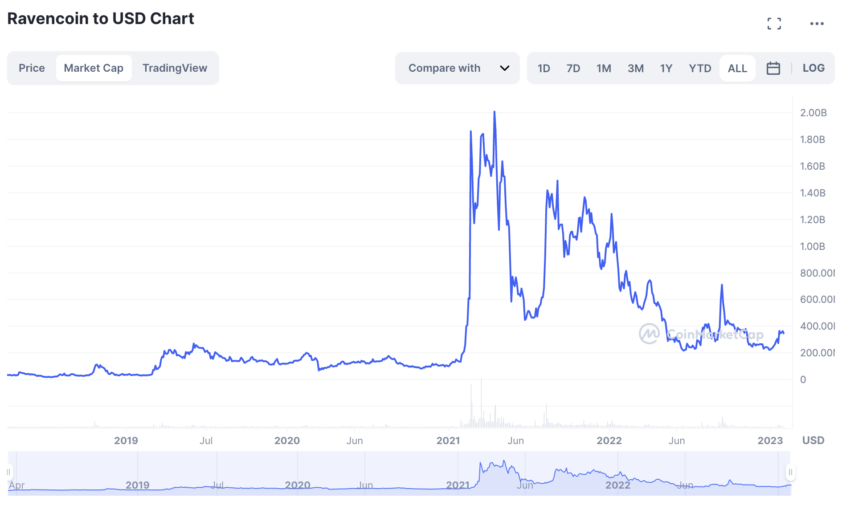 Overall, the additional metrics hint at some Ravencoin price consolidation. This brings us to the technical analysis — a segment we shall explore next.
Ravencoin price prediction and technical analysis
Before we go long-term with the Ravencoin price forecast, here is a quick daily chart for your reference, as you can see that RVN is close to completing a cup and handle pattern. Currently trading at $0.028, RVN needs to breach the upper trendline of the formed handle to scale higher, towards $0.0330 and $0.03355, respectively.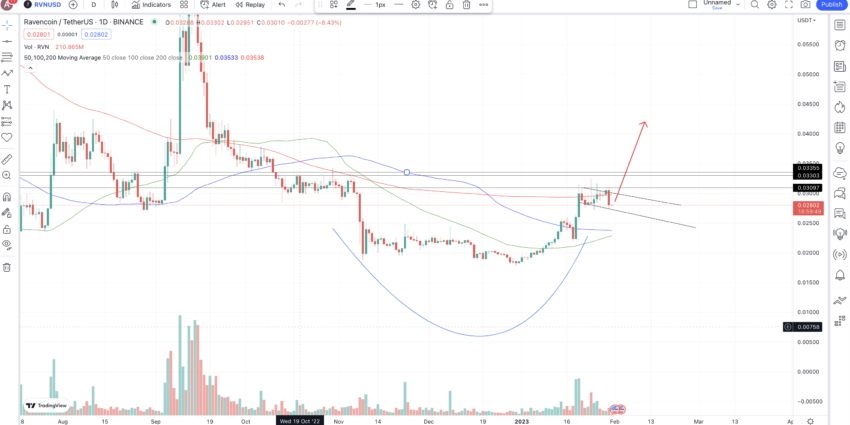 The green line (50-day moving average) seems to be closing in on the blue line (100-day moving average). If that crossover (golden) happens, we can expect the prices of RVN to break the mentioned trendline and head higher.
Let us go over the weekly chart to understand the broader pattern, if any.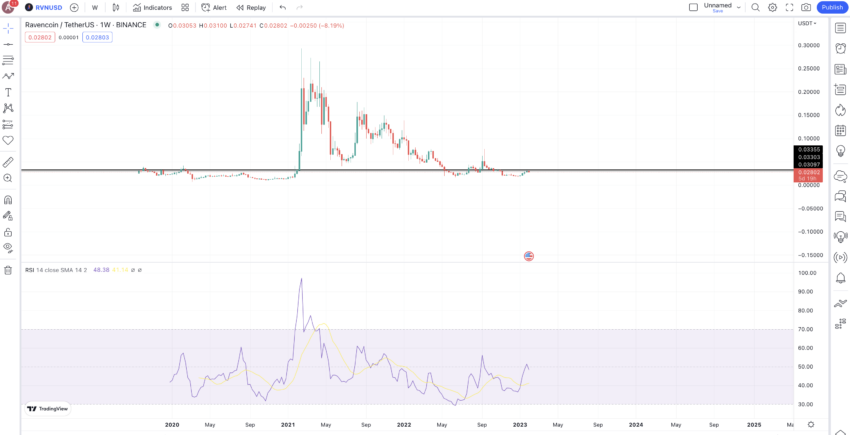 Pattern identification
The weekly chart shows the following pattern. RVN starts trading and makes a peak post a few trading sessions. Once there, the prices have been moving in a lower-high formation to date.
If RVN manages to breach above the previous high, we might expect the pattern to repeat as a mirror image or a foldback. And we are expecting that to happen for a host of reasons.
The two red arrow-like lines on the weekly chart show a bullish divergence. The momentum seems to be moving higher while the price remains relatively flat. Therefore, there might soon come a small price rally of sorts.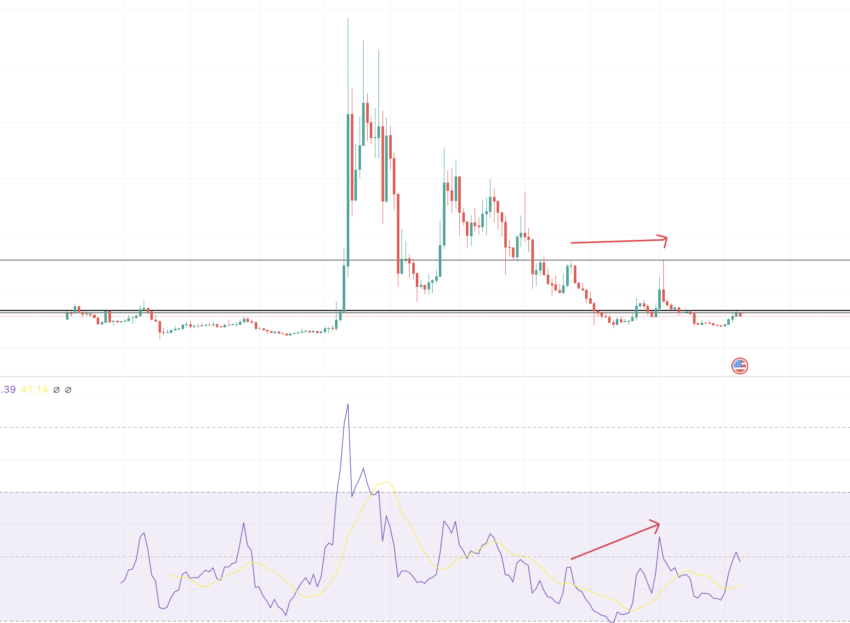 Let us now mark all the points on the chart to locate the price percentage changes and the time difference between those.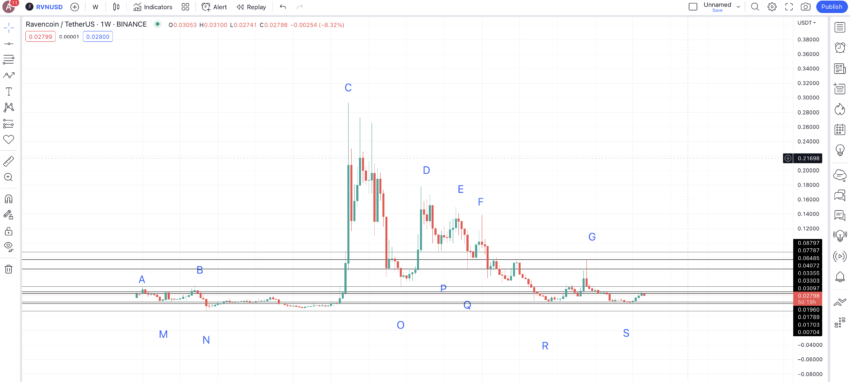 Price changes
The next task is to locate the high after S. If the next high is above G, we can mark it G1, which might kickstart a new pattern.
Let us take the price changes for the high-to-low points and low-to-high points across separate tables.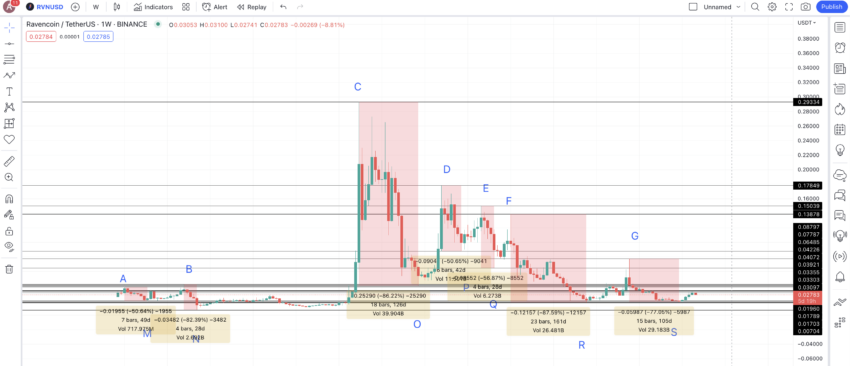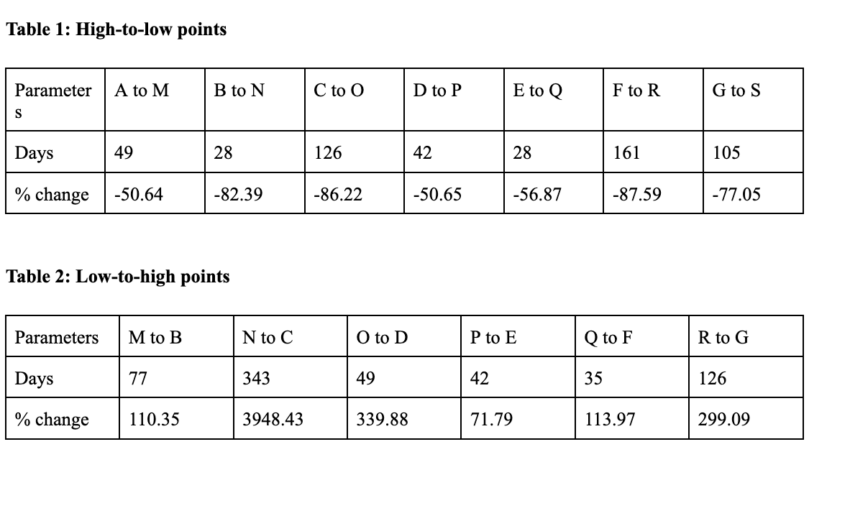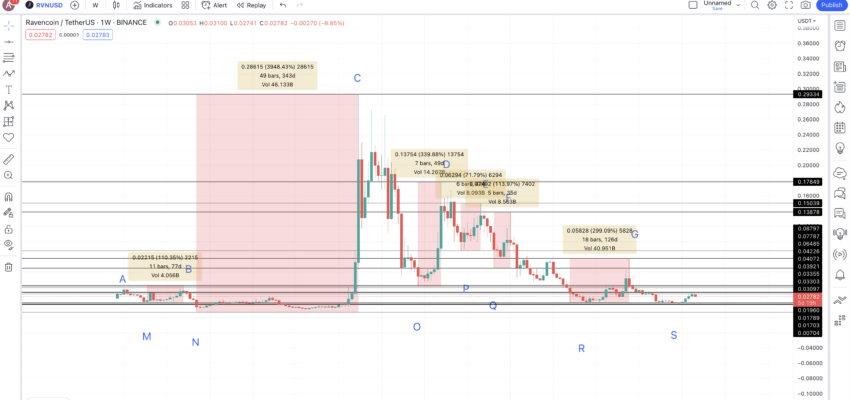 Using the tables above, we can locate the high-to-low average as -70.20% and 77 days. If the market conditions remain strong, the minimum drop percentage can be 50.64, and the maximum days taken can go as high as 161.
Similarly, the low-to-high average values are 828.43% and 112 days. In the case of bearish market conditions, the max growth percentage can be 71.79%, per table 2. The max number of days for the same or any other growth percentage to surface can be 343 days.
We will use the above-mentioned data sets to predict the future price of RVN.
Ravencoin (RVN) price prediction 2023
Outlook: Moderately bullish/neutral
We have the last low at S. Considering the current market conditions, we can expect RVN to go high by 71.79% (minimum hike) in 112 days. This puts the Ravencoin price prediction for 2025 at $0.03151, close to April.
This point follows the lower-high formation, and we can mark it as H. The next low, or T, can surface at $0.01960, which coincides with the previous support at S. This translates into a drop of 36.41% — lower than the minimum drop from the table above.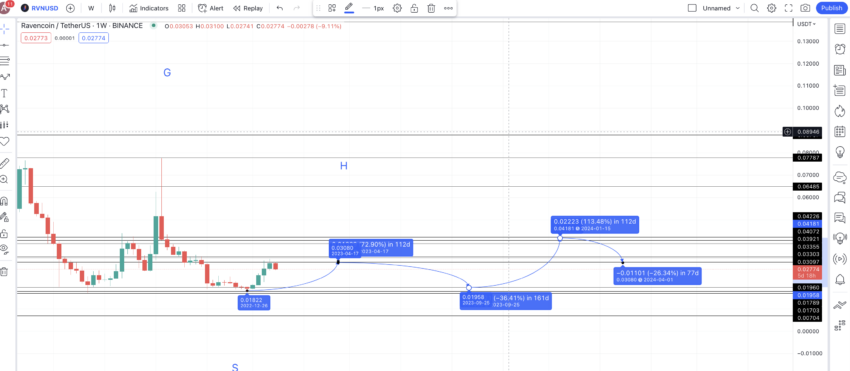 Do note the prices might go higher than the proposed high depending on the market rally. The projected highs and lows are the maximum average levels where we can expect the price of RVN to rest.
Projected ROI from the current level: 13.75%
Ravencoin (RVN) price prediction 2025
Outlook: Bullish
If 2023 takes support at $0.0196, the next high should follow a growth rate of over 100%. Taking support shows that buyers might end up preventing the price from dropping lower. And they might try their best to push the prices higher.
We can expect the prices to move up by over 110% —̉ 113.97% to be exact — per table 2. Also, if you remember our short-term price action, you will notice that $0.033 was a strong resistance level for RVN to breach.
This puts the RVN price prediction for 2024 at $0.0418.
The low from this level can take support at the previous high of $0.03080 — keeping the previous growth trajectory into consideration. Even the Fibonacci levels indicate that $0.03080 aligns with the 78.60% of the mentioned retracement indicator.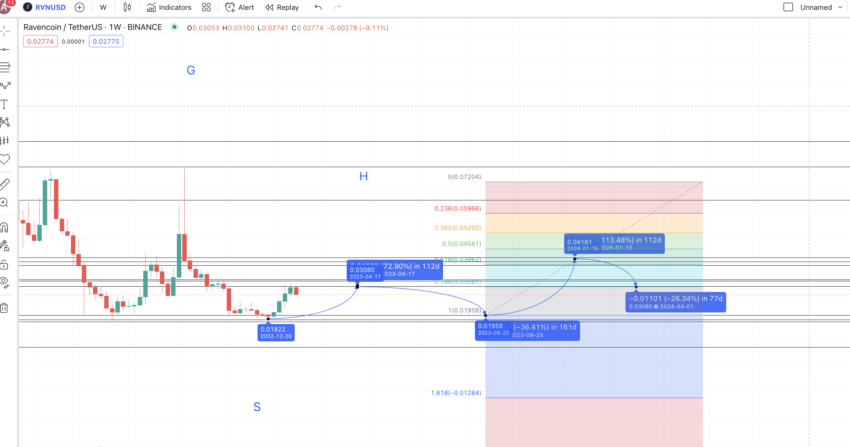 From $0.03080, we could again trace a high of 299.09% — considering the building strength at RVN's counter. As it is a sizable price increase, we can expect the timeframe to go as high as 343 days — the maximum from table 2.
This assumption might put the Ravencoin price prediction for 2025 at a high of $0.12290. And at this point, you can see a clear uptrend as the maximum price prediction for 2025 would finally cross above the previous pattern's high of $0.077 — which we marked as G.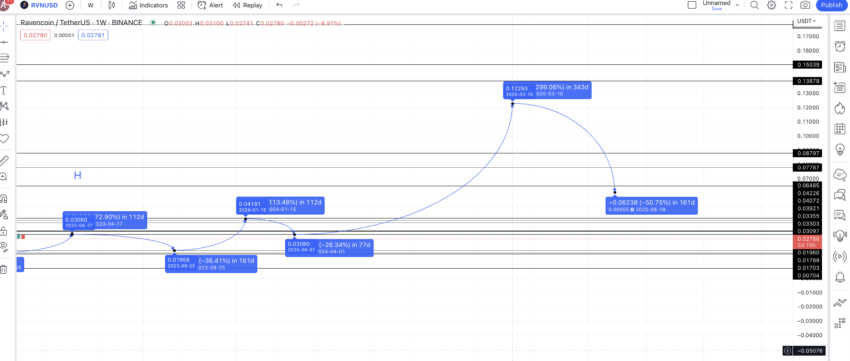 The minimum price prediction for 2025 puts the level at a drop of 50.64% — the minimum drop from the tables above. This surfaces at $0.060 — a level coinciding with the 78.60% Fib level — validating the calculations further.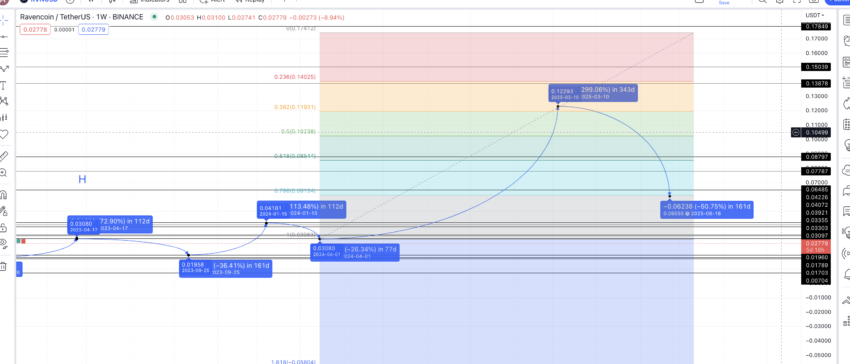 Projected ROI from the current level: 342%
Ravencoin (RVN) price prediction 2030
Outlook: Bullish
Let's assume that the crypto market turns bullish and the market cap of Ravencoin improves by 2025. If so, we can expect the next high to follow another 299.09% stint over the next 343 days (in a year). This would put the next high at $0.241. This could be the 2026 price prediction for Ravencoin.
Note: We expect the price to go up this much in 2026 as the next halving for RVN is slated for the same year.
Note that this could be the maximum average price in 2026, and the absolute future price might vary depending on the condition of the crypto market.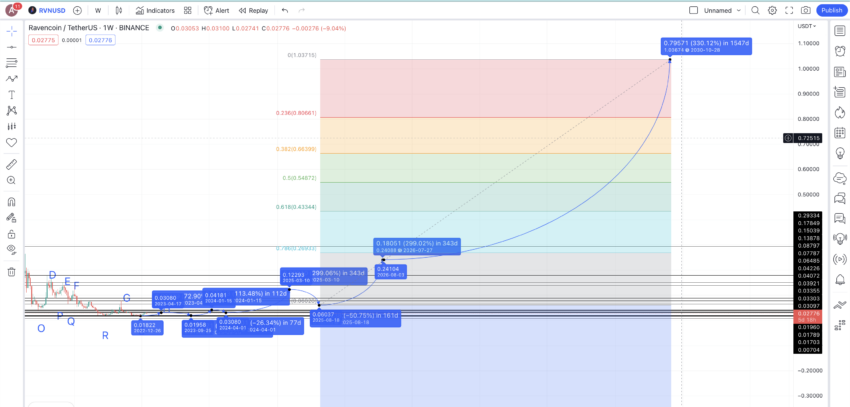 Now that we have the maximum price level for 2026 and the minimum price level for 2025, we can use the levels to extrapolate further.
If we trace the same growth path using the same slope, we can expect the price of RVN coins in 2030 to go as high as $1.036.
Projected ROI from the current level: 3630%
Ravencoin (RVN's) long-term price prediction (up to 2035)
Outlook: Bullish
Now that we have the price of RVN coins until 2030, we can extrapolate our Ravencoin price prediction theory to trace the average price points through 2035. And while the following table might help, it is important to note that the price history might evolve depending on the market sentiments and fundamentals of Ravencoin.
| | | |
| --- | --- | --- |
| Year | | Maximum price of RVN | | Minimum price of RVN |
| 2023 | $0.03151 | $0.01960 |
| 2024 | $0.0418 | $0.03080 |
| 2025 | $0.12290 | $0.060 |
| 2026 | $0.241 | $0.149 |
| 2027 | $0.3133 | $0.2443 |
| 2028 | $0.517 | $0.4032 |
| 2029 | $0.646 | $0.5038 |
| 2030 | $1.036 | $0.642 |
| 2031 | $1.398 | $1.09 |
| 2032 | $2.10 | $1.302 |
| 2033 | $2.72 | $2.12 |
| 2034 | $3.27 | $2.55 |
| 2035 | $4.09 | $3.19 |
Is the Ravencoin price prediction theory accurate?
This Ravencoin price prediction considers RVN's price history and short-term trends. We have also analyzed the fundamentals and tokenomics whilst putting together the RVN price model. Hence, this forecast theory is both practical and reliable. Of course the crypto market is volatile, and global events, both positive and negative, can impact the price of Ravencoin at any given time. Yet, this model makes a strong case for a bullish long-term price of RVN.
Frequently asked questions
Will Ravencoin reach 1 USD?
Our Ravencoin price prediction model expects the price of RVN coins to reach $1.036 by the end of 2030. Yet, the expectations aren't random. This is possible only if RVN manages to breach its previous all-time high of $0.2854 by 2027. 
What will Ravencoin be worth in 2030?
We expect the price of Ravencoin to go higher than $1 by 2030. This is due to its secure proof-of-work consensus, upcoming halving schedules, and growing network adoption. The specific average price expectation for 2030 would be $1.036, per our RVN price prediction model.
Is Ravencoin crypto a good investment?
Ravencoin seems like a good investment as it helps users and enterprises with intermediary-free asset transfers. Its peer-to-peer nature, PoW consensus, fixed supply, and Bitcoin-specific codebase makes it fundamentally popular. Finally, our Ravencoin price prediction model expects it to reach 1 USD by 2030.
What makes Ravencoin special?
It is Ravencoin's ability to work as a peer-to-peer network that makes it special. Moreover, it is a fork of the Bitcoin blockchain, boasting a similar halving schedule. Plus, it's proof-of-work and an UTXO-specific chain, which is known for eliminating the pet peeves like chances of double spending.
Disclaimer
All the information contained on our website is published in good faith and for general information purposes only. Any action the reader takes upon the information found on our website is strictly at their own risk.
At Learn, our priority is to provide high quality information. We take our time to identify, research and create educative content that is useful to our readers.
To maintain this standard and to continue creating awesome content, our partners might reward us with a commission for placements in our articles. However, these commissions don't affect our processes for creating unbiased, honest and helpful content.