Since the arrival of bitcoin 13 years ago, the evolution of crypto has been magnificent. It has revolutionized virtually all industries, from finance, art, and real estate to music. Now we have NFTs, which allow people to own assets with proof of authenticity. Furthermore, the growth brought about DeFi, enabling people to lend and borrow assets seamlessly and transparently.
Is there any length this new wave of technology won't cut across? Recently, one of the most surprising sectors disrupted by NFTs is food and hospitality industry. Crypto restaurant? NFT restaurant? What do these mean?
This guide will list the top 9 NFT and crypto-themed restaurants you can visit. But first, let's take a closer look at the current trend and industries leveraging NFTs.
How NFTs disrupt different industries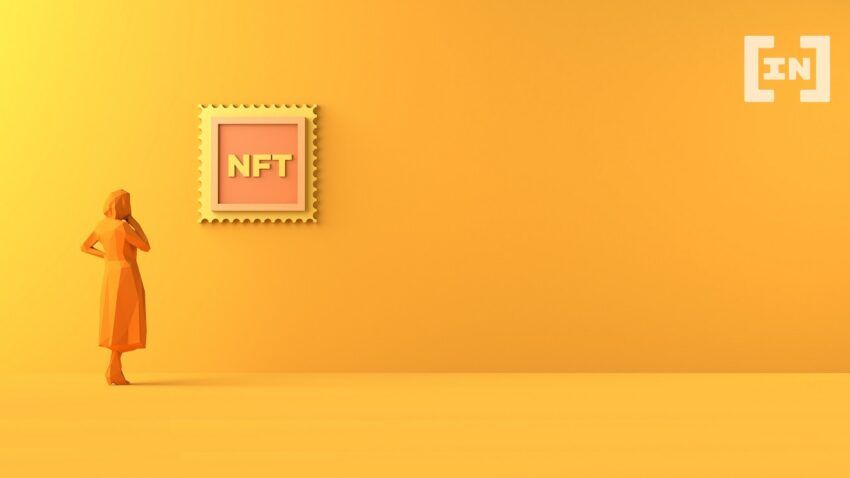 NFTs have unarguably gained much attention and become a real-world experience in the arts and entertainment worlds. Yet, beyond these preliminary use cases, many real-world business applications — from music to real estate to supply chain management and logistics — are still booming.
Music NFTs
In 2021, an artist auctioned digital content named Death of the Old for approximately $389,000 on NFT marketplace Nifty Gateway. This accumulated to about $7 million.
The idea of music might sound odd at first because you can literally buy music on iTunes, Spotify, and other streaming platforms. So, why NFTs? It is simple. People primarily find value in scarcity. Music creates certain bonds between artists and their fans, and NFTs give them access to their favorite artists' limited and rare musical works. Users can access discounted concert tickets, special areas at concerts, or meetups with the artist. Depending on how the artist wants to leverage the NFTs they put out.
NFT in real estate
Another sector NFT is disrupting is real estate. This idea revolves around owning tokenized land and digital land on a metaverse platform. Platforms such as CityDAO, Landshare, etc., allow you to own tokenized land. On the other hand, Decentraland, The Sandbox, and Axie Infinity allow you to explore their metaverses and own virtual land.
Currently, there are about 90,000 pieces of land on Decentraland, and more than half have already been sold. In late 2021, the platform sold a plot of land for more than $900,000.
Other platforms harnessing these sectors are The Sandbox, Silks, and Axie Infinity. Proven use cases for owning NFT land are advertising, socializing, gaming, and work. Users can also earn money with their lands by hosting events such as concerts, runaway shows, display content, and more. Fortnite's Travis Scott concert with millions of watches is a good example. Other examples include events involving Snoop Dog and Jay-Z and brands such as Adidas.
But what is an NFT restaurant?
NFT restaurant is a unique food outlet that allows users to access its services by owning a unique digital asset. Simply put, NFT restaurants enable users who hold their native token to access their club.
Previously, big food brands like McDonald's, Pizza Hut, and Burger King have used NFTs as fast-food collectibles. This paved the way for a more use case of NFT in the restaurant industry.
Flyfish Club, for example, is a membership-only restaurant that is only available to those with NFTs.
There are many other rising crypto-themed restaurants incorporating the use of NFTs into their services. Let's examine how they use these NFTs.
Top 9 NFT and crypto-themed restaurants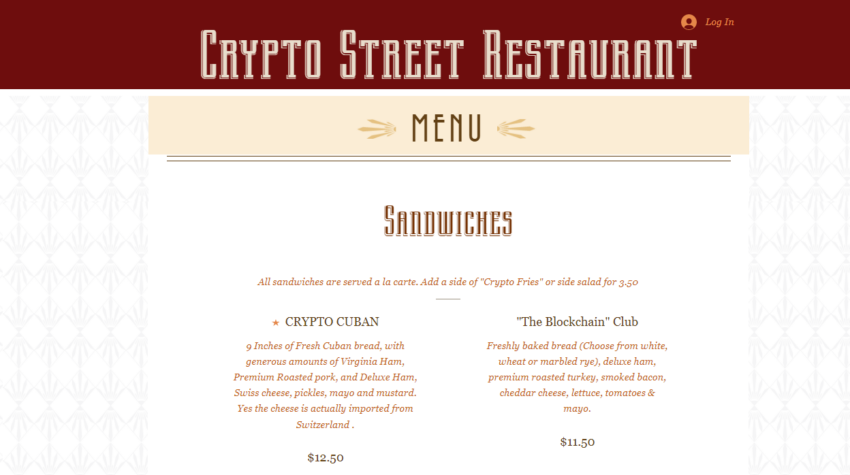 A crypto-themed restaurant, Crypto Street Restaurant, opened on Dec. 2021 in Clearwater Beach, Florida. The restaurant menu offers various foods, ranging from Native American burgers to South American and Spanish foods. The names of each dish are pegged to popular cryptocurrencies. For example, hot dogs are tagged "Dogedog," sandwiches as "Crypto Cuban," brownie sundaes as "To The MOOOONNN!," and salad as "DeFi caesar."
Ultimately, the restaurant appears to be leveraging its space to get more people into crypto, as stated by the founder, Ricardo Varona. He founded the restaurant after a conversation with his 24-year-old son, who reportedly explained the importance of cryptocurrencies and their use cases to him. He is looking to convince more people and get them in the crypto space, driving away misconceptions.
The restaurant involves an environment that gets people talking about crypto. The walls and facade include art that depicts bitcoin symbols and quotes from Elon Musk. The bistro also features illustrations from the Dogecoin — dog meme, Elon's "To the moon," and other quotes from Jeff Bezos.
In an interview with Tampa Bay Times, Varano stated that the restaurant had made a few transactions in crypto and many people are interested in venturing into it. So far, they accept payment in bitcoin, ethereum, dogecoin, and other popular cryptocurrencies. Some other sources also confirmed that since the conception of the restaurant, he's helped many visitors set up accounts on Coinbase.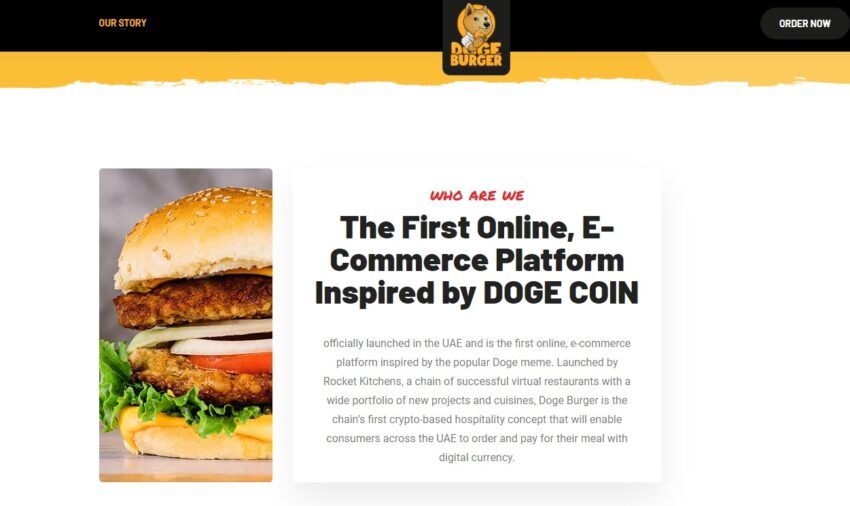 Dogeburger is the first crypto-themed restaurant in Dubai. It allows people across the UAE to order burgers and other related food with crypto. Started in Feb. 2022, the online retail e-commerce restaurant aims to ease the process of ordering foods for crypto holders and publicize the whole concept of cryptocurrency to the untapped market of the United Arab Emirates.
It was launched by Rocket Kitchens — a chain of virtual restaurants and was inspired by the popular memecoin Dogecoin (and meme).
The cloud restaurant offers door-step delivery to people, and its packaging is completely Dogecoin-themed. Its carton is rocket-shaped, and "to the moon" is well written on top of it. Also, the bottom of the package reads, "I love cryptocurrency."
Currently, Dogeburger accepts all popular cryptocurrencies, including bitcoin (BTC), ethereum (ETH), binance coin (BNB), dogecoin (DOGE), cronos (CRO), tether (USDT), shiba inu (SHIBA), and ripple (XRP).
According to its website, Flyfish Club (FFC) is the world's first NFT restaurant that features a private dining club where membership can be obtained as NFT. To become a member, you have to buy it on the blockchain via NFTs and hold the token, after which you gain access to the various services offered by the restaurant.
While the world's first NFT restaurant is scheduled to open in 2023, it is already making waves in both the crypto space and the food industry. Its exact location in New York City has not been disclosed yet. However, the managers have made it known that it will only be available to Flyfish token and NFT holders. This means that you need to be a crypto guru and have your fat crypto portfolio handy to even be a participant.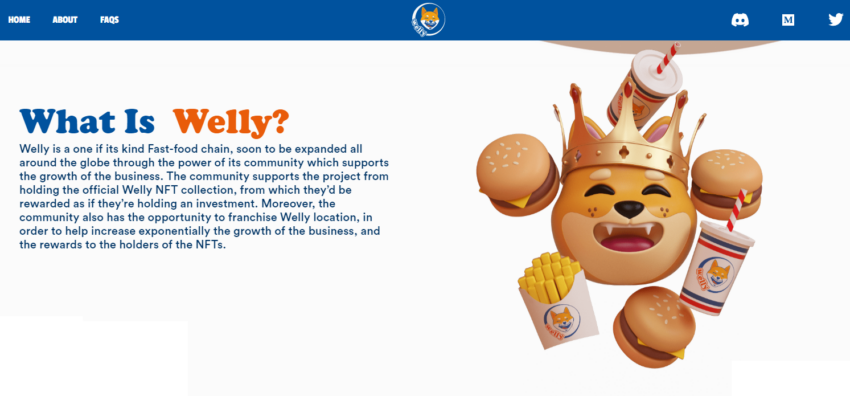 This is the first Shiba-Inu-inspired fast-food restaurant. Based in Sannazaro, 4, 80122 Napoli, Italy. In Feb. 2022, Shiba Inu's lead developer Shytoshi Kusama disclosed an unusual and first-ever SHIB-based restaurant named Welly's. This partnership is expected to help Shiba Inu gain mainstream attention with delicious SHIB-labeled dishes.
The restaurant will be backed by the SHIB community and will run on blockchain technology. This Shiba Inu "real life" use case is intended to make the common man understand the actual meaning of what Shiba Inu represents. Reaching mainstream adoption will help boost and solidify the coin in the market.
Upon Welly's and SHIBA partnership, Shytoshi further stated that they looked for a new and powerful team of restaurateurs that were willing to completely rebrand their company to fit into Shib's real world and technology heap.
Currently, Welly's-SHIB restaurant, based in Napoli, Italy, accepts payment in Shiba, and they track the food they put out using what is called Shibarium. The team is also working on perfecting this present partnership. They are exploring the best ways to position the NFTs while improving scaling solutions such as location, menu, storage, price, and logistics.
Another NFT-based restaurant to note is Piya. Still in development, this restaurant concept will be in Miami. Piyarat Potha Arreeratn, popularly known as Chef Bee, is best known for his Miami restaurant Oishi Thai, which opened in 2005. In Feb. 2022, it looked to delve into the world of NFT, hosting Piya, the first NFT restaurant based in Miami.
There's no specific location for the proposed restaurant yet. However, Librati, who is working with both FanVerse and Cere Network to mint, sell, and promote Piya's exclusive NFT, explains that the restaurant will offer three different locations in one.
This will involve a Thai-based restaurant listed by Chef Bee, a private omakase dining room, and a fast-casual area where NFT gurus will attend and have access to exclusive events.
Unlike Flyfish club and other member-based restaurants, the NFT won't be expensive. As explained by Librati, they are looking to launch and allow many people who are interested in joining and having access to the restaurant. They want people to learn and socialize at the same time.
Presently, the token sale has not been made available. However, a presale is already going on, and they are looking to raise between $5 to $7 million for the space.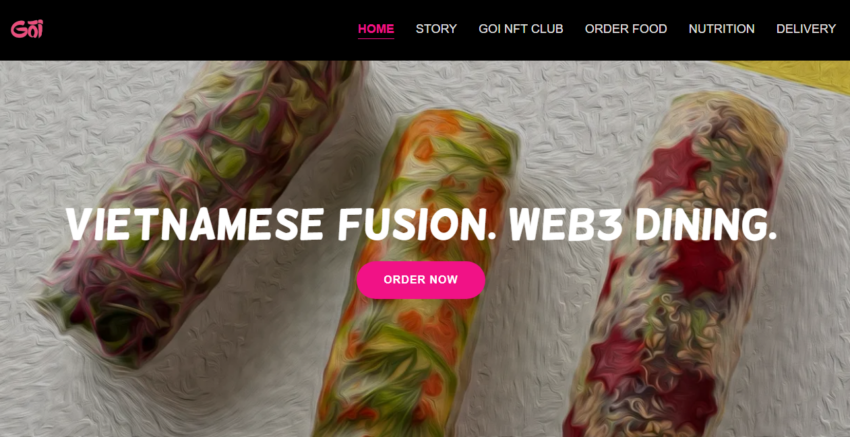 The United Arab Emirates is undoubtedly one of the countries harnessing the restaurant space. At least two companies have begun selling NFTs of food. GOI Rolls claims to be UAE's first restaurant to create unique NFT summer rolls in their Web 3.0 space. With every NFT minted, users can claim 50% of its value for real-life food at their restaurant in Jumeirah.
GOI is essentially a Vietnamese blended food concept offering good food. The summer rolls have their distinct names and identity, which can be viewed on the NFTs, so users can identify and utilize them. Founded by a set of food lovers, GIO initially didn't have a location but was based on huge demand. It established a kiosk around Ripe market Academy Park on Umm Suqeim Road.
The GOI menu entails gourmet rice paper rolls and Vietnamese delicacies such as Pho, Goiyoza, and Bao Buns. The menu list covers both vegans and non-vegetarians.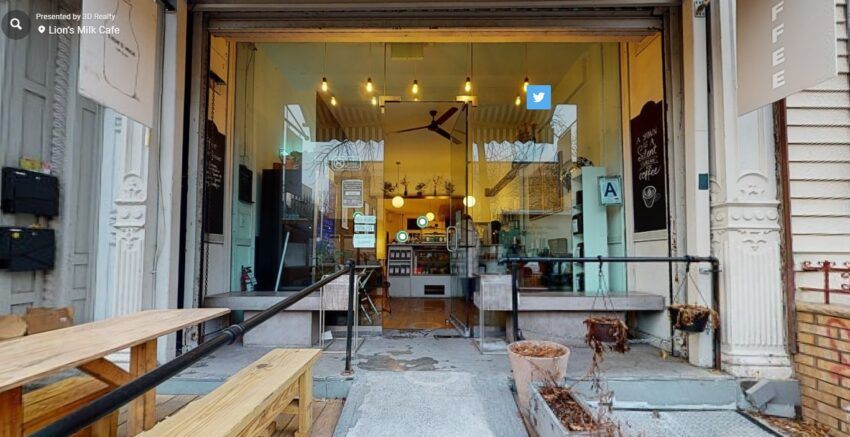 Lion's Milk Coffeeshop is an NFT cafe that features profile picture NFTs, often known as PFPs. In Nov., during the New York City NFT display, the cafe displayed all kinds of NFTs, and it's often regarded as the first NFT cafe. Also, it is committed to receiving crypto for transactions in-store, and it also hosts events for NFT communities.
While it remains unclear whether it became the first NFT cafe, the platform hosts the first-ever personal event for holders of the Fluffy Polar Bear NFT.
Located in Brooklyn, the cafe has poised to be the best spot for the NFT-savvy to enjoy a cup of coffee. Lion's Milk Cafe is looking to improve on accepting crypto payments in-store as ether might not be affordable for users due to fluctuating high gas fees.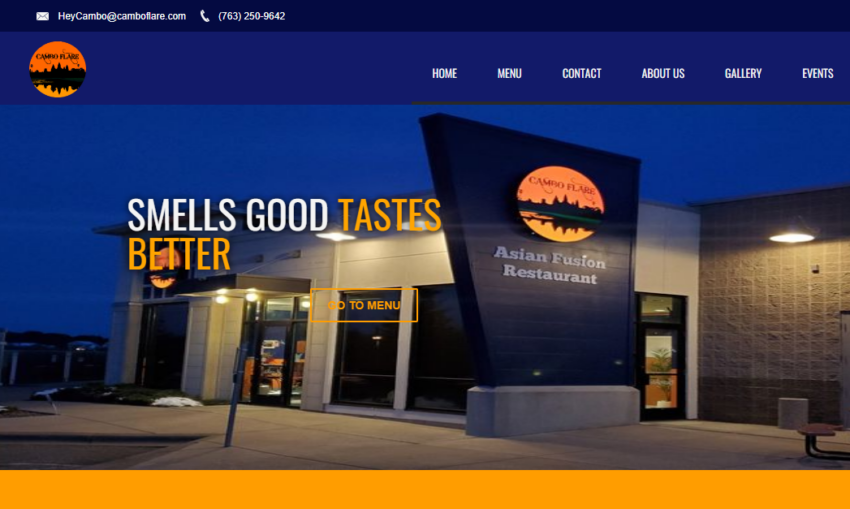 While the incorporation of crypto payment has been quite slow in the restaurant industry in the United States, some restaurants like CamboFlare are offering captivating offers to attract the common man into the crypto space.
The restaurant's menu includes various meals ranging from Native Asian meals to American dishes. Some of them include king oyster mushroom-based broth and grilled pork taco.
CamboFlare is an Asian fusion restaurant in Lake, Minnesota. It opened in November 2020 and has since then embraced the payment with crypto. So far, it accepts payment in bitcoin, ethereum, and dogecoin. The restaurant is looking to build its own token called Cambocoin to ease the whole process of payment.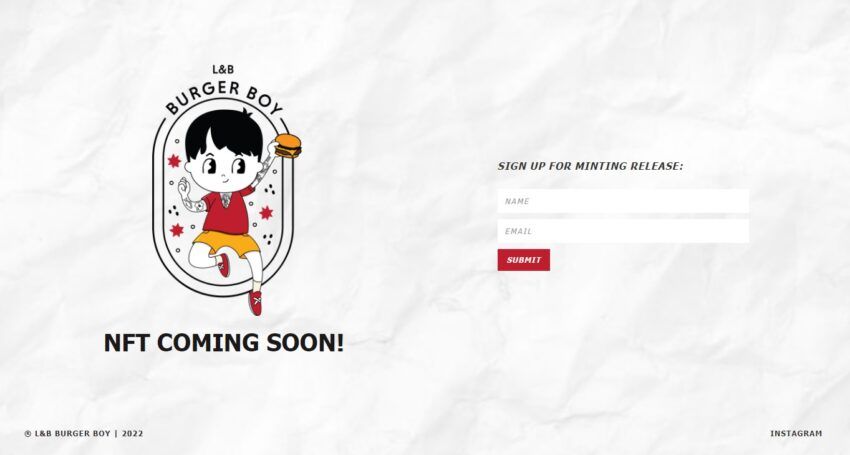 Over the last six months, chef Brad Miller and restaurateur Luke Tabit have tasted and tested hundreds of burgers. Aiming to create a new scrumptious burger, the two friends and former coworkers experimented with several cheese slices to see how they melted and tasted.
Taking a deeper look at the process, they blended various ground beef mixtures and consumed copious amounts of special sauce to make sure they stick together.
With each component souped-up and fully loaded, their Original Burger Boy might be the Rolls-Royce of smash burgers. The chuck and short rib patties are precisely blended. Two slices of Borden American cheese and four mount olive slices.
NFTs of the iconic "Burger Boy" include the "Fancy Boy," which features the classic youngster dressed more formally with a bowtie, mustache, and tophat. Other alternate characters include the "Moon Boy," who wears a space helmet and is a space-themed counterpart of the conventional burger boy.
Upon launch, associates will have access to 9000 NFTs. The price of each NFT mint ranges from 0.5 to 0.1 ETH. Once sales commence, the proceeds will be used to organize food and NFT-related activities.
Will NFTs disrupt the food industry?
To many, the concept of NFT and crypto in the food industry might still seem implausible. However, you only need to examine the current trends of NFTs, digital collectibles, and the food industry to grasp how the crypto space has truly evolved.
As stated above, there are numerous restaurants incorporating NFT and crypto at large into this industry from different angles. Apparently, NFTs allow restaurants to be creative and reimagine common delivery of food, at the same time ease the whole process for both crypto fans and food lovers.
Frequently asked questions
What is NFT in food?
NFT typically represents proof of ownership, allowing restaurants to verify a diner's credentials. More importantly, NFT in foods allows holders to monetize their membership by selling or leasing their assets. It can also be used as fast-food restaurant collectibles.
What is an NFT burger?
NFT burger can be a collection of unique burger characters. And in the food industry, it can be an incentive offered by a crypto-themed restaurant.
Do restaurants accept cryptocurrency?
Yes, some do. Restaurants like Welly's, Flyfish Club, Crypto Street Restaurant, Piya, Original Burger Boy, and Goi Rolls accept crypto as a payment option. 
What does an NFT restaurant mean?
NFT restaurant is the latest buzzword in the NFT and food industry. It basically involves a unique food outlet that gives users access to their services with crypto assets or NFT.
What is an NFT pizza?
NFT pizza can be one of two things. It can be a generated piece of art by a platform called Rare NFT pizza, and it can also be a real pizza offered by crypto-themed restaurants. You can purchase these pizzas either by NFT or crypto assets like ethereum.
Disclaimer
All the information contained on our website is published in good faith and for general information purposes only. Any action the reader takes upon the information found on our website is strictly at their own risk. At Learn, our priority is to provide high quality information. We take our time to identify, research and create educative content that is useful to our readers. To maintain this standard and to continue creating awesome content, our partners might reward us with a commission for placements in our articles. However, these commissions don't affect our processes for creating unbiased, honest and helpful content.