Blockchain technology has opened up a world of opportunity for game enthusiasts in the last few years. As NFTs grow in popularity, play-to-earn games have allowed players to incentivize their in-game assets through direct ownership. Games like League of Kingdoms are becoming the next big trend in crypto circles, and it's no surprise. People want to be rewarded for their activities, and some have even turned this hobby into a legitimate passive income. Discover what it takes to earn while battling enemies, forming alliances, and building strong kingdoms in this comprehensive League of Kingdoms review.
Want to get all the hottest news and reviews on the best crypto projects? Join BeInCrypto Trading Community on Telegram: read news, discuss crypto, ask for technical analysis on coins and get answers to all your questions from PRO traders & experts! Join now
What is League of Kingdoms?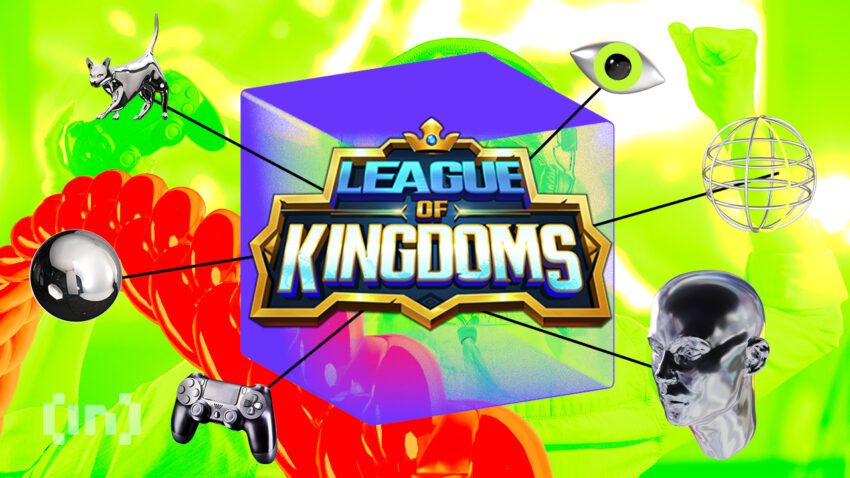 League of Kingdoms is a blockchain-based NFT and play-to-earn game that allows gamers to build kingdoms, form strategic alliances, and outwit enemies in battle. Built on the Ethereum blockchain, the game is considered the world's first MMO (massively multiplayer online) strategy, owned and powered by its users. This is due to blockchain technology's governance system, where players have a say in decisions regarding the game. League of Kingdoms is free to play and available on both mobile and PC. Do note that the land acquired and other in-game assets are non-fungible tokens and can be traded in a marketplace.
League of Kingdoms review: a look at the gameplay
The main objective of the League of Kingdoms game is to build powerful kingdoms and battle enemies in war. Players are encouraged to build alliances and collect valuable resources such as crystals, lumber, or food that strengthen gameplay. Below are some of the key elements when it comes to playing and winning the game.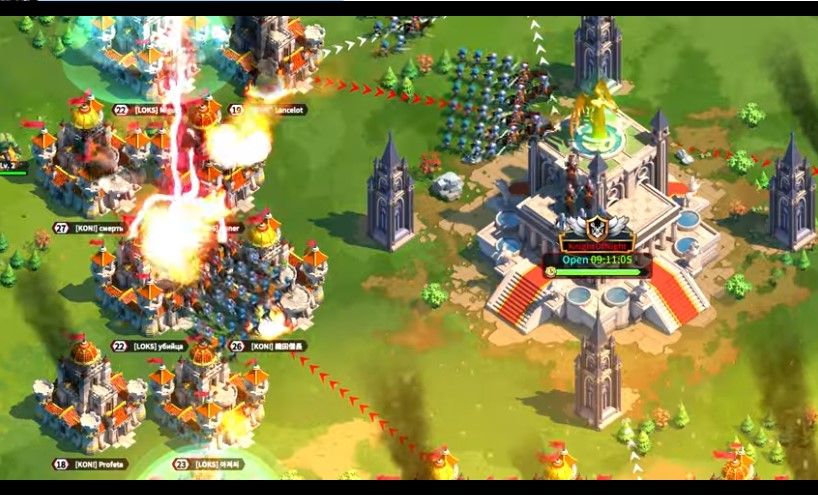 Kingdoms
All players start with a primitive castle in a kingdom that will require development and fortification. The stronger the kingdom, the better it is to resist external threats. The kingdoms provide different types of buildings, such as markets and barracks, that can be used strategically as protective shields. Each kingdom is divided between an interior castle and the outer fields. Additionally, facilities can be built and resources mined within these headquarters.
Alliances
Players should join forces with their friends via Alliances to gain strength for battles. Together, groups fight against other players or other alliances. This strategy helps you in battle and gives you an extra advantage when your kingdom is under attack. Also, starting the game without an alliance may result in consistently being raided and looted.
Battle
Players participate in battles against monsters or real players to obtain loot and rewards. Moreover, users can attack each other's cities to plunder resources. Also, during PVP battles, troops on both sides fight each other. Depending on the strength of the characters, troops may get injured or prevail. At the start of the game, players get a protective shield that will keep them safe for 72 hours.
Drago
Dragos are customizable in-game dragon creatures that also serve as NFTs. They can be purchased on the main site's marketplace or on OpenSea. Players can adopt, breed, and use them in the game and earn DST (Dragon Soul Token).
League of Kingdoms review: token ($LOKA)
The LOKA (League of Kingdoms Arena) token is the native governance token and the project's cornerstone for the game's metaverse expansion. It is used to propose and vote on on-chain governance proposals. Also, the token is utilized as the in-game currency for all store purchases. The currency is earned through in-game competitions or achieving special tasks depending on the battle performance. LOKA is currently valued at $0.32, with a market capitalization of $24,374,24.
Circulating Supply 73,874,861.15
Max Supply 500 million
Total Supply 157,817,308
Staking
Investors can stake their LOKA. To compensate for lock-up costs, the platform offers yields based on the staking reward pool — 20% of the total supply. Staking can be done on Binance with a 2% APY and flexible duration.
Tokenomics

At the token generation event, 10.14% of the total supply was unlocked. The remaining LOKA tokens were issued/unlocked and allocated based on the below schedule.
Price history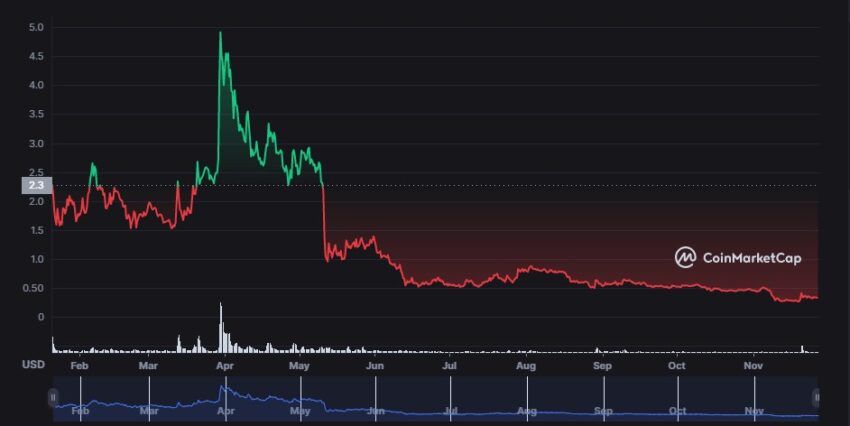 During the ICO, the price was set at $0.16. LOKA held a stable price range in 2021 until it hit its peak on April 2, 2022, when the price shot up to $5.37. Soon after, the price continued a steep downtrend with another blow to its value between May and June 2022. LOKA hit its all-time low of $0.26 on Nov. 13, 2022.
Where can I buy and trade ($LOKA)?
The League of Kingdoms LOKA token can be purchased on most major centralized and decentralized exchanges. These include:
Centralized Exchanges
How can you earn on League of Kingdoms?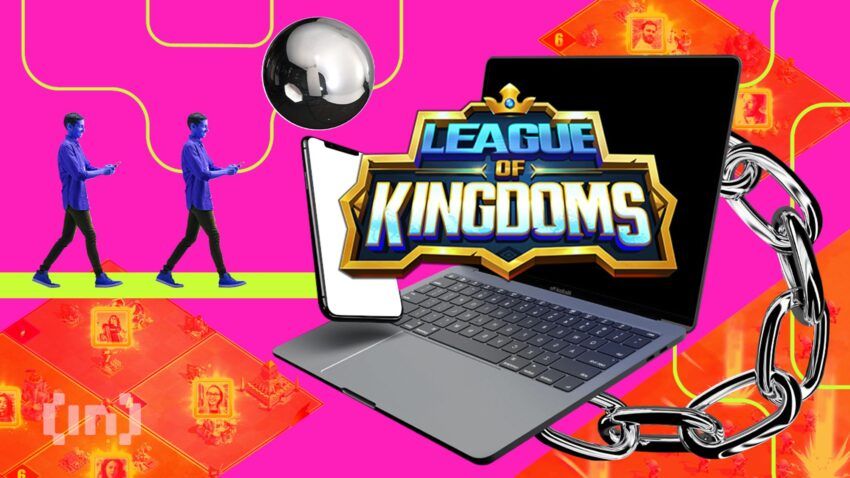 One of the most rewarding features of blockchain-powered NFT games is the chance to win rewards and real cash value. The various ways in which players can earn while playing League of Kingdoms include:
Owning land – Players earn daily DAI rewards by owning NFT lands. In addition, 5% of resources harvested from players on their land is distributed among land owners in addition to 10% of profits from the in-game purchases.
Trading land – You can earn money when your trade your land with other players.
Farming resources – Resources in the game include corn, gold, stone, lumber, and crystals that can be minted and sold on the marketplace. They can also be combined to create other valuable resources for profit.
Adopting Dragos – Players earn DST by adopting and breeding Dragos. Both DST and LOKA tokens will be needed to breed Dragos.
League of Kingdoms review: NFTs and virtual land (LAND)
Land properties are virtual real estate NFTs in the game that run on the Ethereum blockchain. They can be purchased directly from the League of Kingdoms Land page, on OpenSea, or PlayDapp. There are 65,536 LAND tokens (or parcels) available for purchase, with a small fraction already taken. Each Land features a 4×4 scale with a capacity to hold up to 16 kingdoms. Other assets in the game that can be traded as NFTs include Dragos, ancient artifacts called Totems, and resources such as food, lumber, and stone.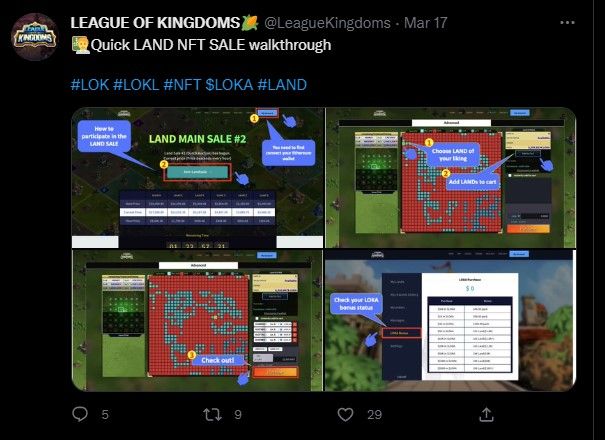 Who founded League of Kingdoms?
League of Kingdoms was launched in early 2020 by Android game developer NPLUS Entertainment and Korean game studio NOD Games. Co-founder of NEXTMATCH, Chan Lee, serves as the CEO alongside COO Han Yoo and CTO Steve Hwang. The project's well-known investors and partnerships include Sandbox, OpenSea, Binance Labs, Yield Guild, Token Pocket, and Hashed.
Is League of Kingdoms safe to play?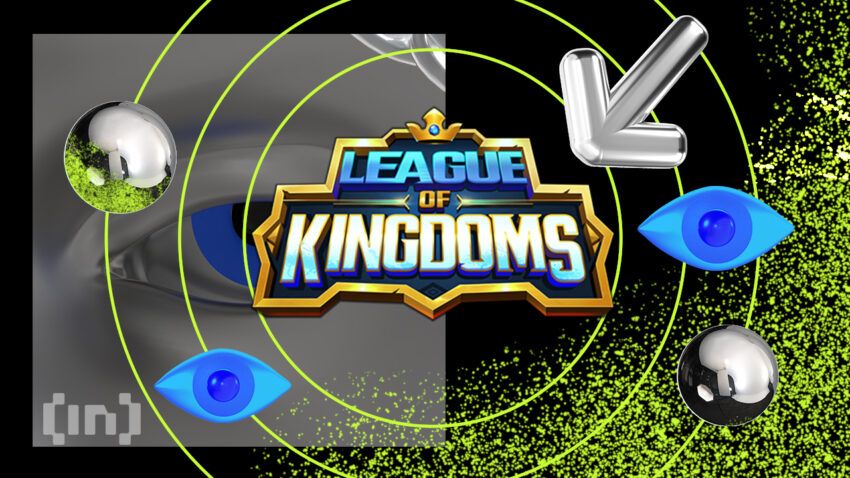 The game and the player's assets are safe due to the underlying technology that governs the system. Since users retain complete ownership of their in-game assets, it allows more freedom and control. Moreover, blockchain technology provides a secure infrastructure for gameplay activities using private and public key integration. Data encryption further ensures nothing is hacked or tampered with.
League of Kingdoms review: P2E offers a new twist to strategy games
For players who appreciate games like Clash of Clans or Rise of Kingdoms, League of Kingdoms offers a rewarding upgrade. The game allows players to retain key core elements of game-play, such as building kingdoms and vying for domination while battling enemies. However, this time, players are rewarded with real value. This means it's possible to earn a reasonable passive income if done correctly. Users have complete ownership and control over their in-game assets.
In all, League of Kingdoms offers a fun P2E model, so far executed well. With real estate purchases offering NFT ownership and a metaverse landscape, League of Kingdoms is currently one of the superior games in the blockchain space.
Frequently asked questions
Is League of Kingdoms free to play?
Yes. League of Kingdoms is free to play and can be played on either mobile or desktop. So, no land ownership is required to join. For mobile devices, the game is available on both iOS and Android.
How much Does LAND Cost in League of Kingdoms?
Anyone who wants to purchase LAND can do so OpenSea. Considering the large collection available, land parcels will have different prices. The cost ranges from a price of 0.14 ETH to 15 ETH.
What Resources are used in League of Kingdoms?
Players are encouraged to expand and grow their armies by gathering resources. There is a variety from which to choose. The resources available in League of Kingdoms include corn, lumber, stone, gold, and crystals.
Is League of Kingdoms fun to play?
League of Kingdoms is similar to Clash of Clans, and it allows players to battle against a large number of people at once. With real estate purchases offering NFT ownership and a metaverse landscape, League of Kingdoms is one of the most entertaining P2E games currently on the market.
Disclaimer
All the information contained on our website is published in good faith and for general information purposes only. Any action the reader takes upon the information found on our website is strictly at their own risk.
At Learn, our priority is to provide high quality information. We take our time to identify, research and create educative content that is useful to our readers.
To maintain this standard and to continue creating awesome content, our partners might reward us with a commission for placements in our articles. However, these commissions don't affect our processes for creating unbiased, honest and helpful content.