There is no shortage of high-quality blockchains and crypto projects to invest in. But not many come close to Internet Computer (IC) when it comes to web3 and smart contracts. We will consider Internet Computer and its native token ICP, as we build an ICP price prediction for short and long-term investors.
But why Internet Computer (ICP)? Run by the DFINITY Foundation, Internet Computer is a decentralized platform that lets you run DApps at scale. They have well-fed canisters that act as smart contracts. Internet Computer has the technology to usher us into the era of the new internet, with decentralized experiences decentralized and endless scaling. Any app or even metaverse service can use an Internet Computer as its backbone. And that's just the tip of the iceberg.
With functionalities such as these, the mainnet and the native token ICP is expected to maintain relevance. So let us delve into this Internet Computer (ICP) price prediction piece and understand more about its fundamentals and price charts.
#BonusHunter | Best bonuses you can get with ICP🔥
Internet Computer (ICP) price prediction using fundamental analysis
Before we move to the price action, here are the project's fundamentals:
Internet Computer aims to become a world computer of sorts, helping users transition from web2 to web3.
It is the first blockchain offering to provide end-to-end and total decentralization without needing server-based resources and centralized services.
ICP, the native token, is used up during computations. Hence, the higher the network adoption, the more deflationary ICP can get.
The DAO managing the Internet Computer blockchain supports ICP staking.
It also works as a store of value.
It is a truly decentralized blockchain comprising subnet blockchains.
Motoko and Rust are the programming languages meant for developing IC smart contracts
It has Andreessen Horowitz as one of the investors.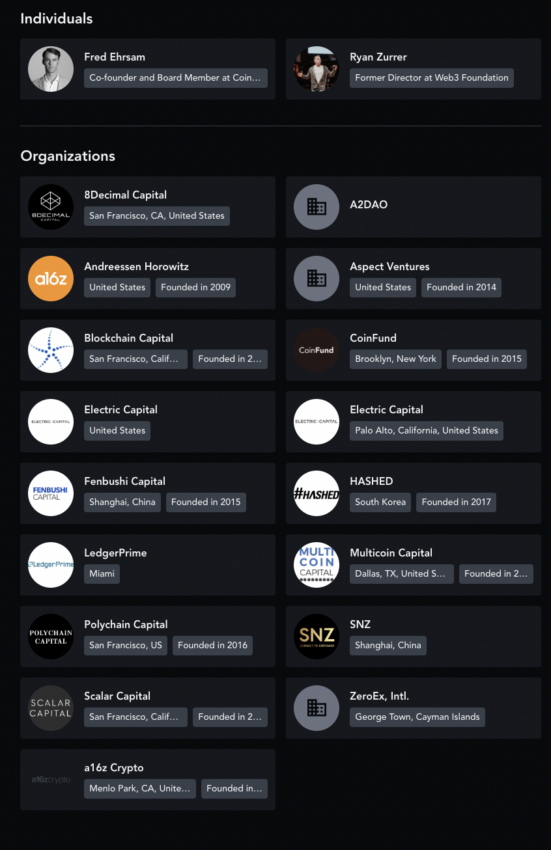 If you want to get into the more technical aspects of the Internet Computer blockchain, check this whitepaper.
Internet Computer is a unique blockchain, and the price action is likely to kick off once web3 becomes mainstream.
Internet Computer (ICP) tokenomics
ICP has an initial supply of almost 470 million tokens. The launch style was primarily private sales and airdrops. Still, the Dfinity foundation and team members hold almost 42% of the total supply. This might be a red flag, especially if selling pressure comes knocking.
Here is how the three funding rounds went down for ICP: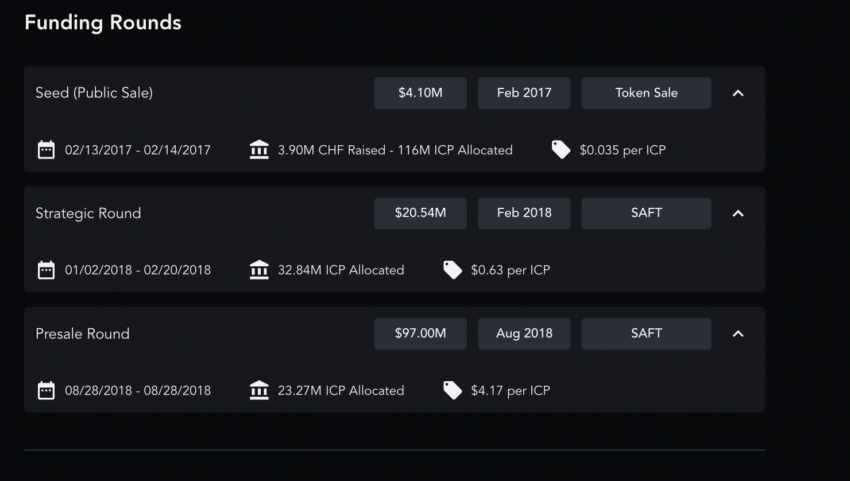 Here is the initial breakdown of supply, with almost 37% going to retail investors.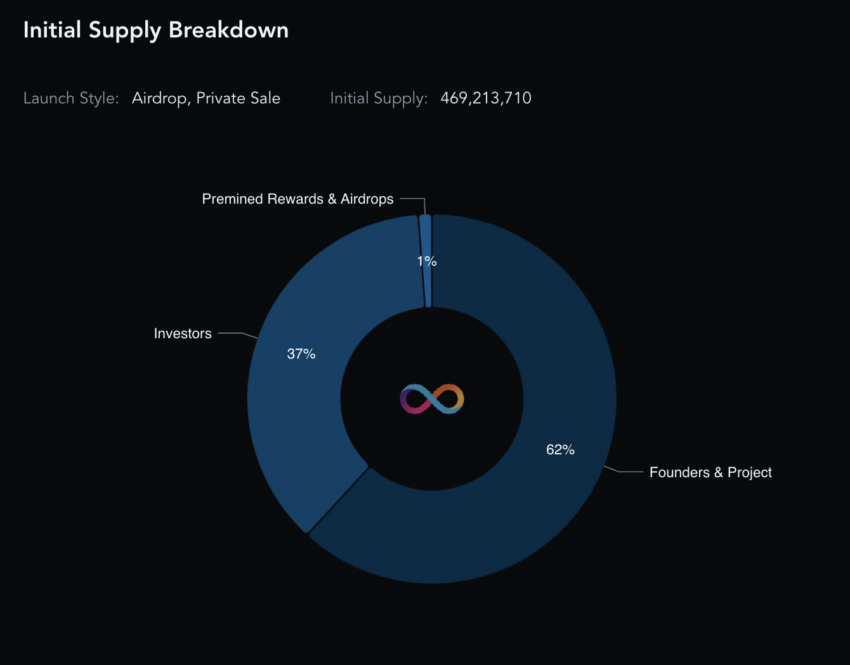 Internet Computer price prediction using market cap and trading volume
The market cap and trading volume comparison of ICP can help us understand how volatile the ICP is today compared to its peak.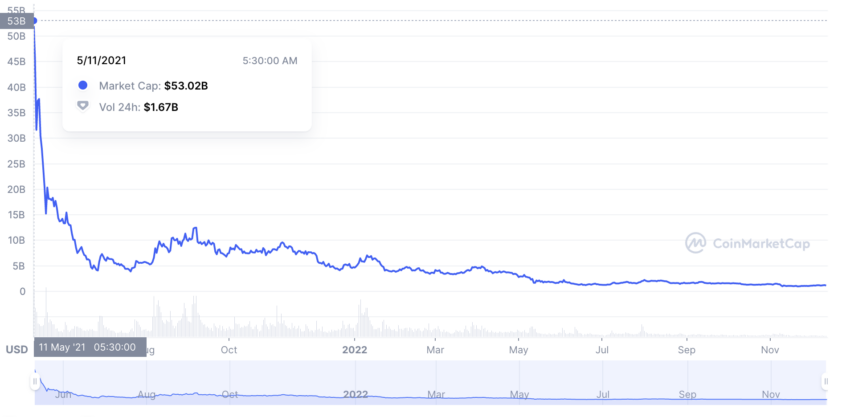 ICP's peak market cap: $53.02 billion on May 11, 2021.
Trading volume at that point: $1.67 billion
Turnover ratio: volume/market cap = 0.59
Current market cap: $1.15 billion
Trading volume: $21.43 million
Turn-over ratio = 0.018
Hence, ICP is more volatile at present. This might favor the price of ICP tokens, provided we get the right indications on the smaller timeframe. Also, the interest in ICP has dropped a bit over the past few months, indicative of the low trading volume.
Internet Computer (ICP) price prediction using on-chain metrics
If you look at this development-specific blockchain ecosystem and its data, you will notice a surge in development activity over the past few months.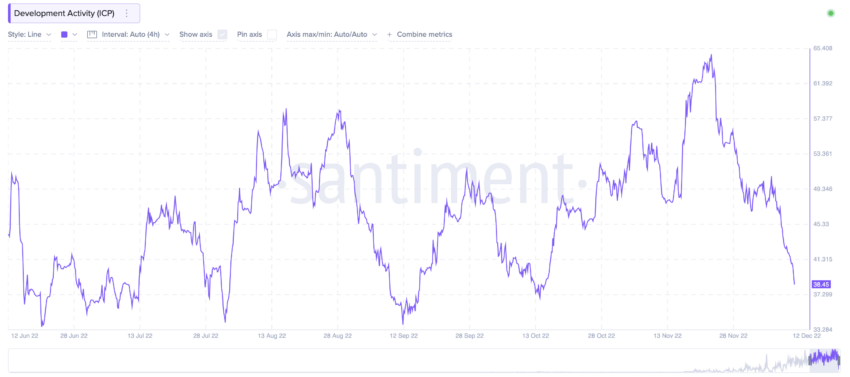 The activity levels seem to be rising steadily, making ICP a decent investment option over time. Even the short-term price action might turn positive if the rate of development continues.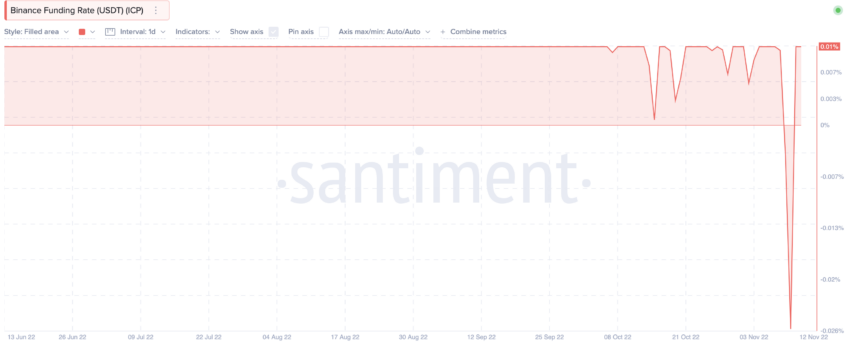 The funding rate (specific to Binance) seems negative till early November. This means short-term price bets look more desirable than long-term, Futures-specific calls.
Internet Computer (ICP) price prediction using social activity
The social volumes have picked up for ICP, especially from late September onwards. November saw a surge in social volume growth, making the short-term outlook of ICP tokens positive.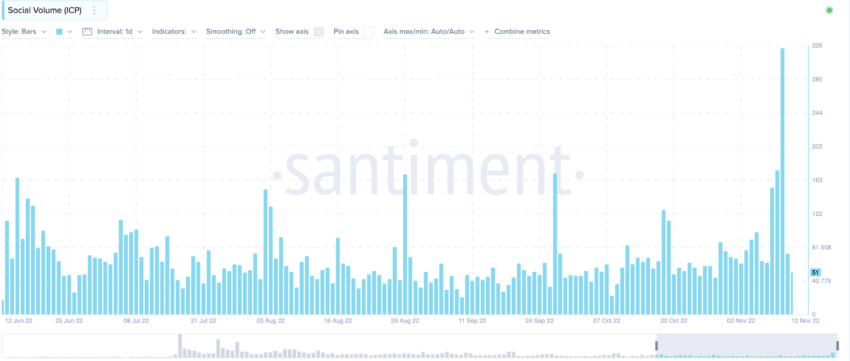 Also, despite the price drop in early November, ICP is experiencing a steady growth in the number of active Reddit users. This is likely thanks to the FTX collapse.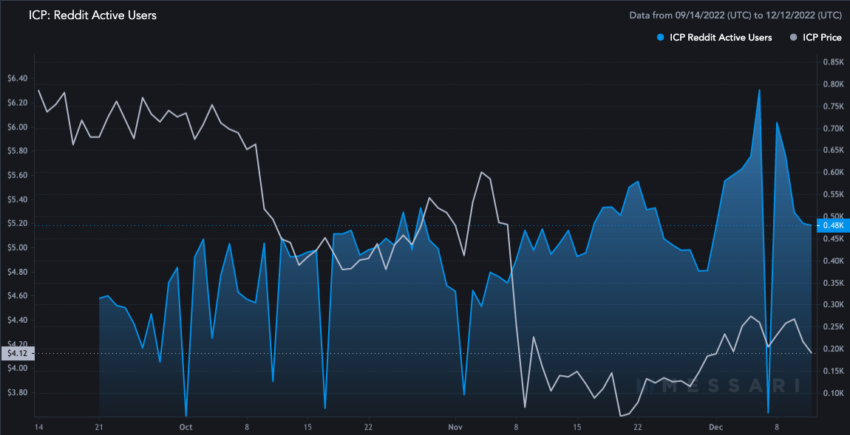 Here is the official Twitter profile of Internet Computer (Dfinity).
The social metrics look bullish. Alone they are not enough to propel ICP to a maximum price of 100 dollars. But we cannot deny a short-term positive effect.
ICP price prediction using technical analysis
ICP is a groundbreaking decentralized project. While that instills confidence, we need more information to produce a detailed ICP price prediction. Let's take a look at the charts.
Here is the ICP daily chart: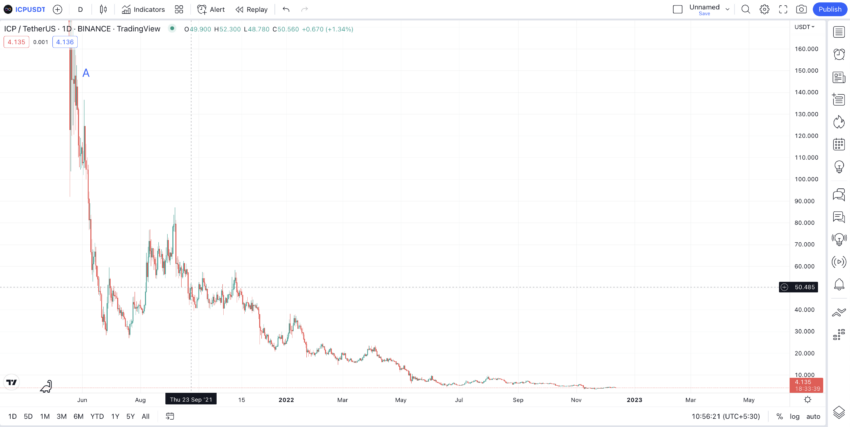 We have A as the starting point, as this is the point where the prices stabilized initially. If we look closely, there is a trend to identify.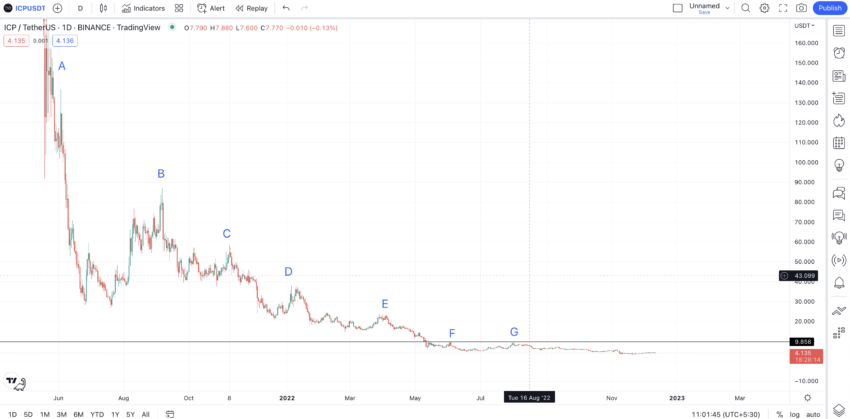 ICP starts from A and makes multiple swing highs until F and G.
At G, something interesting happens. Notice that F and G are at the same levels, price-wise. Hence, we can assume that G is the starting point for a new pattern as ICP that follows the same path from F to A. F-E-D-C-B-A. Consider G as F of the previous pattern.
Here is what the pattern might look like for ICP:
We can name the new, probable points E1, D1, C1, B1, and A1.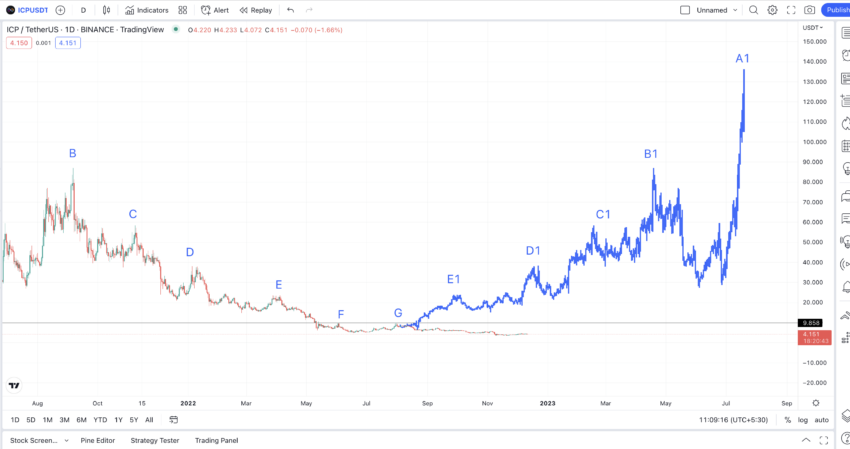 Distance between the highs
Outlook: Bullish
Now, to prepare an ICP price prediction model from 2023 to 2035, we first need to plot the points of the first pattern, F to A.
F to E = 66 days and a 143.52% growth
E to D = 82 days and a 62.28% growth
D to C = 58 days and a 53.38% grown
C to B = 63 days, and a 49.77% growth
B to A = 95 days and a 57.24% growth
Here are the plot screenshots: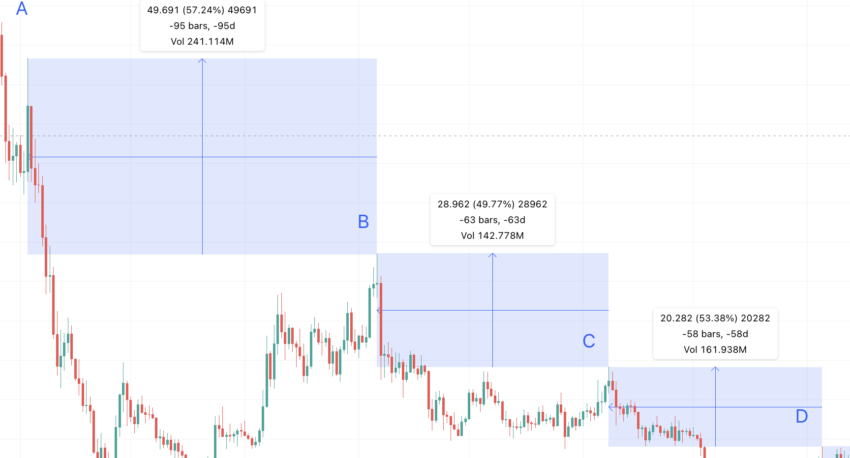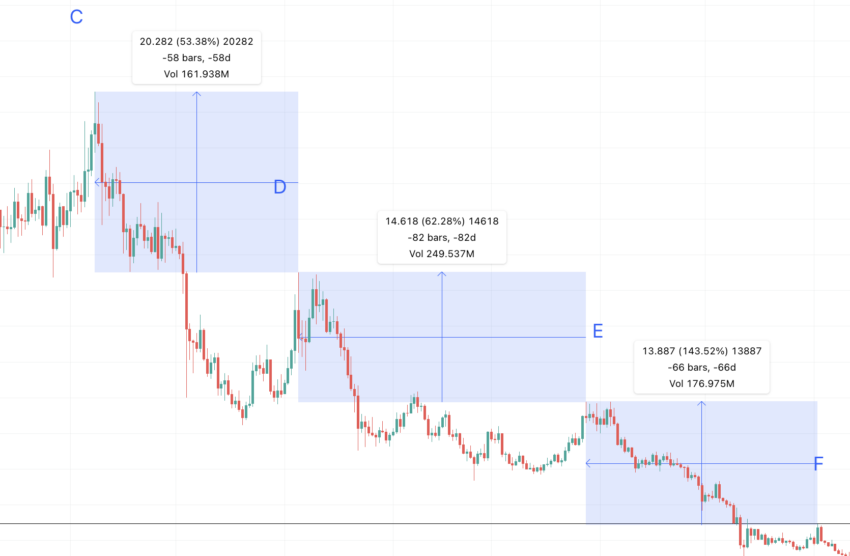 Now, if we take the average time and growth of all the points, we get the following:
Time: 72.8 or 73 days
Growth %: 73.23 or 73%
Going by the pattern, ICP was supposed to reach $17.21 by October. Instead, it dropped to $3.5 due to bear. However, the pattern still holds. This time, the first level of breach for ICP would be $9.858. Only after reaching there can it move along the projected path from G.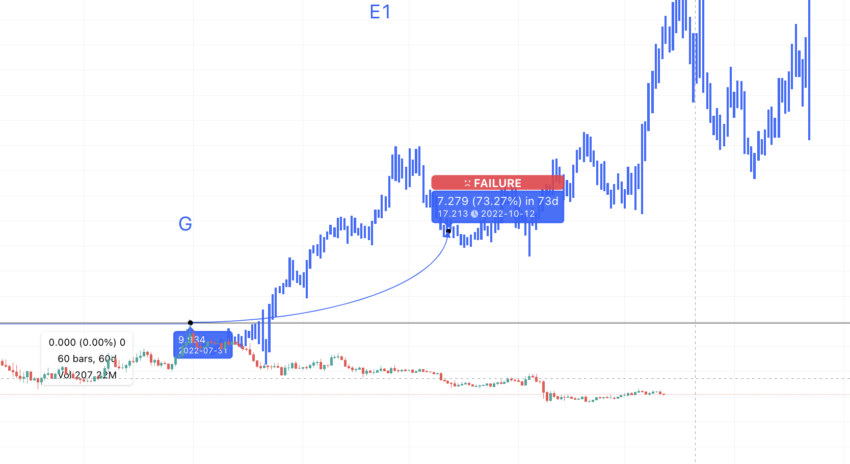 Distance between lows and highs
Outlook: Bullish
Now let us mark the lowest point between F and E as X. Now from X to E, ICP takes 38 days and grows by 289.33%.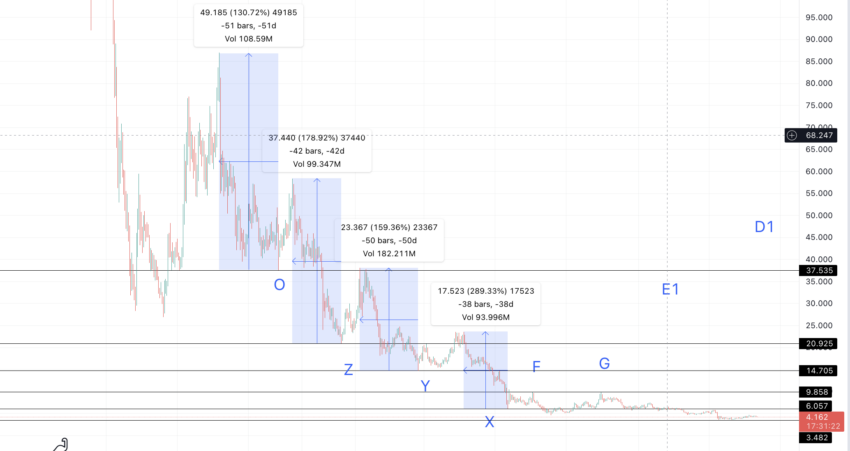 Let us plot other lows to highs to get an average of sorts:
X to E = 38 days
T to D = 50 days
Z to C = 42 days
O to B = 51 days
So the average comes out to be: 45 days
Now, let us look at the low from G to the expected new level. After reaching G, the lowest price of ICP was $3.48. So, it might take 45 days for ICP to move to the next high. However, before the projected high, ICP must try and break the strong resistance lines (formed by the previous lows). This is the only chance it has of moving higher.
Hence, from low-to-high projection and forecasting, ICP might be able to reach the first high of $6.057 in 45 days. ICP might reach this level by Dec. 25, 2022 if there is a short rally at the counter.
Here is the projected path: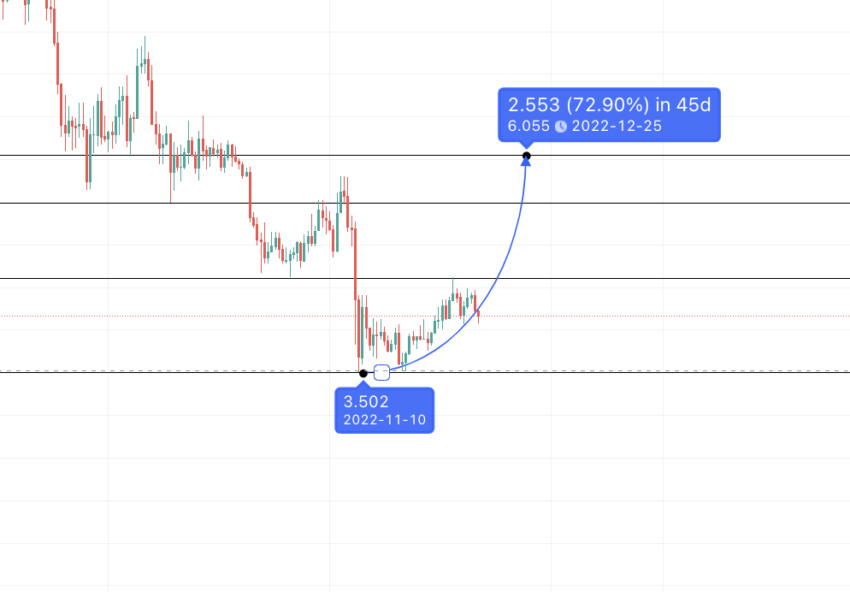 Internet Computer (ICP) price prediction 2023
If the future price of ICP is $6.057 by December end or early January, the next immediate target is $9.85. To get to the timeframe, let us see how much time it took from G to the next low of $3.5. The same path can be retraced if the market conditions get better.
So the distance is 105 days.
Hence, ICP can reach $9.85 in 105 days from the earlier low. Here is the projected path:
The low in 2023 can be anywhere around $6.260. The reason here is the support lines that the ICP chart has in plenty. $6.260 is very strong support and might help ICP stay above the previous low X.
Also, if we refer to the table above, the average time from a high to a low is 45 days. Hence, the low can be anywhere around April 10, 2023.
Here is the projected path: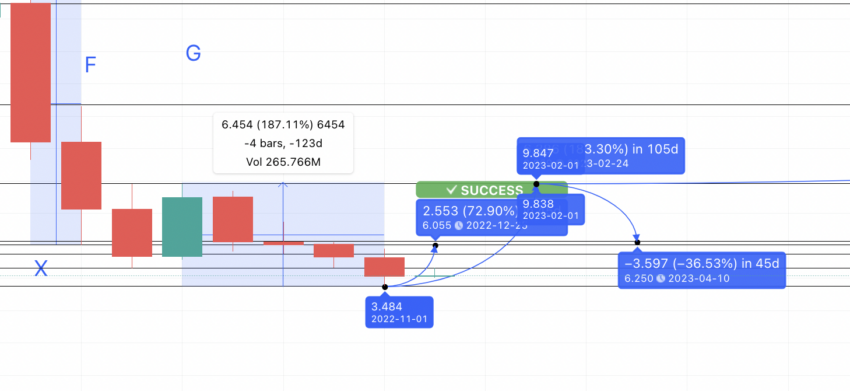 Additional calculations
However, as per the previous pattern, the high-to-high timeframe is 73 days on average. But then, the market cap of ICP is way less as compared to during the previous pattern.
Let us take the first market cap reference point to be B: Sept. 6, 2021.
On this day, the market cap was: $12.46 billion.
As of today, the trading volume is $1.16 billion. Hence, the ratio is 10.74.
This means instead of 73 days to reach the next high, ICP might take 73 x10.74 (784) days to reach the next high of 73%. But this is only if the current market conditions persist.
It is safe to assume that the maximum price of ICP in 2023 might be $9.85. The minimum price of ICP tokens in 2023 might show up at $6.260.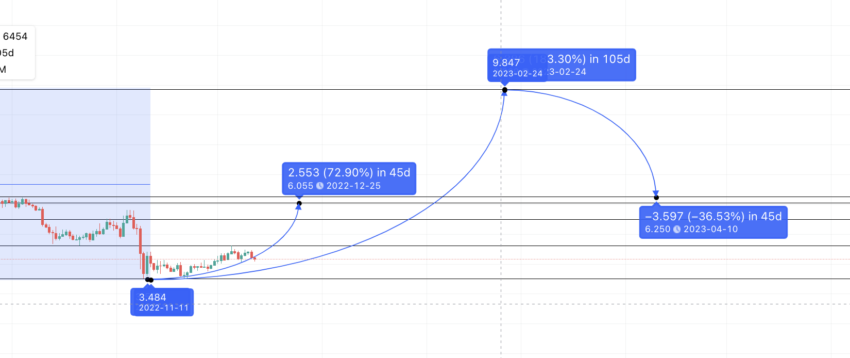 Project ROI from current level: 137.90%
Short-term validation
Outlook: Bullish
The short-term price chart shows ICP trading in a descending wedge (broadening) pattern. This is a bullish pattern, and there are chances ICP will breach the upper bullish trendline to move up.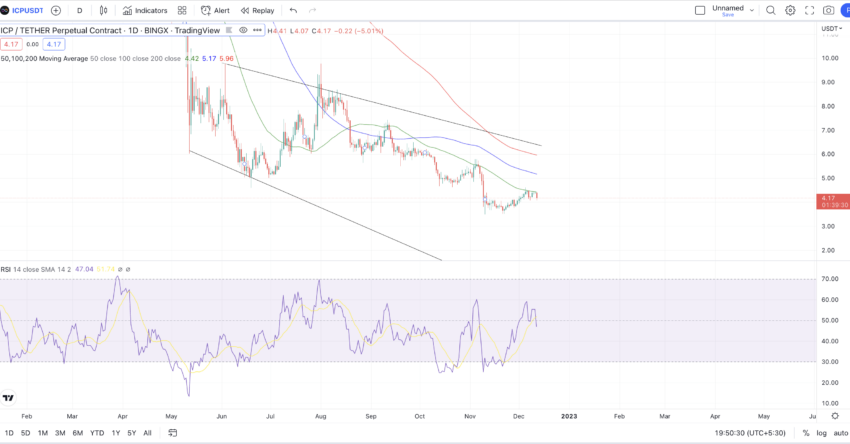 However, for that to hold, keep a close eye on the moving averages, especially the green (50-day) line, and blue (100-day) line. If the green line can cross over the blue line, we can expect ICP to move higher. Even the RSI or the momentum indicator is trading in positive and bullish territory.
Internet Computer (ICP) price prediction 2025
Outlook: Very Bullish
As per the market cap analysis, ICP might take 784 days to make a new high from the 2023 price prediction peak of $9.85.
If we trace the path, it comes out to be like this: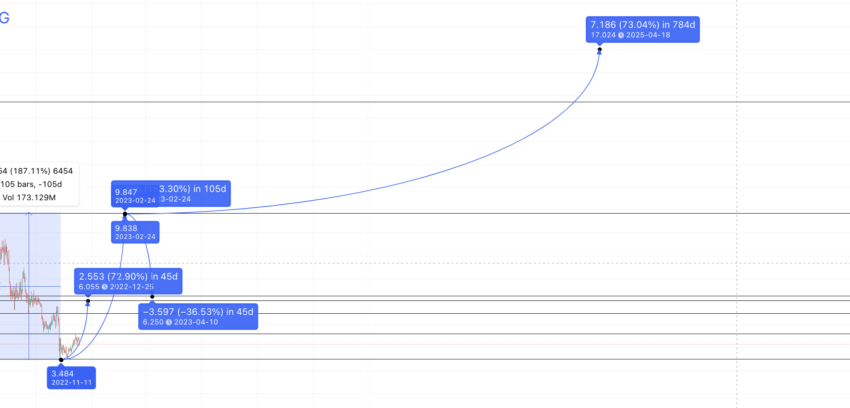 So the next projected high, as per Internet Computer (ICP) price prediction 2025, would settle at $17.024 on April 17, 2025.
Using the data from the previous pattern, the next low could show up within 45 days from 17 April.
Let us see how much ICP tokens dipped from 2023's high to 2023's low. From $9.85 to $6.250, the drop was 36.53%. Hence, if the uptrend continues, the max ICP could drop in 2025 is 36.53%.
Hence, the 2025 low comes to $10.82 on June 3, 2025.
Project ROI from current level: 311%
Internet Computer (ICP) price prediction 2030
Outlook: Very bullish
Now that we have some clarity on ICP prices till 2025, it is appropriate to extrapolate further and plot the path till 2030.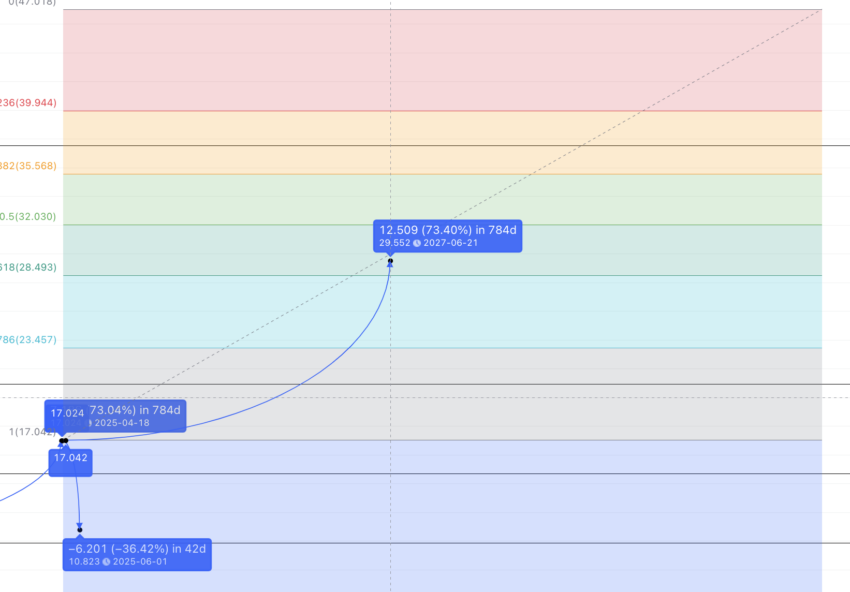 Do note that 2030 is quite far off, so the initial pattern wouldn't really work. We would have to plot the path as per the recent time frame. Taking that into consideration, let us add the Fib indicator to the last high of 2025.
Also, if the same path is retraced — 784 days and a 73% up move — we can expect the ICP ton to reach $29.552 in 2027. This level is a tad higher than the 61.80% Fib level of 28.493. The low for 2027 can be at the 78.60% Fib level of $23.45.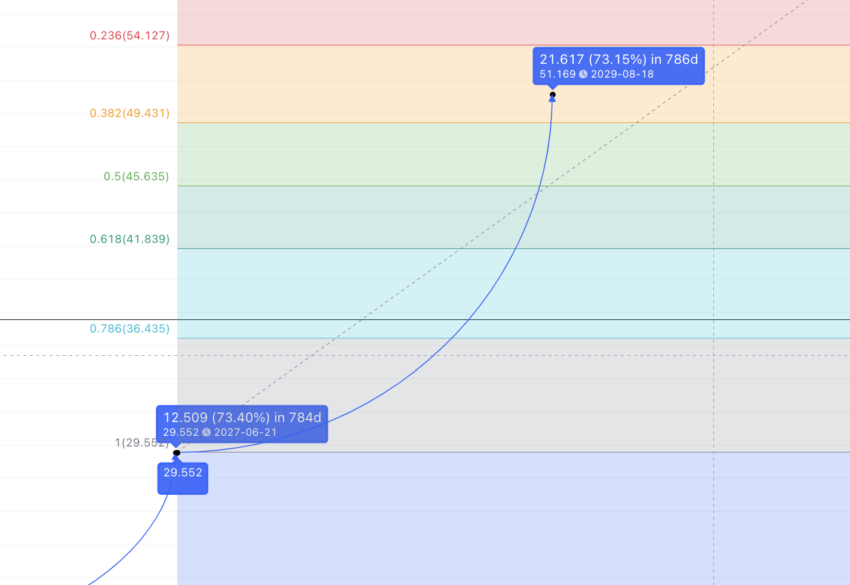 Now let us put the Fib indicator on 2027 high. Tracing the same path of 784 days and a 73% up move, we get a high of $51.169 by Aug. 18, 2029.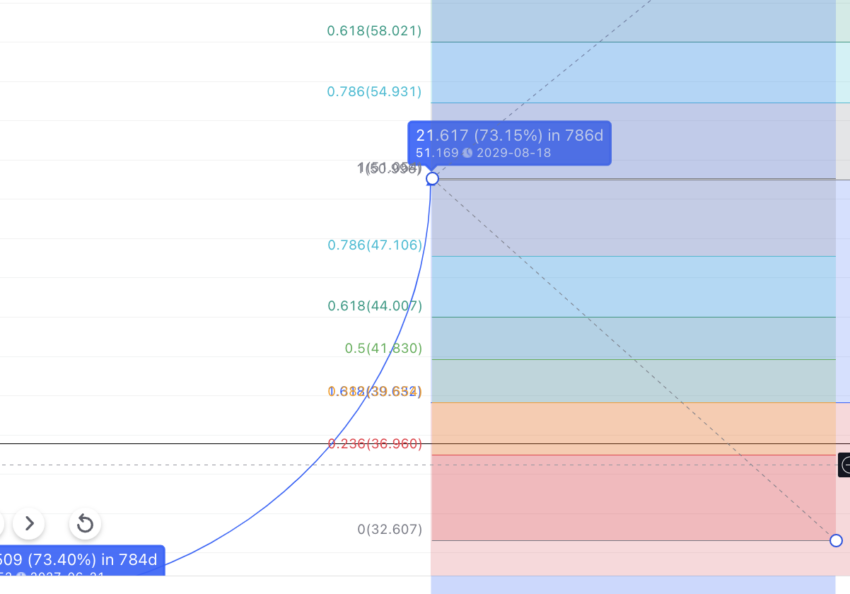 For 2030, the projected price comes to $58.144. The low that year could be around the $44 mark, which comes at a 61.80% retracement as per the Fib indicator.
Project ROI from current level: 1304%
Internet Computer (ICP) long-term price prediction (up to 2035)
Outlook: Very bullish
Until 2023, the prices of ICP look strong and on a linear up move. However, once it crosses or comes close to the C level, which coincides with $58.443, you can expect Internet Computer (ICP) price forecasts to pick speed.
Remember the B to C timeframe where ICP moved close to 50% within two months. If the project remains popular by then, we can even expect a 100% yearly move from 2031 onwards.
Here is the table:
| | | |
| --- | --- | --- |
| Year | | Maximum price of ICP | | Minimum price of ICP |
| 2023 | $9.85 | $6.260 |
| 2024 | $12.31 | $7.63 |
| 2025 | $17.024 | $10.82 |
| 2026 | $22.13 | $15.93 |
| 2027 | $29.552 | $23.45 |
| 2028 | $38.37 | $27.62 |
| 2029 | $46.05 | $28.55 |
| 2030 | $58.144 | $44.04 |
| 2031 | $72.67 | $52.32 |
| 2032 | $94.47 | $68.01 |
| 2033 | $141.71 | $102.03 |
| 2034 | $184.23 | $110.40 |
| 2035 | $230.28 | $142.77 |
The Internet Computer (ICP) price predictions might change each year depending on ecosystem improvement, social sentiments, and even on-chain metrics. Also, do note that for certain years, the yearly lows are actually placed higher than the previous year highs. This can be a bullish sign for Internet Computer (ICP) in the long-term.
Is the Internet Computer (ICP) price prediction accurate?
The current ICP price prediction model looks highly realistic. It factors in the current state of the crypto market, takes market cap comparisons into account, and even relies on extensive technical analysis. However, as with any other high-beta asset, the price predictions are subject to change and updates. Therefore, expect us to revisit this piece whenever new information regarding ICP tokens or the ICP project comes to light.
Frequently asked questions
Is ICP a good investment in 2023?
ICP seems like a decent investment choice in 2023, provided it breaks the immediate target of $9.85. That way, you can look for an ROI of over 100% from the current levels. This certainly makes Internet Computer (ICP) a desirable option in 2023.
What will be the price of ICP in 2025?
The price of ICP can cross $17 by 2025, provided the current market conditions prevail. The low that year can be close to $11. This depends on the previous patterns exhibited by our ICP price-prediction models.
Will ICP reach 100?
ICP has dropped considerably from its all-time high. However, it can still reclaim the $100 mark provided the project stays relevant and continues to experience decent network activity. Also, the price prediction models for ICP suggest that it might take 2031 for it to cross the 100-dollar mark, especially with new projects coming up the ranks.
Will ICP bounce back?
ICP will most likely bounce back from the lows. In the shorter-time frame, the price chart is looking bullish. Also, it is quite an innovative project, with sights set on recreating every centralized variant of any online system into a decentralized version. 
Is ICP still a good investment?
Internet Computer is touted as a web3 enabler. Therefore, even after dropping over 99% from its all-time high, the long-term outlook of ICP remains positive. Most importantly, it has every trait to bounce back once the bear market loosens its grip: Internet Computer can be the infrastructure layer to SocialFi, GameFi, DeFi, and every other crypto-focussed project.
Disclaimer
All the information contained on our website is published in good faith and for general information purposes only. Any action the reader takes upon the information found on our website is strictly at their own risk.
At Learn, our priority is to provide high quality information. We take our time to identify, research and create educative content that is useful to our readers.
To maintain this standard and to continue creating awesome content, our partners might reward us with a commission for placements in our articles. However, these commissions don't affect our processes for creating unbiased, honest and helpful content.