This may come as a shock to many, but there are other high-paying jobs in web3 aside from being a developer. Web3 is an interdisciplinary field, and there are many opportunities to contribute to the space while making a decent living.
Web3 jobs: an overview
As stated previously, web3 is perhaps the most interdisciplinary field in the modern jobs/careers market. In other words, it is made up of many individuals with varying degrees of expertise in multiple fields.
That is because blockchain encompasses multiple fields of study, including cryptography, applied mathematics, economics, capital markets, and so much more. Moreover, crypto needs non-tech positions in order to get projects off the ground.
For example, some of these positions include marketers, community managers, human resources, writers, etc. As shown in the illustration, it especially takes many jobs to make web3 work as a functioning whole.
However, some roles are in greater demand than others. As a result, these positions offer even more compensation and competitive benefits. If you are interested in pumping your bags in ways other than holding crypto, then take a look at the 13 highest-paying crypto jobs out today.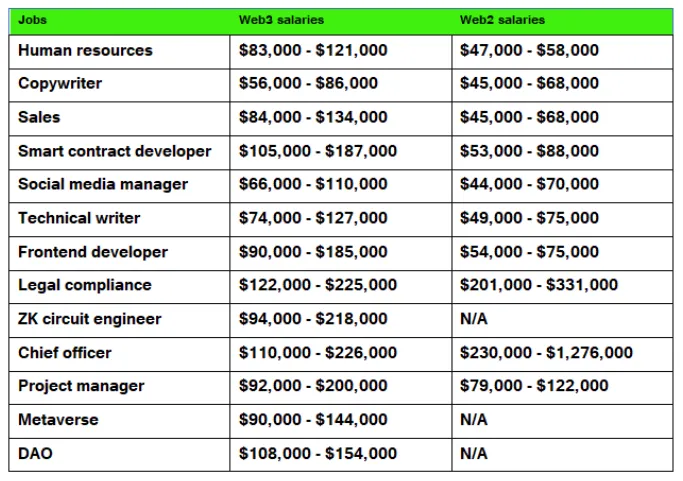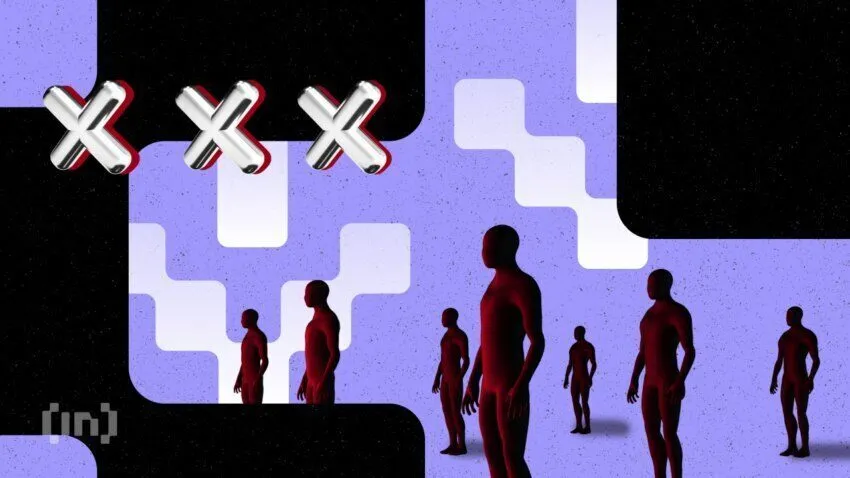 Wanna learn the ins and outs of getting a job in the crypto world?
Community of Web3 Unicorns
Top 13 highest paying web3 jobs
1. Human Resources (HR)
What is it?
Human Resources is the department within an organization in charge of managing and coordinating various aspects concerning employees. Basically, the HR department handles recruiting, hiring, training, employee benefits, performance evaluation, payroll, and employee relations.
Its primary goal is to ensure that the organization has the right people with the right skills and that they are effectively managed in order to contribute to the company's overall success.
What is needed to work in HR?
Proven experience as an HR rep.
Understanding of general human resources policies and procedures.
Good knowledge of employment/labor laws.
Excellent communication and people skills.
Bachelor's degree in Human Resources, Business Administration, or related field
Proficient knowledge of G-Suite tools and HRIS systems
$83,000 – $121,000
2. Copywriter
What is it?
A copywriter is a specialist in writing written content, also referred to as copy, for different marketing and advertising materials. A copywriter's main objective is to create persuasive and compelling messages that successfully promote goods and services, communicate the desired information, and persuade the target audience to take a particular action.
Additionally, a copywriter's duties may also include editing and proofreading content, ensuring consistency and adherence to brand guidelines, conducting market research, comprehending the target audience, working with marketing teams, developing creative concepts, and writing headlines, taglines, slogans, and body copy.
What is needed to work as a copywriter
Bachelor's degree or certification in marketing, copywriting, and/ or information technology (IT)
Proven experience as a proficient writer
Exceptional editing and proofreading skills.
Knowledge and application of advertising formulas (e.g., AIDA, ODC).
Multilingual is a bonus.
Knowledge of SEO.
$56,000 – $86,000
3. Sales
What is it?
Sales is the process of selling products or services to customers or clients in order to generate revenue and meet business objectives. Sales is an important function within a company because it directly contributes to the organization's financial success.
Basically, the goal of a sales team is to generate revenue and achieve sales targets or quotas set by the organization. Effective sales practices involve understanding customer needs, building relationships, and providing exceptional experiences to drive customer satisfaction and loyalty. Some sales roles offer unlimited/uncapped commissions, making them some of the highest-paying web3 jobs for those at the top of their game.
What is needed to work in sales?
Proficient in all aspects of the customer life cycle, including identifying opportunities, prospecting potential customers, presenting value propositions, negotiating contracts, and enhancing overall customer experience.
Exceptional negotiation, communication, and interpersonal skills.
Product knowledge.
Relevant background in outbound sales, including cold calling, prospecting research, delivering complex sales pitches, and solution selling.
$84,000 – $134,000
4. Smart contract developer
What is it?
A smart contract developer is a specialist in the design, development, and implementation of smart contracts. Some of their responsibilities include smart contract engineering, testing and debugging, and security audits.
Additionally, they take projects from the initial concept and design stages to production, collaborating closely with engineering leaders and the product team to develop feasible, well-defined roadmaps.
Moreover, they are highly sought after because of their proficient knowledge in both blockchain architecture and programming. As a result, they often receive substantial compensation, even at entry-level positions.
What is needed to become a smart contract developer?
Knowledge of programming languages, such as Solidity, Vyper, Yul, Rust, Python, Golang, Javascript, or Typescript.
Knowledge of frontend languages, such as React.js or Vue.js is a bonus.
Familiarity with at least some of the following frameworks: Truffle, HardHat, Brownie, Foundry, Mocha, Chai, or OpenZeppelin.
Experience using Node.js, Ether.js, Web3.js, or libp2p.
A deep understanding of the EVM or similar architectures.
A degree in computer science, cryptography, or applied mathematics is a bonus.
$105,000 – $187,000
5. Social media manager
What is it?
Social media managers play a vital role in boosting brand visibility within the crypto industry through various social media platforms. Their primary responsibility is to implement impactful social media strategies that target both institutional and retail clients.
Additionally, they contribute to the execution of marketing plans aimed at driving adoption and achieving higher conversion rates. Moreover, they may take on additional tasks, such as competitor analysis, analyzing market trends, or producing high-quality social media content.
What is needed to be a web3 social media manager?
Proven experience managing social media pages for fast-growing brands.
Familiarity with social media platforms, such as Twitter, Discord, or YouTube, for example.
Proficient knowledge of social media management and analytical tools, including Sprout Social, Hootsuite, BuzzSumo, and alike.
Strong understanding of blockchain technology and web3 concepts.
Copywriting and marketing background or equivalent degree is a bonus.
$66,000 – $110,000
6. Writer
What is it?
In terms of web3 jobs, writing is a broad category. However, technical writers take the place of the highest-paying web3 writing job. A technical writer is a professional who specializes in creating clear, concise, and user-friendly documentation and content related to technical subjects (e.g., whitepapers or documentation).
Therefore, technical writers play a crucial role in bridging the gap between complex technical information and non-technical users or audiences. In short, they can comprehend intricate technical concepts and transform them into easily understandable and accessible materials.
What is needed to become a web3 technical
Preferred experience in a role as a developer advocate.
Background in computer science or IT.
Proofreading and editing skills.
Experience using content management systems (e.g., WordPress, Gitbook, Notion, etc.).
Ability to understand and communicate complex concepts.
Above all: excellent writing skills and the ability to sell yourself and meet deadlines
$74,000 – $127,000
7. Frontend developer
What is it?
A frontend developer is a developer who specializes in building the user interface (UI) and user experience (UX) components of decentralized applications (DApps) or blockchain-based web applications.
Furthermore, frontend developers integrate blockchain technology into the user interface, allowing users to interact with decentralized networks and smart contracts. Occasionally this involves connecting to blockchain nodes, retrieving data from the blockchain, and displaying it in a user-friendly manner.
What is needed to become a frontend developer?
Experience using languages, such as React.js, React Native, Vue.js, Angular, Javascript, Typescript, CSS, etc.
Familiarity with Ethers.js or Web3.js.
Experience with web3 frameworks (e.g., Mocha, Chai, etc.) is a bonus.
Excellent understanding of software design principles and architecture patterns.
Experience integrating with back-end services and a solid understanding of REST APIs.
A strong background in computer science with knowledge of data structures, algorithms, and software design practices.
A computer science degree is a bonus.
$90,000 – $185,000
8. Legal Compliance
What is it?
Web3 and blockchain companies must navigate the regulatory landscape to ensure compliance with applicable laws and regulations. For example, this includes understanding and adhering to financial regulations, data protection and privacy laws, anti-money laundering (AML) regulations, securities laws, and other relevant legal requirements specific to their jurisdiction.
Occasionally, web3 and blockchain technologies often operate globally. This also requires companies to understand and comply with regulations across different jurisdictions.
Furthermore, web3 and blockchain companies must address intellectual property (IP) concerns related to their technologies, such as patents, licenses, trademarks, and copyrights.
What is needed to work in legal compliance
BA/BS degree or its international equivalent.
Minimum of five years of relevant work experience (e.g., financial services, law enforcement, digital asset services, or management consulting, with a focus on financial crime and compliance).
Proficiency in virtual currencies, digital transaction cycles, and the use of blockchain tracing and analytics tools.
Experience in drafting and preparing Suspicious Activity Report (SAR) filings.
Ability to articulate legalese to senior management.
Authorization to practice in relevant jurisdictions.
$122,000 – $225,000
9. ZK circuit engineer
What is it?
A zk circuit engineer specializes in the design and implementation of zero-knowledge circuits. Their primary responsibility is to design and construct circuits that enable efficient and reliable zero-knowledge proofs.
This involves a deep understanding of cryptographic primitives, mathematical concepts, and computational complexity. Moreover, the engineer collaborates with researchers, cryptographers, and software developers to translate theoretical protocols into practical, implementable solutions.
What is needed to become a ZK circuit engineer?
Knowledge in programming languages, such as C, C++, Python, Rust, C#, Java, or Golang.
In-depth knowledge of Zero-Knowledge proof systems (e.g., zk-SNARK, zk-STARK, plonk), elliptic curve cryptography, and circuit design.
Previous experience in optimizing cryptographic code at a low level is a bonus.
Familiarity with distributed systems and libraries.
Solid foundation in mathematics, cryptography, or related disciplines (while a formal academic degree is preferred, it is not mandatory).
$94,000 – $218,000
10. C-suite executive
What is it?
Chief officers, commonly referred to as C-suite executives, are the top-level executives in an organization who hold senior leadership positions. They are responsible for guiding and overseeing the strategic direction and operations of the company.
They typically report directly to the company's board of directors or shareholders and play a crucial role in decision-making, setting goals, and driving the overall success of the organization.
Each chief officer typically has a specific area of responsibility and expertise, focusing on different aspects of the company's operations, for example: CEO, CFO, COO, CTO, CMO, CHRO, or CLO.
What is needed to become a C-suite exec?
Excellent strategic, decision-making, communication, and problem-solving skills.
Certification, specialized degree, or Bachelor's degree or higher in a relevant field (such as Certified Public Accountant (CPA) for CFOs or Juris Doctor (JD) for CLOs).
Extensive experience in leadership roles over a number of years (e.g., more than five years).
Business acumen (e.g., understanding of financial statements, key performance indicators, budgeting, and financial planning).
Proficiency in interpreting market data, analyzing industry trends, and making data-driven decisions.
The ability to adapt to change.
$110,000 – $226,000
11. Project manager
What is it?
A project manager is responsible for planning, organizing, and overseeing the successful execution of projects within an organization. They play a critical role in managing resources, timelines, budgets, and stakeholders to achieve project objectives.
Project managers develop comprehensive plans that outline tasks, timelines, resource allocation, and dependencies. They also increase the productivity of internal workflows by defining project scope and objectives, finding and analyzing risks, and updating teams and stakeholders.
What is needed to become a project manager?
Exceptional leadership, interpersonal, and communication skills.
Bachelor's degree or higher in computer science, engineering, IT, or a related field is a bonus.
Strong knowledge of software development processes and methodologies (such as Agile, Scrum, Kanban, and Waterfall).
Knowledge of project management software (for example, GitHub, JIRA, Asana, Trello, Miro, and MS Project).
Certification as a Project Management Professional (PMP) or a Certified Scrum Master (CSM) is a bonus.
Experience working with remote or distributed teams is a bonus.
$92,000 – $200,000
12. Metaverse (various roles)
What is it?
The metaverse is a collective virtual shared environment where users can interact in real-time with other users and virtual objects. Due to developments in immersive technologies like virtual reality (VR), augmented reality (AR), and others, this idea has recently attracted a lot of attention.
In the metaverse, there is a wide range of potential job opportunities across various industries. Therefore, some of these jobs include community managers, graphic designers, or even programming experience.
What is needed to work on building the metaverse?
Experience with popular cloud hosting providers.
Proficiency in one or more common scripting languages.
Familiarity with the web3, blockchain, or cryptocurrency communities.
In-depth understanding of the metaverse landscape, web3 technologies, and virtual experiences.
Ability to work independently and collaboratively.
$90,000 – $144,000
13. DAO (various roles)
What is it?
A DAO, or Decentralized Autonomous Organization, is an organization that operates through smart contracts on a blockchain network. It is designed to be autonomous; in other words, its operations are governed by pre-programmed rules, and decisions are made through a consensus of its members or token holders.
There are indeed various roles and opportunities available. Since DAOs operate on blockchain networks and often involve decentralized finance (DeFi) and cryptocurrency projects, the job opportunities primarily revolve around these areas.
What is needed to become
Experience working at the protocol layer of blockchains.
Experience in designing, implementing, and launching decentralized finance (DeFi) protocols and applications.
Strong understanding of the relevant economic considerations and their impact on engineering tradeoffs.
Bachelor's or master's degree in Computer Science, Engineering, or a related field is a bonus.
$108,000 – $154,000
Are you considering a career change?
Not only are there many career paths in the field of web3, but there are also many high-paying jobs. The further you work your way up the ladder, the more competitive deals and packages you are offered.
In other words, high salaries are just beginning. In addition to earning more, working in web3 often comes with bonuses, more paid vacation time, remote work, the possibility of setting your own schedule or rates, and so much more.
If you are new to web3, remember that you may already have experience in a related field. Wherever you are, take the time to check out BeInCrypto's Jobs Board to consider the highest-paying web3 jobs as your next move.
Frequently asked questions
I have no experience in web3, how can I get a job?
Is it hard to learn web3?
Disclaimer
In line with the Trust Project guidelines, the educational content on this website is offered in good faith and for general information purposes only. BeInCrypto prioritizes providing high-quality information, taking the time to research and create informative content for readers. While partners may reward the company with commissions for placements in articles, these commissions do not influence the unbiased, honest, and helpful content creation process. Any action taken by the reader based on this information is strictly at their own risk.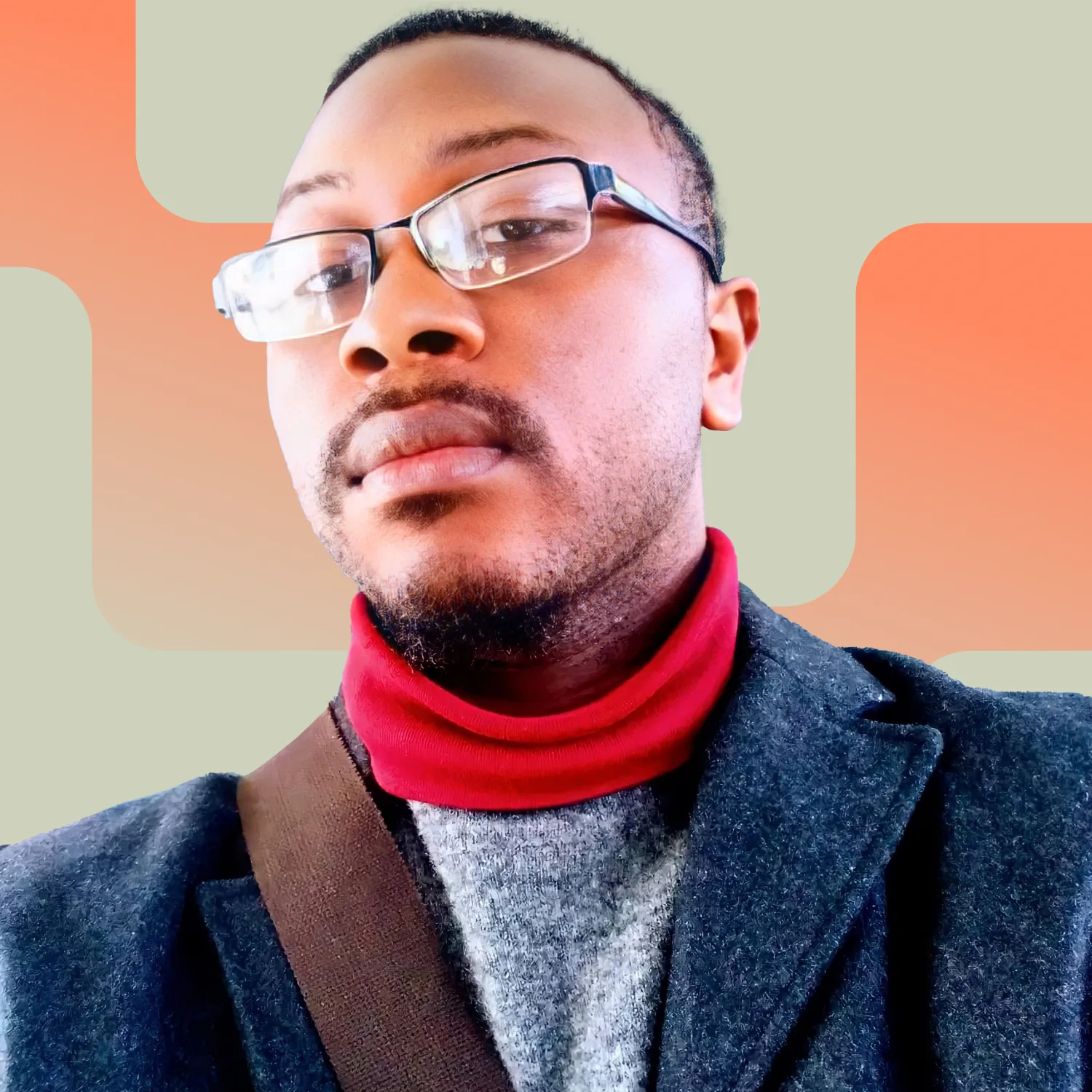 Ryan Glenn is a journalist, writer, and author. Ryan is motivated to educate as many people as possible on the benefits of web3 and cryptocurrency. He has authored "The Best Book...
Ryan Glenn is a journalist, writer, and author. Ryan is motivated to educate as many people as possible on the benefits of web3 and cryptocurrency. He has authored "The Best Book...
READ FULL BIO
Sponsored Sponsored