Dogecoin is the talk of the cryptocurrency town these days. It appears that anyone who's anyone is investing in the asset is making a ton of profit, leading others to invest out of fear of missing out (FOMO).
Are you one of those investors?
Do you feel like you should be? This article will discuss Dogecoin and if the asset is actually worth the hype.
Is Dogecoin Worth it?
It's impossible to say if Dogecoin is worth your investment. After all, the project was designed as a joke by Billy Markus and Jackson Palmer, two software engineers.
Dogecoin is represented by a meme, the "Doge" face that a Shiba Inu dog makes. It's because of that meme we're seeing a ton of money being pumped into the asset.
That said, while the coin can be used to purchase goods and services if the platform supports it, Dogecoin is not meant to last as a currency like Bitcoin.
The dog-faced cryptocurrency doesn't have a supply cap, even if its market cap is $71 billion as of this writing. That lack of a cap means the currency will only become more common, and, technically, would mean it decreases in value over time, AKA inflation. This makes Dogecoin quite similar to the United States dollar, which consistently lowers in value due to the same reason.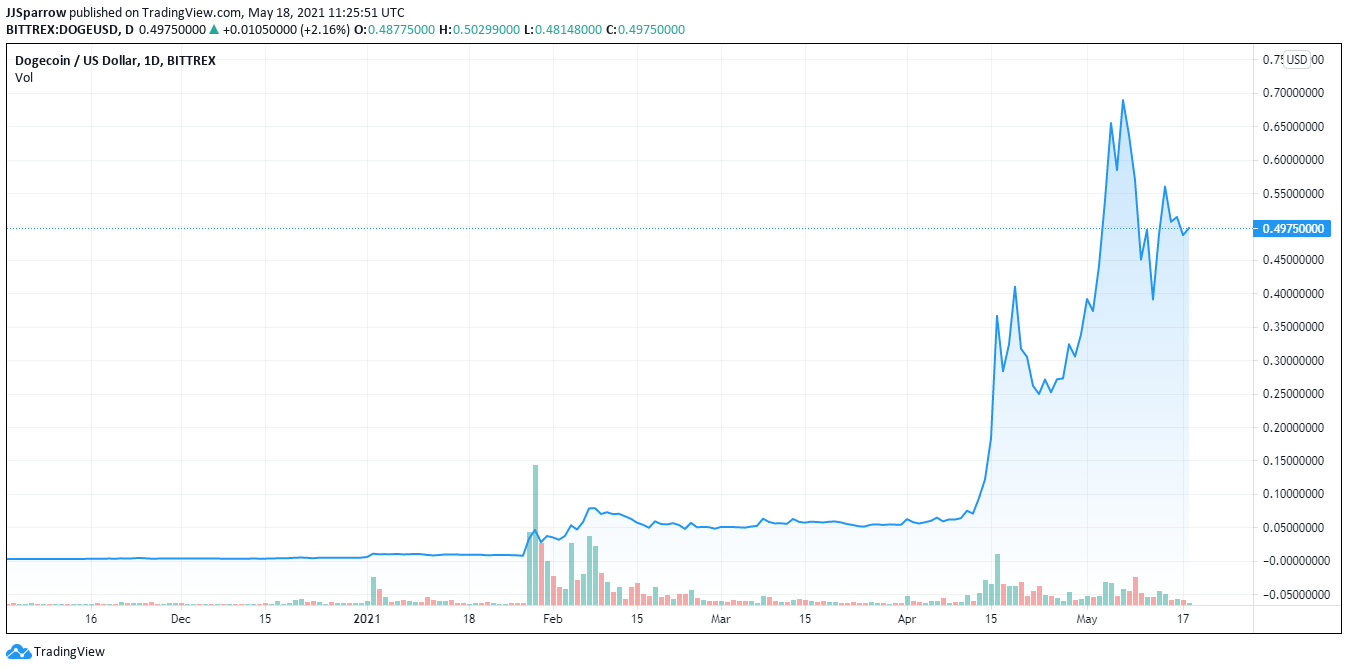 Because of this, many finance experts find it hard to believe that you should buy Dogecoin. The project is constantly pumping and dumping, with its price ranging millions of dollars in just a day's time.
That's not to mention that tech giant Elon Musk constantly affects the Dogecoin price by simply tweeting about it. Though many willing to take the risk have profited significantly in recent times, it's certainly not a safe investment.
Interestingly, Dogecoin does have some benefits over other crypto assets. For one, transactions on this network confirm much faster than Bitcoin or Ethereum – often taking just a few seconds. Transaction fees are lower as well, and there's a truly dedicated and welcoming community surrounding the asset.
If you can risk the funds, you might consider Dogecoin to be worth your investment. Just keep in mind how volatile the asset is.
Where Can I Buy Dogecoin?
If you're still considering the asset, here are a few places to buy Dogecoin.
A Cryptocurrency Exchange
Many popular exchanges hold Dogecoin. Signing up on platforms like Binance, Kraken, and Bittrex will give you the opportunity to invest. You can find various trading pairs on these exchanges as well. Some offer a USD trading pair, while you can always rely on the Bitcoin or USDT trading pairs if you already have some crypto, among others.
Robinhood
Robinhood is a trading platform that focuses mainly on stocks. However, it also supports Dogecoin and some other cryptocurrencies. It's one of the only other places to buy Dogecoin aside from a cryptocurrency exchange. Also, note that the platform struggles at times when the Dogecoin price is pumping, sometimes even pausing withdrawals and trades.
The platform also doesn't insure its cryptocurrency investments like many exchanges do, which is important to keep in mind.
Can you Buy and Sell Dogecoin?
You can absolutely buy and sell Dogecoin. The best place to do so is a cryptocurrency exchange like StormGain or Binance, as mentioned above. You can buy Dogecoin with USD or various crypto assets based on the platform, and sell it for the same trading pairs as well. This is possible on Robinhood, too, but it isn't the most reliable trading space out there.
Can you Buy Doge on Coinbase?
As of this writing, no, you cannot buy Dogecoin on Coinbase. But as of May 14th, 2021, they are getting ready to list the asset. CEO Brian Armstrong states they hope to list in within six to eight weeks.
Will Dogecoin Reach $1?
Many investors are seriously hoping that Dogecoin will reach $1. There have been various moments where it was "supposed" to rally to that round number. On April 20, 2021, Redditors and the rest of the Dogecoin community planned to pump the asset to that very number. It didn't happen. In fact, the asset price dropped somewhat significantly.
Elon Musk was supposedly going to pump it when he hosted Saturday Night Live. While he did mention the asset a lot, it didn't really raise in price by any means. The performance fell flat in terms of price.
That said, there are significant moments occurring in the cryptocurrency space. For example, the Coinbase listing may genuinely raise Dogecoin's value quite a bit. Coinbase is one of the most popular US-based exchanges and appeals generally to crypto beginners. If those beginners have an easy way into Dogecoin, they very well may buy it, potentially raising the asset to a dollar, if not higher.
Conclusion
Now you're much more aware of Dogecoin, and you can make the decision if it's worth the hype for you or not. Just be careful trading, and you should be set.
Disclaimer
In line with the Trust Project guidelines, the educational content on this website is offered in good faith and for general information purposes only. BeInCrypto prioritizes providing high-quality information, taking the time to research and create informative content for readers. While partners may reward the company with commissions for placements in articles, these commissions do not influence the unbiased, honest, and helpful content creation process. Any action taken by the reader based on this information is strictly at their own risk.